140 GPH ELECTRIC FUEL PUMP WITH HOLLEY REGULATOR # S-6256-KIT
$69.95
Available
---
Product Information
| | |
| --- | --- |
| UPC | 332244904449 |
| Product Type | Shipped Product |
| Shipping Cost | $9.50 |
| Number of reviews | 0 |
SUPER SUNNY 140 GPH ELECTRIC FUEL PUMP WITH HOLLEY REGULATOR
STREET/STRIP CARBURETED APPLICATIONS, GASOLINE ONLY
Part # S-6256-KIT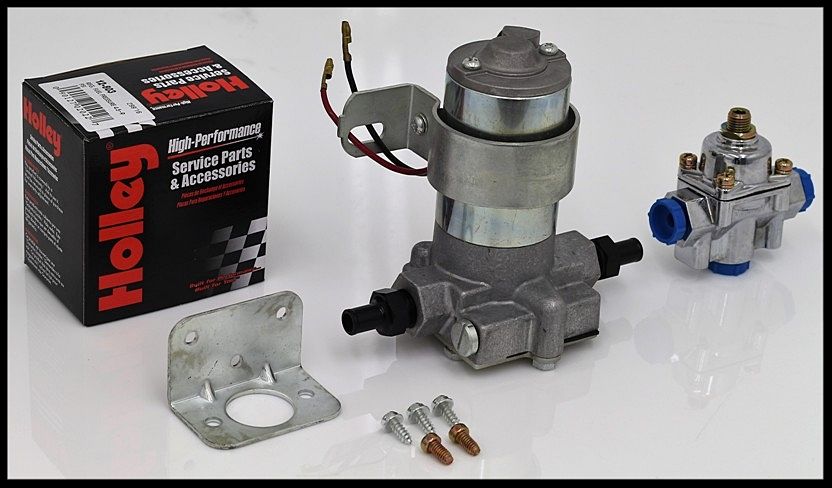 Features:
Super Sunny Electric Fuel Pump, and Holley fuel pressure regulator.
Improved design for street/strip applications
NOT designed for use on aircraft of any type.
Flows 140 GPH (free flow)
Maximum pressure is 14 psi
Includes P/N 12-803 Holley fuel pressure regulator
Provides constant fuel flow with no pulsation
Has externally accessible pressure relief valve (max 14 psi)
Weighs only 3 lbs
Includes mounting bracket
NOT compatible with alcohol or methanol fuels
Use of safety shut-off switch, P/N 12-810, strongly recommended
NOT designed or recommended for use with fuel injection systems
Specifications:
| | |
| --- | --- |
| Application | Universal |
| Bracket Color | Silver |
| Brand | Super Sunny and Holley reg. |
| Emission Code | 3 |
| Free Flow GPH | 140 |
| Free Flow LPH | |
| Fuel System | Carbureted |
| Fuel Type | Gasoline |
| Inlet Size | 3/8 inch NPT |
| Material | Aluminum |
| Motor Finish | Silver |
| Outlet Size | 3/8 inch NPT |
| Product Type | Fuel Pump |
| Pump Body Color | Silver/gray |
HOLLEY CHROME CARBURETED FUEL PRESSURE REGULATOR
TWO PORTS, 4.5-9 PSI
This is included with the Super Sunny electric fuel pump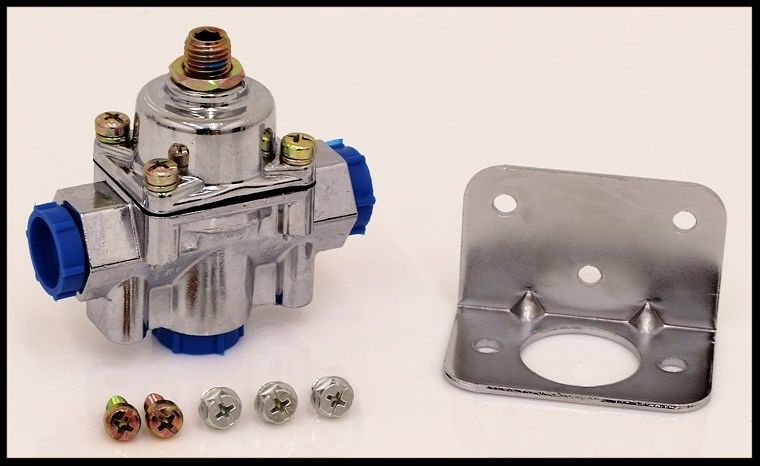 Holley fuel pressure regulators are designed to precisely control the fuel pressure from the fuel pump to the carburetor. Too much fuel pressure for a given needle and seat assembly can overload the needle and seat and may cause flooding or drivability problems. Each Holley fuel pressure regulator is fully adjustable so regulating the fuel pressure to your engine's needs is a simple task. All Holley regulators are pre-set at the factory so there is no guesswork when first installing the regulator. The Holley 12-803 fuel pressure regulator features 3/8" NPT in/out ports.
Features:
Adjustable fuel regulation from 4-1/2 to 9 psi
.220" (7/32") restriction
3/8" NPT ports ( 1 in, 2 out)
Chrome finish
Mounting bracket included
Specifications:
| | |
| --- | --- |
| Brand | Holley |
| Color | Shiny |
| Emission Code | 3 |
| Fuel System | Gasoline |
| Inlet Size | 3/8 inch NPT |
| Material | Aluminum |
| Outlet Size | 3/8 inch NPT |
| Pressure Range | 4.5-9 PSI |
| Product Type | Fuel Pump |
| Style | Non-Return |
Important note from our company president, Skip White
There are a variety of low cost fuel pressure regulators on the market that in many ways appear much like the Holley regulator. These non branded (no-name) products are inferior in many ways, in our opinion. We have sold these products in the past and in recent years, found their quality and reliability to have diminished greatly. The problems included inconsistent fuel pressure, leakage of fuel, poor machining of the housing, and outright failure at a rate we found unacceptable. The main problem is that they fail maintain a steady pressure. The quality control on these no-name regulators nearly non-existent. There are many sources on the market for these low cost products and we have tried many over the years, only to end up with more dissatisfied customers than we care to mention. The Holley and Quick Fuel regulators are fully tested before leaving the factory. There are video clips available on Holley and Quick Fuel's website showing the wet-flow testing procedure. This is not done on just a few regulators out of large batches. It is performed on each and every one of them. The price on the low cost non-branded regulators may be appealing, but quality and reliability are simply not there.
Customer Reviews
This product does not have any reviews yet.