ACCEL 5000 SERIES PLUG WIRES BBC CHEVY FORD JEEP WITH HEI OR POINT DIST. 5040-B
Available
$56.24
---
Product Information
| | |
| --- | --- |
| UPC | 371211551951 |
| Product Type | Shipped Product |
| Number of reviews | 46 |
ACCEL 5000 SERIES SUPER STOCK 8mm HIGH TEMP WIRES
Brand new, factory sealed.
UNIVERSAL FOR CUSTOM FIT WITH STRAIGHT BOOTS, FITS MOST V-8 AND V-6 ENGINES
FITS HEI STYLE CAP OR POINT STYLE.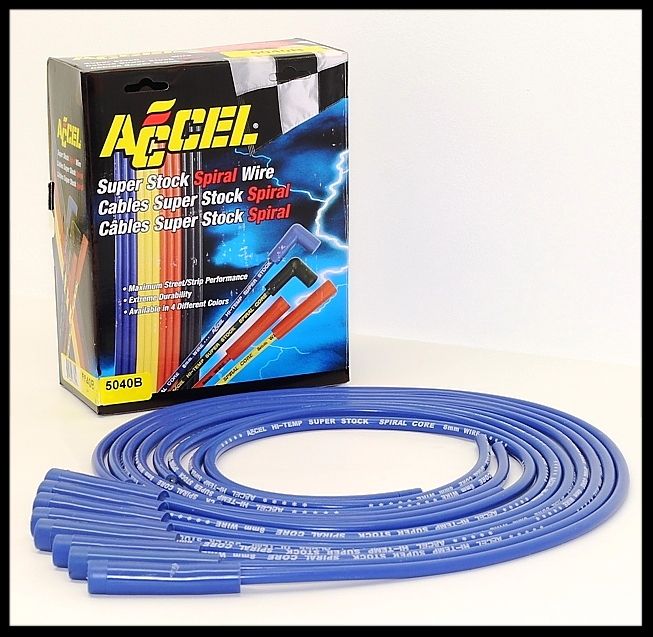 BRAND NEW, FACTORY SEALED.
These wires will work with most any V-6, V-8 or I-6 engine that uses the straight boots on the spark plugs. Some engines that do not use the straight boots may still be able to use these, such as those using the 115 degree wires. Check for exhaust or header clearance if you are not sure. Most all BBC Chevy V-8's can use the straight boots without any clearance problems. Universal wires are the only way to go for that perfect fit look.
The Accel 5000 Series wires are a much better grade than their 3000 and 4000 series. These wires have an excellent heat resistance rating, rated at 550 degrees vs. 450 for the Accel 4000 series.
This higher temp resistance is very desirable considering the high levels of heat most plug wires encounter. The heat destroys wires prematurely and allows voltage loss. These wires also have a much higher level of conductivity compared to the 3000 and 4000 series. Compare the ohm ratings on all the Accel wires and you will see there is a great difference between the 3000, 4000 and 5000 series.
We consider these wires to be an excellent grade of wire for use on any street rod or stock vehicle. We use these wires on our turn key engine packages. Dyno results show no difference in performance from higher grade wires.
These wires are universal to allow for custom fit. They will fit male style or female style distributor caps. The male and female terminals are included. The spark plug boots are all straight, and the boots for the distributror are all 90 degree. We offer a lifetime warranty on these wires against manufacturers' defects.
We also offer these wires in black and red with straight boot ends as well as 90 degree boots. See our other listings.
With a low ohm resistance rating, more ignition energy can reach the spark plug, producing a longer-lasting, hotter spark flame kernel. The results are higher performance through improved efficiency, quicker throttle response, and reduced emissions.
Their double silicone construction eliminates arcing and is rated to 550 degrees F. The high-gross wire jacket resists moisture, chemicals, and heat extremes for longer life and great looks. The fiberglass braid adds greater pull strength and terminal retention, while the stainless steel spark plug terminals provide excellent long life, electrical conductivity, and corrosion resistance. Both universal and custom-fit applications are available for early and late model cars and trucks. They're designed for street-driven, pre and post-HEI applications.
Brand new, factory sealed.
| | | |
| --- | --- | --- |
| Not assembled | | Universal for custom fit. |
| Diameter (mm) | | 8.00mm |
| RFI Suppression | | Yes |
| Wire Color | | Blue |
| Distributor Terminal Ends | | 90 Degree Male or Female HEI |
| Distributor Boot Color | | Black |
| Distributor Boot Material | | High Temp Silicone |
| Spark Plug Boot Ends | | Straight Boot |
| Spark Plug Boot Color | | Blue |
| Spark Plug Boot Material | | High Temp Silicone |
| Coil Wire Included | | Yes |
| Conductor Style | | Spiral core |
| Quantity | | Sold as a set |
Brand new, factory sealed. Part number is 5040-B.
Important Note:
The 8.0mm 5000 Series wires are considered a medium to high end set of wires. As you may know, plug wires come in many different quality grades. The 5000 Series is just below the top of the line offered by Accel. They have four levels of plug wires, so one under the top grade is a very decent cable. Each grade up has a lower resistance rating and a higher temp rating. The ohm and temp. ratings of a plug wire are very important.
Good quality wires are very important for proper ignition. Beware of some of the 9.5-10mm low grade wires on the market. These knock-off wires have been found to be inferior in many different ways. They are composed of nothing more than a thick low grade rubber cable. The inside core structure is unlike any wire on the market.
Many of our competitors are offering these wires with the HEI distributor and also sell them alone. Those wires alone sell for around $29.00-$38.00 and are pure junk. They capitalize on the large cable size, usually around 9.5-10mm. Truth is, any good quality set of 9.5mm or larger wires on the market would sell for well over $100.
When I referred to the low grade 9.5-10mm wires as being a knock-off set of wires, I want it to be understood that I don't have anything against so called knock-off products if the quality and value are what it should be. The low grade 9.5-10mm wires that are out there are not.
We have first hand knowledge of the quality of these wires, as they were sent to us for evaluation. We hoped that they would be a decent low cost product to offer our customers. Upon close observation, these wires were the worst we had ever seen. The copper spiral windings were micro-thin, and upon testing the ohm rating, the resistance was very high. In fact, the ohm rating was worse then any wire we have ever reviewed. The conductivity was very poor. The many layers of protective jacketing used on most high quality wires was missing. The outer rubber jacket was made from a gummy soft rubber that has no resistance to heat. The center core in the wire was a fraction of the size of any name brand wire on the market.
So, don't be fooled by these low cost wires with a large mm diameter. The benefits of using a high end set of wires are many. Low quality wires will cause your engine not to perform the way it should, and they will degrade in conductivity at a very fast rate compared to name brand quality wires.
We have seen several sellers offering these low-grade wires in various colors. The tell tale in spotting these wires will be an unknown or unfamiliar name, an unusually low cost, large diameter cable size (9.5-10mm), and no spec ratings on the wire.
Our sales staff has limited technical knowledge on this product and are usually unable to answer many of the questions asked. See our other listings for variations of this product.

We are not responsible for collateral damage caused by the use of this product.
HONEST DEALER

Reviewed by h***g on May 3, 2018, 3:32 p.m. | Permalink

This review has no votes.

Fast shipping. A++++++++

Reviewed by a***l on April 5, 2018, 2:22 p.m. | Permalink

This review has no votes.

Very good quality and fast shipping, but the price of shipping wasn't right.

Reviewed by 8***8 on March 12, 2018, 3:50 p.m. | Permalink

This review has no votes.