Product Information
| | |
| --- | --- |
| UPC | 331224647124 |
| Product Type | Shipped Product |
| Number of reviews | 0 |
FOR BBC CHEVY BIG BLOCK ENGINES
AFR 325cc RUNNERS 121cc CHAMBERS ELIMINATOR ALUMINUM HEADS.
AIR FLOW RESEARCH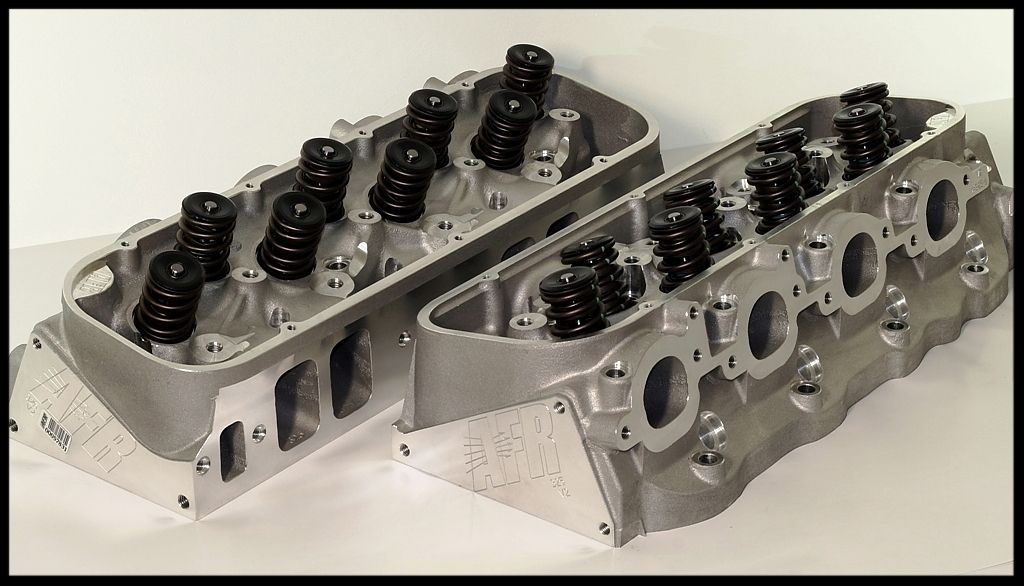 This sale is for a fully assembled set of heads (2 heads).
Our user id is: skipwhite, and our store name is whiteperformance1. You may have noticed other sellers using a similar name offering similar products. These other sellers have capitalized on our name as we see it, and many customers searching for us will inadvertently find them, thinking we are one in the same company. There is only one "Skip White." We are the original premier seller under this name since approximately 2003. We have no other names, nor are we associated with any other company regardless of the similarity in the name or location. Our official company name is Skip White Performance. Please see the article in the lower part of this ad for a more detailed explanation.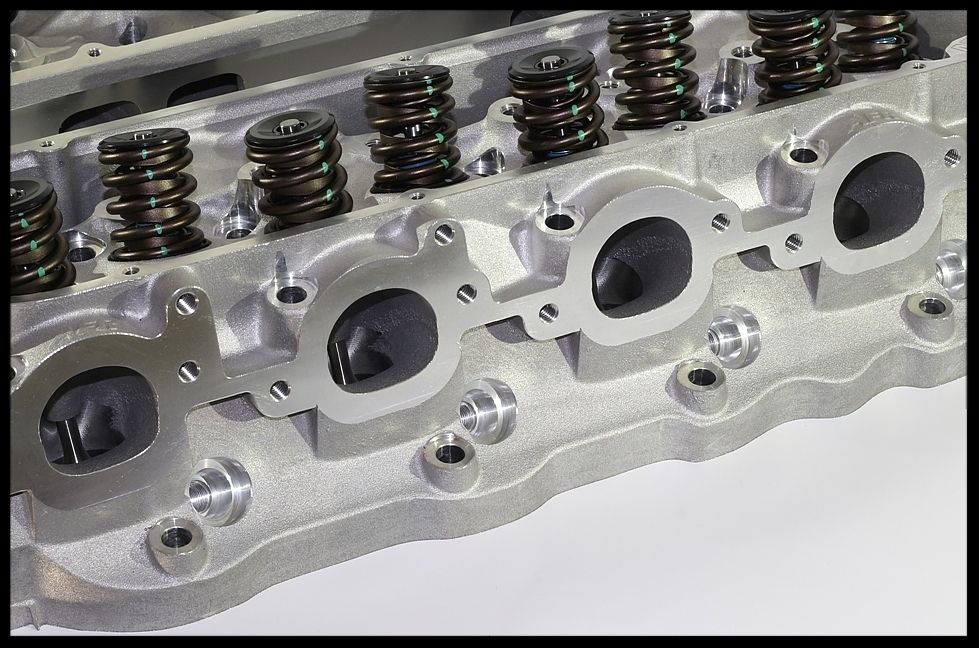 The springs in this setup operate with hydraulic roller cams

up to 650 lift.
READY TO INSTALL.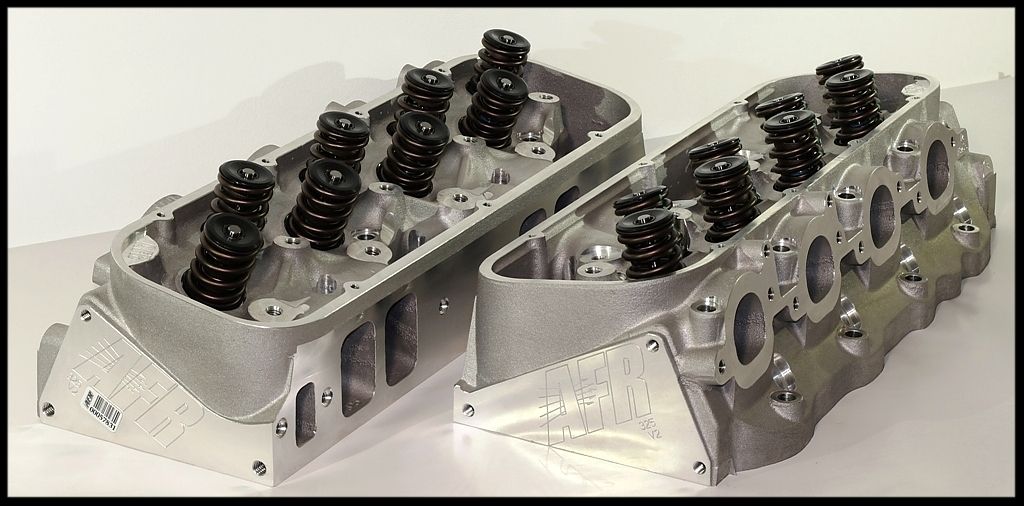 This sale is for the a set of BBC 325cc heads setup for hydraulic roller cams. We suggest using these heads on setups coupled with cams in the 580-640 lift range. These heads will most likely prevail best on 496 and larger cubic inch engines.
Important note.
These heads are not suitable on 396, 427 or 454 engines that have compression below 10.5:1 Calculate your compression ratio before purchasing. These heads are well suited on 496 and larger bbc engines. The compression required would be 10:1 or higher. Slightly less would be ok.
| | |
| --- | --- |
| Accessory Bolt Holes Drilled | Yes |
| CNC-Machined Combustion Chamber | YES |
| CNC-Machined Exhaust Runner | PARTIAL WITH CNC BOWL BLENDING |
| CNC-Machined Intake Runner | PARTIAL WITH CNC BOWL BLENDING |
| Combustion Chamber Style | Heart |
| Combustion Chamber Volume (cc) | 121 |
| Cylinder Head Finish | Natural |
| Cylinder Head Material | Aluminum |
| Cylinder Head Style | Assembled |
| Damper Spring Included | Yes |
| Exhaust Port Location | Raised .375 |
| Exhaust Port Shape | D SHAPED |
| SPRING TENSION | STD. TENSION SPRINGS. #8016 |
| Exhaust Valve Angle | 23 |
| Exhaust Valve Diameter (in) | 1.880 in. |
| Exhaust Valves Included | Yes |
| Guideplate Pushrod Size | 5/16 in. |
| Guideplates Included | Yes |
| Heat Crossover | Yes |
| Intake Port Location | Standard |
| Intake Port Shape | Rectangular |
| Intake Runner Volume (cc) | 325cc |
| Intake Valve Angle | 23 |
| Intake Valve Diameter (in) | 2.300 in. |
| Intake Valves Included | Yes |
| Lock Style | 10 degree |
| Locks Included | Yes |
| Machined for O-Ring | No |
| Maximum Valve Lift (in) | 0.650 in. |
| Number of Springs Per Valve | Dual |
| Oiling Style | Through pushrod |
| Outside Diameter of Outer Spring (in) | 1.550 in. |
| Quantity | Sold as a pair. |
| Retainer Material | Chromoly steel |
| Retainers Included | Yes |
| Rocker Arm Nut Thread Size | 7/16-24 in. |
| Rocker Arm Nuts Included | No |
| Rocker Arm Studs Included | Yes |
| Rocker Arms Included | No |
| Spark Plug Style | Angle plug. |
| Steam Holes Drilled | No |
| Valve Cover Mounting Style | Perimeter bolt |
| Valve Guide Material | Bronze |
You can reduce your engine weight by around 100 lbs. with the use of aluminum heads. You can also increase your power up to 250hp over an OEM 454 engine, depending on choice of cam and intake manifold. Compression ratio must be approx. 10.5:1 or higher on 427 and 454 engines. 496 or larger engines can get by with less compression but no lower than 10:1
.
A final note...Skip White Performance...About Us
I'm sure many of you have noticed there are 2 high performance engine builders in Kingsport, TN with similar names, leading to a great amount of confusion.
We are Skip White Performance, NOT White Performance and Machine.
Due to the name similarity, many customers looking for us online inadvertently find them, thinking we are the same company. Definitely not...there is no connection between the two companies. We don't have a problem with free enterprise (competition). However, when the competition builds their foundation on such things as a name similarity and their supposedly long history of being in business, then we think it's about time we set the record straight.
We have owned White Performance since 2003, with the exception of the machine shop, which was owned by Fred White at the time. He continued to operate the machine shop and build engines for us while we continued selling online under the user ID of skipwhite and the store name of whiteperformance1.
Due to their limited production capability and many disagreements about the engine and head building process as well as workmanship, we opted to open a full scale machine shop of our own a few years later. Fred White began competing against us even though our contract had a non-compete clause in it.
As our business grew, we opened a second, much larger warehouse and machine shop around 2011, located on Brookside Ln. in Kingsport TN. By putting heart and soul in this company, we have become the number one street rod engine builder in the nation.
Fred sold his shop to an investor in 2016 and the new owners continue to reap the benefits from this confusion between the two shops. This investor lacked any knowledge of this industry. They continue to use the White Performance & Machine name. Contrary to what is posted on their website, Fred White is no longer associated with the company in any way. Their main spiel in advertising is, "In business since 1979," when in fact, we purchased the White Performance company in 2003, with the exception of the machine shop.
All in all, we have been in this business going on 17+ years. Skip White's passion has been owning and building street rods for 47 years on a personal level. The knowledge he has gained over time has allowed him to venture into this business and succeed to a very high level.
The great pretenders continue capitalizing on our success due to the name similarity, but have been degrading our reputation. We have been getting calls nearly on a daily basis from people that now realize there are two shops in this town with very similar names. Customers complain of serious problems in getting their orders in a timely manner from them. They think they purchased their cylinder heads from us. Due to the confusion, there is an increasing amount of negative feedback that is affecting our name within the street rod community, when in fact we have a near perfect reputation in this industry. We have an "A+" rating with the Better Business Bureau and we have maintained the A+ rating for many years.
FAST FORWARD TO PRESENT DAY...We have become the largest street rod engine builder in the nation. Our engines, rotating assemblies, and cylinder heads are built to very high standards and shipped to our customers in a timely manner. We are a premier seller on with a positive feedback score of well over 206,000 and growing, as compared to our competitor's score of approximately 24,000.
Our engines are custom-built to our customers' specifications and are shipped in approx. 2-5 weeks, perhaps sooner, depending on the season. Our rotating assemblies usually ship out in about one week or less, and our heads ship in about a week or less.
We are not responsible for collateral damage caused by the use of this product.
Customer Reviews
This product does not have any reviews yet.