Product Information
| | |
| --- | --- |
| UPC | 371704681088 |
| Product Type | Shipped Product |
| Shipping Cost | $16.50 |
| Number of reviews | 0 |
AIR CONDITIONING COMPRESSOR AND CUSTOM CHROME OVER ALUMINUM BRACKET FOR SBC CHEVY ENGINE
Pictured below is the custom polished aluminum AC bracket kit. You will receive the chrome over aluminum bracket. It's much nicer in appearance then what you see in the picture. The chrome finish is decent.
This bracket kit, once mounted, holds the AC compressor rock solid. No flexing or movement in any direction. As you can see in the pictures below, the bracket and adjusting arm secures the compressor from the front and rear.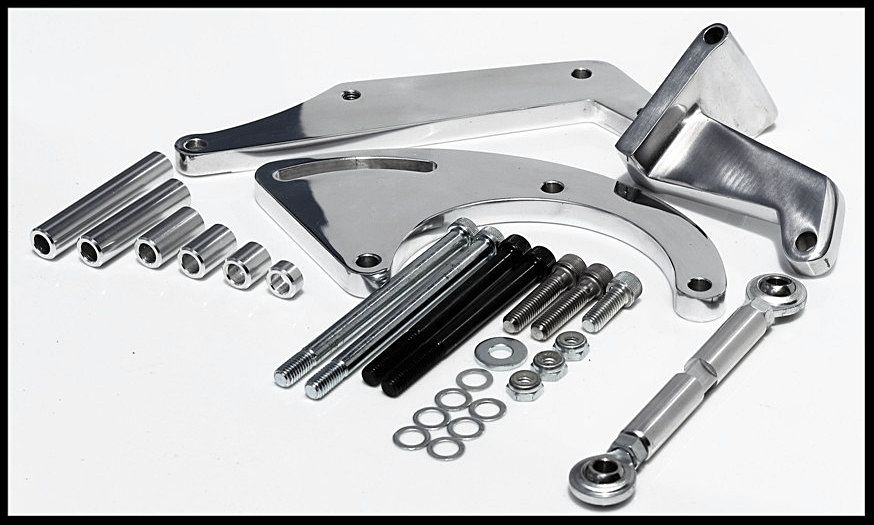 The picture below has our prototype bracket mounted on the compressor. The actual bracket you will receive will be identical with the exception of having a high polished chrome over aluminum finish, and the harsh edges on the aluminum brackets have also been rounded out for a more finished out look. We designed this bracket kit and use it on our sbc engines that require AC.
We also offer this bracket kit in black finish. See our other listings.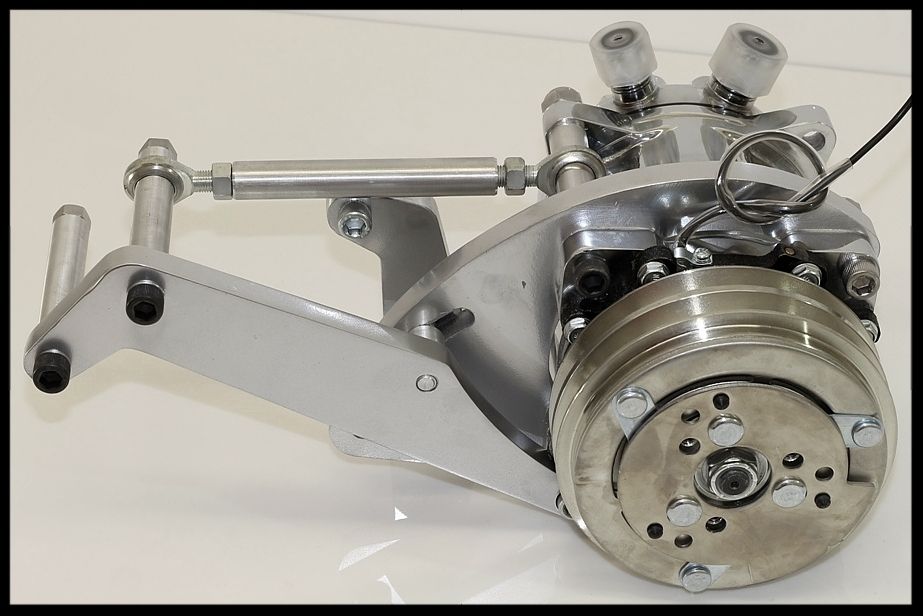 THE PICTURES BELOW ARE TO SHOW YOU HOW THIS SETUP LOOKS ONCE MOUNTED ON THE ENGINE.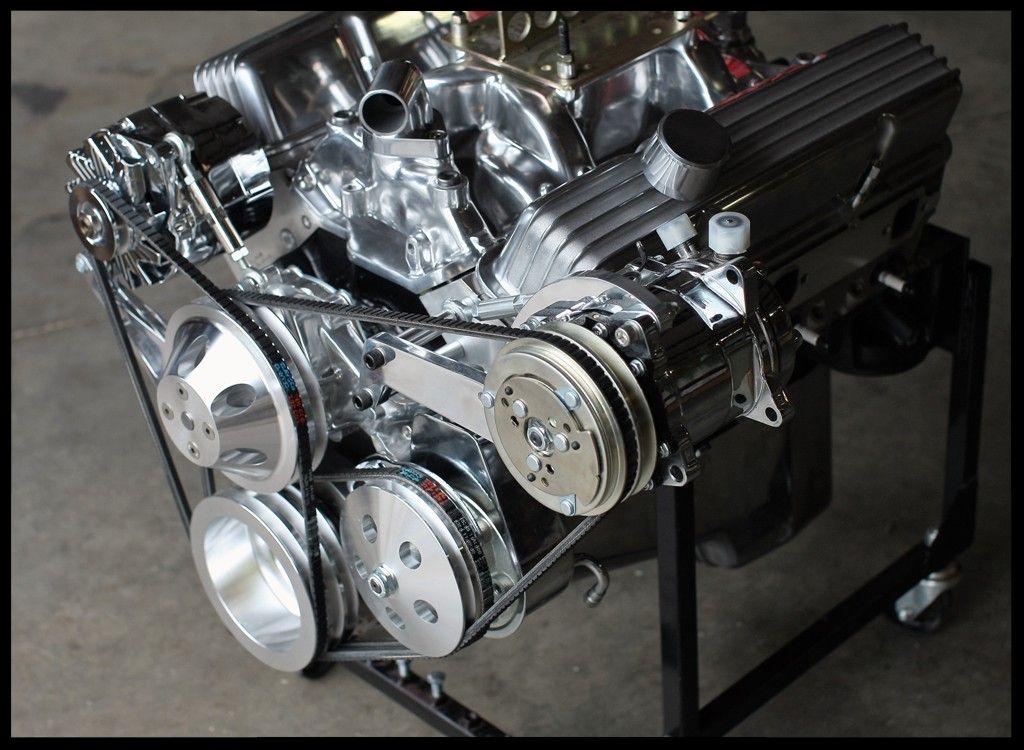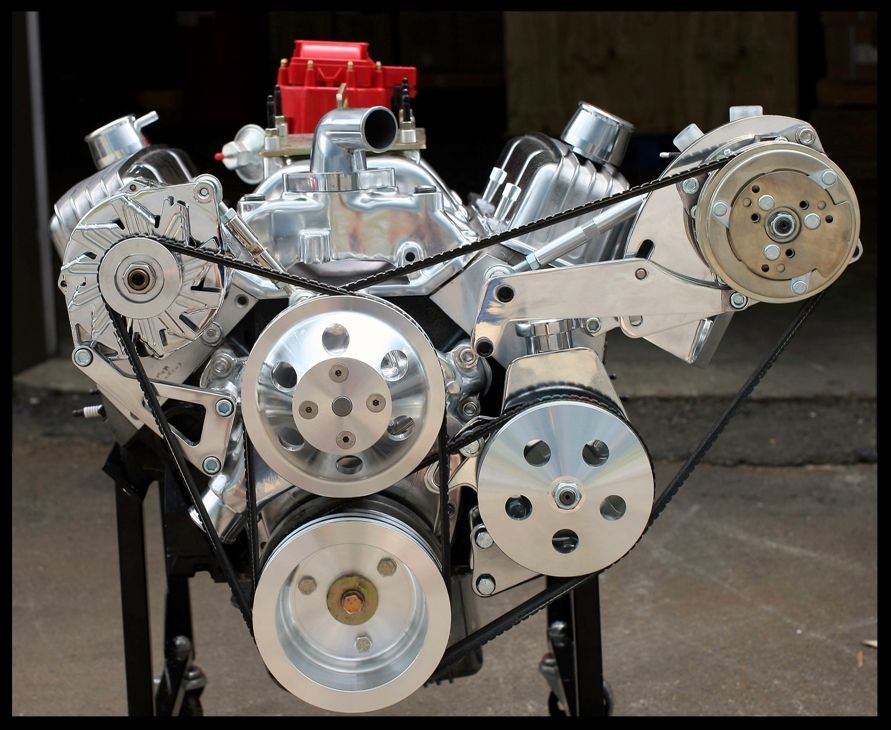 This AC compressor and bracket kit is exactly what we use on our Turn-Key complete engines that require air conditioning. We have sold over 500 of these engines using this bracket and compressor kit. The parts used are of exceptional quality and fit. The parts are very simple and straightforward to assemble. We will also offer technical assistance to those needing it. We have seen other configurations on the market that are nothing more than a mix-match of parts with no regard as to how they will go together. You will also receive the needed hardware to mount the bracket and compressor. This setup is for use on sbc engines using a long water pump.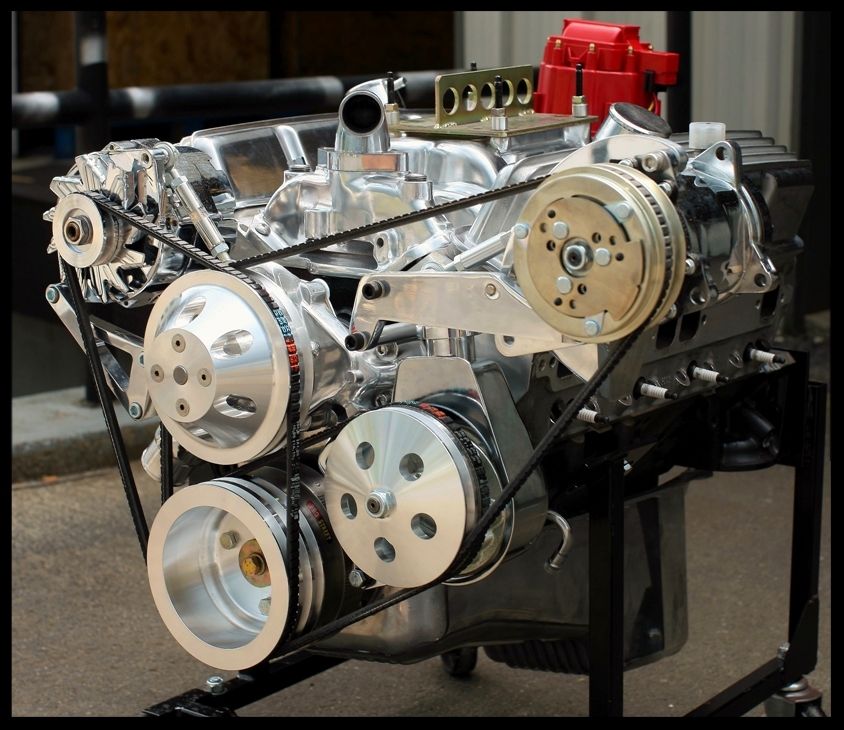 What is included:
Sanden style A/C compressor.
Custom three pc. bracket set.
Hardware as shown in the pictures needed to mount the bracket.
What is NOT included:
The engine, heads, valve covers, intake manifold, starter, water pump, fuel pump or carburetor, pulleys, accessories, such as the alternator, or any other brackets you see on the front of this engine.
Many have asked why we're able to sell our products for such a great price. It's because we're also a major distribution center for all of the parts used in this kit. Our purchase price for the parts used in this kit are at master warehouse distributor (WD) pricing. Few retailers ever get to master-wd pricing. We also believe in keeping our profit levels low enough to allow the working man a chance to build his car the way it should be built.
A final note.
Our eBay user id is: skipwhite, and our eBay store name is whiteperformance1. You may have noticed other sellers using a similar name offering similar products. These other sellers have capitalized on our name as we see it, and many customers searching for us will inadvertently find them, thinking we are one in the same company. There is only one "Skip White." We are the original premier eBay seller under this name since approximately 2002. We have no other eBay names, nor are we associated with any other company regardless of the similarity in the name or location. Our official company name is Skip White Performance.
Email us for shipping cost for overseas delivery. We have excellent sources for low cost shipping anywhere in the world.
Customer Reviews
This product does not have any reviews yet.