Product Information
| | |
| --- | --- |
| UPC | 371696952276 |
| Product Type | Shipped Product |
| Shipping Cost | $16.50 |
| Number of reviews | 15 |
COMPLETE
HIGH PERFORMANCE
HEI DISTRIBUTOR FOR
AMC/JEEP 232 258 INLINE 6 CYL.
WITH ACCEL 5000 STRAIGHT BOOT UNIVERSAL WIRES
The picture below is a file photo. Further down in the ad is an exact picture of the actual distributor you will receive.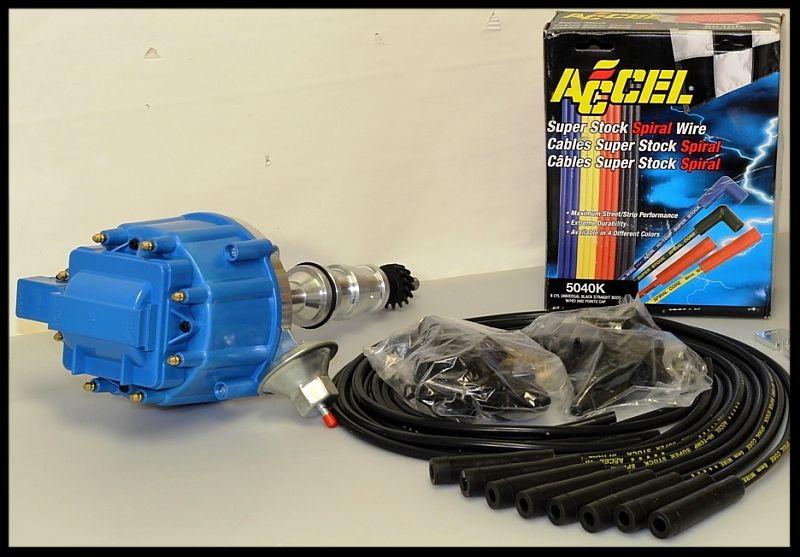 Read this complete ad before purchasing this product. Before you ask any questions about this product, please read the "Important Note" in the lower section of this ad.
You will receive two extra plug wires with this set of wires. This is the same straight boot set of universal wires we offer for the V-8 Jeep engines. The Accel 5000 Series wires cost approx. $55.00 at most all major retailers. This is an excellent value.
Universal wires do require assembly on one end. This allows for a perfect custom fit.
THIS DISTRIBUTOR WILL NOT WORK WITH FUEL INJECTED ENGINES.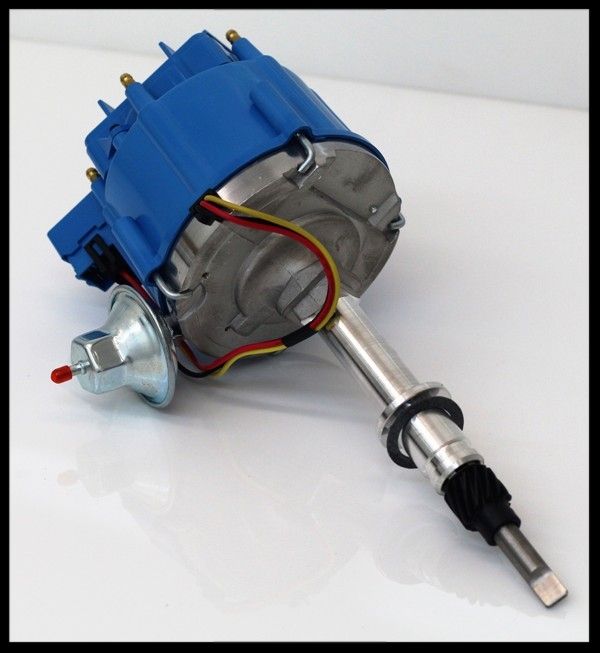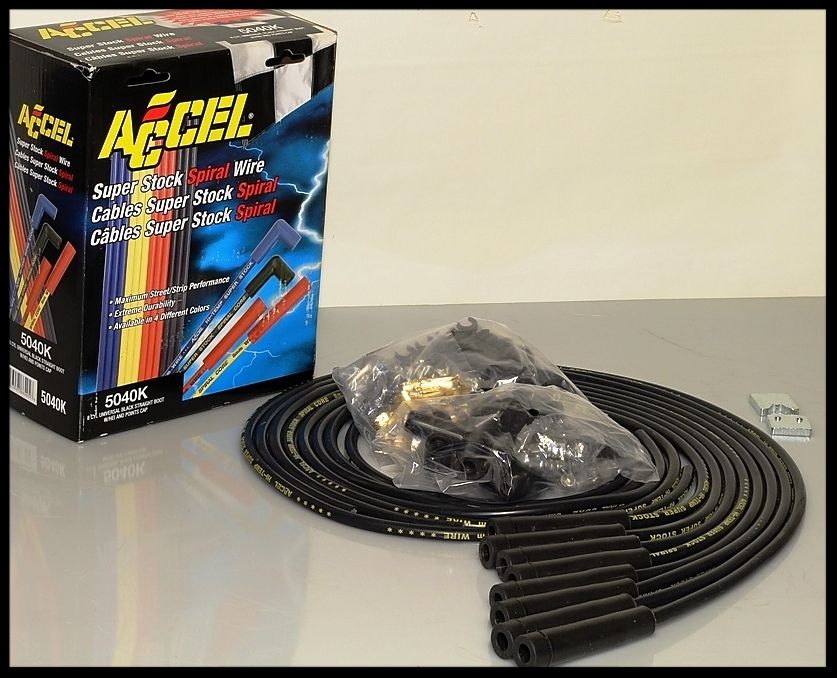 Universal wires do require assembly on one end. This allows for perfect custom fit.
We also offer this kit with 90 degree plug wire boots. See our other listings.
The Accel 5000 Series wires are a much better grade than the 3000 and 4000 series. These wires have an excellent heat resistance rating: 550 degrees versus the Accel 4000 series, which are only rated to 450. This higher temp. resistance is very desirable considering the high levels of heat most plug wires encounter. The heat is what destroys wires prematurely and allows voltage loss. These wires also have a much higher level of conductivity compared the 3000 and 4000 series. Compare the ohm rating on all the Accel wires and you will see there is a great difference between the 3000, 4000 and 5000 series. We consider these wires to be an excellent grade of wire for use on any street rod or stock vehicle. We use these wires on our turn key engine packages.
The 8mm 5000 Series wires are considered a medium to high-end set of wires. As you may know, plug wires come in many different quality grades. The 5000 Series is one below the top of the line offered by Accel, which has four levels of plug wires. Therefore, one below the top grade is very decent cable. Each grade up has a lower resistance rating and a higher temp. rating. The ohm and temp. rating of a plug wire are very important. A good quality set of wires is very important for proper ignition. When comparing the many wires on the market, do understand that the quality varies greatly among them.
The Accel Super Stock Spiral Core Spark Plug Wire Set offers more ignition energy to the spark plug, producing a hotter, longer lasting spark flame kernel. The result is higher performance through improved efficiency, quicker throttle response and reduced emissions. This 8mm wire is constructed of double silicone and is rated to 550 degrees F. The high gloss silicone wire jacket resists heat extremes, petrochemicals and ozone and has moisture resistance for greater durability and longer life. The high-density, high-temperature and high-durometer silicone insulation provides greater dielectric strength. The fiberglass braid adds greater pull strength and terminal retention. The stainless steel spark plug terminals provide excellent long life, electrical conductivity and corrosion resistance. They are used with pre and post High Energy Ignition (HEI) applications and are custom/universal fit.
The male and female terminals are included. You will use the ends dedicated for use with male style distributor caps. The spark plug boots are straight style. We offer a one-year warranty on the distributor and wires against manufacturer defects.
Very Important Note.
Beware of some of the 9.5-10mm low grade wires on the market. These knock-off wires have been found to be inferior in many different ways. They are composed of nothing more than a thick low grade rubber cable. Many of our competitors are offering these wires with the HEI distributor and also sell them alone. Those type wires retail for around $29-$38 and are pure junk. They capitalize on the large cable size, usually around 9.5-10mm. Truth is, any good quality set of 9.5mm or larger wires on the market would sell for well over $100.
When I refer to the low grade 9.5-10mm wires as being a knock-off set of wires, I want it to be understood that I don't have anything against so called knock-off products if the quality and value are what it should be. The low grade 9.5-10mm wires that are out there are not this way. We have firsthand knowledge with these wires, as they were sent to us for evaluation with the hope that we could offer a decent low cost product to our customers. Upon close observation, these wires were the worst we had ever seen. The copper spiral windings were micro-thin, and upon testing the ohm rating, the resistance was very high and tested worse than any wire we have ever seen. In layman's terms, the conductivity was very poor.
They lacked the many layers of protective jacketing of most high quality wires. The outer rubber jacket is made from a gummy soft rubber that has no resistance to heat. The center core in the wire was a fraction of the size of any name brand wire on the market. So don't be fooled by these low cost wires with a large mm diameter. The benefits of using a high end set of wires are many. Low quality wires will cause your engine not to perform the way it should, and they degrade in conductivity at a very fast rate as compared to name brand quality wires. We have seen several sellers offering these low-grade wires in various colors. The tell tale to spot these wires will be the fact they have an unfamiliar name, are unusually low in cost, large diameter cable size, (9.5-10mm) and have no spec ratings on the wire.
We also offer the distributor and wires in different color combos. See our other listings.
Fits 6 cyl. AMC carbureted engines only. See our other listings for the V-8 model.
HEI distributor. This is a must for those wishing to upgrade the ignition system from points, or the poorly designed electronic ignition that AMC came out with around 1974. This is a one wire distributor.
***AMC CAM GEAR WARNING***
MAKE SURE TO CHECK YOUR CAM GEAR. 95% OF MOST AMC APPLICATIONS CANNOT PUT A NEW DISTRIBUTOR GEAR WITH AN OLD CAM GEAR OR IT COULD DAMAGE THE CAM GEAR. FAILURE TO DO SO COULD BE VERY COSTLY TO YOU.
One-year warranty, unlimited mileage!
We are the no. 1 wholesale marketer of HEI distributors in the country.
We have many garages and speed shops that purchase these in case lots from us. We have the best HEI on the market.
Click on the purchases tab above, and you will be shocked as to how many people are buying this unit. We have noticed other units on the market, but few are of this quality. It is the no. 1 HEI on the market.
We have possibly sold more of these than anyone in the country. This is a totally revised unit.
One-year warranty, unlimited mileage!
Complete distributor. Our absolute best selling unit. This is the complete distributor body, shaft, gear, coil, cap, rotor button.
Read some of our past feedback from those who have purchased this unit, and you will be convinced of its quality and value.
This is the newest version on the market. This has the high output coil and is essential on any modified engine.
We do have the best HEI on the market. Our failure rate is nearly zero on this unit.
Notice the precision machine work on the distributor body. Many others are not like this. We have been very selective on our choice, as there are many HEI's on the market.
We have sold this same unit at our store for several years, and have many high performance engines in this area running this unit. The only difference is this is a much improved model.
We are in the performance business.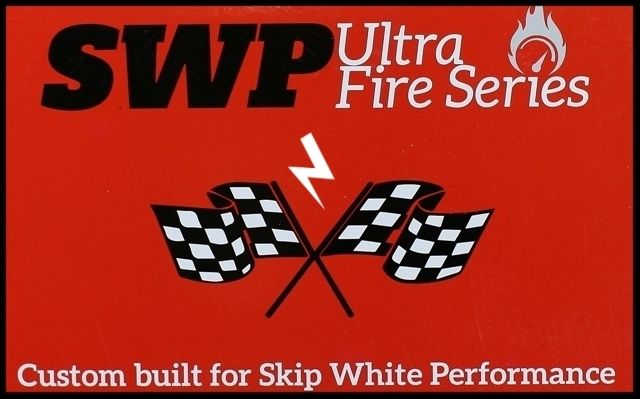 Fully CNC Machined
Adjustable vacuum advance canister to improve economy while cruising
Premium caps with brass terminals, and a low-saturation ignition module
High Output Coil
It also offers true spark alignment for instantaneous response at high RPM

We offer a one-year warranty on this distributor.
This is the perfect upgrade for your classic AMC JEEP, or just part of a tune-up. Here are a few problems you are most likely to encounter when using an old distributor.
Excessive end shaft play

Bushing wear

Weak coil, worn or cracked cap, and button

Weak module

Corrosion buildup

Weakened advance springs

Gear wear

If going from points to HEI this alone is a huge upgrade
All of the above can greatly affect the performance of your engine.
Warning, you must run 12 volts to this unit. No ballast resistor is to be used. Most if not all point distributors used a ballast resistor in the power line. Do away with this or the HEI unit will not be receiving a full 12 volts. Use a volt meter to confirm this. Sometimes the ballast resistor is difficult to locate. You are better off running a fresh new 10 gauge power lead that is active when the key is in the crank and run position.
These are just a few of the things that most old distributors have going on with them. For the low cost of a complete brand new one, it just makes little sense to use the original distributor. When we rebuild any early model AMC engine, we insist the customer purchase a new distributor. You will notice a performance difference in your engine if you have any of the above issues with your old distributor. All of the old HEI's we see have excess end play in the shaft. I'm sure the coils on them are not at full voltage. The Super Coil is much more than the OEM model. All car makers have dramatically improved the ignition systems on cars and trucks. This is an indication of how important good ignition is to an engine.
This distributor also has the performance curve setup. Do not be misled into thinking other HEI's on the market are superior to this. If anything, they are most likely the older version. We have sold more HEI's than most others around, and we do our best to provide the newest models available.
The part numbers for distributors beginning with 65 and 85 are interchangeable. The distributors are identical in every respect. We changed the artwork on the package to private labeling and our supplier had to change our part number to distinguish our private label (85 series) from the standard labeling sold to other suppliers (65 series). You may receive the alternate part number since we still have both in stock.
Our technical knowledge is limited on this product. Our sales staff are usually unable to answer many of the questions asked. Many of the questions are, "how do you install this distributor", "what model cars will this work in", "how do I wire it up" Most of the people on our sales staff simply don't know these answers, and even if we did, the time involved answering so many of these questions is what led us to writing this notice. We update info in our listings on a regular basis, and if it's not in the ad, then there's a good chance we don't know the info. There is a solution to this problem for those with numerous questions about the product. You have all heard the saying that a picture is worth a thousand words. Well, it is, and with that being said, a video is worth a million words. If you go to YouTube and type in key words such as, "How to install an HEI distributor" you will find dozens of highly informative videos showing the complete process step by step. These video are usually very accurate. We suggest that you watch several of them because some are easier to understand than others, and some have additional info in them that may not be covered in the others. You can't possibly go wrong watching these videos. At one time, we put installation instructions in our ads, and they led to much confusion for many, and the emails and calls coming were numerous. The videos on YouTube will be all you need. They are very simple and straightforward to follow. We did a search on the key words mentioned above, and literally hundreds of "how to" videos on every aspect of installing an HEI came up. There were even videos on changing over from a point distributor to an HEI.


We are not responsible for collateral damage caused by the use of this product.
Received and installed in my Jeep...this distributor is awesome, highly recommen

Reviewed by 9***9 on June 10, 2018, 5 p.m. | Permalink

This review has no votes.

ok

Reviewed by a***_ on May 21, 2018, 4:19 a.m. | Permalink

This review has no votes.

Best update a Jeep owner should do. My Jeep runs the best ever

Reviewed by i***n on May 17, 2018, 2:21 p.m. | Permalink

This review has no votes.