Product Information
| | |
| --- | --- |
| UPC | 332516211004 |
| Product Type | Shipped Product |
| Shipping Cost | $12 |
| Number of reviews | 0 |
BBC CHEVY 427 454 495 540 POLISHED ALUMINUM HIGH VOLUME LONG STYLE WATER PUMP WITH A CNC'D ALUMINUM IMPELLER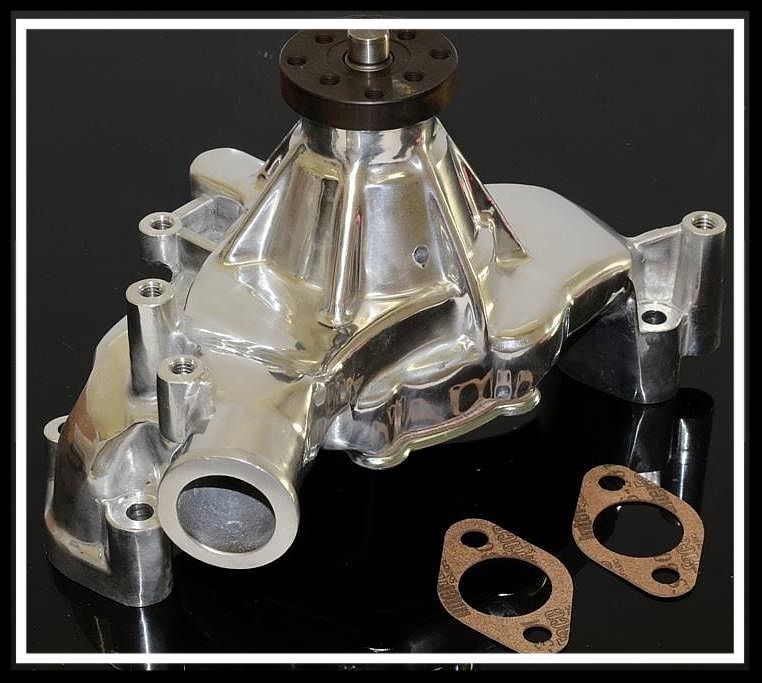 AVAILABLE IN LONG OR SHORT VERSION. THIS AUCTION IS FOR THE LONG VERSION.
We also offer this water pump with a chrome finish and plain satin.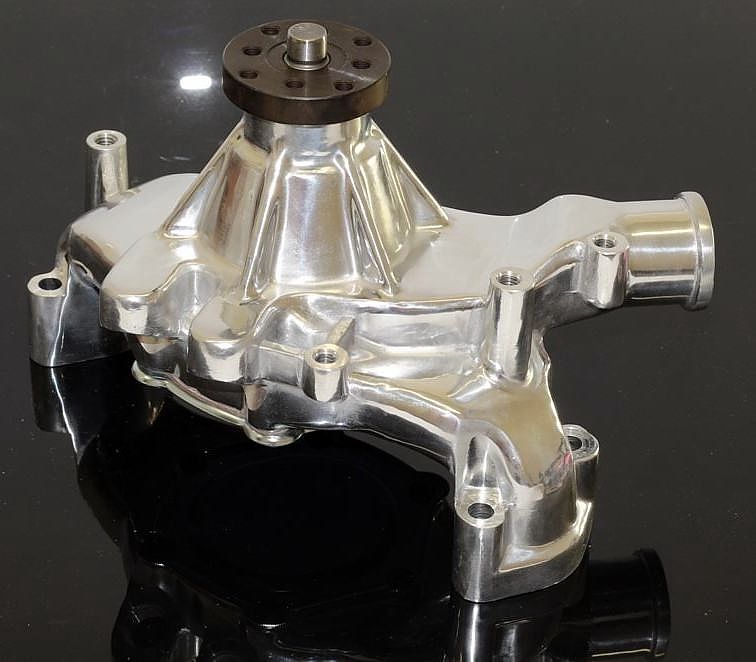 This water pump is used on everything from race cars to show cars as well as a simple stock replacement application.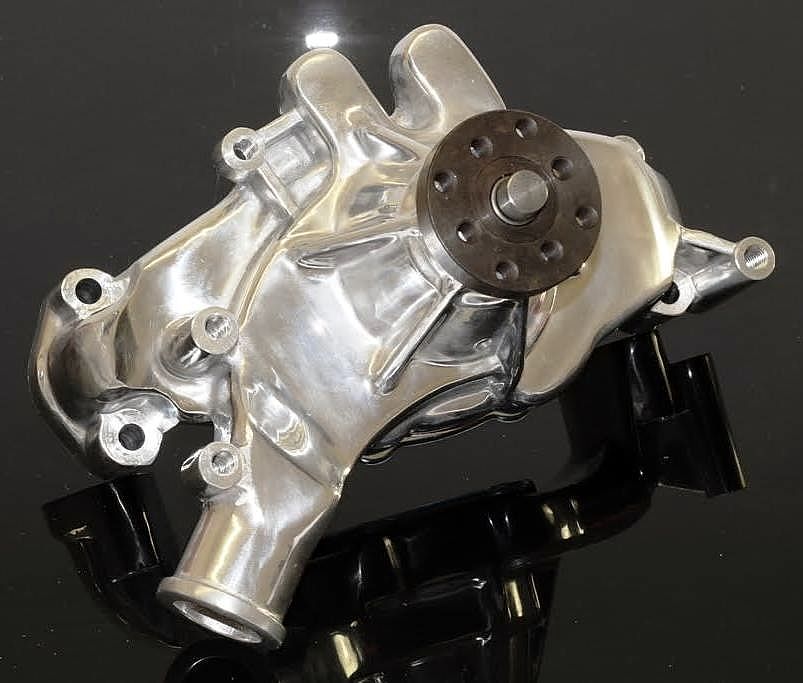 The polished finish is excellent. The photos do no justice for the actual appearance. Flash glare was an issue when shooting these pictures.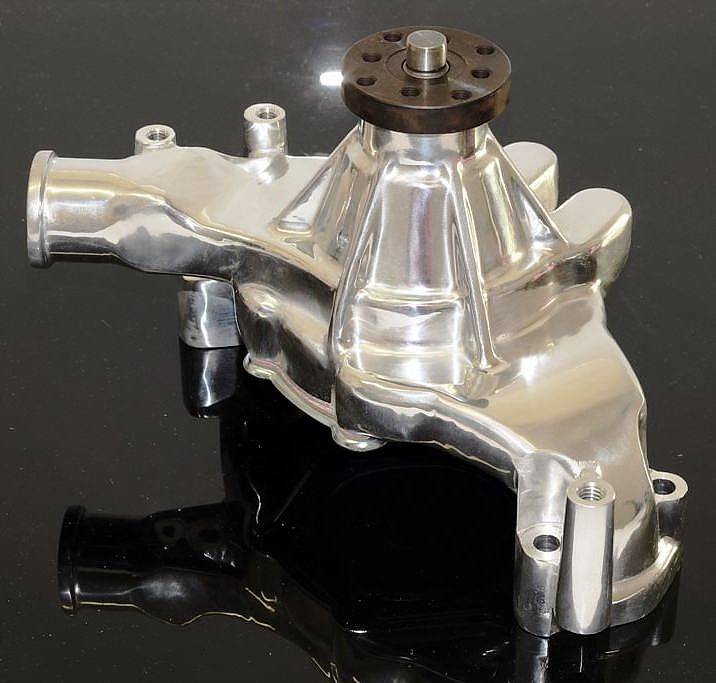 This water pump is what are using on all of our bbc engines we build. Failure rate is near zero.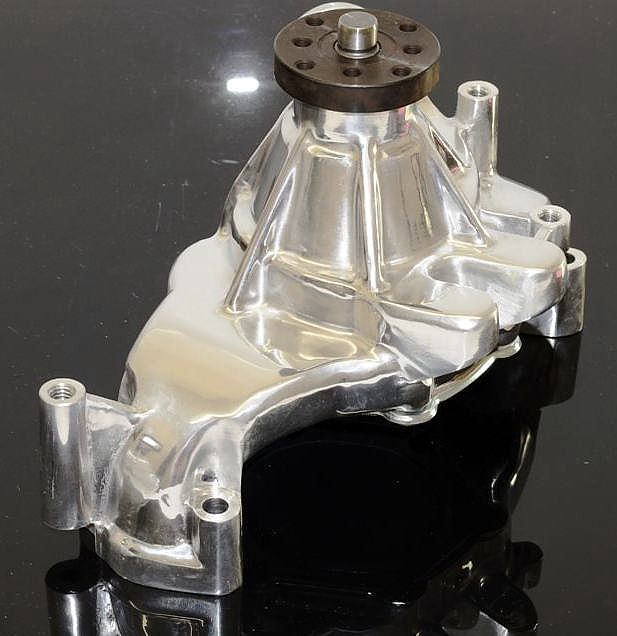 This water pump looks excellent at all angles.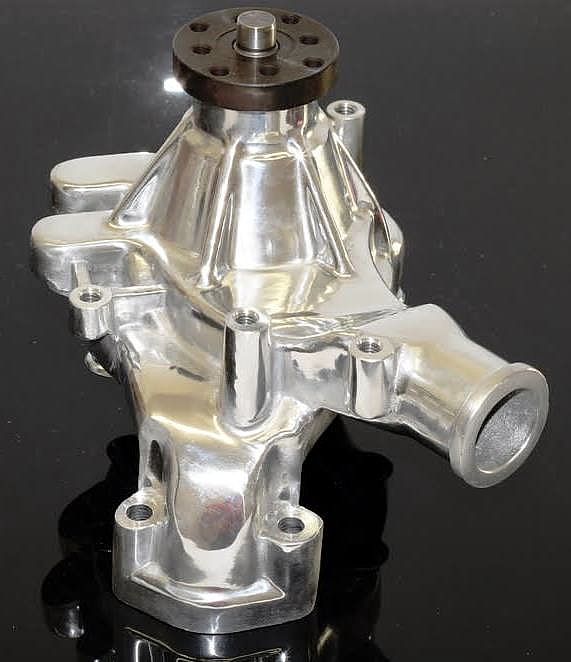 Pictured below is a file photo of one of our non-polished water pumps with the back plate removed to expose the cnc machined aluminum impeller. This is a far superior pump compared to those with stamped steel or cast iron impellers. This is an expensive upgrade, and well worth it, in our opinion. As mentioned this picture is a file picture of one our other model water pumps. All of our water pumps have this type of impeller.
This water pump has a cnc machined aluminum impeller. The rotational weight reduction is considerable. Most all other water pumps have a stamped steel or cast iron impeller. This water pump is considered high end street/strip grade. These water pumps sell for over $150.00 at all major retailers. For those wanting a lower cost water pump see our other listings.
The polished finish is overall very good. You may notice that in the crevices and corners the finish is not as smooth. This is only noticeable up close, and you will see this on all of the polished water pumps on the market. A dremel tool with a polishing tip would certainly bring it to perfection with ease, or Mothers Polish products has a mesh kit that is especially made for this.
For those wanting a less expensive water pump, see our other listings for the satin finish version of this pump.
The aluminum impeller is a very good feature, as well as the overall quality of this pump.
LIFETIME WARRANTY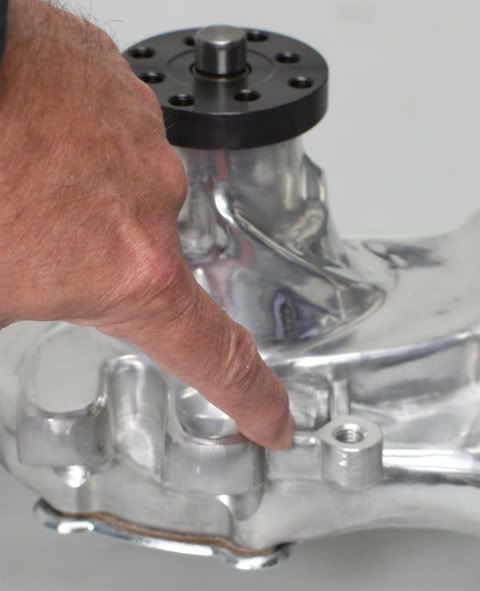 In the picture above, we are pointing out an area that may interfere with some of the oe steel brackets. The braced aluminum ridge that is pointed out is not on the cast iron oe water pumps. This ridge was designed to strengthen the mounting boss due to the fact that aluminum products of an equal size to cast iron are not as strong. This is an easy fix. You will also have to do a slight modification to the bracket in this area. Those using aftermarket March style or other such brackets will not encounter this.
This is the last water pump you ever have to buy!
Warranty is valid regardless of street or strip use.
The aluminum impeller in this water pump is designed to reduce rotational mass and dissipate heat at a faster rate, and that's a plus for any car.
Continue reading!
Here is a story to prove our point.
We had just installed a 383 stroker engine in a 79 C-3 Corvette and had converted it from mechanical to electric fans and could not stop the car from running hotter than we were comfortable with. The temp would soar to 235 in as little as ten minutes. We then replaced the OEM cast iron water pump with one of our aluminum water pumps with the aluminum impeller. We knew that an aluminum water pump, especially one with an aluminum impeller, could reduce operating temps, and it certainly did reduce the engine temp by approx. 10-15 degrees. We now use this line of water pumps exclusively on all of our BBC and SBC turnkey engines we build.
Most aluminum water pumps have stamped steel impellers or at best, machined iron impellers, and claim to be high volume. We have used other brands and styles of water pumps on stock engines that are not modified, and don't seem to have heating problems, but for vehicles with modified engines, this is the pump to run, and we proved it.
This pump is half the weight of a cast iron water pump with no sacrifice in reliability. There are no drawbacks to running this type pump, other than cost.
If your pump is still mounted on the engine, the way to tell long from short is that there is nearly no space between the timing cover and back of the water pump IF YOU HAVE A SHORT PUMP. The long pump will have nearly one full inch of space in that area.
PLEASE BE AWARE OF THE MANY INFERIOR WATER PUMPS ON THE MARKET. WE FEEL THIS ONE IS THE BEST AVAILABLE. IN YEARS PAST, WE HAVE SEEN INFERIOR PUMPS THAT BREAK OFF AT THE PUMP SHAFT, CAUSING SEVERE DAMAGE TO THE CAR. OUR PUMPS HAVE HAD NO SUCH FAILURES.
Compare before you buy. We will warranty this pump for LIFE from the date of purchase.
BE SURE OF WHAT STYLE WATER PUMP YOU HAVE.
Important notice.
On very rare occasions, we have had a few complaints of water seepage coming from the backplate. We noticed on a very few that the amount of sealant used on both sides of the gasket may have been insufficient. We strongly recommend removing the backplate and coating each side of the gasket with a good quality sealant before installing the water pump on the engine. This is a very simple procedure. The complaints concerning this issue are few and far between. Besides this minor issue, these water pumps have been extremely reliable.
Our technical knowledge is limited on this product. Our sales staff are usually unable to answer many of the questions asked. Many of the questions are, "how do you install this item", "what model cars will this work in". Most of the people on our sales staff simply don't know these answers, and even if we did, the time involved answering so many of these questions is what led us to writing this notice. We update the info in our listings on a regular basis, and if it's not in the ad, then there's a good chance we don't know the info. There is a solution to this problem for those with numerous questions about the product. We recommend searching the car forums for application questions, or technical info. You will find the answers you need on the forums for certain.

You have all heard the saying that a picture is worth a thousand words. Well, it is, and with that being said, a video is worth a million words. If you go to YouTube and type in the correct key words or phrases, you may find dozens of highly informative videos showing much of the info you need to know on this product.

We are not responsible for collateral damage caused by the use of this product.
Customer Reviews
This product does not have any reviews yet.