BBC CHEVY 427 454 496 VALVE COVER GASKETS OVERSTOCK # 7485
Available
$19.95
---
Product Information
| | |
| --- | --- |
| UPC | 332170620707 |
| Product Type | Shipped Product |
| Shipping Cost | $7.85 |
| Number of reviews | 652 |
PRO SERIES NEOPRENE-STEEL CORE VALVE COVER GASKETS FOR BIG BLOCK CHEVY 427 454 496 ENGINES.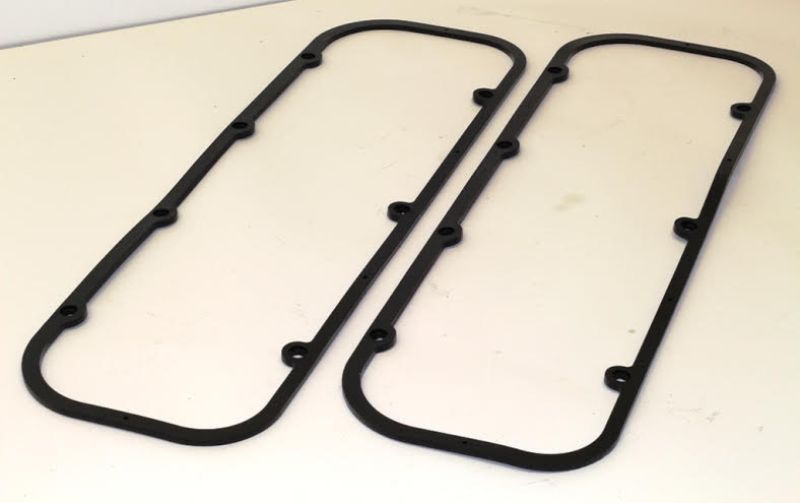 Important note:
This item is part of our overstock inventory to be sold at an all time low price. These items usually retail for 50-100% over our asking price. To find more of these items, we have added the word, "overstock" in the title of everything we are offering at clearance pricing. To find these items, go to our Ebay store or other listings and simply type in the word overstock, and it will display all of our reduced cost items. We have reduced pricing on these items far below the normal cost.
Don't think for a moment that these are not desirable items. Many are top sellers, and we purchased in such large quantities that they are taking up too much space, as well as operating capital. Take advantage of our half price shipping on any additional items.
THESE ARE A MUST HAVE!
THESE VALVE COVER GASKETS ARE MADE OF NEOPRENE RUBBER WITH A STEEL CORE. THESE ARE PRO STYLE GASKETS, WE'VE ONLY SOLD THESE FOR MANY YEARS. THEY ARE FAR SUPERIOR TO THE CONVENTIONAL CORK STYLE VALVE COVER GASKETS. THEY DON'T LEAK AND THEY ARE REUSABLE, WHICH IS ESSENTIAL FOR STREET ROD USE. YOU WILL BE PULLING THE VALVE COVERS OFF PERIODICALLY TO INSPECT YOUR ROLLER ROCKERS OR VALVE TRAIN, AS THEY ALWAYS NEED READJUSTMENT AFTER BREAK IN, OR SWAPPING OUT VALVE COVERS.
Our sales staff has limited technical knowledge on this product and are usually unable to answer many of the questions asked. Many of the questions asked are if we have gaskets for applications other than the ones listed. We do not have any other gaskets available other than what our listings show. For technical info on this product, refer to the gasket manufacturer's web page.

We are not responsible for collateral damage caused by the use of this product.
thanks

Reviewed by d***5 on Nov. 4, 2019, 3:34 p.m. | Permalink

This review has no votes.

thanks

Reviewed by j***l on Oct. 31, 2019, 11:48 a.m. | Permalink

This review has no votes.

thanks

Reviewed by d***5 on Nov. 3, 2019, 11:06 p.m. | Permalink

This review has no votes.