BBC CHEVY 427 454 Copper Exhaust Gasket Set # 64102
$18.50
Available
---
Product Information
| | |
| --- | --- |
| UPC | 331926580328 |
| Product Type | Shipped Product |
| Shipping Cost | $8.75 |
| Number of reviews | 3 |
BBC CHEVY 427 454 Copper Exhaust Gasket Set
One pair, (2 gaskets included)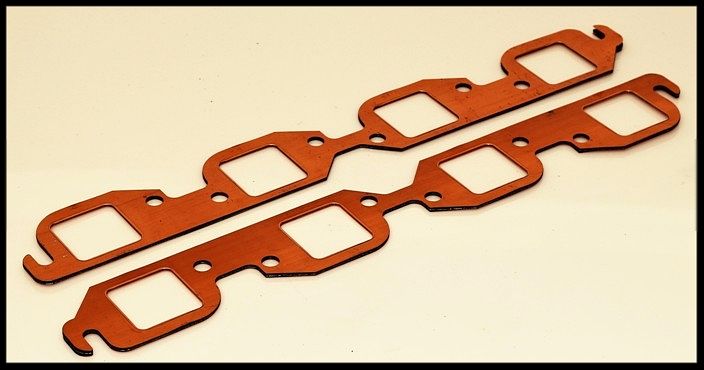 You will receive a total of two individual gaskets, (One Pair/Set)
RETAIL VALUE $43.95 OUR PRICE MUCH LOWER
The part number is # 64102
These gaskets have combined carbon and copper to form a new and innovative exhaust gasket design. The Copper exhaust gaskets feature a durable reinforced graphite gasket body with a pure copper sheet over both sides of the body. The copper sheets are not just a plating, they are pure 100% copper. With the unique blend of these materials, these gaskets are ideal for high-heat applications. They provide superior heat resistance, compressibility, and strength for a tight, permanent seal in all kinds of extreme conditions.
We truly believe this to be a superior design compared to solid copper only style exhaust gaskets. These are much more expensive to produce as far as the manufacturing aspect versus a solid copper gasket. Solid copper is nothing more than a gasket stamped from a sheet of copper and that's it. No real technology exists on those type gaskets, just a sell factor, as they are sure to emphasize that they are pure 100% copper, and yes they have benefits, but not like a gasket that combines multiple layers of material.
Our style is far more complex in design. The outer copper layer is on both sides of each gasket, and offers all the benefits of the copper material, then the extreme heat resistance of graphite, and carbon based materials. This inner barrier also acts as an thermal insulator. These have the best of both worlds. The inner material also has metal in it to keep the graphite/carbon material together.
For those have experienced exhaust leaks, these may be the answer. There are a several manufacturers using this design and they are very expensive.
Customer Reviews
As Described,shipped quickly.Would buy again. Thanks!

Reviewed by n***n on April 22, 2017, 1:41 p.m. | Permalink

This review has no votes.

super gelaufen

Reviewed by u***a on March 1, 2017, 10:49 p.m. | Permalink

This review has no votes.

Part Good !! Thanks for Deal !!

Reviewed by l***w on Feb. 18, 2017, 5:56 a.m. | Permalink

This review has no votes.