BBC CHEVY 540 572 DART 345cc ALUMINUM HEADS BARE SET/PAIR 19300030 x 2
Available
$1,795.00
---
Product Information
| | |
| --- | --- |
| UPC | 372382918432 |
| Product Type | Shipped Product |
| Shipping Cost | $0 |
| Number of reviews | 0 |
DART PRO ONE 345cc BARE BBC HEADS, WITH CNC'D COMBUSTION CHAMBERS.
122cc COMBUSTION CHAMBERS 345cc runners.
This sale is for a set of heads (2 bare heads).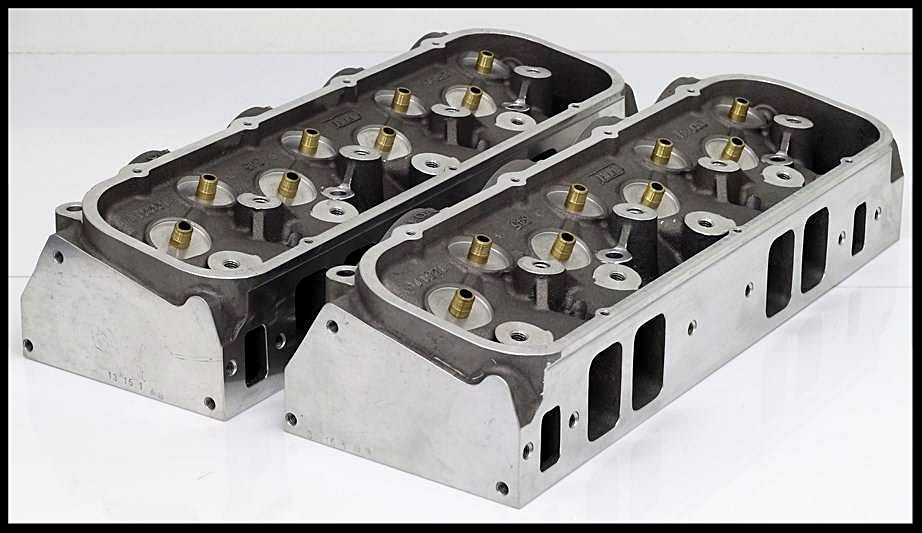 PART # 19300030. INTAKE RUNNER: 345cc. DART'S HIGHLY POPULAR BIG BLOCK CHEVY PRO 1 HEADS FEATURE. ROLLED VALVE ANGLES, IMPROVED SPARK PLUG LOCATION, RAISED EXHAUST PORTS AND FAST BURN CHAMBERS. CAN BE USED WITH SHELF PISTONS, VALVE TRAIN COMPONENTS AND INTAKE MANIFOLDS.
Pictured below is the CNC'D combustion chambers.
The cnc'd combustion chambers were done for us by Dart. We have found this feature to increase the HP numbers by approx. 10-15.
To be clear on this the runners are not cnc'd, just the combustion chambers.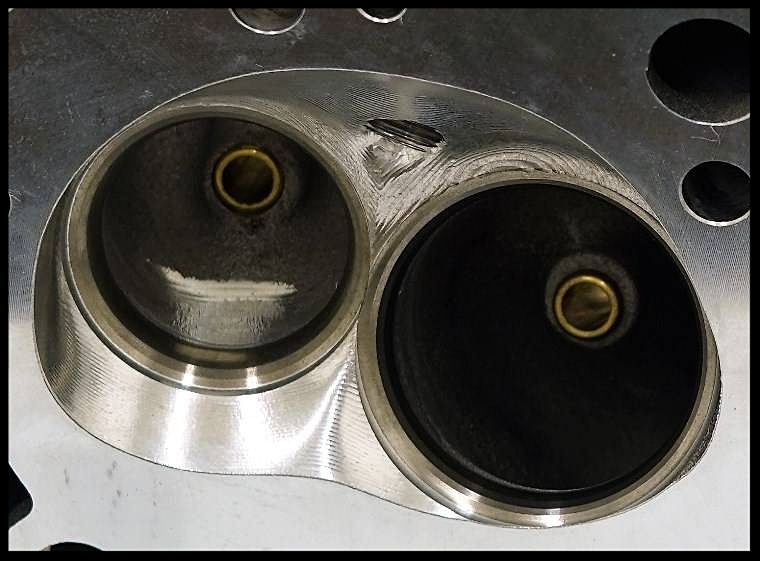 We have complete top end hardware kits available for the Dart heads in our other listings. The kit has the correct head and intake gaskets, head bolts with special washers, and stainless intake bolts. The part number is TEK-1017-1275, or any TEK kit that has the 1275 part number in it. The first number is the type of head gaskets, and we have several different head gaskets that will work with the Dart heads. The 1275 is the intake gasket part number, and that is mandatory for use with these heads.
Uses valve size 2.300 and 1.88. These heads have the correct seat diameter to allow the use of these valve sizes.
Guide plate recommendation.
We strongly recommend the use of the Dart adjustable guide plates with these heads, or with any BBC aluminum heads for that matter. These guide plates will allow better rocker tip alignment due to the fact they are fully adjustable. We use them on every set of BBC heads we install on our engines, including the Dart Platinum Pro-1's, and AFR heads. The rocker tip may end up offset to one side more than is acceptable when using fixed guide plates, and the Dart adjustable guide plates allow a decent amount of correction. The variances in stud position to valve guide alignment vary on all brands of heads. The rockers could also contribute to this issue, as the trunnion or rocker body could have variance. By having proper rocker tip alignment, you are distributing the pressure on the valve tip evenly. This not only reduces uneven valve tip wear, but also prevents undue stress on the valve guides in the heads. The part number for these guide plates is BBC-ADJ-GP. See our other listings for these items.
IMPORTANT NOTE CONCERNING ROCKER ARM STUDS.
If you have been a regular shopper with us, you will have noticed we do offer some knock-off products that are made off-shore. We do also sell many products made in the USA. We have always been very particular as to the quality and workmanship of such products, while considering the cost. We scrutinize our products very carefully and refuse to sell products that simply don't meet our standards. We have now eliminated another of the low cost knock-off products from our line. The low cost imported rocker arm studs have shown numerous problems unlike those in the past. We have looked at several others on the market, and still find many issues with them that are not acceptable.
Many of the studs had run-out in the shaft of up to an eighth of an inch. This caused major problems with rocker alignment, and depending where the position was when the stud tightened up, would determine the direction of the rocker misalignment. If the warped stud was facing toward or opposite the valve, then the roller tip would would not be centered to the valve tip. This would then create a loss of lift and cause increased wear on the valve tip.
If the warped stud tightened up in a side to side position, then this would allow the rocker tip to be cocked on the valve tip. This would then side load the valve tip with undue pressure, creating a serious wear problem on the side of the valve tip and create excessive wear on the valve guides in the heads. This also side loaded the rocker trunnion and front roller, creating an excessive wear issue in the roller rockers.
We also found a difference in the tread pitch and depth compared to the ARP studs. The rocker studs in an engine are under a tremendous upwards pull and improper thread design may cause the studs to pull out of the head. The ARP studs screw into the heads with a very precise fit and feel.
After thoroughly comparing the ARP studs and several off shore models, I am convinced that we will never offer the off shore studs again, regardless of the price difference. They were never as bad in the past as what we're seeing now. This run-out was most likely caused by improper heat treating methods.
We are aware of only one other rocker arm stud besides ARP on the market of decent quality, and that's from the GM Performance division, and it's fair to say they are most likely supplied to GM by ARP under private label.
We have rejected many products that are outright junk and would cause serious issues in your engine only to see other sellers offering those same exact products. It's all about learning where to draw the line.
The correct ARP rocker stud part number to use with these heads is #100-7101. See our other listings for these parts.
Studs and guide plates are NOT included. Other sellers may include these items but rest assured, they are usually not suitable for these heads. We use nothing but the Dart adjustable guide plates and ARP rocker studs when we build an engine using these heads, as they allow for perfect alignment of your rockers. See our other listings for a full selection of accessories.
We are glad to offer many great low cost items, as well as the high end products, but will always give careful consideration to quality, functionality, and overall value.
Customer Reviews
This product does not have any reviews yet.