BBC Chevy 496-572 Comp Cams 630/635 Lift 254/260 Dur OE Hyd. Roller Cam 01-000-8
Available
$329.00
---
Product Information
| | |
| --- | --- |
| UPC | 333522463732 |
| Product Type | Shipped Product |
| Shipping Cost | $12.50 |
| Number of reviews | 0 |
Comp Cams OE HYDRAULIC ROLLER 630/635 Lift 254/260 Duration 112 Lobe Sep. Special Grind Camshafts 01-000-8
This cam has a step nose for use in oe roller blocks. We also offer this cam in a flat nose retro style.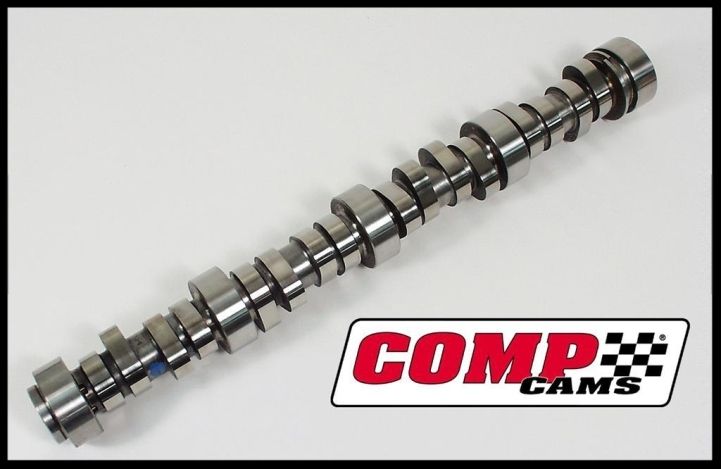 Part number: 01-000-8
630/635 lift.
254/260 duration
112 lobe sep.
Comp Cams bbc 'Xtreme' Step Nose Hydraulic Roller Camshafts. We also offer this cam in a retro style for use in early model blocks.
Cam info:
This cam is our official Cam Choice in our Pro Street 572 engine. It is the perfect size to offer maximum power without creating a great amount of stress on the valve train. This profile is not only somewhat easy on the valve train, it makes a huge amount of power on bbc street rods, considering its profile, and without the need of going to a solid roller cam set up. It is very important that you run higher than normal spring pressure with this cam. We recommend the Comp 953-16 springs. Cams that are 600 lift or greater pose a stability issue in bbc engines that turn above 5800 rpm. The Comp 953-16 springs are exactly what you will need. See our other listings for these springs.
This cam has a very unique profile. Our former cam choice # 1 profile was nearly identical in lift and duration and had a 110 lobe sep, and it made approx. 35 hp less on every combo we ran it on. Our new Comp custom grind is setup with a 112 lobe sep, yet still makes so much more power, and with the 112 lobe sep, creates a safer setup overall for the engine than a 110 lobe sep.
This is an amazing cam in every respect. As you may know, there are many aspects to a cam's profile besides lift, duration and lobe sep. and Comp Cams has produced an excellent cam that works very well in all bbc street rods. We're going to list below our actual dyno results on every size of bbc engine we have dynoed with this cam. We have used it in at least 300 bbc engines, from a 454 up to our 632 in the past couple years.
Official Dyno report on our 572 engine with this cam, AFR heads, and a single plane intake.
You will have to run a higher than normal grade lifter and slightly higher than normal spring pressure. Regular drop in roller lifters will not work properly with this cam. They are not able to handle this much lift and duration.
Our regular Morel Tie Bar hyd. roller lifters will not work with this cam. You must run the Comp Short Travel lifters with this cam. As you may know, the smaller cubic inch bbc engines will require a bit more rpm to make max power, and right at 6000 rpm, the regular street tie bar lifters were allowing light valve float to enter the picture. This is evident on the dyno, as the engine takes a sharp nose dive right about 5900-6000 rpm. We were also able to hear the engine flutter right right at 6000 rpm. If you follow our recommendations on lifter and spring selection then you will not have a problem with valve train stability.
Valve float to a minor degree can allow a valve to come loose from its locks. This could spell instant doom for your engine. It would be fair to say that most dropped valves in bbc engines happen when the rpm is taken past the valve train limits. Each time minor valve float comes in, it is weakening, or may we say, creating excessive wear on components that eventually lead to a dropped valve.
We have many allies against such problems, such as the Comp Short Travel lifters, light weight PBM Competition valves, Comp Cams 953-16 springs and 308 retainers. This is what we use in our bbc heads that run this cam. We also use high quality roller rockers such as the Comp Ultra Pro Magnums.
Official Dyno Results on this engine in our 572 pump gas engine with a single plane intake, Bravo 335 rectangular port heads, 1150 Dominator carburetor, and MSD distributor.
Please read the complete ad before purchasing this cam.
If you would like expert cam recommendations for your engine, contact us through the "seller information" tab with the information listed below. We will tell you what cam is best suited for you. Running a cam that is too big in a given combination is not only pointless for making increased power, but creates a increased loss of drivability and unnecessary wear on the valve train. You must have sufficient cubic inch and/or compression ratio, coupled with correct size cylinder heads that will allow enough flow, to justify a particular size cam. Bottom-end and mid-range performance are always affected when you increase cam size, but it would be affected even more if a cam selection is over-sized to the point that no top-end power is gained. So choosing too large of a cam becomes a two-fold problem. Tuning also becomes more difficult with larger than needed cams.
For a recommendation on the best cam for you, please contact us with us the following information:
Vehicle model or weight.
Engine size, (cubic inch)
Approx. compression ratio.
Cylinder head runner size.
Single or dual plane intake, (if dual plane, what model)
Final gear ratio, and overall tire diameter if known.
Transmission model.
Converter stall range.
Your hp expectations, and how you will be using the vehicle (cruising, street, strip, show car, etc.)
If a lopey idle is highly desirable. The size engine you have determines this with a given cam choice. We can tell you exactly what a particular cam will sound like in an engine.
The brand and type/series of lifters you are running. Very important!
Our sales staff has limited technical knowledge on this product and are usually unable to answer many of the questions asked. See our other listings for variations of this product.

We are not responsible for collateral damage caused by the use of this product.
Customer Reviews
This product does not have any reviews yet.