BBC CHEVY BRASS FREEZE PLUG KIT 396 427 454 PE-102-BR
Available
$19.95
---
Product Information
| | |
| --- | --- |
| UPC | 351499519364 |
| Product Type | Shipped Product |
| Shipping Cost | $7.85 |
| Number of reviews | 945 |
BBC BIG BLOCK CHEVY BRASS FREEZE PLUG KIT
MELLING BRAND
FOR BBC ENGINES: 366, 396, 427, 454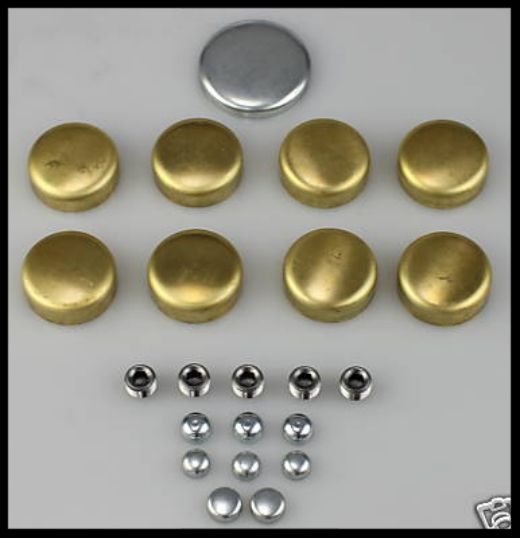 Fits most all BBC Chevy engines from 366, 396, 427, 454.
These are from Melling Products.
We have used this brand of freeze plugs in all of our engine builds for many years. The fit is precise. Failures are non-existent.
Kit Contents:
(8) 1 3/4" brass cup style freeze plugs
(1) 2 7/32" steel cup style freeze plug
(3) 1/2" steel cup style freeze plugs
(5) 1/4" NPT steel pipe plugs
Very important note:
We find the quality of Melling products to be outstanding. You may see other brands for less, but beware. Freeze plugs are very critical as to the composition of brass, not to mention exact fit. As you know, brass freeze plugs have a press type fit, and using low quality brands could result in leakage or worse yet, having the plug come loose from the block under high temp. The Melling brand is standard with many engine builders, as they are the best on the market. We sell many items that are made from various countries, and have good luck with such products, as we are very selective, but when it comes to items such as freeze plugs, we would rather pay the extra dollar or two and know they will do exactly what they were intended to do.
Another very important factor in the design of a freeze plug is its ability to separate from the block should freezing occur. Low grade freeze plugs may possibly fail to do this, as sizing is very critical, and the brass alloy must be malleable enough to perform this task when needed. Should the size or material vary in the slightest, the freeze plug may come loose under normal operating conditions, or fail to come loose under freezing conditions.
When you see other kits for sale and they fail to mention the brand name, they are most likely nothing more than an off-shore no-name copy. As mentioned we do sell several items that are off-shore brands, and have little if any problems with them, but knowing that items such as freeze plugs, engine bearings, oil pumps, and lifters have no room for error, we stay away from brands that are not standard in the industry. Often these products will cost slightly higher, but it's well worth it.
As far as brass vs. steel when it comes to freeze plugs, the great advantage with brass is its ability to conform where steel is simply too hard. Older blocks that have corrosion, rust, gouge marks from removing old freeze plugs benefit greatly from the use of brass as it is much more malleable than steel, not to mention brass will never rust or corrode. They also look much better in the block when left unpainted. We all know the factory used steel freeze plugs on new engines, and they worked well, but steel plugs are very difficult to work with when installing them in an old used block.
R
Our sales staff has limited technical knowledge on this product and are usually unable to answer many of the questions asked. We do not have any variations of this product other than what our listings show.

We are not responsible for collateral damage caused by the use of this product.
Great love these guys.

Reviewed by d***a on Nov. 8, 2019, 2:32 a.m. | Permalink

This review has no votes.

Good

Reviewed by u***i on Nov. 4, 2019, 12:19 a.m. | Permalink

This review has no votes.

Fast

Reviewed by i***i on Oct. 31, 2019, 6:45 a.m. | Permalink

This review has no votes.