BBC Chevy Comp Cams 720/715 Lift 276/286 Dur Solid Roller 11-000-9 # 48558
Available
$389.00
---
Product Information
| | |
| --- | --- |
| UPC | 372816568088 |
| Product Type | Shipped Product |
| Shipping Cost | $12.50 |
| Number of reviews | 0 |
BBC Chevy Flat Nose
Comp Solid Roller Billet Core Cam
Part number: 11-000-9, Spec card # 48558
720/715 lift.
276/286 duration
112 lobe sep.
Max power will be achieved at approx. 6200 rpm and will produce right at 822 hp.
Engines using this cam should run a stall converter in the 3000-3500 rpm range. Final gearing when used in a car or sport truck could actually be in the 3.55 range or numerically higher. This cam would be most suitable in vehicles weighing no more than 3800 lbs. This cam does not develop a high rate of vacuum.
Below are our dyno results on our 572 Super Pro Street engine using this cam. Your results may vary depending on carb choice. Dominator carbs will always out-do the 4150 style carbs in top end horse power. If drivability is a concern, we advise using a 1050 cfm 4150 style carb on this engine. The horse power numbers will always improve anywhere from 5-10 more than what the dyno results show after the rings have fully seated. We actually made this power with a low cost Brawler 1050 carb. and a low cost Speedmaster single plane intake. We also used our low cost Bravo bbc heads setup with our Comp solid roller springs, # 919. We also strongly recommend our Pro Sportsman .300 tall solid roller tie bar lifters # RL979. We offer these springs and lifters in our other listings.
Official Dyno Results of our Super Pro Street 572 engine using this cam with a single plane intake, Bravo 335 rectangular port heads, Brawler 1050 carburetor, and MSD distributor.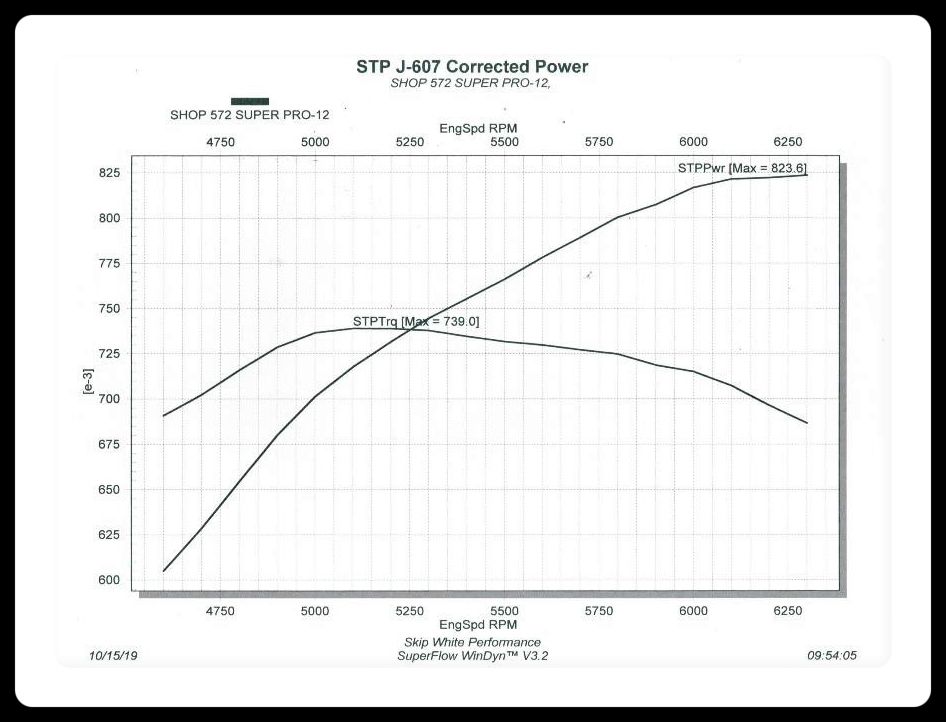 Cam info:
This cam is our official cam choice in our Super Pro Street 572 bbc engine. It is the perfect size to offer the best balance of power. Considering that we made this power with our low cost Bravo heads makes this cam a perfect choice for a super pro street rod or mild drag car. It makes a great amount of overall power on bbc street rods.
This is an amazing cam in every respect. As you may know, there are many aspects to a cam's profile besides lift, duration and lobe sep. and Comp Cams has produced an excellent cam that works very well in all bbc street rods.
Customer Reviews
This product does not have any reviews yet.