Product Information
| | |
| --- | --- |
| UPC | 370878821259 |
| Product Type | Shipped Product |
| Shipping Cost | $10 |
| Number of reviews | 7 |
HOWARDS HYDRAULIC RETRO FIT ROLLER CAMSHAFT .567/.578 LIFT .225/.231 DURATION @.050" FOR BBC ENGINES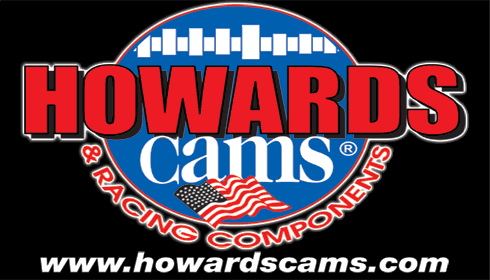 PART # 120245-10
VALVE LIFT WITH 1.5 ROCKERS : INT .567 / EXT .578
DURATION IN DEGREES : ADVERTISED - INT .278 / EXT .284
DURATION @0.050" : INT .225 / EXT .231
LOBE SEPARATION ANGLE : 110+4º
RECOMMENDED SPRING PART # : 274 SEE OUR OTHER LISTINGS
The cam gear is compatible with any standard steel or cast iron distributor gear. No bronze distributor needed. This cam is considered a retrofit style, meaning it must be used in a roller block, it cannot be used with a non roller block. Other style cams available in our other listing. Much needed camshaft accessories available in our other listings.
It is our opinion that the Howards cam company has the highest quality, and most advanced technology in the industry. This is why we have choose them for our roller cam products. Few if any companies have the quality standards offered by Howards.
100% Rockwell Checked
Super Quality
Hard Protective Packaging
All Howard's Cams use the highest-grade race quality billets available. Our hydraulic and mechanical flat tappet camshafts are 100% Rockwell checked and Parkerized to ensure the highest quality control standards available anywhere. Howard's Cams we're proud of our equipment, manufacturing all of our cams on dedicated high precision cam grinding machines.
Howards maintains these exacting standards right through the shipping process. All Howards camshafts are packaged and shipped in a unique, hard, high impact, reusable plastic case. This ensures that that you, our customer receives your new Howard's Cams in the same exacting condition it left our factory in.
smooth transaction

Reviewed by 0***t on Dec. 3, 2016, 11:11 p.m. | Permalink

This review has no votes.

fast shipping

Reviewed by w***s on Aug. 2, 2016, 2:54 a.m. | Permalink

This review has no votes.

GREAT TO DEALING WITH A BIG THANKS

Reviewed by i***s on May 17, 2016, 4:57 p.m. | Permalink

This review has no votes.