Product Information
| | |
| --- | --- |
| UPC | 370773072792 |
| Product Type | Shipped Product |
| Shipping Cost | $0 |
| Number of reviews | 100 |
BBC CHEVY OVAL PORT POLISHED ALUMINUM DUAL PLANE CYCLONE STYLE INTAKE MANIFOLD
PART # 3000
POLISHED ALUMINUM - BELOW IS A FILE PHOTO. THE FINISH ON THE INTAKE MANIFOLD IS POLISHED. THIS IS TO SHOW A BETTER IDEA OF WHAT THE INTAKE MANIFOLD LOOKS LIKE AND THE HARDWARE THAT IS INCLUDED.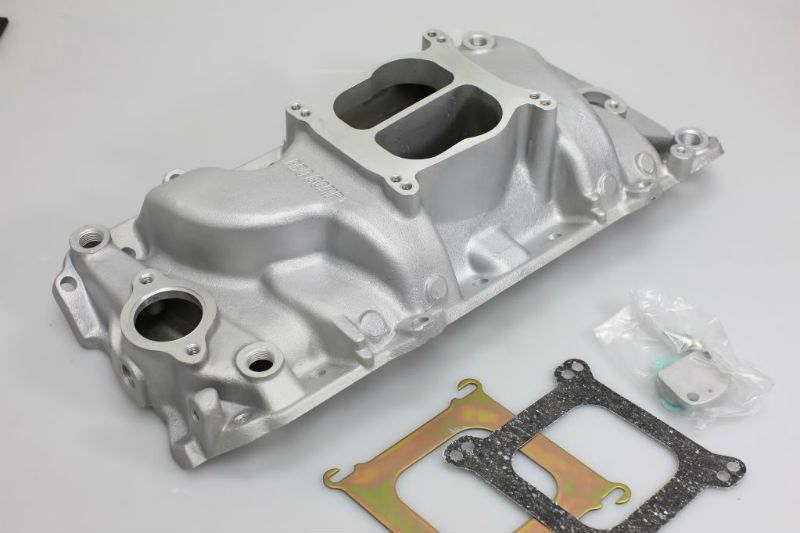 POLISHED ALUMINUM FINISH


Part
Number
RPM
Range
Intake Port
Dimensions
Manifold
Height
3000
Idle - 6000
2.05" x 1.82" (1)
5.75"


DUAL BOLT PATTERN FOR SPREADBORE CARBS. QUADRAJET OR HOLLEY 4150/4160 STYLE.

For use in 1965-1990 396 40, 427 or 454 with oval port heads. Does not fit tall deck blocks.



No drawback to using this intake. Only a great savings in money!

The light weight aluminum reduces front end weight over stock cast iron models.

Heat dissipation is another plus of aluminum over cast iron. Engines run better if the intake can rid itself of heat.

Our aluminum intakes are cast from steel molds, not sand molds. They provide a tighter grain casting, therefore reducing the occurrence of porosity which can mar the finish.
A+ Thanks! Fast Shipping!

Reviewed by t***r on Feb. 17, 2017, 10:05 p.m. | Permalink

This review has no votes.

Item as Described Fast Ship

Reviewed by h***i on Jan. 28, 2017, 11:58 p.m. | Permalink

This review has no votes.

Fast shipping thanks

Reviewed by s***v on Jan. 28, 2017, 1:55 p.m. | Permalink

This review has no votes.