BBC HEAD BOLTS FOR ALUMINUM HEADS, 12 POINT W/WASHERS, PCE-279.1008 or BBC-50
$63.90
Available
---
Product Information
| | |
| --- | --- |
| UPC | 351739147103 |
| Product Type | Shipped Product |
| Shipping Cost | $5.75 |
| Number of reviews | 22 |
BIG BLOCK CHEVY 12 POINT COMPETITION STYLE 32pc. HEAD BOLT SET WITH SPECIAL STYLE WASHERS FITS BBC CHEVY WITH ALUMINUM HEADS.
PCE279.1008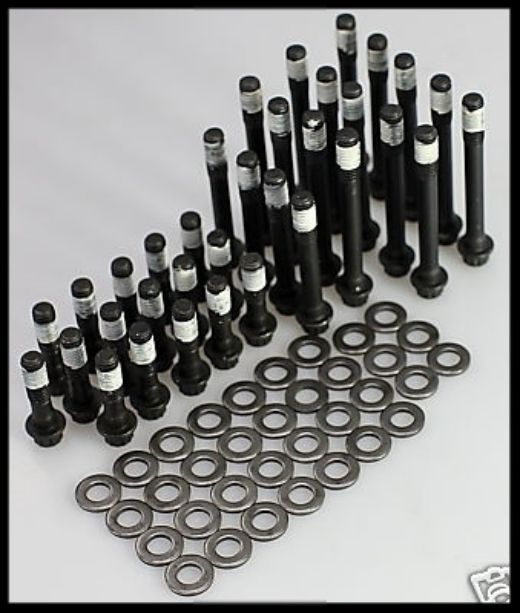 12 point head bolt set with washers. The washers are a special type washer. Remember to install the washers with the flat side down against the cylinder head. The head bolts have an extended reach to compensate for the washer thickness. Beware of others offering a similar kit with standard reach bolts. When using the special washers the bolts must have an extended reach, as oe length bolts do not have sufficient reach to accommodate the thick washers. This is what we use on many of our engine builds. Zero problems to date. The 12 point head also allows for a tighter fit of the socket and less variance in the torque readings. Standard style 6 point head bolts allow the socket to round the corners slightly on the bolt and this will affect torque accuracy.
One of the most important benefits of the special style head bolt washers are that they distribute the pressure on the cylinder head, and provide a glide surface for the built in washer on the head bolt. This allows for much greater accuracy when torquing the head bolts. Those with aluminum heads must use the special style head bolt washers for two very important reasons. The aluminum surface tends to drag and gauld against the head bolt, causing inaccurate torque readings.
We strive to keep our prices low, and due to the high volume that we purchase, this allows us to have the best price in the country. Many garages will buy several sets at a time just to have them if the need arises. Our shipping prices are usually the lowest you will find.
PART NUMBER ON THIS ITEM IS BBC-50
GIVE US A CALL IF YOU HAVE ANY TECHNICAL QUESTIONS. 423-722-5152
fast delivery

Reviewed by d***a on April 30, 2017, 1:30 p.m. | Permalink

This review has no votes.

fast shipping very satisfied 5 star seller THANKS

Reviewed by h***n on April 23, 2017, 3:27 a.m. | Permalink

This review has no votes.

item is as decsribed

Reviewed by v***c on April 22, 2017, 11:33 a.m. | Permalink

This review has no votes.