Product Information
| | |
| --- | --- |
| UPC | 351649382365 |
| Product Type | Shipped Product |
| Shipping Cost | $13.50 |
| Number of reviews | 0 |
CHAMP OIL PAN FOR SBC CHEVY 350 & 383, WITH 1PC RMS FITS 85 & UP PASSENGER SIDE DIPSTICK.
ZINC PLATED 7 QUART OIL PAN PART# CP-64LTRB.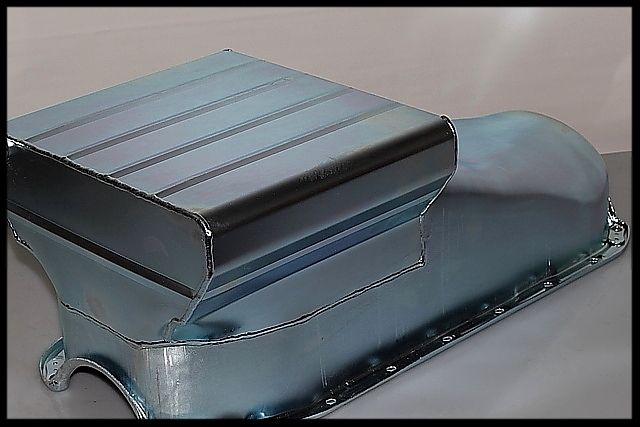 Very important information below. Must read.
Champ sbc 7 qt oil pan (with standard capacity filter). For use on Gen 1 & 2 sbc Chevy engines with 1pc. rear main seal with the dipstick on the passenger side. Fits approx. 85 and up. The reason we say "approx." on the model year range is that GM may have produced both 1 and 2pc rms blocks models at the beginning of this year range. Be sure you have a 1pc. rear main seal block. This will not work on 2pc. rms block. For those needing the Champ oil pan for a 2pc. rear main seal block, see our other listings please. We also have the early style 2pc rms oil pan that fits approx. 57-78 year range. Read this ad completely before purchasing. We have listed the correct oil pan gasket and special pickup tube required for this oil pan below.
Important Note: We do not make reference to "left hand or right hand" dipstick in any of our oil pan ads. This has caused numerous errors for many people purchasing an oil pan. The problem is that many people's point of reference to left and right hand is different, as in left hand sitting in the car or standing in front of it. Please don't ask us if the dipstick is on the left or right side, just use the reference of "driver side or passenger side" in the description of the ad. It's impossible to get it wrong this way. As you may have also noticed, we do often include the year range that these oil pans are intended for, and that will only be useful if the car has the original engine in it. Often these older cars have had an engine replaced in them over the years, and it very well could have the dipstick on the opposite side. Also beware of some engines having changed from a 1pc. rear main seal to a 2pc. rear main seal style or vice-versa. This is very common. We might also mention that our reference to driver and passenger side is for cars built in the USA for use in this country. As you may know, many countries choose to put the steering wheel on the wrong side of the car to accommodate driving on the wrong side of the road...at least, that's the way we see it.
If you think you will have clearance issues with the 7qt. oil pan, we also have the regular 5qt capacity with a stock appearance. See our other listings.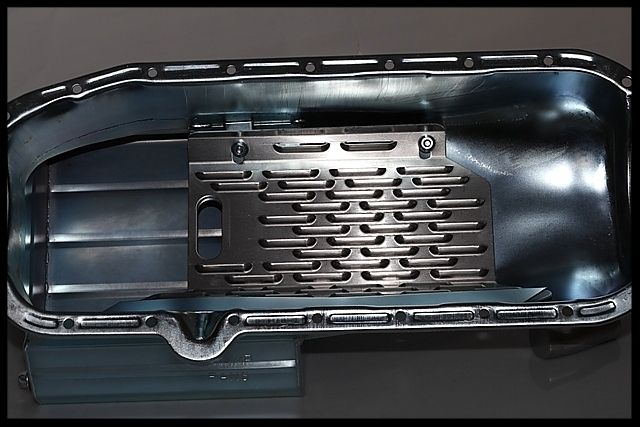 The quality of these pans far exceeds any of the possibly lower priced ones that you may see available. We have seen some of these other pans and find the quality totally unacceptable. Our Champ oil pans are certain to give a very good fit, and are well constructed. We strongly recommend the use of the Felpro single pc. neoprene oil pan gasket OS-34500-R. See our other listings for many oil pan related accessories. Be sure this is the correct oil pan for your block.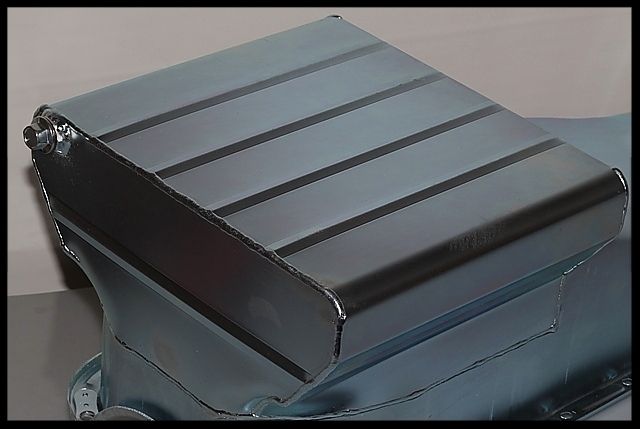 The pan sump measures 8" deep x 10 1/2" wide x 9 1/2" long.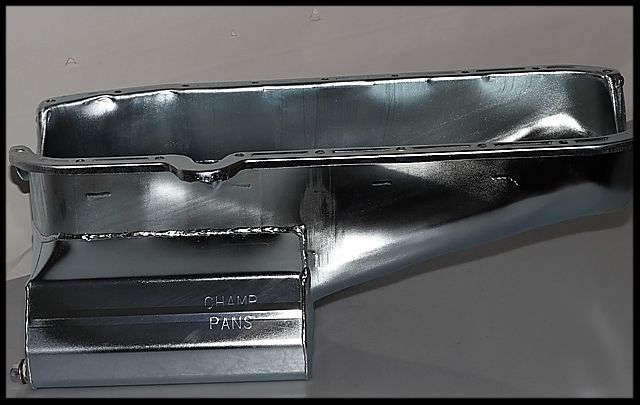 Below is a list of Champ pickup tubes that are compatible with this oil pan. The pickup tube is not included with this oil pan. See our other listings for these.
| | |
| --- | --- |
| PICK-UP TUBES | PART # |
| 3/4 M10555& M10552 PUMP | 1007SB |
| 3/4 M155 STOCK PUMP | 64S |
| 3/4 M155HV | 61SB |
| 5/8 M55 AND M55A | 63SB |
| 5/8 M55HV PUMP | 60SB |
| 5/8 M-SELECT 553 | 63SB |
| 5/8 M-SELECT HIGH VOLUME | 60SB |
Note from our company president.
We strongly recommend a Fel-Pro oil pan gasket part # OS-34500-R for this oil pan (NOT included). The low quality aftermarket neoprene oil pan gaskets are not recommended. They are ill fitting to say the least, and lack a proper rigid structure. The bolt holes also have poorly designed torque limiters. The neoprene material has a gummy texture to it. You may see many offering such gaskets with the oil pan. We certainly have nothing against products of an unknown name with decent quality, but these low quality neoprene gaskets are usually of poor quality. The chance of oil leaks is very high with such products. The color is usually the tell tale to these low quality gaskets, and most sellers will not mention the brand name, so be sure you know the brand name before purchasing an oil pan gasket.
Visit our store for other SBC oil pan accessories.
Our sales staff has limited technical knowledge on this product and are usually unable to answer many of the questions asked. See our other listings for variations of this product.

We are not responsible for collateral damage caused by the use of this product.
Customer Reviews
This product does not have any reviews yet.