Product Information
| | |
| --- | --- |
| UPC | 352434500558 |
| Product Type | Shipped Product |
| Shipping Cost | $10 |
| Number of reviews | 0 |
HIGH PERFORMANCE DISTRIBUTOR FOR LATE STYLE EFI V6 4.3L, THROTTLE BODY ENGINES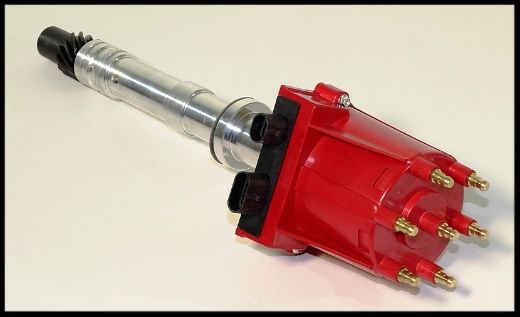 Read this complete ad before purchasing this product. Before you ask any questions about this product, please read the "Very Important Note" in the lower section of this ad.
This type distributor came in use when the HEI distributor era ended. Approx. 85 in most Chevy cars, and around 87 in the Chevy pickup trucks and stayed in use for approx. eight to ten years. You will easily be able to identify this from the HEI, as this unit has a smaller cap, with a coil wire going to the coil mounted on the intake manifold. Most vortec engines do not use this type of dist. There may have been an early version of the vortec that did use it, and you can easily tell the difference.
Please understand that this price is due to a price war with one of our competitors. You will not see these at this price in the future. This is not a sales gimmick, just the plain truth. Our supply of these is very limited. This truly is the best deal you will ever see on a complete HEI distributor. We simply refuse to be priced out by competitors. We have always been the no. 1 seller on this item, and will continue in this position. Many of you are return customers, and I have promised to stay competitive. Several other items we have listed are in this same price war situation, so check out our other listings. We will stay on top. Our other items are at price war levels also. Click the tab at the top left of the screen to view our other listings.
No one offers the warranty we have, 3 full years.
Retail value is $149.95 our price, much less
We are the no.1 wholesale marketer of HEI distributors in the country.
We have many garages and speed shops that purchase these in case lots from us. We have the best HEI on the market.
This is the complete HEI distributor.
We have possibly sold more of these than anyone in the country. This is the newest unit on the market.
We do recommend you purchase a set of our mega fire wires. They are the nicest wires on the market. The universal is our choice, but will require assembly on one end. They look so much better than ready cut wires.
Check our other listings for some of the best ignition wires in the world, and many other great products at wholesale prices. Wire set not included in this auction. Check our other listings. You can get a combined shipping rate when purchasing the wire set.
Full three year warranty, unlimited mileage!
This is the complete distributor body, shaft, and gear.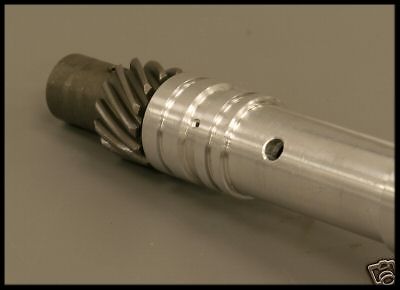 BRAND NEW IN THE BOX. FIRST LINE ITEM.
THIS DISTRIBUTOR FITS MOST SMALL AND BIG BLOCK CHEVY ENGINES IN THE TBI AND EFI ERA V6 4.3L. IF YOU HAVE A DISTRIBUTOR THAT LOOKS LIKE THIS, THEN THIS IS THE RIGHT ONE.
Notice the precision machine work the distributor body has. Many others are not like this. We have been very selective on our choice, as there are many distributors on the market.
You will receive the complete distributor with cap.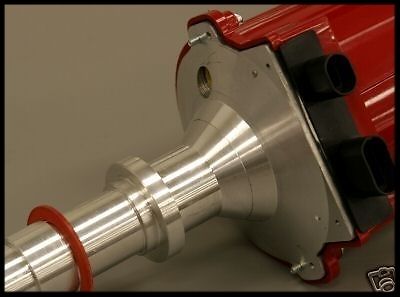 We have sold this same unit at our store for several years, and have many high performance engines in this area running this unit. The only difference is this is a much improved model.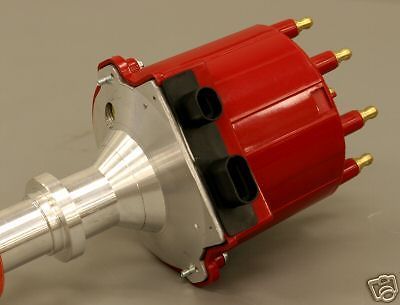 We offer a full 3 year warranty on this distributor.
This is the perfect upgrade for your TBI, VORTEC, OR EFI Chevy, or just part of a tuneup. It would not be practical to re-install the original back into your engine if you are overhauling it.
Here are a few problems you are most likely to encounter when using an old distributor.
Excessive end shaft play
Bushing wear
Weak coil, worn or cracked cap, and button
Weak magnetic pickup
Corrosion buildup
Weakened advance springs
Gear wear
All of the above can greatly affect the performance of your engine.
These are just a few of the things that most old distributors have going on with them. For the low cost of a complete brand new one, it just makes little sense to used the original distributor. When we rebuild any worn out model Chevy engine, we insist the customer purchase a new distributor. You will notice a performance difference in your engine if you have any of the above issues with your old distributor. All of the old distributors we see have excess end play in the shaft.
Check out our e-core coil we have listed. This coil is far superior compared to the undersized coil that the factory used. See our other listings for this incredible coil. The new e-core coil will have an anodized aluminum cover on it. This will offer much better cooling. If you don't see the coil listed, check back a day later. We are waiting for them to arrive, and need new pictures due to the new aluminum cover.
I consider this the absolute best mod you can do to your engine for under $57.
Very Important Note.
Our technical knowledge is limited on this product. Our sales staff are usually unable to answer many of the questions asked. Many of the questions are, "how do you install this distributor", "what model cars will this work in", "how do I wire it up" Most of the people on our sales staff simply don't know these answers, and even if we did, the time involved answering so many of these questions is what led us to writing this notice. We update info in our listings on a regular basis, and if it's not in the ad, then there's a good chance we don't know the info. There is a solution to this problem for those with numerous questions about the product. You have all heard the saying that a picture is worth a thousand words. Well, it is, and with that being said, a video is worth a million words. If you go to YouTube and type in key words such as, "How to install a pro billet distributor" you will find dozens of highly informative videos showing the complete process step by step. These videos are usually very accurate. We suggest that you watch several of them because some are easier to understand than others, and some have additional info in them that may not be covered in the others. You can't possibly go wrong watching these videos. At one time, we put installation instructions in our ads, and they led to much confusion for many, and the emails and calls coming were numerous. The videos on YouTube will be all you need. They are very simple and straightforward to follow. We did a search on the key words mentioned above, and literally hundreds of "how to" videos on every aspect of installing a pro billet came up.
We are not responsible for collateral damage caused by the use of this product.
Customer Reviews
This product does not have any reviews yet.