Product Information
| | |
| --- | --- |
| UPC | 332331939108 |
| Product Type | Shipped Product |
| Shipping Cost | $0 |
| Number of reviews | 0 |
MSD HIGH PERFORMANCE IGNITION SYSTEM, ALL BLACK
MSD 85555 PRO BILLET CHEVY DISTRIBUTOR, MSD 64253 6AL CAPACITVE DISCHARGE, (CDI), UNIT, EXTREME DUTY E-CORE COIL. COMPLETE CDI SYSTEM FOR GEN 1 V-8 CHEVY ENGINES USING A CARBURETOR
THIS SYSTEM IS A MUST FOR CARBURETED V8 CHEVY ENGINES.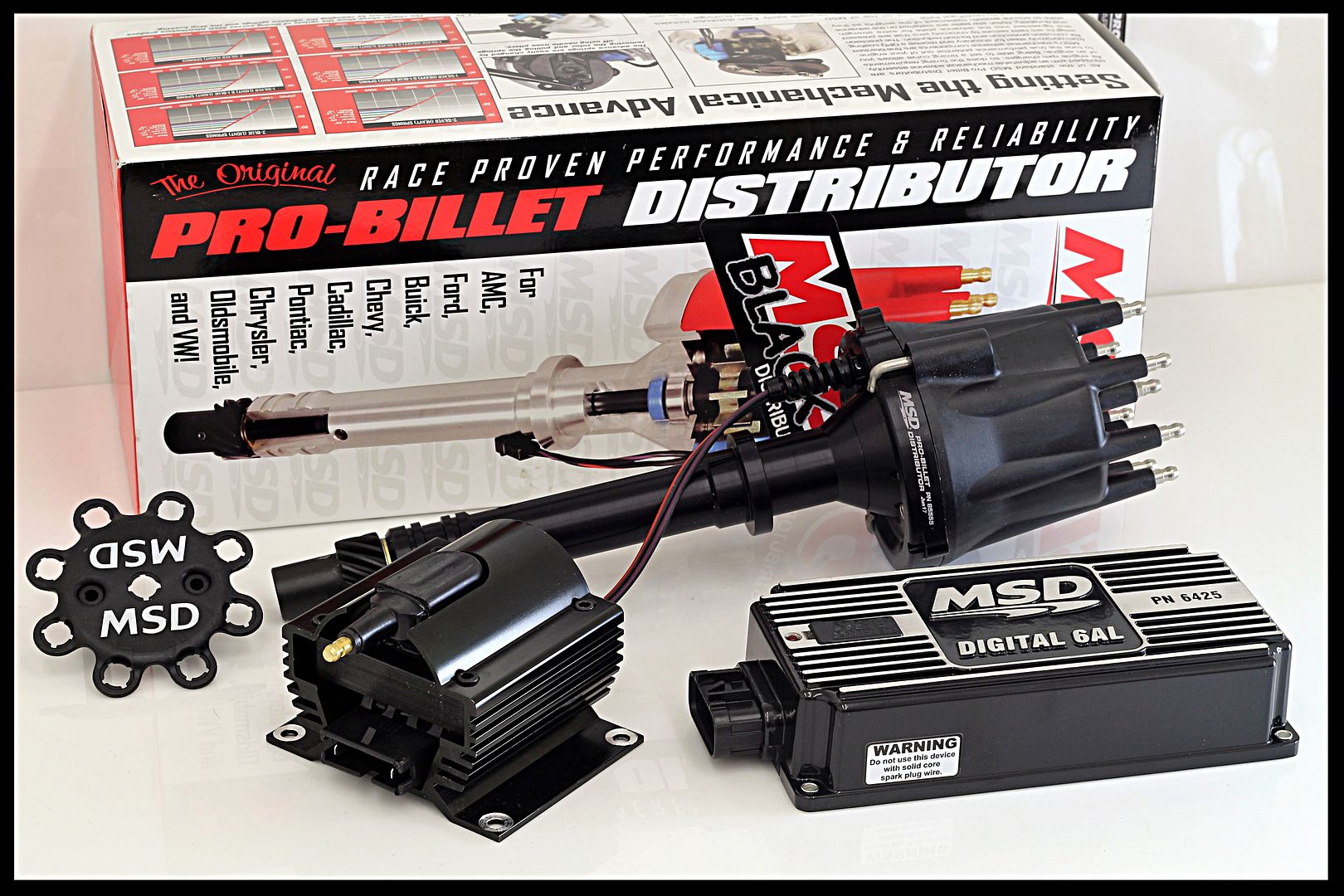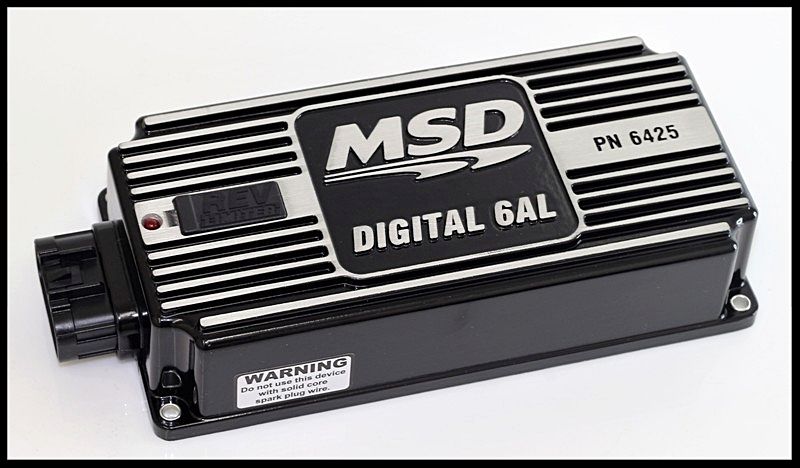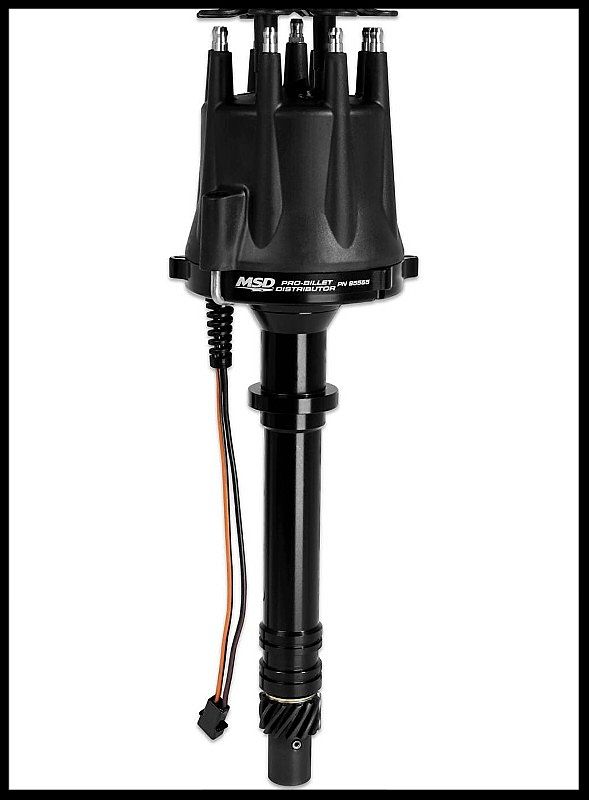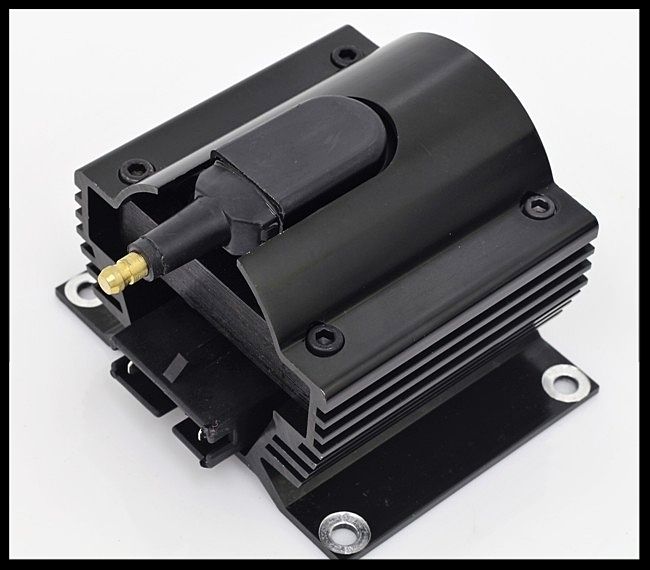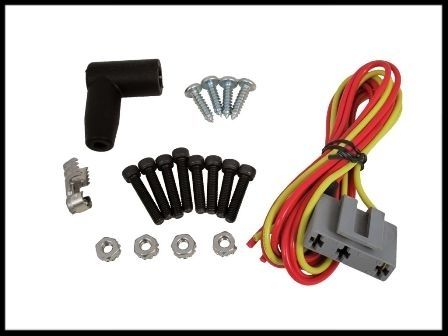 We also have the MSD black Super Conductor wires in our other listings.
You will receive all the items pictured above. Brand new first line in its original packaging.
| | |
| --- | --- |
| CDI Voltage Output to Coil | 520-540 |
| Circuitry | Digital |
| Coil/Distributor inc. | Yes, 3 pc. kit |
| Amp Draw | 0.7 amps per 1,000 rpm |
| Data Acquisition | No |
| Height | 2.25 in. |
| CDI Box Color | Black |
| Ignition Box Output | Capacitive discharge |
| Length (in) | 8.0 in. |
| Maximum Operating Voltage | 15 |
| Minimum Operating Voltage | 10 |
| Qty. | 1 CDI Box as part of 3 pc. system |
| Rev Limiter | Yes |
| Spark Output (millijoules) | 135-145 |
| Timing Retard | None |
| Warranty | 1-year |
| Width (in) | 3.500 in. |
THE MSD DISTRIBUTOR IS INTENDED FOR USE WITH A CDI TYPE BOX, SUCH AS THE ONE INCLUDED, AS WELL AS AN EXTERNAL COIL.
It is strongly recommended that you use a high quality set of plug wires that are intended for CDI use. We have the correct MSD wires in our other listings.
The coil that is included is our extreme duty E-core style wall mount unit. It may be mounted on any flat surface such as the fire wall or a flat mounting plate.
MOST ALL SERIOUS HOT RODS USE THIS TYPE IGNITION SYSTEM. THIS SETUP IS VERY SIMPLE TO HOOK UP, AND A MUST IF YOU ARE IN THE 350 HP AND ABOVE HP RANGE.
This distributor may not work on some Chevy industrial engines such as the 366 and 427 large truck engines.
CNC machined into a perfect housing for incredible strength, precision and looks.

Sealed ball bearings, sintered bushing, 1/2 inch hardened steel shaft

Extremely accurate magnetic pickup which never requires adjustment.

Designed with a small base and cap to suit all makes and models.

This is mainly used in high performance vehicles which have space limitations around the engine.
CAPACITIVE DISCHARGE IGNITION (CDI) IS ESSENTIAL FOR MAXIMUM PERFORMANCE. ENGINES WITH HIGH LIFT CAMS SEVERAL STEPS ABOVE STOCK, CAN BENEFIT GREATLY, AS A CDI SYSTEM WILL BURN FUEL IN LOW RPM RANGE VERY EFFICIENTLY. YOU WILL NOT SEE ANY SERIOUS STREET ROD WITHOUT THIS TYPE SETUP.
SPACE DOES NOT ALLOW A FULL EXPLANATION OF ALL THE BENEFITS TO RUNNING A CDI SYSTEM. JUST ASK AROUND, AND YOU WILL SEE HOW MANY PEOPLE HAVE FOUND THIS SYSTEM TO BE A GREAT IMPROVEMENT OVER HEI SYSTEMS. INSTALLATION IS VERY SIMPLE. THE MSD UNIT COMES WITH A FULL SET OF INSTRUCTIONS.
FIREWALL CLEARANCE IS SELDOM AN ISSUE WITH THE DISTRIBUTOR THAT IS INCLUDED, AS IT HAS A SMALL BASE BODY AND CAP COMPARED TO A FULL SIZE HEI. THOSE RUNNING TUNNEL RAMS AND BLOWERS WILL ALSO BENEFIT FROM THE SMALL BASE BODY AND CAP.
AS USUAL, WE ARE VERY SELECTIVE OF WHAT TYPE PRODUCTS WE SELL. THIS UNIT MEETS ALL OF OUR REQUIREMENTS: QUALITY, LOW PRICE, & PRACTICAL.
NOTE FROM OUR COMPANY PRESIDENT
Read up on the many benefits of running cdi ignition and you will be amazed at what you are missing. Engines with medium to aggressive cams cannot burn fuel efficiently in the low rpm range. This is due to the aggressive cam profile, large cylinder head and intake runners, and high cfm carbs that most all medium to high performance engines have. These type engines that have that so called lopey idle that doesn't smooth out till around 2000 or more rpm are responsible for much of the carbon build up in the combustion chambers, and occasional plug fouling when cruising for any length of time, not to mention this worsens the drivability, performance and fuel mileage. CDI systems improve combustion to such a degree that you will notice the difference in many ways. The intense multi spark function is the key to it all. If you have a medium to high performance engine, and are running an HEI distributor, then all the above issues mentioned will most likely become a reality to some degree.
If you do have an above stock street rod engine with a conventional ignition system, then you are holding it back from its full potential, not to mention the other issues listed in this article by not running a capacitive discharge system. Even if your engine is not in the high performance range, this system will still offer improvements in may ways over an HEI distributor, including faster start ups, better low speed drivability, and improved fuel mileage. There are no drawbacks! The MSD unit comes with very clear cut installation instructions for use with many different type distributors.
Skip White
Skip's Datsun Z car uses this system. His car is running in the mid 10's at the track, with our Stage Three 535hp 400cid engine.
Customer Reviews
This product does not have any reviews yet.