Product Information
| | |
| --- | --- |
| UPC | 332082629419 |
| Product Type | Shipped Product |
| Shipping Cost | $7.85 |
| Number of reviews | 94 |

COMP CAMS # 740-16 VALVE SPRING RETAINERS. FULL SET OF 16.
For use with 10 degree valve locks.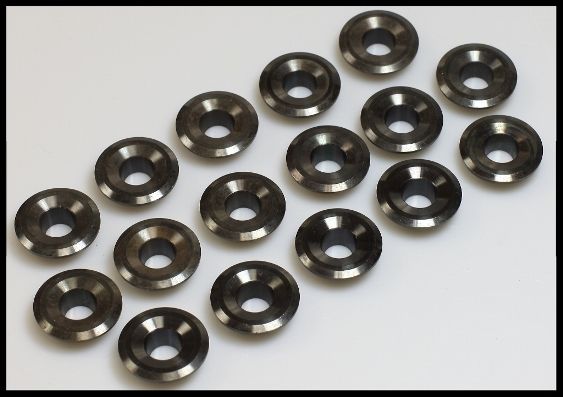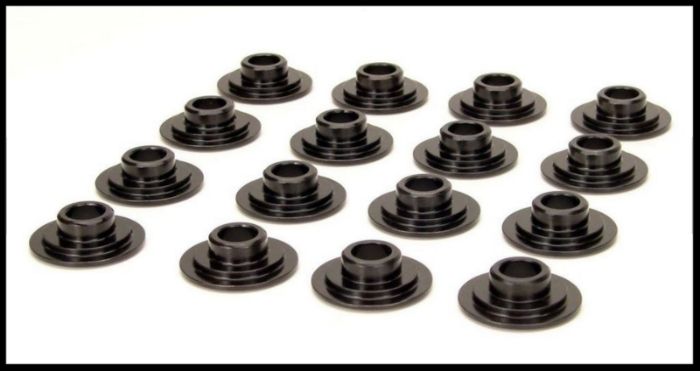 The above picture is a file photo. Actual appearance may vary.
Important Note.
These are the exact retainers we use on all of our sbc and bbc heads running hyd. flat tappet and hyd. roller cams. The Comp retainers are made in the USA from start to finish. We have found variances in offshore retainers that are totally

unacceptable. These variances were up to .045 from one retainer to the next. The angle of the center hole was usually off by several degrees, and would cause the valve locks to not properly mate up with the retainers. This could easily cause the valve locks to let loose under the right conditions. We now use only USA made retainers, and have noticed near zero variances in the Comp Cams line of retainers. We recommend using our Comp Cams 10 degree Super Valve Locks # 611-16 with these retainers for a perfect fit.
These retainers are a perfect fit for our # Melling 272 single or # Melling 274 dual springs, as well our # Comp 987-16 high performance springs. Most springs with an outer diameter of approx. 1.430" will accept this retainer. Some valve springs may have a slightly larger outer diameter due to the size of the spring wire used to make them. That is not a problem for this retainer. If your springs are in the approximate range of 1.500 give or take, we also offer those retainers in our other listings. Those size springs are usually ran on solid roller setups.
Valve springs with larger diameters require retainers to handle the higher pressures developed by the springs. COMP Cams® Steel Retainers are the perfect solution to this problem. COMP® engineers used 3D CAD with FEA to design retainers with a modern and advanced contoured top profiling for lower stress, increased lift and a reduction in mass. The retainers are CNC-machined to exact tolerances using CAD/CAM software. All COMP® retainers use only high-grade SAE 4140 chromoly steel with no lead, <0.04% sulfur and a black oxide finish to prevent corrosion. COMP Cams® Steel Valve Spring Retainers offer both unmatched looks and superior performance that set the industry standard.
Use With Valve Spring Outside Diameter (In) approx: 1.430-1.440 Inch

Retainer outside diameter: 1.060

10 degree valve locks are to be used.

Will work with single or dual springs.

Most popular retainer size on the market.
BRAND INFORMATION
From the asphalt tracks of NASCAR to local dirt tracks and drag strips to your personal garage, COMP Cams has made a promise to all performance enthusiasts to engineer and produce the best camshafts available for your application.
MANUFACTURER INFORMATION
For more than 35 years, the COMP Cams® mission has never changed: to produce the highest-performing products possible, provide customers with superior service, and to lead the industry in technological development. While the COMP Performance Group™ has grown to multiple companies and hundreds of employees, they still retain the competitive spirit and desire to be the very best that has positioned COMP Cams® as the absolute leader in valve train components.

COMP Cams® has never forgotten that performance is defined by results - both at the track and on the street. COMP Cams® is driven by technology. The integration of research, engineering and development at COMP Cams® is what we call our "Systems Technology" and it consistently proves itself by out-performing the competition. Whether you're looking for horsepower, reliability, or gas mileage, COMP Cams® has the products that will deliver.
We purchase most of our valve train hardware in bulk for our engine program. Therefore, they will come to you in our packaging on most occasions. Below are copies of our invoices from Comp Cams showing our rather large purchases of valve train hardware. We have removed the price and our account number for privacy reasons. This is the best way we can prove to our customers that the valve train products we use and sell are genuine Comp Cams products.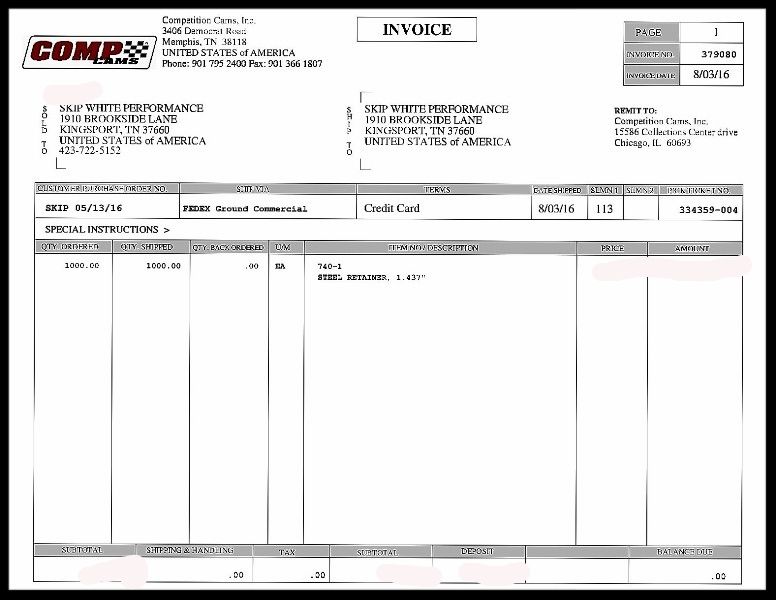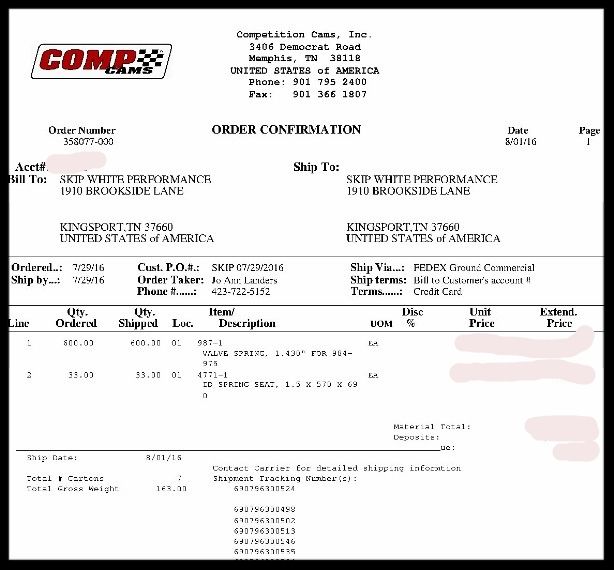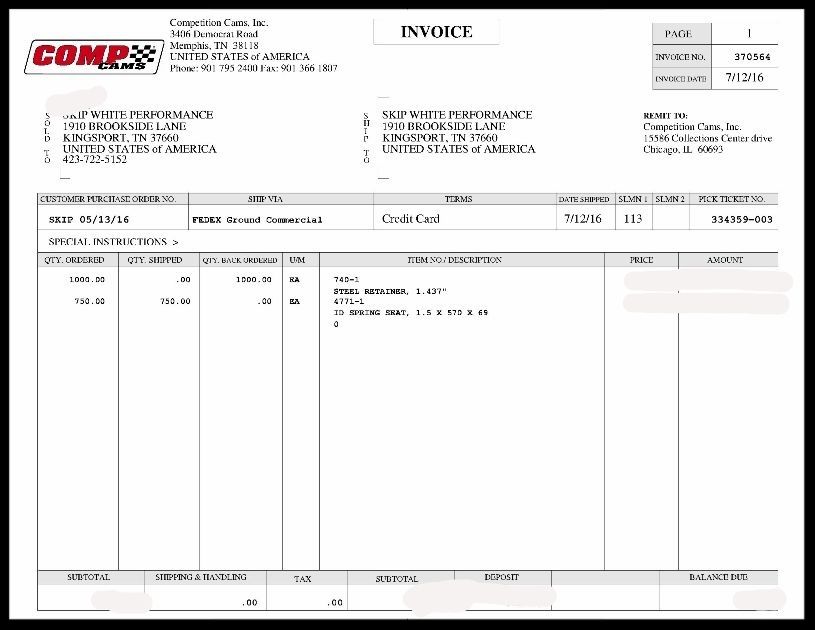 Our sales staff has limited technical knowledge on this product and are usually unable to answer many of the questions asked. See our other listings for our other variations of this product.
We are not responsible for collateral damage caused by the use of this product.
Nice COMP CAMS spring retainers, thanks.great price.fast shipping. Thanks .

Reviewed by n***4 on Oct. 13, 2020, 4:41 p.m. | Permalink

This review has no votes.

Nice COMP CAMS spring retainers, thanks.great price.fast shipping. Thanks .

Reviewed by n***4 on Oct. 14, 2020, 2:43 a.m. | Permalink

This review has no votes.

Nice COMP CAMS spring retainers, thanks.great price.fast shipping. Thanks .

Reviewed by n***4 on Oct. 15, 2020, 6:30 p.m. | Permalink

This review has no votes.