Edelbrock 7561 Performer RPM Air Gap Intake Manifold BBC Chevy OVAL Port #7561
Available
$344.95
---
Product Information
| | |
| --- | --- |
| UPC | 334107317558 |
| Product Type | Shipped Product |
| Shipping Cost | $15 |
| Number of reviews | 0 |
EDELBROCK PERFORMER RPM AIR GAP INTAKE MANIFOLD FOR BBC CHEVY, OVAL PORT, # 7561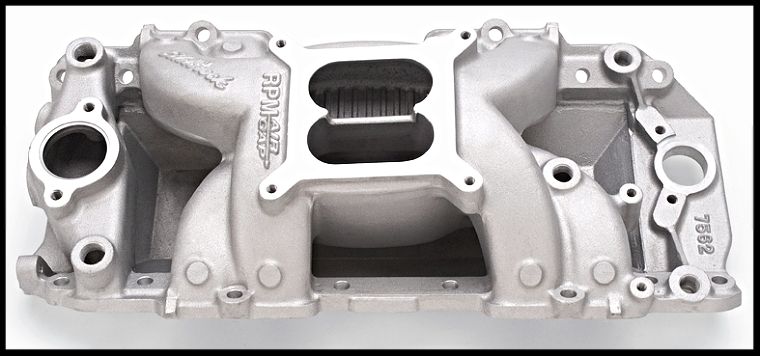 FILE PHOTO. ACTUAL APPEARANCE MAY VARY
FEATURES:
Engine Block Style: Stock/OEM standard deck
Carburetor Quantity: One
Intake Style: Dual plane
Basic Operating RPM Range: 1,500-6,500
Intake Manifold Height: 5.220 in.
Intake Finish: Natural
Intake Material: Aluminum
EGR: No
Designed for street 396-502 c.i.d. Chevrolet V8's with high-performance OVAL-port heads, the RPM Air-Gap intake manifold incorporates our race-winning technology. The open air space separates the runners from the hot engine oil, and as a result, the air/fuel mixture stays cooler for a denser charge and more power. Includes rear water outlets, two distributor clamp locations and nitrous bosses. Accepts all late model alternator and A/C brackets for the street. For square-bore carbs only. No provision for exhaust heated chokes and no exhaust crossover.
When you design and sell the best-engineered performance products in the world, you have to have a rigorous testing program. Why? Without adequate testing, there's no way to stand behind your product with confidence. That's why every product we design and sell at Edelbrock is tested and approved by Edelbrock engineers in a real world environment on state-of-the-art equipment.
Our three Super Flow computerized engine dynos are capable of measuring 11 separate engine variables up to speeds of 12,000 rpm. For 2007, we added a new Super Flow SF902 engine dyno. It's fully automated and programmable to simulate various driving situations, and is equipped with WinDyn software for the very latest in testing equipment. For real-world tuning, there's our Super Flow model SF-840 eddy-current chassis dyno that can handle up to 1,000 hp at the wheels and speeds of 200 mph. When all testing is completed, the results evaluated, and the part has passed all performance criteria, then, and only then, is the product deemed ready for production.
These precise testing procedures are applied to the entire Edelbrock line for performance that's guaranteed. Edelbrock test vehicles are driven by Edelbrock engineers and employees to get a "real world" feeling for the performance improvements. Our products are also tested and used by professional race car teams and drivers.
Working with these talented individuals is just another extension of our research and development process so when we say "proven performance," we really mean it! Top racing teams in all forms of motorsports rely on Edelbrock to produce parts that they can count on to win races and championships. Further underscoring our commitment to the racing community, Edelbrock is the only aftermarket intake manifold manufacturer licensed by NASCAR.
Important Note.
We offer a full line of the Speedmaster and Edelbrock intake manifolds. It is our opinion that the Edelbrock line of intakes is a much higher quality intake as compared to the Speedmaster or other similar intakes. The overall fit and finish as well as performance are much better. We have dynoed thousands of engines using both brands, and can clearly see the difference in the final dyno results. Be sure of what style manifold you need before purchasing. For installation tips, we suggest that you check the technical section of the various car forums. YouTube is also a great source for detailed installation instructions.
Customer Reviews
This product does not have any reviews yet.