Edelbrock Super Victor SBC Single Plane Intake Manifold #2925
Available
$350.95
---
Product Information
| | |
| --- | --- |
| UPC | 332557457383 |
| Product Type | Shipped Product |
| Number of reviews | 0 |
EDELBROCK SUPER VICTOR SBC SINGLE PLANE INTAKE MANIFOLD FOR SBC CHEVY
# 2925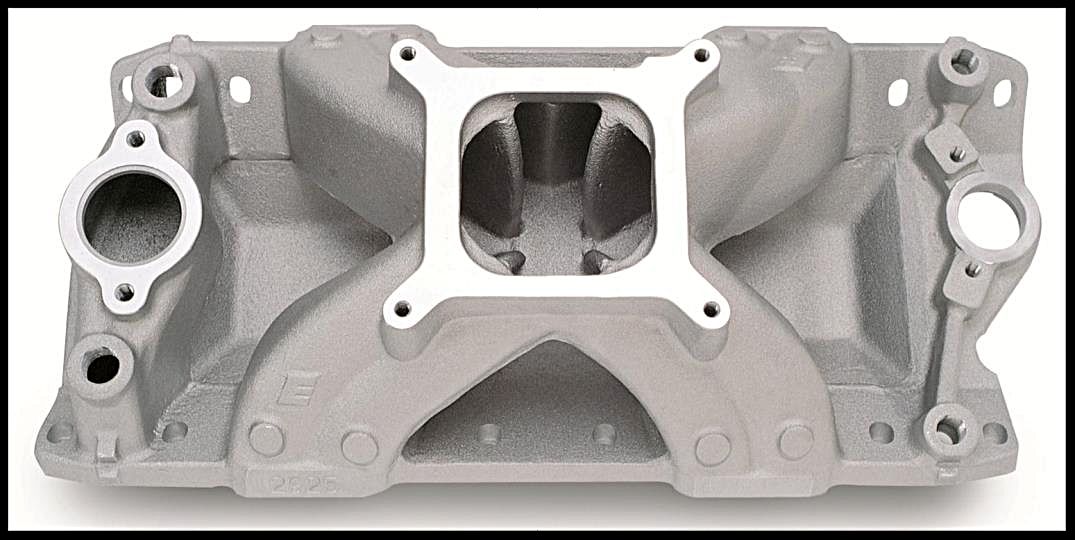 SBC SUPER VICTOR (3500-3800 RPM)
The SBC Super Victor 2925 is a high-performance, feature-packed small block racing manifold for standard port location 23-degree cylinder heads. It has a taller profile with extra-long runners that extend into the plenum, offering increased volume. The cross sectional area of the runners is tuned to complement the runner length, creating substantial torque increases at 4500-5500 rpm.
The SBC Super Victor also has many features that will be appreciated by the serious engine builder, including:
Slotted flange bolt holes to allow mating on decked blocks or milled heads.
Rear water outlets allow custom cooling system routing.
The flange above the intake ports is machined flat to provide a straight-line reference for port matching layout.
A boss for a distributor clamp has been added to the left side for easier access when timing an engine.
Each runner has a nitrous boss to aid in fogger nozzle installation.
Specifications:
| | |
| --- | --- |
| RPM Range | 3500-8000 |
| Engine Make/Size | Chevy Small Block (262-400) |
| Number Of Carbs | One |
| Emission | Without EGR |
| Cylinder Head Type | Raised Port 23 Deg. |
| Usage | Racing |
| Basic Operating RPM Range | 3,500-8,000 |
| Engine Block Style | Stock/OEM standard deck |
| Intake Finish | Natural |
| Intake Manifold Height (in.) | 5.5 |
| Intake Material | Aluminum |
| Intake Section Included | Complete |
| Intake Style | Single plane |
Installation notes:
Port exit dimensions: 1.20'' x 2.00''
Distance from bolt hole centerline to port roof 0.85''; to port floor 1.15''
Carb pad height = 5.50'' with 0° carb angle.
Important Note.
We offer a full line of the Speedmaster and Edelbrock intake manifolds. It is our opinion that the Edelbrock line of intakes is a much higher quality intake as compared to the Speedmaster or other similar intakes. The overall fit and finish as well as performance are much better. We have dynoed thousands of engines using both brands, and can clearly see the difference in the final dyno results. Be sure of what style manifold you need before purchasing. For installation tips, we suggest that you check the technical section of the various car forums. YouTube is also a great source for detailed installation instructions.
Customer Reviews
This product does not have any reviews yet.