Product Information
| | |
| --- | --- |
| UPC | 371654914394 |
| Product Type | Shipped Product |
| Shipping Cost | $39.50 |
| Number of reviews | 0 |
SBF FORD PROMAXX 175cc runner HEADS
60cc COMBUSTION CHAMBERS, 175cc RUNNERS
Incredible flow numbers, outstanding quality.
The build quality exceeds all low cost aluminum heads on the market.
The hardware setup on these heads is for use with hydraulic roller camshafts up to .600 lift. See our other listings for hardware setups to accommodate hyd. flat tappet and solid roller cams.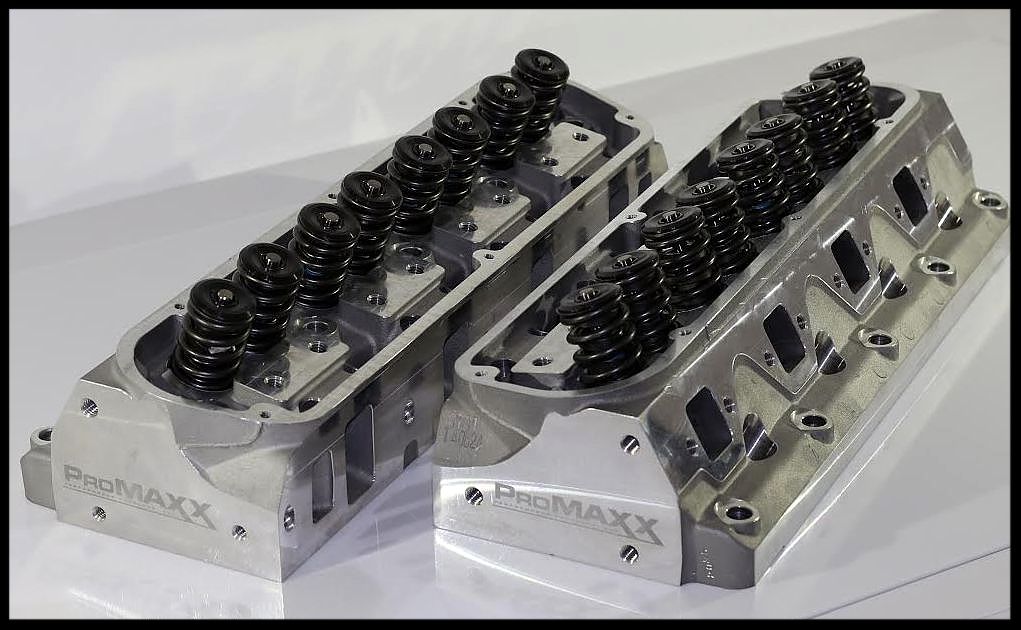 These heads are highly recommended for use on SBF 302 331 347 Ford engines. They are the perfect runner size for mild to Pro-street buildups.
Used on a 302 engine build, these heads will produce up to approx. 300-375 hp. on pump gas depending on cam, intake, rocker ratio, compression ratio, and carb. When combined with a 331 or 347 stroker engine, the horsepower and torque numbers will increase in the lower rpm band dramatically.
Please note: Due to a high volume of sales at this time, these heads may take up to 3 business days to complete and ship. Please let us know if you are under a time constraint with this order, and we will do our best to accommodate your request.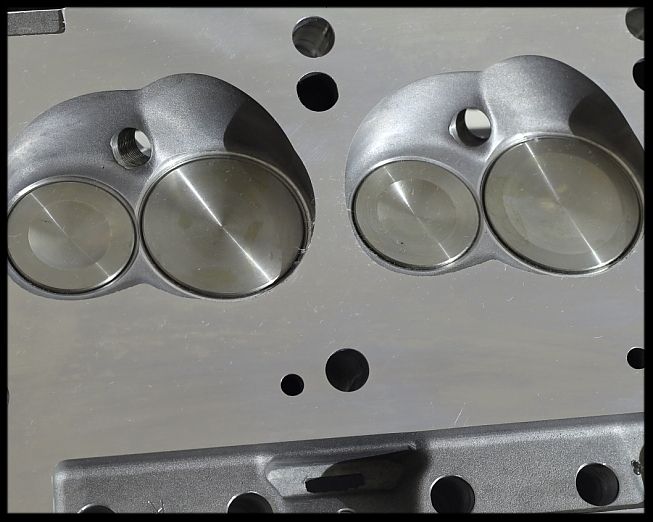 The hardware setup on these heads is for use with hydraulic roller camshafts up to .600 lift. See our other listings for hardware setups to accommodate hyd. flat tappet and solid roller cams.
These heads have extensive bowl blending work performed.
THIS AD IS UNDER CONSTRUCTION. WE WILL COMPLETE SOON!
The bowl blending work on these heads is exceptional. We have seen this performed as a cleanup to make up for sloppy casting around the valve seats. The ProMaxx heads have extensive bowl blending around every valve seat. The blending reaches far into the ports, and makes a very smooth transition into the contour of the ports. The multi angle valve job is very well done. The guides have been sized and honed to our specs. The deck surface is cut to perfection. All of this work has been performed by ProMaxx Cylinder Head Co. in Alabama. The castings are an off-shore product from a factory that provides OE cylinder heads for many auto makers. The quality control is as good as it gets.
COMING SOON: video clips of the many procedures by ProMaxx and the assembly procedures at our shop.
We receive the heads bare. We never choose to purchase heads in fully assembled form from our head suppliers, with the exception of AFR. This allows us to set the heads up in way that works best for the street/strip rod community. Our choice of hardware is often different than what many head companies choose. The idea of us assembling the heads with our choice of hardware is not about saving money, as we end up spending more in cost of labor and parts. By us doing the assembly it also allows us to confirm that the valve guides are honed and sized correctly. Seldom if ever do we see a problem in this area, but we prefer being able to check this. We also like being able to set the spring pressures at a number we feel is more suitable for street/strip use. Most high end machine shops disassemble and scrutinize any built heads that are brought to them by a customer for an engine they are building. It's no surprise that they do this.
Below is the ProMaxx flowchart on these heads. All tests were performed on a Port Flow Analyzer v 3.0 by ProMaxx. They stand behind the accuracy. We have noticed many other sellers posting what we consider to be false flow numbers on the heads they are selling. We find this to be nothing short of outright fraud. Of course, flow numbers can vary a few points depending on equipment used and testing methods, but not by 15-25 points. Notice the low lift flow numbers produced by these heads. That is as important as the upper lift numbers, and it's why these heads produce so much peak power and torque. We are very impressed with these flow numbers.
ProMaxx Ford 175cc

Lift

Int.

Exh.

100

69.5

66.0

200

136.1

118.0

300

191.5

152.1

400

232.6

175.5

500

257.3

190.4

550

266.6

195.0

600

266.2

199.5
TWO YEAR WARRANTY, UNLIMITED MILEAGE.
The warranty will cover the castings, seats, and all hardware.
Note from Skip White, President.
We certainly know where to draw the line with low end products, and we continue to eliminate parts that we once accepted that eventually had problems. Sometimes it's not that a particular product has or will have a problem, but something better comes along. When the NKB heads came to us, we thought that was about as good as it gets in the world of low cost aluminum cylinder heads. Then, ProMaxx came along. The price is a bit higher than our NKB heads, but for those wanting to move up to the next level of quality, reliability and performance, we think they are the best choice.
We do not include studs or guide plates with these heads. Some sellers may include these items, and they are usually low quality. Please read the information below on our recommendations on rocker arm studs and guide plates. We have lowered the price to compensate for the fact that these items are not included.
Rocker Stud recommendation.
We insist on the use of ARP rocker arm studs. No other substitutes will do, with the exception of the GM Performance brand. We have seen several very serious design flaws on the import rocker arm studs that are on the market. This was not a problem several years ago, but it certainly is now. Therefore, we no longer offer the lower cost rocker arm studs. The additional cost for genuine ARP studs is very little considering what problems the low quality studs may cause. The problems are serious enough that we cannot warranty the heads unless the recommended studs are used. We take no chances on many items, regardless of how appealing the price is, and the import rocker arm studs are at the top of the list. A detailed explanation of the importance of the high quality rocker arm stud follows this listing. PLEASE READ IT!
Torque specs for rocker arm studs is 50-55 ft/lbs and you must use thread sealant on every stud.
Head bolt washer recommendation.
Guide plate recommendation.
Pushrod recommendation.
You certainly want to be sure you have the correct pushrod length. If you end up 50 thousandths plus or minus from the perfect length, it's usually acceptable but any more than this, and you will affect valve lift. There are many low cost pushrods on the market in the $29-$39 range. These are totally unsuitable for use with these heads for the many reasons mentioned above, and they are not guide plate compatible. They usually have a wall thickness of only .065. These types of pushrods will cause problems when used on a high performance setup. Many factors determine pushrod length requirements. Should you purchase a set of pushrods from us, and find that the length is not suitable, you may return them, and we will send out the size you request.
Our choice of hardware also makes these heads stand out compared to others. Our testing has been very thorough, and to our knowledge, none of our competitors do this. We hope you value this extra effort. We do know that many dealers that purchase the heads in bare form use less than desirable hardware, and they may not even have a true head builder doing the assembly or testing. Please check out our listing on valve springs, and this will give you an idea of how serious we are when it comes to valve train hardware. Beware of sellers that offer little or no information on the hardware they use.
The video clips say it all. A must watch!
Please watch the video clips below. Jason, from ProMaxx sent these heads to Tony at Headbytes for testing. It's obvious from the videos that Tony enjoys doing reviews on cylinder heads, and it certainly complements his head porting business. Tony offers professional head porting services, and has seen many heads through the years that were not worthy of extensive port work. His skills and porting work on cylinder heads are well known in the world of racing. When we saw the video clips we were very impressed. All six of our engine builders watched every clip, and were more than convinced that these heads were of outstanding quality and workmanship.
We did a thorough inspection of the heads ourselves, including flow testing, measuring the valve guides, measuring concentricity of the seats to the valve stem, lap marking our valves to see that they mated up with the valve seats correctly, and making numerous observations of the heads in general. We spent many hours critiquing these heads then did extensive dyno testing. The testing that Tony did went beyond our scope of knowledge, and these video clips were what convinced us to take on the ProMaxx product line. The testing on our end coupled with the testing done by Tony, told us that we now have the best cylinder heads on the market considering the low cost. You would have to spend some serious money on a set of heads to exceed these in performance, and quality. As you watch the video clips you will see why many of the low cost heads on the market have had problems, and still do have problems. Even some of the name brand heads on the market have had issues mentioned in these videos.
Jason from ProMaxx tells us that defects or dissatisfied customers are non-existent with these heads, and they have been on the market for a good while. There are plenty of problematic low cost heads on the market, not to mention heads that flow poorly. We have been down that road in the past, and we take no chances when it comes to cylinder heads and the hardware used in them. Please watch the video clips below and share your thoughts on these heads. Our company founder, Skip White, will personally respond to you if you have any questions. Please send us an email through the contact tab.
Here is a rundown on the hardware we are using.
NON MAGNETIC stainless steel valves, swirl finished one piece undercut, the same valve we have used for years. Non magnetic is very important. Our cost on these valves is around double the price of some low cost valves on the market. We know for a fact that many head builders use the low cost magnetic valves. We do not use them and never will. If the valves pull a magnet, they are not high temp stainless. They may be stainless, but they have very low nickel content in them. Stick a magnet to your stainless kitchen utensils; it will pull a magnet very strongly. Kitchen utensils are made from 400 series stainless, and have very little nickel in them, as they don't encounter extreme temp ranges. The higher nickel content allows a valve to withstand high temperatures.
Our springs are 1.46 diameters, with an internal damper. Others are using springs that are much smaller in diameter. Smaller diameter springs may be in the correct spring pressure zone, but they are usually very short lived. For those running other style cams, see our other listings for heads built for these type cams. We have also seen spring kits on the market that are larger in diameter, but are made with much thinner coil material.
We use only Comp Super 10 degree machined locks. Our head builder noticed the low grade locks on the market fit looser than he felt they should, not to mention the possibility of that they are made of inferior metal. He envisioned the engine being much more prone to dropping a valve at high rpm. We have yet to have an engine drop a valve due to a valve lock failure.
We set the spring pressure to a predetermined pressure using a spring height checking device, most suitable for street rod use. The springs we are using allow for a near perfect seat to nose ratio. Be warned that some sellers of aftermarket heads may not be checking the installed height when assembling the heads, and may not be setting them up to the correct pressures. We have a full scale machine shop with several very knowledgeable engine builders that know and fully understand how to properly assemble a set of heads. Combine the possibility of poor assembly methods with incorrect or low grade hardware, and it is easy to see how failures can result.
If you have any technical questions about these heads or if you need to confirm that they are right for your application, feel free to email us with your question, or give us a call at 423-722-5152 8am-8pm Mon-Fri or 10am-3pm on Sat.
For customer support call 423-722-5152.
For overseas shipping quotes, email us using the contact seller tab or feel free to call us.
IMPORTANT NOTE. MUST READ!
We have noticed several sellers of assembled heads using a one size fits all,
for hydraulic flat tappet, and hydraulic roller spring and valve setup.
This is not the proper type hardware to use on your heads. When using a hydraulic roller cam, we not only use a dual spring and damper combo, but also use .200 long valves instead of the .100 long size. The .100 long valves are used on our hydraulic flat tappet setups and with a much milder spring setup. All roller cams use a more aggressive spring setup to keep the roller lifters planted on the cam lobe. They are very prone to bouncing the roller lifter away from the lobe due to the very different lobe design. Sellers using a one size fits all setup are trying to hit a happy medium, and most head builders we know of are completely against it, as well as many head companies such as Dart, etc. If they have this setup somewhere in the middle, then it would be too much for the hydraulic flat tappet setup, and create a serious wear issue with the cam.
Putting too much pressure on a flat tappet cam is a sure way to kill the cam very quickly. It's just another way of increasing profit for the seller without regard for the customers' best interest. We set up your heads the way they should be, according to what type cam you have, and the difference is dramatic between a roller cam and flat tappet cam. Even the odd ball solid flat tappet cam has its own unique setup depending on what the lift is. The one size fits all hardware claims to also work on these cams. We know of several head sellers using this insane method of setting up heads, and it's not correct in our very strong opinion.
If you call any cam company, and tell them you want to use a one size fits all setup on their hydraulic flat tappet cam or hydraulic roller cam, they will tell you this is not the correct way to set the heads up, and depending on the spring pressure, it can't serve both properly. You may experience valve float and lifter bounce on the roller setup, or extreme wear for the flat tappet cam, depending on what cam this crazy setup is closer to. We would not even consider this type hardware, and believe me, the simplicity of it is appealing.
IMPORTANT NOTE CONCERNING ROCKER ARM STUDS
If you have been a regular shopper with us, you will have noticed we do offer some knock-off products that are made off-shore. We do also sell many products made in the USA. We have always been very particular as to the quality and workmanship of such products, while considering the cost. We scrutinize our products very carefully and refuse to sell products that simply don't meet our standards. We have now eliminated another of the low cost knock-off products from our line. The low cost imported rocker arm studs have shown numerous problems unlike those in the past. We have looked at several others on the market, and still find many issues with them that are not acceptable. The most serious issues included the fact that many of the studs had run-out in the shaft up to 150 thous. This caused major problems with rocker alignment, and depending where the position was when the stud tightened, would determine the direction of the misalignment. If the stud position was facing the valve, then the roller tip would not run off to the side of the rocker but it would cause the roller tip not to be centered on the valve. This would then create a loss of lift.
However, another issue concerned us most of all. The warped stud shaft of some of these studs would allow the rocker tip to be cocked on the valve tip depending on the position it was tightened at. This would then side load the valve tip with undue pressure creating a serious wear problem on the valve tip and valve guides in the heads. This also side loaded the rocker trunion and front roller creating an excessive wear issue in the roller rockers. We also found the difference in the tread pitch and depth to be dramatic compared to the ARP studs. The rocker studs in an engine are under a tremendous upwards pull and improper thread design may cause the studs to pull out of the head. The ARP studs screw into the heads with a very precise fit and feel. After thoroughly comparing the ARP studs and several off shore models, I am convinced that we will never offer them again regardless of the price difference. They were never as bad in the past as to what we're seeing now. This run-out was most likely caused by improper heat treating methods.
We are glad to offer many of the low cost items that are off-shore, but will always give careful consideration to quality, functionality, and overall value. We will not sell imported after-market rocker studs going forward.
You will notice that we offer many US-made products, but we may not offer those same items in off-shore lines. It certainly is not because we don't have access to the low cost off-shore product, but because of quality issues that we have discovered. We have rejected many products that are outright junk and would cause serious issues in your engine only to see other sellers offering those same exact products. It's all about learning where to draw the line. We are aware of only one other rocker arm stud besides ARP on the market of decent quality, and that's from the GM Performance division, and it's fair to say they are most likely supplied to GM by ARP under private label.
Skip White
A final note...
Our eBay user id is: skipwhite, and our eBay store name is whiteperformance1. You may have noticed other sellers using a similar name offering similar products. These other sellers have capitalized on our name, and many customers searching for us will inadvertently find them, thinking we are one in the same company. There is only one "Skip White." We are the original premier eBay seller under this name since approximately 2002. We have no other eBay names, nor are we associated with any other company regardless of the similarity in the name or location. Our official company name is Skip White Performance.
Skip White
If you have any questions about these heads or if you need to confirm that they are right for your application, feel free to email us, or give us a call at 423-722-5152.
Customer Reviews
This product does not have any reviews yet.