Product Information
| | |
| --- | --- |
| UPC | 351595672846 |
| Product Type | Shipped Product |
| Shipping Cost | $79.50 |
| Number of reviews | 0 |
FULLY FORGED SBF FORD 370 ROTATING ASSEMBLY WITH WISECO RACING -9.5cc PISTONS.
4.155 BORE, RINGS INCLUDED. SCAT FORGED 4340 BALANCED CRANKSHAFT 5.4 SCAT H-BEAM RODS.
BALANCED IN HOUSE.
Aftermarket 302 block required.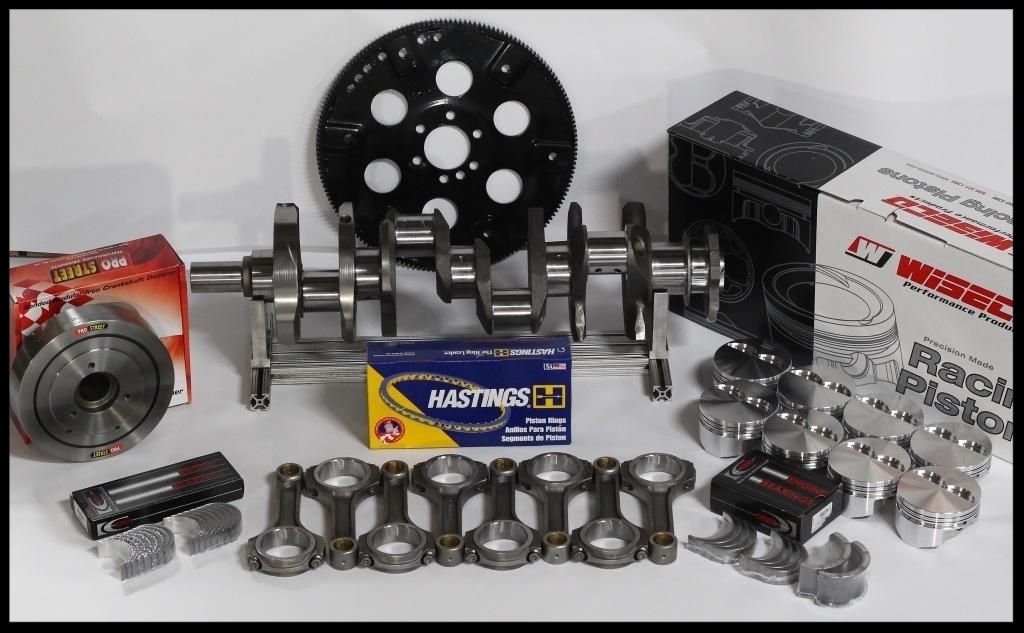 The picture above is a file photo. See the detailed info below for the actual pictures and items included in this assembly.
This setup uses our premium Wiseco pistons made from 2618 alloy. The Wiseco Racing Pistons have a fully machined crown/top. The pistons alone cost around $579.00 We consider the Wiseco Racing pistons to be the best pistons on the market. Fully balanced in house.
Special note: Due to a high volume of business at this time it may take up to 5 business days to complete your order. Please let us know if you are under a time constraint with this order, and we will do our best to accommodate your request.
We offer these assemblies with other bore sizes. See details below for the actual specs.
GENERAL SPECS.
Crankshaft: Genuine Scat Balanced.
Crankshaft Stroke: 3.400" for 363 engine builds.
Crankshaft Material : 4340
Journal Diameter: STD 302 Mains 2.250 Rod Journals 2.123
Connecting Rods: Genuine Scat H-Beam
Connecting Rod Type: Scat Bronze Bushed H-beam 8740 ARP Cap Screws.
Connecting Rod Size: 5.400" 2.123" Big End .927 Wrist Pin End.
Wrist Pin: Full Floating
Connecting Rod Material: Forged 4340 Steel
Pistons: Wiseco Fully Forged High Performance
Piston Size: 4.155" (370 actual CID)
Dome Volume: -9.5cc.
Piston Material: Forged 2618 Aircraft Alloy
Piston Rings: Hastings 2M High Performance
Ring Size: 1.5 1.5 3.0mm
Ring Fit: File Fit.
Ring Tension: Standard
Ring Material: Ductile Iron/Cast/Stainless/Moly
Main Bearings: King
Rod Bearings: King
Balance: In House on CWT balancer.
Damper: Pro-Race brand 6.4" 28oz.
Flexplate: Heavy Duty 157 or 164 tooth is available. Manual Trans. flywheels are available at an additional cost. See our other listings.
Rear Main Seal: Ford Std.
Compression Ratio Chart
The calculations below assume your pistons are at zero deck. Let's say your compression calculates out to be 10.86, for example based on having the pistons at zero deck (flush with the deck), but your pistons were going to be .005 in the hole, then the comp. ratio would only drop to 10.72, and if left .010 in the hole, then it would drop to approx. 10.59 We do recommend having your block decked to allow the piston to set anywhere from flush (zero) to .005 in the hole for optimal performance. We used a 4.200 head gasket diameter, and a .040 head gasket thickness in our calculations to come up with our comp. ratio values.
Piston Family

Cylinder Head Volume

58cc

60cc

62cc

64cc

72cc

370

Static Compression Ratio

4.155 Bore

10.86

10.61

10.38

10.15

9.34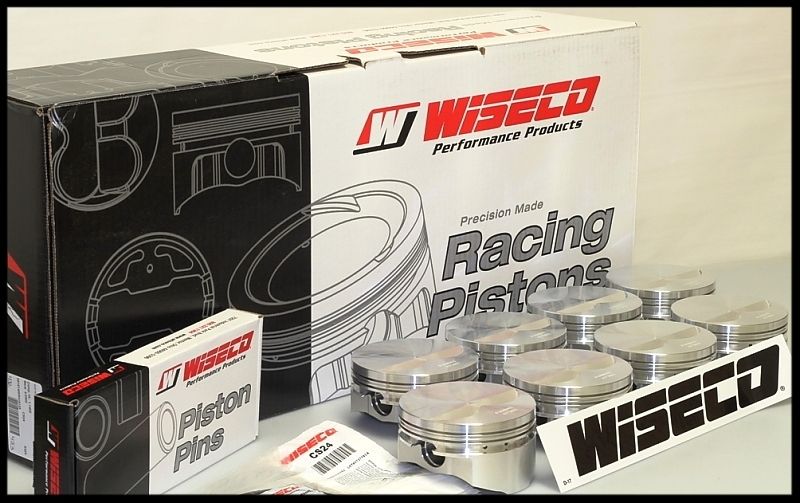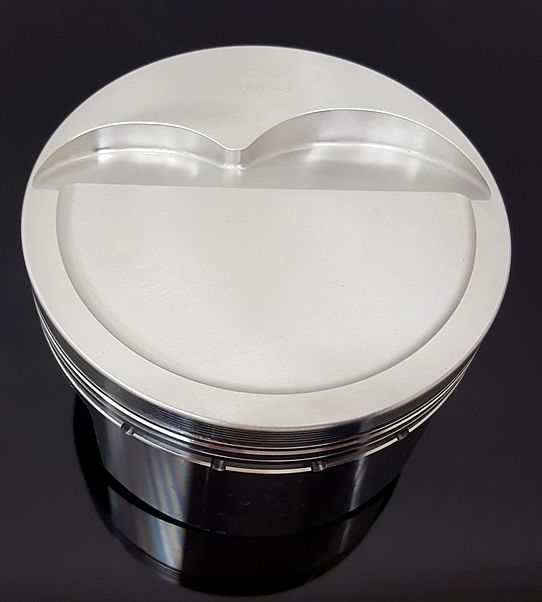 The Wiseco forged pistons are one of the highest rated on the Market. Very highly regarded in the street/strip community.
We do our own balancing with our brand new, 2013 model CWT 5500 Series Balancer. The CWT 5500 is the absolute ultimate for precision balancing. When we balance the assembly for this engine, it will be to very high specs, usually within 1-2 grams. We include a balance sheet with your setup.
READ THIS LISTING COMPLETELY BEFORE YOU BUY ELSEWHERE!
This assembly uses a Scat fully forged 4340 crankshaft and 4340 Scat rods, Mahle metric rings, King bearings, ProStreet damper, and a 157 or 164 tooth HD flexplate. See our other listings for various piston bores in flat or dish style. See details in this add for actual specs of this assembly.
The bearings are included with this assembly.
The picture below is a generic file photo of a Scat crankshaft. You will receive the correct model packaged in the original Scat box.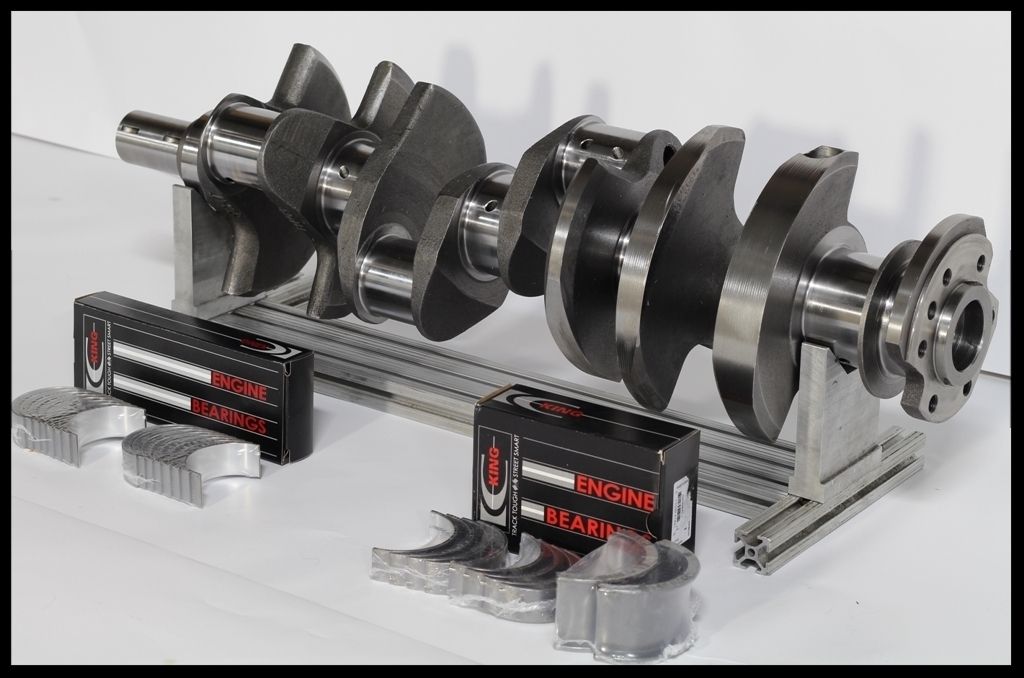 The machinist who does our balancing made special note of how much harder these cranks were compared to any of the other cast nodular cranks on the market.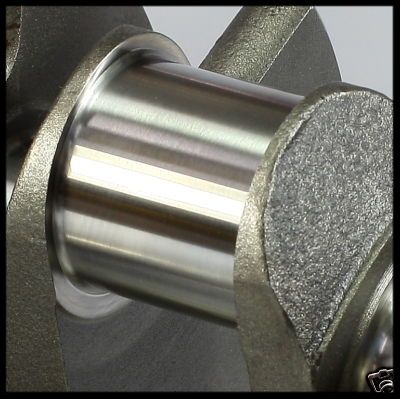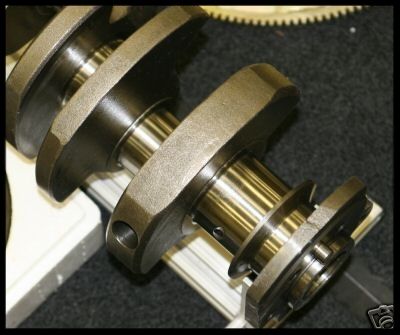 We recommend that you check the thrust clearance on the crank before assembling the engine. This is recommended on any crankshaft, regardless of brand or cost. Also check your main and rod journal size, as it's also not uncommon to find some cranks on the small or large side by as little as half a thousandths or less.
On occasion, our engine shop requires a half shell to correct this for perfect clearance. I would say this happens on about one out of 20 engines, but we really try to keep our tolerances in the middle zone. If you encounter this, we have 1 thousandths under bearings, and you should use them if needed, as this is important for engine longevity.
GENUINE SCAT-H-BEAM BUSHED CONNECTING RODS WITH ARP 12 POINT CAP SCREWS ARE NOW USED IN ALL OF OUR ROTATING ASSEMBLIES AND 347 STROKER ENGINES.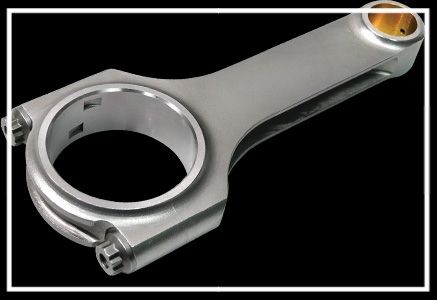 The quality of the Scat rods is unsurpassed by any of the low cost no-name rods on the market and they exceed the quality of some of the branded names as well.
The Scat rods do have genuine ARP 8740 Series 12 point cap screws. Some cams may require slight clearancing of the rods. Be sure to do a roll over test after installing each rod.
We have noticed some sellers using generic rods and crankshafts in their rotating assemblies. These non-branded (no-name) rods and cranks are often poor quality in many ways. You will notice many sellers fail to mention the actual brand of these products. Upon further investigation, you will find such parts not to be a branded name product. They may label these parts with a name, but one that is totally unrecognizable in the industry. Our experience in years past with such rods and cranks has been disappointing, to say the least. Failures of such critical parts in your engine may result in catastrophic damage. Machine shops are sometimes able to correct some of the problems with these low quality rods and cranks, but at great expense to the customer. As for the questionable alloy these items may be produced from and the potentially incorrect heat treating methods used, little can be done to verify this and nothing can be done to correct it. As you may have noticed, this is why we specify the name, brand, and series of every part used in our assemblies.
Many of the inferior "no-name" rods on the market will also have "no-name" rod bolts in them. We have seen these bolts before, and they are very low quality. They don't have ARP's rolled thread design, and they don't torque down with the same characteristics as a genuine ARP bolt. It's not just a matter of having a different brand bolt in the rods; these bolts are low quality in many ways. They have been known to fail in engines to a much greater degree than a high quality rod bolt, and this failure usually causes catastrophic damage in the engine. Beware of rods that don't mention the rod bolt brand. As far as we're concerned, ARP bolts are the only brand we would ever use or accept in a set of rods.
KING MAIN AND ROD BEARINGS ARE INCLUDED.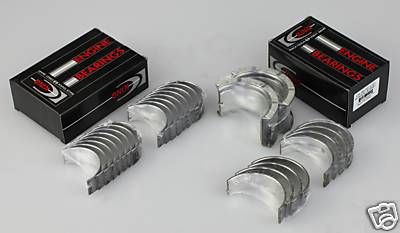 WISECO FULLY FORGED PISTONS, RATED AT 800+ HP. THESE PISTONS ARE VERY RESISTANT TO THE DAMAGE CAUSED BY DETONATION COMPARED TO NON FORGED OR HYPEREUTECTIC PISTONS. WISECO PISTONS ARE 100% MANUFACTURED IN THE USA. THEY ARE ONE OF THE HIGHEST RATED PISTON BUILDERS IN THE COUNTRY.
The pistons pictured below are not Ford pistons. See the single Ford piston pictures in this add.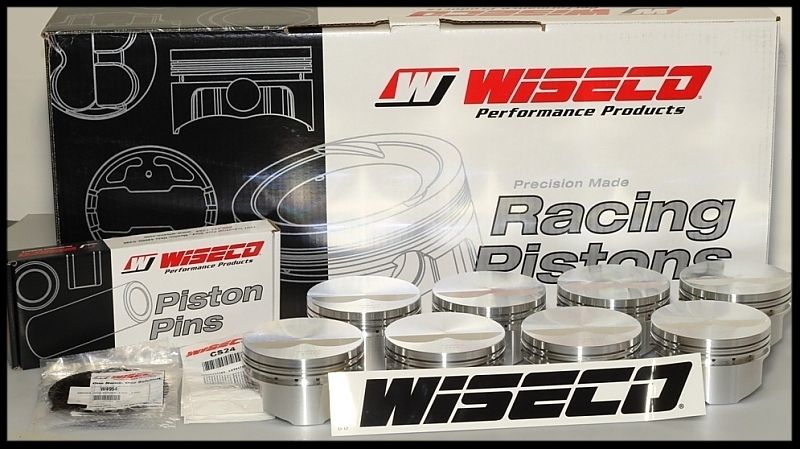 The picture above is a file photo. The actual appearance may vary
Compared to other types of forged pistons or those that are non-forged such as cast or hypereutectic, using forged Wiseco 2618 aircraft alloy pistons is a very good upgrade to your engine. Having high quality forged pistons will be your only hope should the conditions arise for detonation to occur. We sell nothing but forged pistons, as I find it comforting to know that my customers will have an engine with a tremendous safeguard built into it. Support rails, wrist pins, and pin locks included.
The Wiseco pistons are rated very high in the performance industry. They normally offer three levels of pistons, starting with the Pro-Tru Street version made with 4032 forged alloy. The next level up would be the Pro-Tru series that are much more expensive and made from 2618 aircraft alloy. The highest level pistons they offer are their professional line made for high level racing. Those are normally in the $750-$1100 price range.
Our custom made Wiseco pistons are very close in comparison to the middle version as they are made using the 2618 aircraft alloy and have fully machined crowns. Wiseco has their own foundry on location. We know of no other piston company with their own foundry. Our pistons are custom designed to address the needs of the high performance street rod industry.
You may have noticed that our Wiseco custom made pistons are referred to as Racing Pistons on the package. This does not mean that the pistons are for racing only. This is a generic term, referring to their ability to be used in high performance applications as well as for street rod use. These pistons are 100% suitable for street or strip use and designed as such. A true all out racing piston would not be suitable for street use for many reasons, but these pistons are perfectly designed for long term use on the street, as well as for drag racing. They can easily handle Nos, high compression builds, blower and turbo setups up to approx. 800 or more horse power.
Our custom made Wiseco forged pistons are made from 2618 aircraft alloy, and are capable of handling far more hp than a cast or hypereutectic piston. We find this alloy to be much more suitable for high performance engines than the common 4032 forged alloy that many others offer. You will usually see the higher end pistons on the market using 2618 aircraft alloy.
Why go with 2618 forged pistons? If you encounter certain tuning issues, detonation is highly probable, and it can cause severe damage to your engine. The 2618 forged piston is able to withstand the effects from detonation to a higher degree than the lower cost 4032 forged pistons, especially non-forged hypereutectic pistons such as Speed Pro or Keith Black.
As mentioned these pistons are suitable for use with nitrous or blower setups, but for those not running forced induction, the forged pistons offer very high reliability. The 2618 forged piston is stronger than any other alloy used in the piston industry. For the slight increase in cost, this setup is the best value on the market.
Some engine builders use the non-forged hypereutectic pistons, and we find that to be very risky for any carbureted street rod engine. We would not even consider using such pistons. If the pistons are non-forged or forged 4032 alloy, they can fragment from the effects of detonation. This can then allow the connecting rod to destroy the block, crank, and cylinder head. Those types of pistons are fine for stock or very mild engine builds, but should never be used in engines built above 350 hp. The forged 2618 alloy piston is so much more resistant to extreme heat and is also very strong in general.
Below are the Wiseco piston specs.
Item Code

KP550AS

Vendor Name

WISECO

Product Type

PISTONS, CUSTOM MADE.

Product Model

RACING STREET/STRIP

Engine Displacement (cu.in.)

363

Engine Family

FORD - Small Block V8

Material

2618 Forged Aluminum

Base Bore (in)

4.125

Stroke (in)

3.400

Rod Length (in)

5.4

Compression Height (in)

1.090

Top Type

Dish Top

Net Head Volume (cc)

-9.5cc valve reliefs

Deck Thickness (in)

0.280

Wrist Pin Diameter (in)

Use .927 rod/wrist pins.

Wrist Pin Length (in)

2.500

Wrist Pin Weight (g)

Piston Weight

APPROX. 122 grams.

APPROX. 475 grams.

Pin Lock Type

Spiral

Ring Set #

Hastings DROP IN

Top Ring Groove Size

1.5mm

Second Ring Groove Size

1.5mm

Oil Ring Groove Size

3mm

Top Ring Land (in)

0.255

Second Ring Land (in)

0.170

Bottom Ring Land (in)

0.090

Quantity

Sold in sets of 8.
MAHLE FILE FIT RINGS INCLUDED.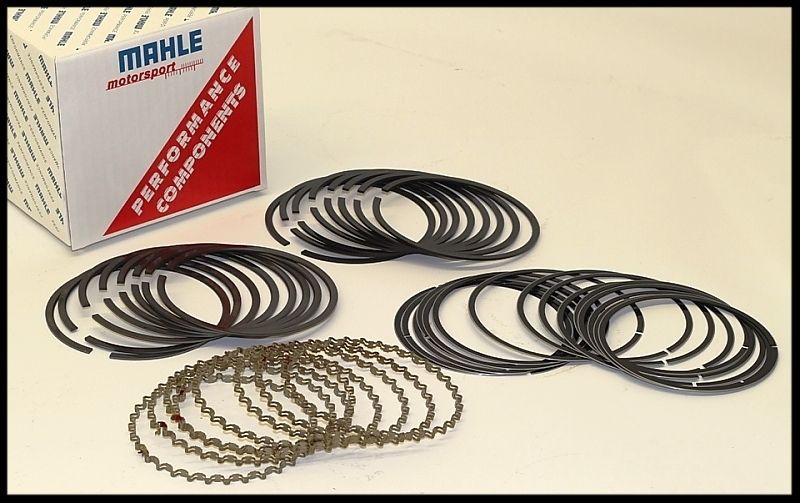 MAHLE PLASMA MOLY RING SET INCLUDED. 1.5mm 1.5mm 3.0mm file fit.
PRO RACE BRAND HARMONIC DAMPER, 6.40 28oz DIAMETER INCLUDED. THESE ARE VERY HIGH QUALITY ITEMS. YOU SHOULD NEVER USE AN OLD DAMPER/BALANCER.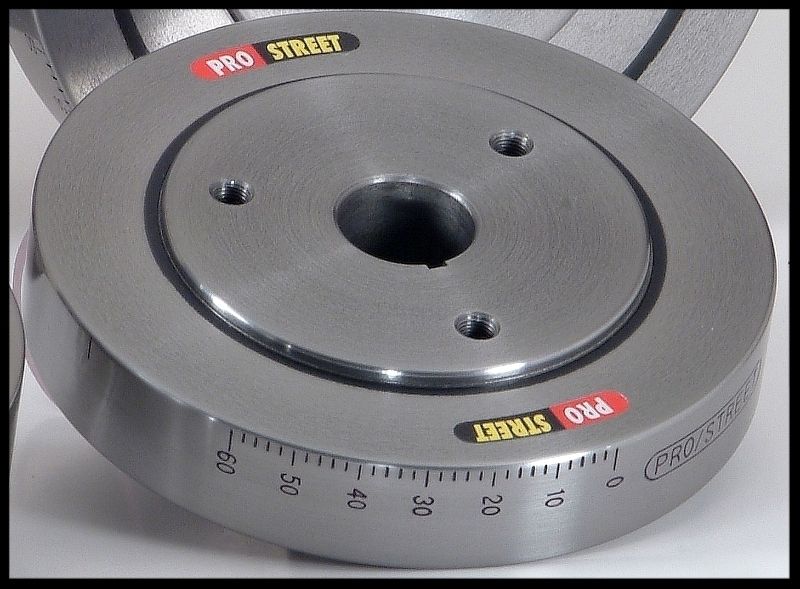 We have noticed others using a low grade knockoff brand damper/balancer, and we have encountered them in the past. They are substandard in appearance, but they are usually out of spec. We don't have anything against knockoff products if they meet our standards and offer a good value. We think it is great that many of the name brand companies are getting their just rewards for what we consider nothing short of offering overpriced goods. Take our word on this, you don't want a balancer coming off or one that is improperly weighted. The timing marks were also poorly marked on some of the balancers we have come across.
We know of several competitors using these balancers. The ProStreet brand is far superior to most any we have ever seen. They were once known as a knockoff product, and have become one the best values on the market, without comprising quality whatsoever.
FLEXPLATE INCLUDED.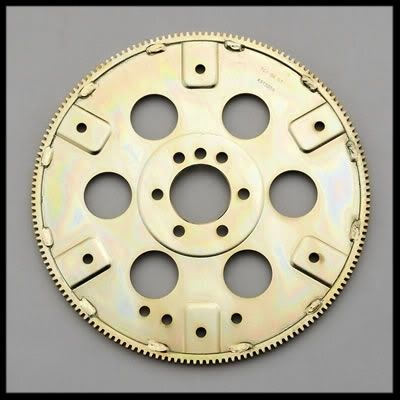 This flexplate will resist cracking and warpage, leading to imbalance in the engine.
We do offer this assembly with a manual flywheel. See our other listings. We do have both sizes.
WE FOUND NO TWO FLEXPLATES TO BE REMOTELY CLOSE IN THIS RESPECT. THE MASSIVE WELDING ON THESE PLATES AROUND THE RING GEAR ON BOTH SIDES AND ATTACHING THE WEIGHT IS VERY INCONSISTENT AS FAR AS BALANCING IS CONCERNED, SO WE DO SEND THE ACTUAL PLATE USED WHEN BALANCING AND SERIAL NUMBER IT TO MATCH THE REST OF THE ASSEMBLY.
Many rotating assemblies we see are not using the most suitable parts. We hope you value the fact that we have put together an above average assembly. Please read the full listing.
We offer this assembly with selected upgrades. Listed below are some of the most requested ones. Many not only improve performance, but further enhance the reliability and longevity of your engine, along with resale value.
Crank polishing: Extends bearing life, reduces oil temp, frees up a slight amount of average horsepower. This is a very low cost upgrade, and in the world of mass production, most cranks do not come with a true polished finish. This is why most machine shops have a machine to do this. The difference is dramatic between a crank right out of the box and one that we have polished. Bearing companies claim that cranks that have better finishes on the journals will survive the break-in better, and have much longer bearing life. We do a two-step process and bring the RA numbers down in the single digit range. We have the most advanced crank polishing machine on the market.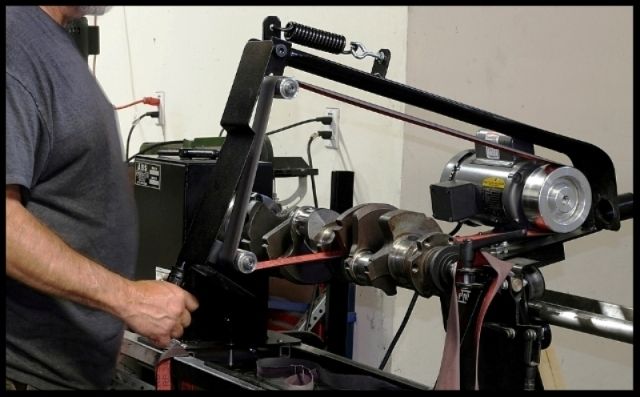 More upgrades coming soon.
PLEASE GIVE US A CALL AT
423-722-5152
or 877-383-5152 FOR TECHNICAL INFO. OUR HOURS ARE 8am-8pm EASTERN. 10am-3pm ON SAT.
BE SURE OF THE COMPRESSION RANGE AND BORE SIZE YOU WANT BEFORE PURCHASING.
A note from Skip White, company president.
We have built this setup for many people that are into serious street/strip use as well as drag racing, and have yet to experience a failure. Every part in this assembly meets our satisfaction. I can promise you that many assemblies offered by other sellers pale in comparison to ours. This is the best value you will find on the market.
Many people have asked how is it that we can sell this assembly for such a low price. To answer this; we buy our products at master WD (warehouse distributor) level for all of the items in this assembly, and we are selling direct to the public. We are a volume sales based company. Our profit is based on sheer volume, with a very low markup. By selling large volumes, we have to purchase large volumes of products. It is this large volume purchasing that allows us to buy products at a much lower price and we simply pass these savings on to our customers.
Skip White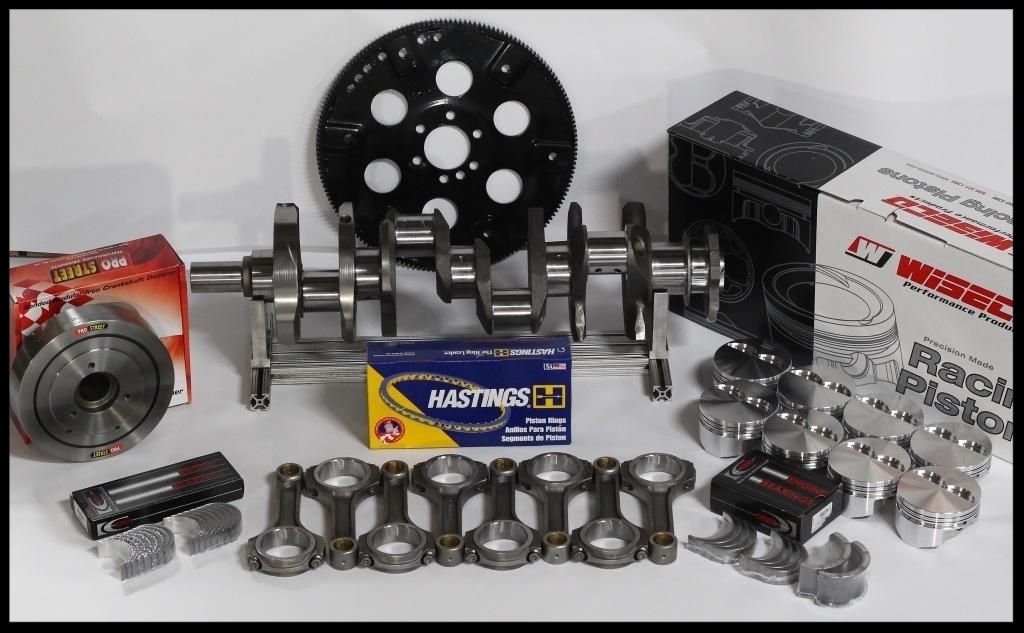 Call for tech info at 423-722-5152.
Customer Reviews
This product does not have any reviews yet.