Product Information
| | |
| --- | --- |
| UPC | 352020768987 |
| Product Type | Shipped Product |
| Shipping Cost | $10.25 |
| Number of reviews | 0 |
THIS IS ONE OF THE BEST 1 OR 3 WIRE GM 10SI SERIES ALTERNATORS ON THE MARKET. 120 AMP OUTPUT.
LIFETIME WARRANTY
CHROME OVER ALUMINUM. READ COMPLETE AD BEFORE PURCHASING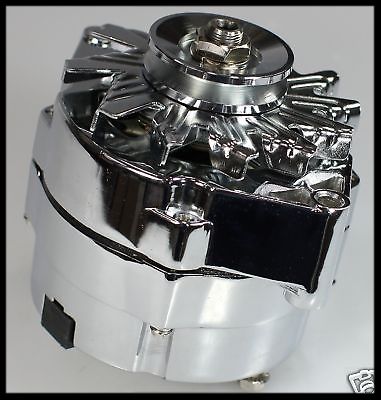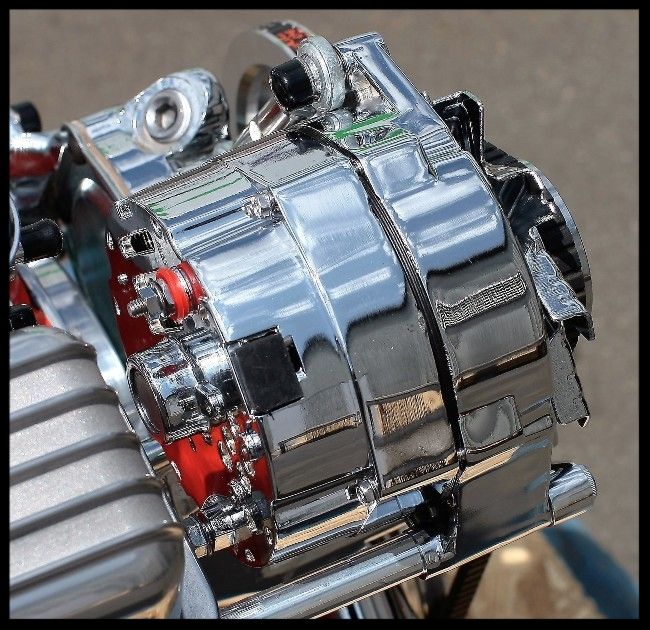 This is the traditional 10SI series GM alternator. These alternators have proven to be one of the most reliable products we sell. There are many different companies that sell a similar unit, and rest assured, most are not to be compared to ours. We have been selling this same unit for over 5 years, and take notice of our sell rate. It is listed directly above the "buy it now" tab. It is well past 2000 on Ebay alone, and this does not include our call in and walk in sales. The return rate on these alternators is near zero. The performance is excellent. The fit is spot on. We have had the opportunity to sell different brands that cost less, but have found them not to be comparable to this unit. At this time, 5/10/2015, we are the number one seller of the 10SI alternator. Think twice when you see a lower priced unit on the market. Quality and performance make our unit a far better value, in our opinion.
PART NUMBER: 1001-C
The chrome finish on this alternator is much better than some of the others we have seen on the market, but it is not flawless, as some people seem to expect it to be. You will not find any brand of chrome plated alternator on the market to have a perfect finish in every area of the case. Expecting the finish to be perfect in every nook, cranny, crack and crevice is unreasonable. Once mounted on the engine, the appearance from two or three feet away is what we consider excellent.
You must understand that these and all other chrome plated alts on the market start out with a rough cast aluminum housing that has been polished down smooth, then chrome plated, and polished once more. This process is very labor intensive. It's near impossible to make this type of item perfect in every area. Considering its overall shape, we find the finish to be very good, all things considered. Chrome plated items made from a cnc'd billet piece of aluminum will usually come out better, but this alternator is not produced that way.
Considering the price of this alternator, an absolutely flawless finish is not to be expected. Overall, we consider the finish to be smooth and glossy. Please be reasonable in your expectations.
Clean the surface with a household cleaner before installation. Often the manufacturer will apply an unsightly protective coating to prevent chafing from the packaging material.
Comes with a Lifetime Warranty regardless of mileage, street or strip use.
Pictured below is our chrome alt. on one of our engines. We have used this model on our engines for many years.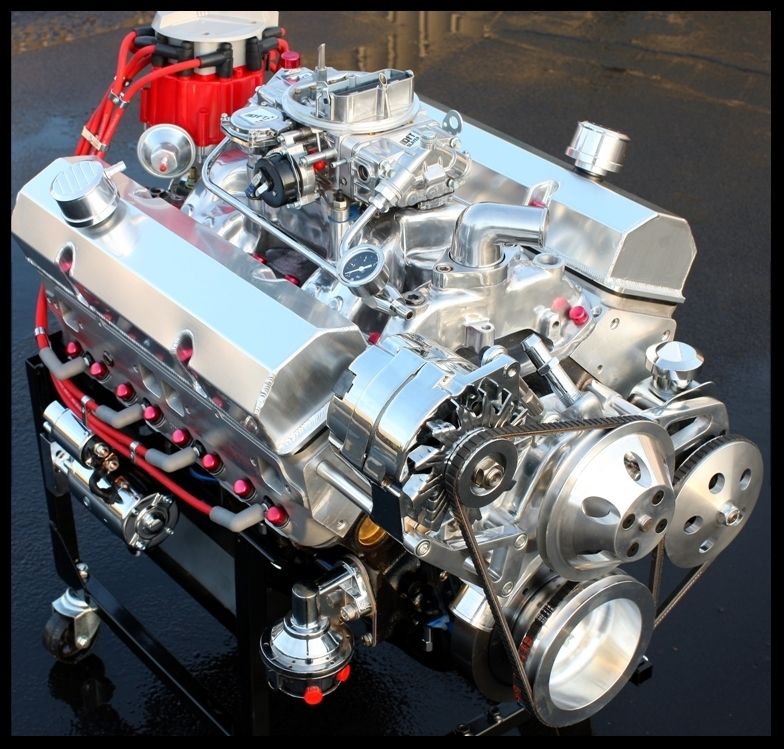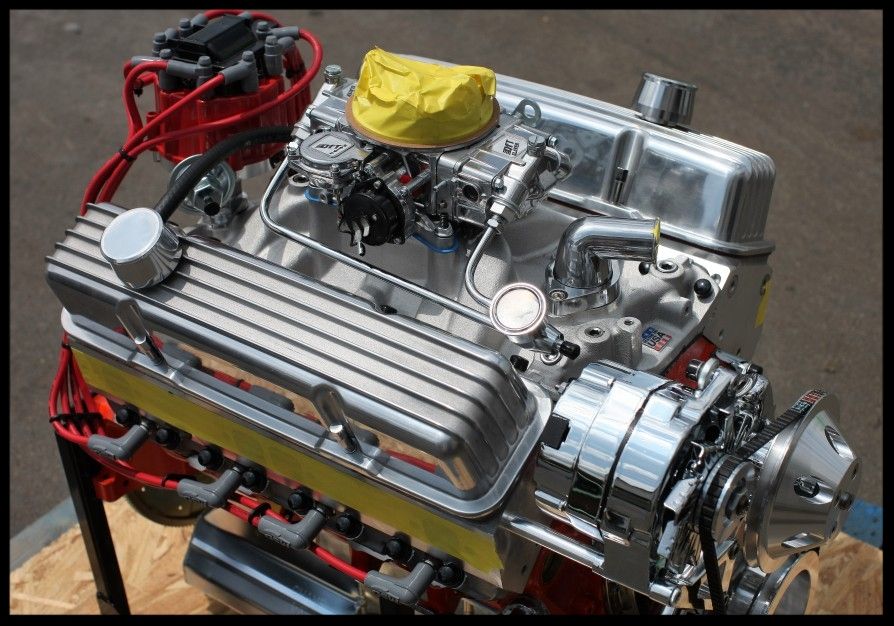 This alternator is a direct replacement on 1973 and up GM vehicles that had internal regulator alts, till approx 1986, but can be used on earlier vehicles before 1973.
NO EXTRA WIRING NEEDED. ONE WIRE TO THE BATTERY IS ALL THAT IS NEEDED ON THIS MODEL, OR YOU MAY HOOK IT UP AS OEM ALT HOOKED UP ON 73 MODELS UP TO APPROX. 1986.
This unit hooks up exactly as the OEM unit does. For those wanting to use this alternator as a direct replacement on a GM vehicle, you will remove the black square plug in the side of the alt. case by hand, and your existing two wire harness will plug directly into the alt. You will also hook up the alt. cable that usually comes from the positive side of your battery to the back of the alt. The alt. cable is usually a 10 gauge wire that splits off from the large heavy positive battery cable.
For those wanting to use this on an early model car that had a conventional style alt. with an external firewall regulator, all you need to do is hook up the alt. battery cable to the back of the alt. No other wires need be hooked up. The voltage regulator is internal in this unit, and will operate with just this one wire hooked up to it. This is how you are able to eliminate the external voltage regulator as well as the mass of wires going to it on vehicles before 73. This unit actually fits in place of the early model external regulator alts. GM did not change the physical size or design of the case when internal alts came in 1973.
We offer a polished or chrome plated billet aluminum bracket that is outstanding in function and appearance. The correct part number for this bracket is 9101 or 4304 for those with a long style water pump. For those running a short water pump the part number is 9102. These brackets are really very simple to install and brace the alternator in a much more secure way. See our other listings for these items. Just remember, long or short style water pump will determine the style bracket you need. For those wanting a low mount bracket we also have this. Part number for the low mount bracket is 7758.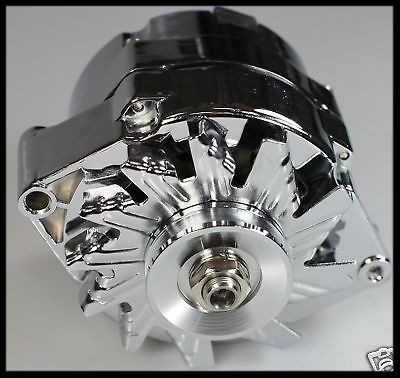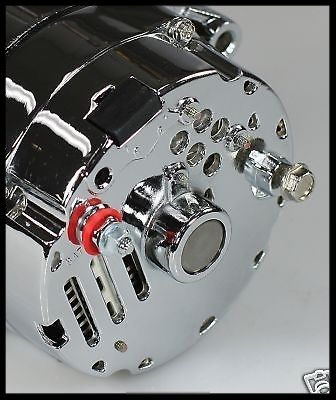 The reliability of this alternator is outstanding. The failure rate is nearly nonexistent. We can't think of any electrical product that we have ever sold having a lower return rate. Rest assured many other units such as this on the market are not of this quality.
Beware of units claiming to be 120 amp. There are models on the market as low as 80 amp. These units have smaller stator windings.
This really adds to the look of your engine, not to mention the dramatic increase in charging power. We keep one on our engine in the showroom, and it's one of the best selling items we have.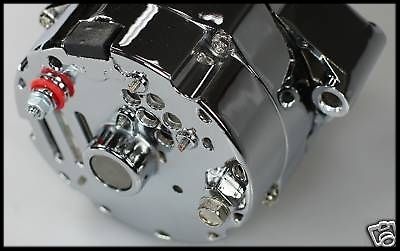 This unit has a lifetime warranty, unlimited mileage, street or strip use.
NOTE FROM OUR COMPANY PRESIDENT, Skip White:
The quality of this alternator is excellent. This is the model that I run on my race car. It works double duty, keeping charged two Hawker Odyssey batteries, 625 cca each. I run a twin 11 inch high powered fan setup, cdi ignition, electric water pump, head and tail lights, high volume electric fuel pump, and more. This alternator is a must, as much of my time is spent sitting in the staging line with the engine idling, and I have a reduction pulley on the crank. My race car is a pro-street legal car that I drive on the street. Never has it failed to keep the batteries fully charged. The volt meter stays in the 13+ zone at idle with everything running. For those that set the engine idle speed very low, the voltage may drop below 13, but soon as the rpm is increased, the voltage will rise quickly.
If you're not sure about the application of this unit, please call us at 423-722-5152.
THIS UNIT IS BRAND NEW.
This unit is identical in size, function and shape to the Delco 10SI model and is sold outright with no core charge. We have sold this unit at our store for some time.
We are very selective when selling electrical/electronic products. The quality of this unit is far better than any we have seen. Do not assume other units on the market are the same, THEY ARE NOT! Few if any will have the warranty we have.
The polished alts on the market, do not look good at all. The cast aluminum case does not polish out well, not to mention polished units will oxidize quickly. This could be due to the type aluminum used, but they just don't look good. The chrome over aluminum has a very rich tone to it, unlike chrome over steel. If you buy a polished or plain cast aluminum unit, you will most likely be very disappointed. The chrome over aluminum model we have will always clean up like new regardless of age or use.
Customers have asked us if this unit new, remanufactured, or rebuilt. These units are 100 % BRAND NEW.
This unit will fit any applications that used the 10SI alternator, as well as the external regulator alt systems that were in use prior to the internal alt era. Get rid of the external regulator and all the messy wiring, not to mention those alts were very low output. This unit has a self contained regulator built into it, and the one wire voltage excitation module for one wire hookup.
A new high amp alternator on your vehicle can make a huge difference of the charge level of your battery, and will also keep full power going to your ignition and accessories. Having full a full supply of current to the ignition is very important for performance.
A volt meter will not indicate a weak low amperage alternator, only voltage output. If you have electric fans, cdi ignition, electric fuel pump and/or an amplified sound system, this is a must.
The best stock 10si GM alternator ever made from the factory only had a max output of 63 amps and low as 37 amps, with the exception of the GM high output 15SI model, and it used an oversize case. Its output was right at 80 and 100 amps depending on options. These options required higher output alts to maintain proper current to them, and keep the battery at full charge. Our 120 amp model will keep up with most any current demand placed upon it. Units of lesser output or quality may fall behind on supplying proper current, and this can cause an array of problems.
MOST CUSTOM SHOW CAR OWNERS WILL CHOOSE THIS TYPE ALT. MANY STREET RODS CHOOSE THIS FOR THE ONE WIRE SIMPLICITY. LESS WIRING. IT'S IMPOSSIBLE TO HOOK UP WRONG. ONE WIRE TO THE BATTERY, AND THAT'S IT.
Our goal is to remain the lowest cost, best value, best service company in the industry. We are fully aware of other lower cost alternators on the market, and we know for a fact our unit is far superior in function and build quality than most if not all others on the market. A well made alternator will last a long time, and this is why we offer a lifetime warranty, and plan to be around a long time to honor it should you have a failure of this unit. We have been in business since 1979 in east TN.
Customer Reviews
This product does not have any reviews yet.