HIGH RISE SBC CHEVY SINGLE PLANE VORTEC INTAKE MANIFOLD PC-2032/ 147.1024
$240.30
Available
---
Product Information
| | |
| --- | --- |
| UPC | 331801517705 |
| Product Type | Shipped Product |
| Shipping Cost | $0 |
| Number of reviews | 0 |
SBC CHEVY VORTEC INTAKE MANIFOLD (POLISHED FINISH) HI RISE PROCOMP PART # 22032 PCE147.1024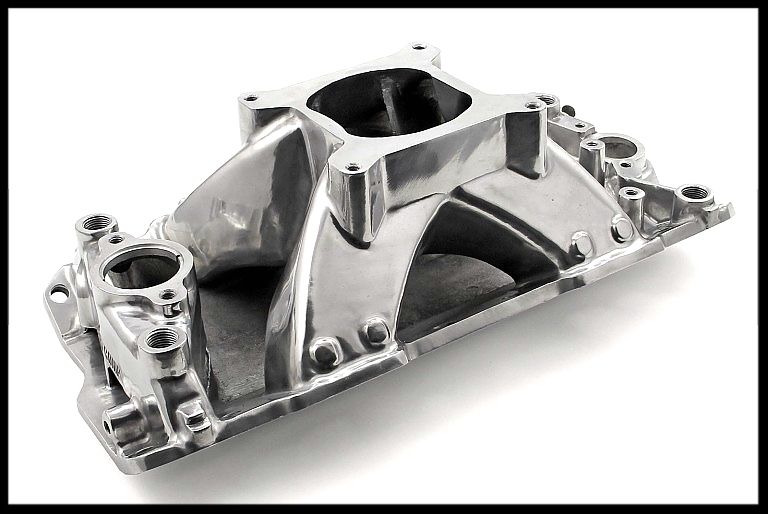 Important note.
This intake manifold will not work on the 87-95 TBI non-Vortec engines unless you have installed GM Vortec heads on the engine. This intake is to be used on the Chevy V8 Vortec engines that were used in the pickup trucks, and suv's built after 96. Regardless of the year model, the engine must have genuine Vortec cylinder heads. You may have an earlier model built before 96 and install Vortec heads on the engine and then this intake will work. This intake must also use a square bore style carburetor, such as a Holley or similar carb. This intake will not accept a GM Quadrajet carb due to the large size secondary throttle plates. The square bore carbs have the same size front and rear throttle plates.
Very simular to the Hurricane intake by Pro Products.
This intake fits 1996 and up Vortec small block carbureted engines.
It is a non-EGR equipped, 360 degree single plane high rise intake manifold and is ideal for maximum street performance and racing applications and will provide outstanding power from 3500 to 7800 RPM with optimum power in the mid to upper RPM ranges.
This single plane intake is the best choice for achieving the highest horse power possible. This is our favorite intake as we have dyno proven it to be the best for overall power. If you engine is in a heavy vehicle such as a pickup truck, then you may want to use the Typhoon duel plane intake as it will move your torque band into the lower rpm range slightly.
This intake also gives an engine a very serious appearance with it's tall stance. Be sure you have sufficient hood clearance as this intake is taller than most others styles. We also offer this in the polished version. See our other listings.
After extensive development, we have a manifold that outperforms the standard shootout manifold. Depending on the specific engine combination, we have seen as much as 20 extra horsepower over the standard Elite manifold. Note that this extra power is mostly showing up over 7,000 rpm. So if you aren't turning your engine in the 7,000 to 8,000 rpm range, stick with the standard Elite manifold. Below 7,000, this manifold is only 3 or 4 more horsepower better.
Manifold Specifications:
- RPM Range 3000-7500
- Intake Port Dimensions 1.80"x 1.11"
- Manifold height 6.060"
The intake ports are intentionally left small to provide a starting point for custom porting and port matching to your cylinder heads.
Features:
Accepts late model water neck, air-conditioning, alternator, and HEI brackets
Four corner water outlets
Does not have provisions for exhaust heated style choke
Does have dual distributor hold-down provisions for protection against distributor rotation
Square bore carb bolt pattern for the 4150/4160 style carburetor
Cast-in nitrous bosses
The light weight aluminum reduces front end weight over stock cast iron models.

Heat dissipation is another plus of aluminum over cast iron. Engines run better if the intake can rid itself of heat.

Our aluminum intakes are cast from steel molds, not sand molds. They provide a tighter grain casting, therefore reducing the occurrence of porosity which can mar the finish.

No drawback to using this intake. Only a great savings in money!
Customer Reviews
This product does not have any reviews yet.