Product Information
| | |
| --- | --- |
| UPC | 371569263706 |
| Product Type | Shipped Product |
| Shipping Cost | $0 |
| Number of reviews | 6 |
QUICK FUEL DUAL PUMP MODEL SS-750 CFM MECHANICAL SEC. ELECTRIC CHOKE.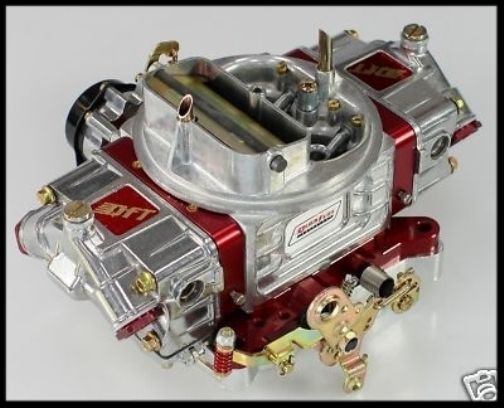 Quick Fuel SS-830 Carburetor, Gasoline, Super Street, 850 cfm, 4-Barrel,
Down-Leg,Electric Choke,Mechanical Secondary,Dual Inlet

These Quick Fuel Super Street carburetors are designed to offer the power of a race carburetor in a streetable package that weighs 5 lbs. less than other carburetors. Manufactured completely from aluminum, they allow you to change the idle feed and offer power valve channel restrictions and idle and high-speed air bleeds for the ultimate in tunability. The solid-state, electric-choke Quick Fuel Super Street carburetors have billet throttle bodies, billet metering blocks, 4-corner idle systems, secondary jet extensions, and notched secondary floats. The vacuum secondary carburetors feature fuel bowls with a single-sight glass window, while the mechanical secondary carburetors have dual-inlet, dual-sight glass 4500-style fuel bowls, and include additional links to tune the secondary opening rate. Quick Fuel has done it--they've created an all-aluminum Super Street carburetor that's perfect for your high performance street machine.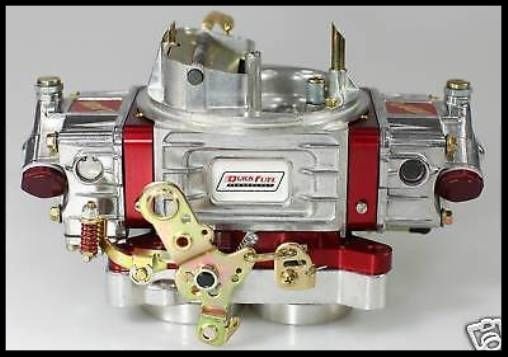 Product Specs
Our line of Quick fuel carbs are custom calibrated to our specifications. Along with the help from the Quick Fuel company and our own experience, we have designed these carbs to have excellent streetability, yet still be suitable for the strip. Approximately 90% of our customers are building a street rod, and we wanted a setup in line with the street rod community. The street manners will be excellent with this carb. The tunability with Quick Fuel carbs is above and beyond any on the market, not to mention they are the best looking carb ever made. A spec. sheet is included with every carb. If your needs are for the all out strip version, we have them listed.
Most engines that make decent horsepower will need a lower
power valve to keep it from being open at idle, but still offer the needed
performance at wide open throttle
This sale is for the Quick Fuel SS-750 double pumper, mec. secondary style. The acceleration difference compared to a vac. secondary carb. is dramatic. Our company founder, as well as our company president, both agree that the double pumper carb. is the absolute best way to go. It is a somewhat myth that vac. carbs have better street manners vs. a double pumper. Our company race car is a Pro Street 240Z with a 535hp sbc 400 engine in it, and we have always had the double pumper carb on it, and have drove this car many thousands of miles on the street, and find it have excellent street manners. Their are no drivability issues at all. The above is dependent on many factors, but for the most part, double pumper carbs are a must an any true street rod. Another huge myth is that the double pumper carb. will consume more fuel. Where does this so called wasted fuel go. If it were wasted then you would have a fuel mixture issue for sure and a loss of performance. If your cruising next to a car with a vac. sec. carb at the same speed, or accelerating at the same rate, then the fuel to air ratio should be the same for the most part, providing your not bogging the engine by accelerating beyond the engines ability to increase it's rpms quickly. If the carb were wasting fuel then the carb would not be doing what any carb is intended to do, and that's precisely mix fuel and air. If you are accelerating at a faster pace, then of coarse the double pumper may consume more fuel vs. the vac. sec. carb. but you are most likely achieving your desired speed much sooner. Bottom line is their will be no measurable drivability issues with this type of carb. compared to vac. sec. carb if your car is light to medium weight, and setup as most street rods are. The only difference you will notice is the incredible acceleration that you will never want to give up.
The only contraindication to the above would be for those running a very heavy car with stock gearing, a stock or near stock stall converter, and a stock or near stock engine. The vac. sec. carb. may be more suited, and this is mostly due to the fact that some people tend to use the throttle pedal to accelerate such vehicles beyond it's ability to increase rpm at a quick rate. They keep the carb. in a bogged down mode, rather than let the engine catch up. The double pumper carb in this case may consume slightly more fuel, but it's usually when running on a vehicle that it should have never been on, and or poor driving habits. On the flipside to the above, a light to medium weight car geared decently with a 400 hp or higher engine would not do well with a large vac sec. carb, due to manifold vacuum issues, not to mention the lag that a vac. carb has. A double pumper is a must on any street rod under 3400 lbs, with decent gearing. If your car is heavier than this, you can and could still use the double pumper if the car has the horse power, and is geared decently. We do offer the vac. sec. carb also, but do not recommend it for most true street rods. You would be more satisfied with a double pumper on most combos if your car is setup as a street rod should be or close to it. Rule of thumb is that the double pumper carbs are more finicky on proper size selection vs. a vac. sec. carb, and the vac. sec carb is more finicky on setting, (tuning) the carb up for the correct vehicle. If your needing advice on what Quick Fuel carb to choose, we will need to know a good bit about your car, such as engine size, or hp output, weight, gearing, man. or auto, converter stall speed, single or dual intake manifold, and what your doing with the vehicle.
Instant throttle response, is the only noticeable result from running a mech. sec., (double pumper) carb. Most people that do switch over to the double pumper equate this to having what feels like 50 more hp. The hp. difference between the two carbs. is actually small. Where the dp. carb prevails is that it can achieve rpm much faster if the car is not in a bogged down situation, such as being in to high of a gear under wide open throttle.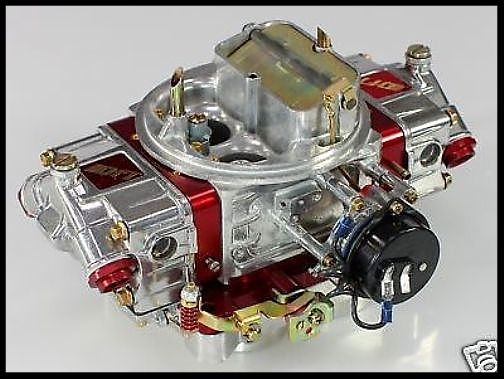 The carb. pictured above is sitting on a base to allow for clearance of the linkage while sitting on a flat surface. The red billet aluminum plate is the actual bottom of the carb.
Below are few general tips for carb. selection, but do let us help you in choosing the right size carb if your not sure of what you need. We will also be doing extensive dyno tuning with this and a few other sizes of the Quick Fuel carbs. An important note we would like to mention; The most optimal carb size for max high end horse power may not be the best choice for a street rod that is highly concerned with drivability, (street manners). We have several sizes available, see our other listings.
Our customer support number is 423-722-5152

All things being equal, a bigger engine requires a larger carb.
• Higher rpm requires a bigger carb
• Higher horsepower requires a bigger carb
• Higher compression ratios require a bigger carb
• A manual-trans car can use a larger carb than an automatic-trans car
• Steeper (higher numerical, aka geared low) rearend gears tolerate a bigger carb
• Lighter cars can use a bigger carb
• Heavy cars need a smaller carb
• Too large a cam for the application could require a smaller carb
• Mild (lower numerical, aka tall) rearend gears may require a smaller carb
• Low compression may require a smaller carb
Great to deal with, Great PRICE

Reviewed by n***3 on Oct. 16, 2016, 3:50 p.m. | Permalink

This review has no votes.

As ordered

Reviewed by a***y on July 3, 2015, 4:45 a.m. | Permalink

This review has no votes.

Exactly what I asked for

Reviewed by s***o on Feb. 12, 2015, 8:33 a.m. | Permalink

This review has no votes.