Product Information
| | |
| --- | --- |
| UPC | 331890441158 |
| Product Type | Shipped Product |
| Shipping Cost | $5.75 |
| Number of reviews | 315 |
SBC CHEVY 327 350 383 ALUMINUM POWER STEERING BRACKET FOR USE WITH SBC LONG WATER PUMP
PART # P-44302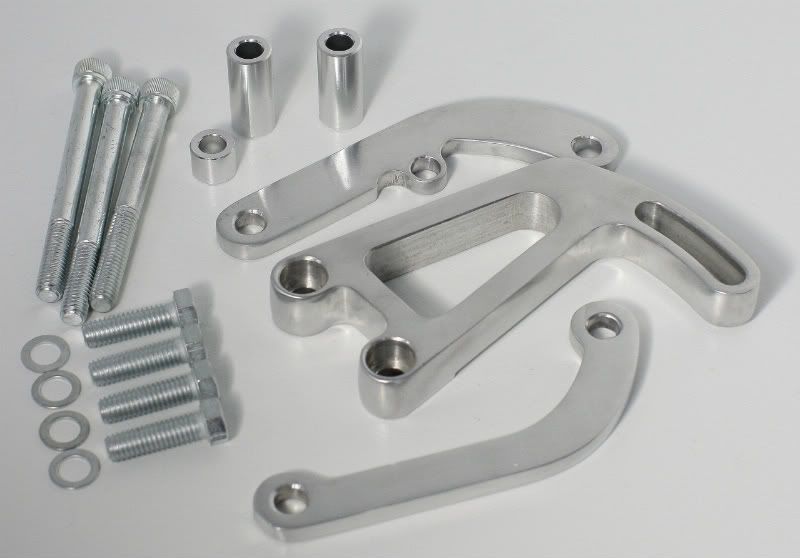 Below is a video that we have made to show the proper installation of this bracket. We have installed this bracket on over 800 engines, so rest assured this will show you the correct procedure for installing the bracket. The reason we have made this video is that many of our customers have had a difficult time figuring out how to install the bracket. After you watch the video you have a very clear understanding on how this is done.
There is one thing I would like to point out: you will notice us using a series of washers as spacers in certain areas. This is to achieve perfect belt alignment. This mis-alignment is not necessarily anything to do with the bracket, but more a result of the pulleys not matching up exactly, or it could be due to the devices the pulleys are mounted on. Nonetheless, by using the washers as needed you will be able achieve perfect alignment, and the need for these washers may very depending on many factors.
You will find the installing of this bracket very simple by watching the video. If you still have a problem you may call us and speak directly to one of our actual techs that does the installation of this style of bracket.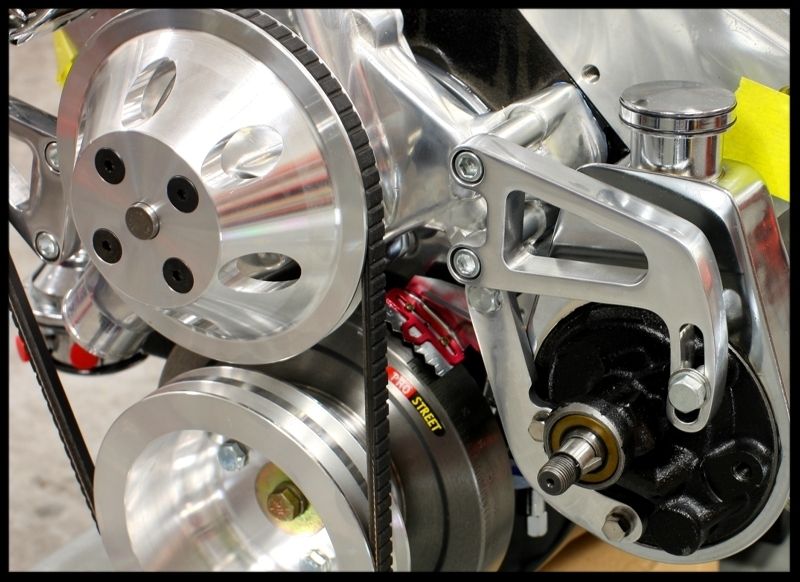 The correct belt length we have found to work perfectly is a 33.5 inch belt when using our aluminum pulleys. Whatever belt your combination calls for, you'll want a size that allows you to be able to further adjust the belt to compensate for initial belt stretch. So it is advisable to be sure the belt is somewhat short enough that you still have room in the adjustment span to tighten it as it will certainly stretch a half inch or more in the first few days of running.
FITS STOCK 1969-1973 OR ANY OTHER YEARS USING A SBC LONG WATER PUMP. THIS KIT WILL WORK WITH OUR POWER STEERING PUMP. PLEASE SEE OUR OTHER LISTINGS FOR POWER STEERING ACCESSORIES.
Fast shipping and good quality

Reviewed by d***i on Jan. 26, 2017, 1:22 p.m. | Permalink

This review has no votes.

Great Ebayer!!

Reviewed by k***t on Jan. 18, 2017, 2:01 a.m. | Permalink

This review has no votes.

Exactly as described! Looks better in-hand than on-screen. Thanks Guys!

Reviewed by r***a on Jan. 14, 2017, 9:26 a.m. | Permalink

This review has no votes.