Product Information
| | |
| --- | --- |
| UPC | 371974302066 |
| Product Type | Shipped Product |
| Shipping Cost | $12.50 |
| Number of reviews | 0 |
SBC CHEVY 2PC. RMS. FITS 1980-1985 ENGINES 7QT OIL PAN PASSENGER SIDE DIPSTICK.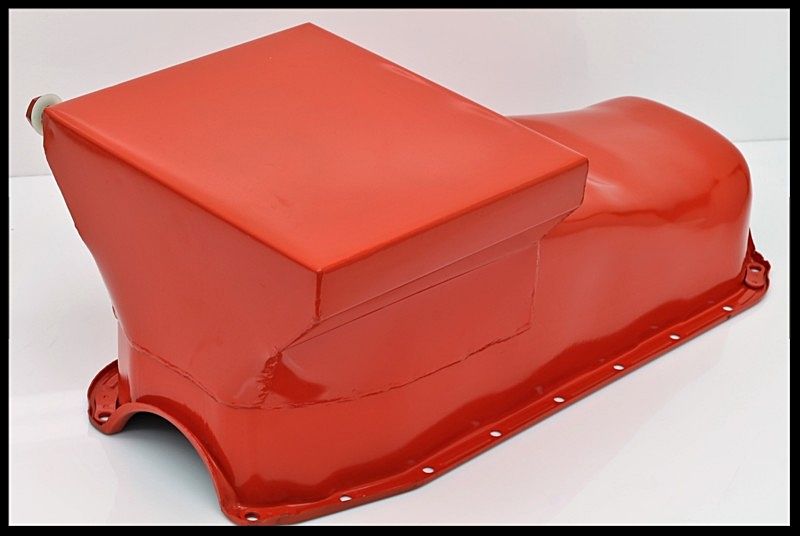 Our brand of oil pans have a much better fit than most low cost oil pans. We have seen others with terrible workmanship around the flange areas.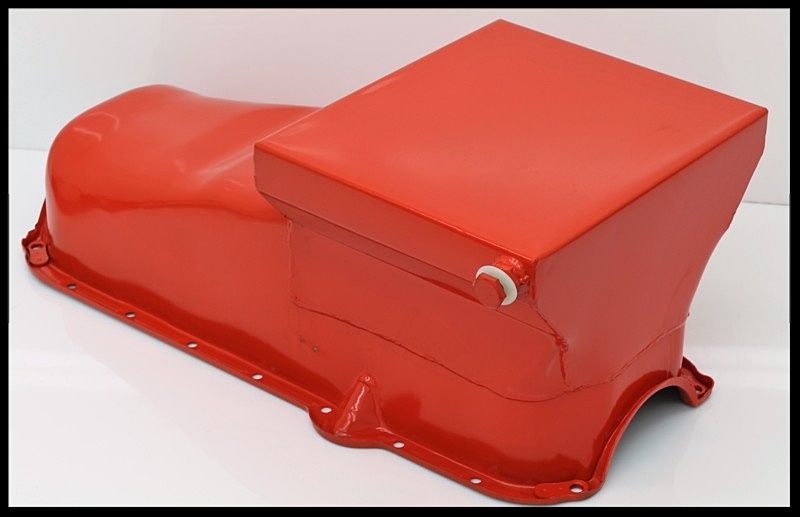 As you can see in the picture below, this oil pan has the trap door for oil control. The pickup tube is designed for this this pan.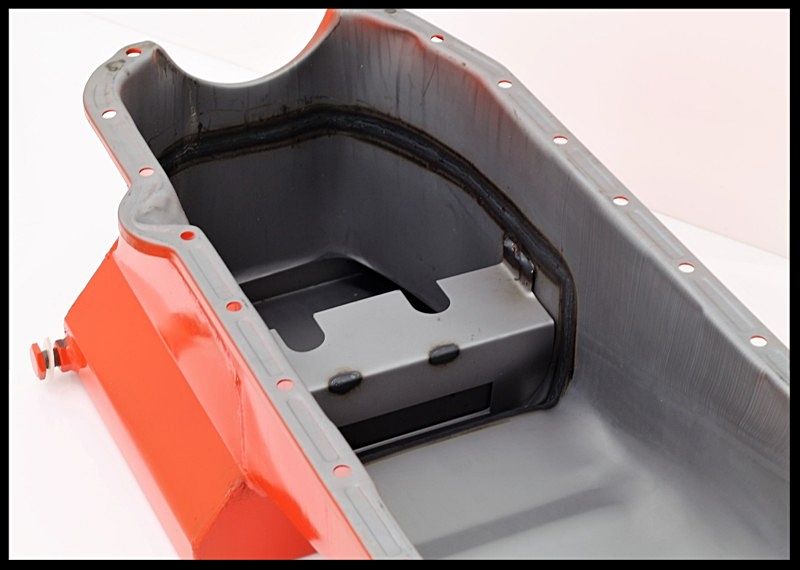 The oil pan comes with 7 quart oil pan and correct pickup tube for use with a high volume oil pump. This setup WILL NOT work with a standard volume oil pump.
PASSENGER SIDE DIPSTICK. FITS 1980-1985 ENGINES.
Important Note: We do not make reference to "left hand or right hand" dipstick in any of our oil pan ads. This has caused numerous errors for many people purchasing an oil pan. The problem is that many people's point of reference to left and right hand is different, as in left hand sitting in the car or standing in front of it. Please don't ask us if the dipstick is on the left or right side, just use the reference of "driver side or passenger side" in the description of the ad. It's impossible to get it wrong this way. As you may have also noticed, we do often include the year range that these oil pans are intended for, and that will only be useful if the car has the original engine in it. Often these older cars have had an engine replaced in them over the years, and it very well could have the dipstick on the opposite side. Also beware of some engines having changed from a 1pc. rear main seal to a 2pc. rear main seal style or vise-versa. This is very common. We might also mention that our reference to driver and passenger side is for cars built in the USA for use in this country. As you may know, many countries choose to put the steering wheel on the wrong side of the car to accommodate driving on the wrong side of the road...at least, that's the way we see it.
Be sure that you need the passenger side dipstick model.
YOU WILL RECEIVE THE OIL PAN WITH THE DIPSTICK ON THE PASSENGER SIDE.
THIS IS A 7QT PAN AND WILL FIT MOST STOCK VEHICLES.
The only difference in the shape of the oil pan are the kickouts at the bottom. All other specs are oem.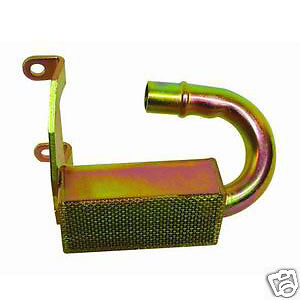 NOTICE THAT THIS PAN HAS AN INTERNAL DIFFUSER IN IT, TO CONTROL THE OIL UNDER HARD ACCELERATION. OTHER STEEL PANS DO NOT HAVE THIS FEATURE. IT IS VERY IMPORTANT IN OUR OPINION. These oil pans came to us in bulk packaging. We will use our own box to package this item.
The 7QT OIL PAN COMES WITH IT OWN SPECIAL BOLT ON OIL PUMP SCREEN WHICH FITS ON ANY MELLING M-55 HV OIL PUMP, OR ANY SIMILAR OIL PUMPS. THIS PICKUP TUBE IS CORRECT IN PAN DEPTH.
Read this ad completely before purchasing this pan.
OIL PAN HAS STROKER NOTCHES ALREADY IN THE PAN AS YOU CAN SEE IN THE PICTURE ABOVE. THESE NOTCHES MAY OR MAY NOT BE USED AND YOU STILL MAY NEED TO PUT YOUR OWN NOTCHES IN THE PAN
STOCK PICKUP TUBE WILL NOT WORK WITH THIS 7QT PAN, YOU MUST USE THE PICKUP TUBE INCLUDED WITH THIS PAN.
THE PAN IS 8-3/4 DEEP AND 9-3/8 WIDE. THE PAN HAS A HINGED TRAP DOOR FOR IMPROVED OIL CONTROL AND REDUCES OIL TEMPERATURE AND ACCEPTS UP TO A 3.750 STROKE CRANKSHAFT.
These pans are clearanced, and may still require a bit more clearancing depending on what type and brand of stroker crank and rods you use. We have found this to be a very simple task. Some others claiming to have a stoker clearanced oil pan have never put one on a stroker engine to know for sure. These do have the notched indentations in the front right side near the rail. Be sure and do a roll over test before assembly.
THIS WILL NOT FIT 62-67 CHEVY NOVA ll , V8 MONZA , VEGA UNLESS THEY HAVE BEEN MODIFIED TO ACCEPT THIS TYPE PAN.
Our sales staff has limited technical knowledge on this product and are usually unable to answer many of the questions asked. See our other listings for variations of this product.

We are not responsible for collateral damage caused by the use of this product.
Customer Reviews
This product does not have any reviews yet.