SBC CHEVY 350 383 HEAD GASKETS FOR DART SHP & NKB ALUMINUM HEADS GR-30-PAIR
Available
$39.95
---
Product Information
| | |
| --- | --- |
| UPC | 371190348811 |
| Product Type | Shipped Product |
| Shipping Cost | $9.95 |
| Number of reviews | 98 |
CARBON GRAPHITE HEAD GASKETS FOR SBC CHEVY ALUMINUM OR CAST IRON HEADS. MULTI LAYERED GRAPHITE/STEEL DESIGN. .030 THICK.
These head gaskets are highly suitable for use with our Dart SHP 200cc or NKB-200 aluminum heads.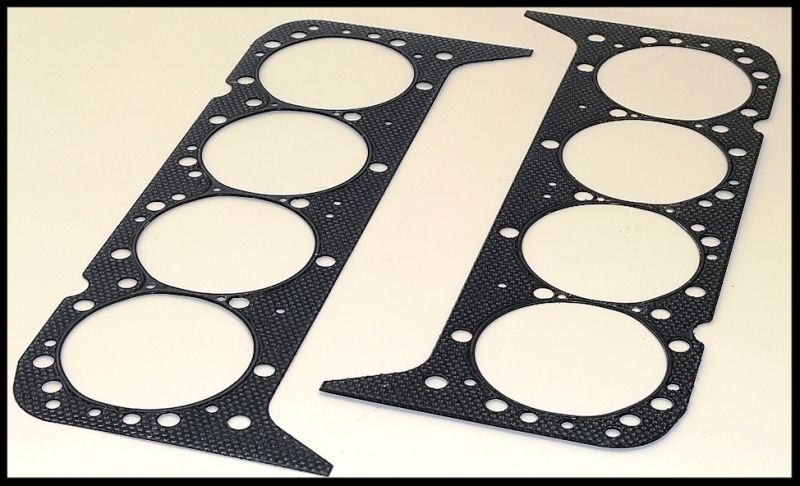 PART NUMBER GR-30-PAIR
THESE HEAD GASKETS ARE EXACTLY WHAT IS NEEDED WHEN INSTALLING A SET OF ALUMINUM HEADS ON YOUR SMALL BLOCK CHEVY AS WELL AS MOST CAST IRON HEADS. THESE ARE THE CORRECT GASKETS FOR OUR NKB-200 HEADS WITHOUT STEAM HOLES AS WELL AS FOR MANY OTHER AFTERMARKET ALUMINUM HEADS. WE HAVE SEVERAL VARIATIONS OF THESE GASKETS.
SEE OUR LISTINGS. FOR THOSE RUNNING AN ENGINE WITH STEAM HOLES.
SEE OUR OTHER LISTINGS FOR OUR COMPLETE LINE OF GR HEAD GASKETS.
Multi Layered graphite/steel/graphite heads gaskets.
These head gaskets are race grade quality, and totally suitable for use with aluminum heads. They are .030 thick uncompressed, and have the correct bore diameter of 4.125. Regardless of your block bore size (from 4.030 up to 4.060) you must use a head gasket that has a bore diameter of 4.125 or higher. This is to accommodate the combustion chamber opening of nearly all aftermarket heads. We also offer these in a .040 thickness. The .030 thick head gaskets are an excellent solution for those with pistons sitting anywhere from .005 or more below the deck surface. It is most desirable to have your quench/squish zone to in the range of approx. .035-.045 if possible. We have a vast amount of experience using these head gaskets, and have yet to experience a problem.
For those that favor the Felpro 1003 head gaskets see our other listings.
Our technical knowledge is limited on this product. Our sales staff are usually unable to answer many of the questions asked. Many of the questions are, "how do you install this item", "what model cars will this work in". Most of the people on our sales staff simply don't know these answers, and even if we did, the time involved answering so many of these questions is what led us to writing this notice. We update the info in our listings on a regular basis, and if it's not in the ad, then there's a good chance we don't know the info. There is a solution to this problem for those with numerous questions about the product. We recommend searching the car forums for application questions, or technical info. You will find the answers you need on the forums for certain.

You have all heard the saying that a picture is worth a thousand words. Well, it is, and with that being said, a video is worth a million words. If you go to YouTube and type in the correct key words or phrases, you may find dozens of highly informative videos showing much of the info you need to know on this product.

We are not responsible for collateral damage caused by the use of this product.
Great item

Reviewed by a***c on June 10, 2018, 7:58 a.m. | Permalink

This review has no votes.

Fast del great looking heads gaskets

Reviewed by v***m on June 10, 2018, 4:54 a.m. | Permalink

This review has no votes.

Looks good. I'm happy.

Reviewed by r***i on June 6, 2018, 5:17 p.m. | Permalink

This review has no votes.