SBC Chevy 383 406 Comp Cams 510/525 Lift OE Hyd. Roller Cam # 08-000-8-11480
Available
$309.50
---
Product Information
| | |
| --- | --- |
| UPC | 372018068408 |
| Product Type | Shipped Product |
| Shipping Cost | $12.50 |
| Number of reviews | 0 |
SBC Comp Cam OE HYD. ROLLER 510/525 Lift 230/238 Duration
111 Lobe Sep.
This cam has a step nose for use in oe roller blocks.
Reduced base circle cam. (1.050)
See dyno results below.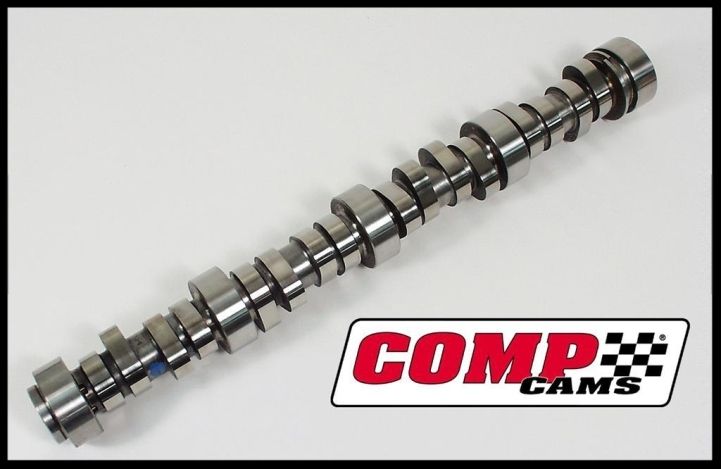 Comp Cams has notified us of a back order on cam cores that will be in effect till approx. Sep. 7. Were very sorry for the delay.
Special Grind # 33151
PART NUMBER: 08-000-8-11480
510/525 lift
230/238 duration
111 lobe sep.
Comp Cams SBC Step Nose Xtreme Energy Hydraulic Roller Camshafts.
These special cams are made from an Austempered Ductile Iron Core, (a super hardened cast core), and have a reduced base circle (1.050). This allows the use of most rods on the market without having to grind any material from them when used in engines with a 3.750 stroke crank, such as those in the 383 and 406 sbc engines, and this includes the Scat H-beam rods, as they usually have the worst cam to rod interference. The 421 stroke cranks, (3.875) required very little grinding and, depending on the rod type, you may not have to grind them at all. This not only preserves the integrity of the rod, but most importantly, the rod bolt. By not having to grind the rods, you will also maintain the balance of the rotating assembly, should it have been already balanced before the rods were cam clearanced. We now use these reduced base circle cams in every sbc engine we build. These special cams can be used with a regular distributor gear. No need to run a bronze gear. Pushrod length will usually be approx. .050 longer than what a full base circle cam uses due to the reduced base of this cam.
Take a look at what has to be done to the rod body and bolt section of this rod in the picture below when using a full base circle cam in a 3.750 stroke (383 or 406) engine. The idea of having to go this far into the bolt is unsettling, to say the least. The reduced base circle cam eliminates having to do this. As mentioned above, this is one of the many reasons we now use the reduced base cams in all our sbc engines.
Important note from our company president, Skip White.
Our new line of Comp custom ground street rod cams has improved our horse power and torque numbers better than anything we have done to our lineup of street rod engines. The profiles on these cams are unique. We have increased the hp numbers approx. 20-30 with no increase in lift and duration or lobe sep. as compared to our former line of cams. As time goes, we will be adding many dyno reports with various combinations of intakes and rocker ratios, and showing this cam used in engine sizes from 383 cubic inch all the way up to our 434 pump gas street rod engines. These ads will show you many characteristics of the cam and how it will perform and our recommendations on what to expect as far as street manners are concerned.
We are often asked the rpm operating range of a given cam as stated on the cam card. This info is useless, in our opinion. These rpm ranges can be very misleading. It would be fair to say that 99.9% of people misinterpret these numbers. If we asked 20 different people just what does "operating range" mean, they would all most likely come up with a different explanation. Most people are also not aware that the size of your engine will drastically change the operating range numbers, and if you do understand that, then one must still wonder what operating range actually means.
Many cam cards will also make mention of the cam's uses and characteristics, and we often find that info to be misleading also. The worst place to get cam recommendations is from a friend that has an engine similar to yours. Your friend often has nothing to to compare it against, and therein lies the problem. The next worst place to get a cam recommendation is from the cam manufacturer's tech dept. We have many customers asking us to put a cam in an engine we're building them based on the recommendations from a cam company they have spoken to. We usually find the recommendations to be terribly wrong for the customer's application.
Our experience on a cam's characteristics in a vehicle are based on years of feedback from our customers that have bought engines from us. This is real world experience. Our Superflo Dyno has also shown us exactly what a given cam will do in a given size engine. The compression ratio is also a very important factor in what a cam will do in an engine. For the most part, our line of engines are in the pump gas compression range.
The dyno results below are from various engine builds that have chose this cam.
Carefully read the test description in each of the dyno reports below. This exact cam was chosen in many of our sbc street rod engine builds. These are all pump gas street rod engines with approx. 10.5:1 compression. Most of the 383 and the 421 engines are running our low cost NKB aluminum heads. Some of the other engine builds are running the AFR heads. Various intakes and rocker ratios were used. The hp numbers produced with our new line of custom ground Comp Cams well exceed most other cams on the market the have nearly identical lift, duration and lobe sep. numbers.
You will see this list of dyno results grow in time as we will continue adding other combinations. We also offer several other special grind cams with fabulous profiles. We have a total of four different sbc Comp cams listed with dyno results. We also offer all of our cams in late model step nose or retro style flat nose for use in early style non-roller blocks.
Official dyno results with this cam. More to come.
Official Dyno report on our 383 engine with this cam, and a single plane intake with 1.6 rockers and a Brawler 750 carb.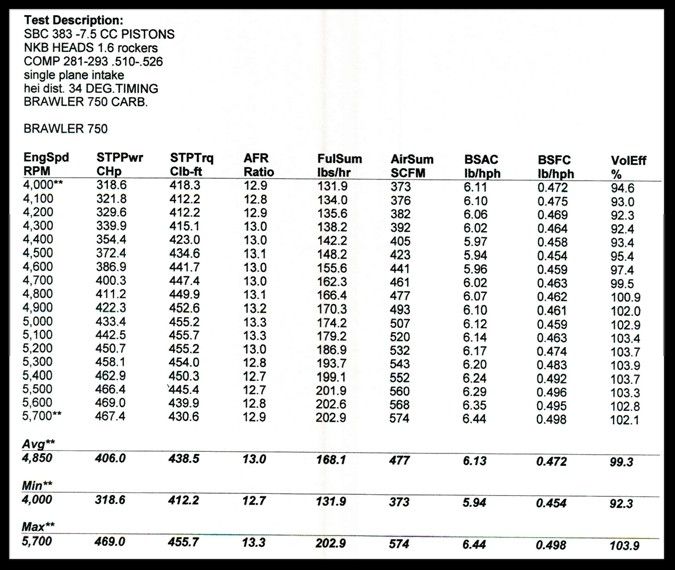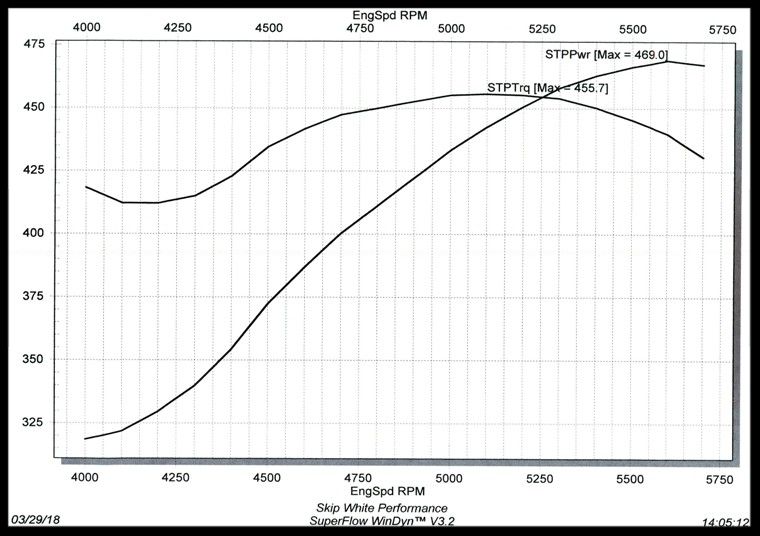 Official Dyno Report in a 406 engine with this cam, NKB heads, dual plane intake, Quick Fuel SQ-750 carb, and HEI distributor.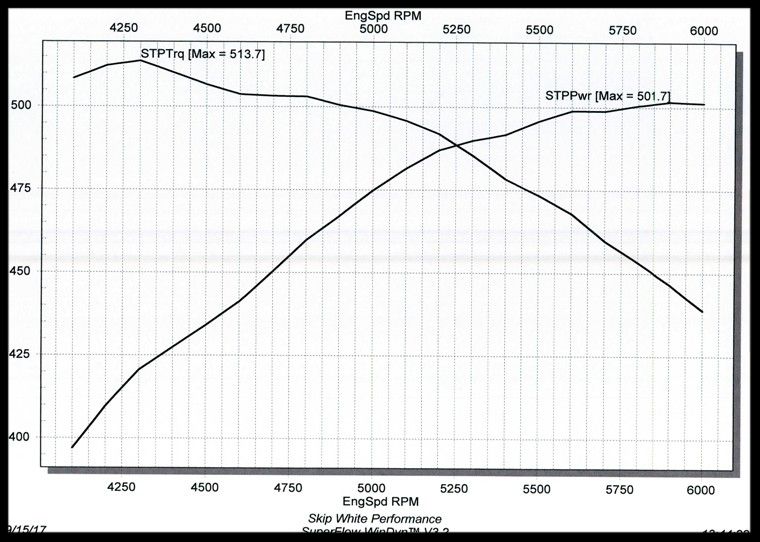 Official Dyno Report in a 406 engine with this cam, NKB heads, dual plane intake, Quick Fuel SL 750 carb, and HEI distributor.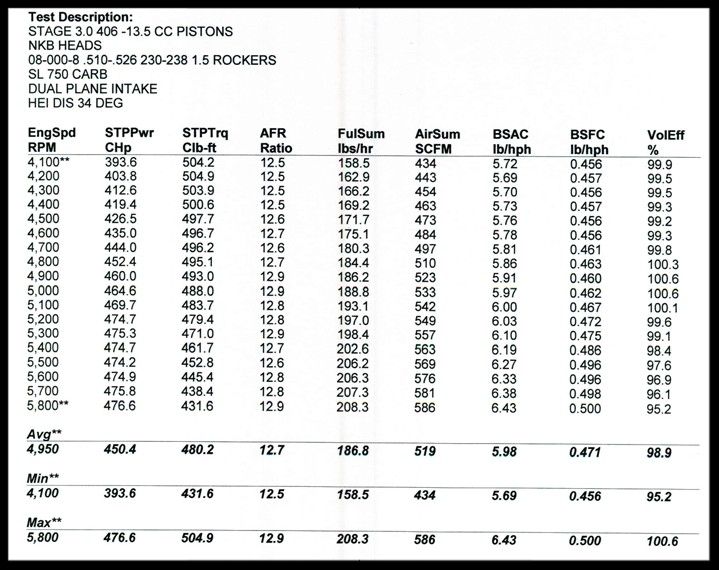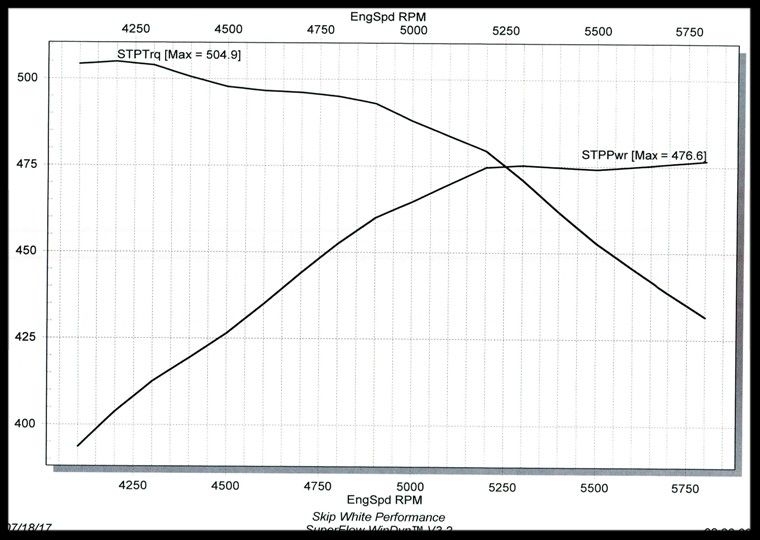 Official Dyno Report in a 406 engine with this cam, NKB heads, dual plane EPS intake, Holley 750 carb, and HEI distributor.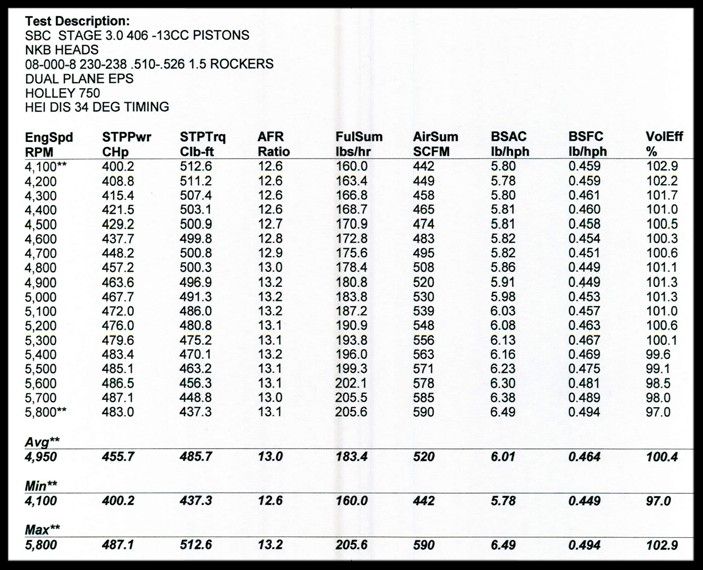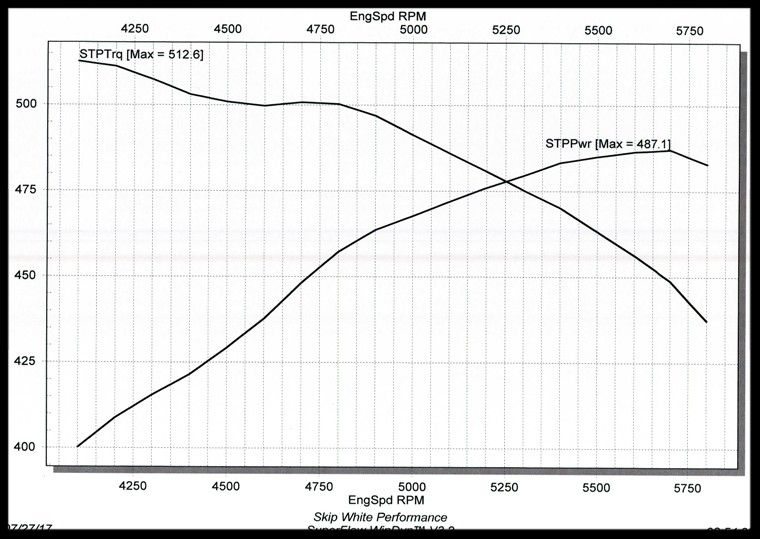 Official Dyno Report in our 421 engine with this cam, NKB heads, single plane intake, Brawler 750 carb, and MSD distributor.
Official Dyno Report in a 421 engine with this cam, NKB heads, dual plane intake, Quick Fuel SQ 750 carb, and MSD distributor.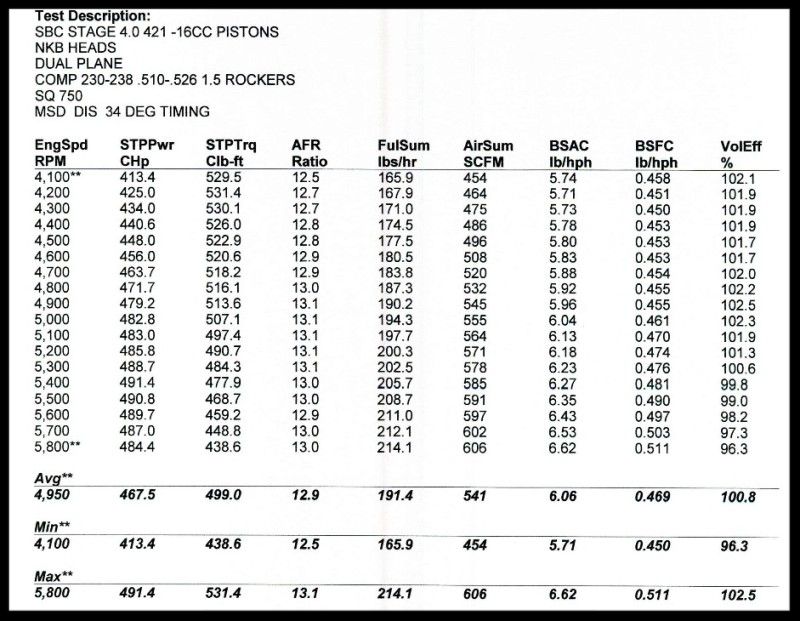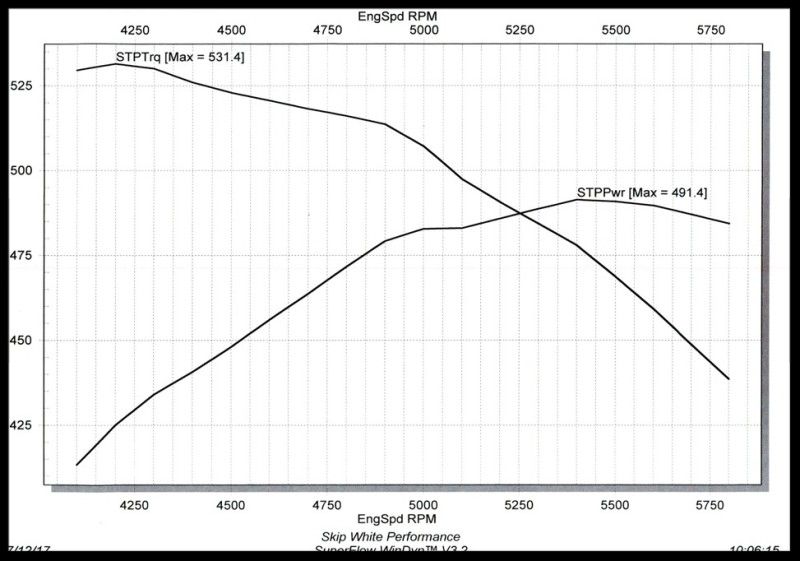 Official Dyno report on our 383 engine with this cam, a single plane intake with 1.5 rockers and a Sniper EFI system.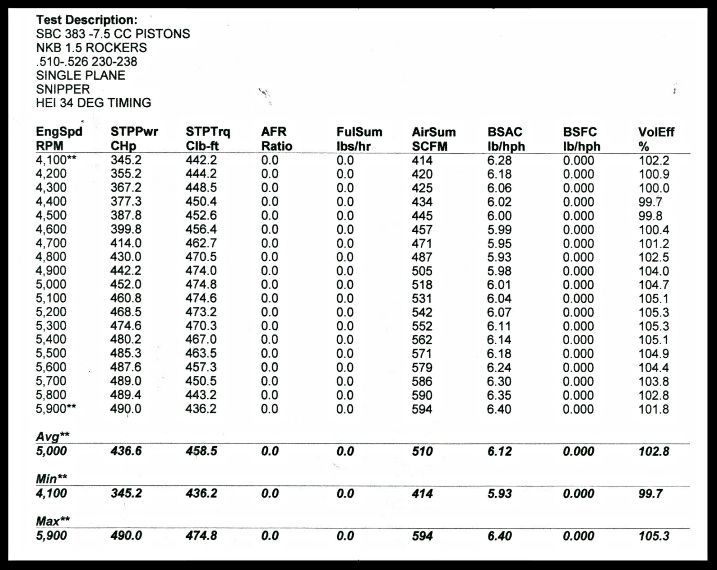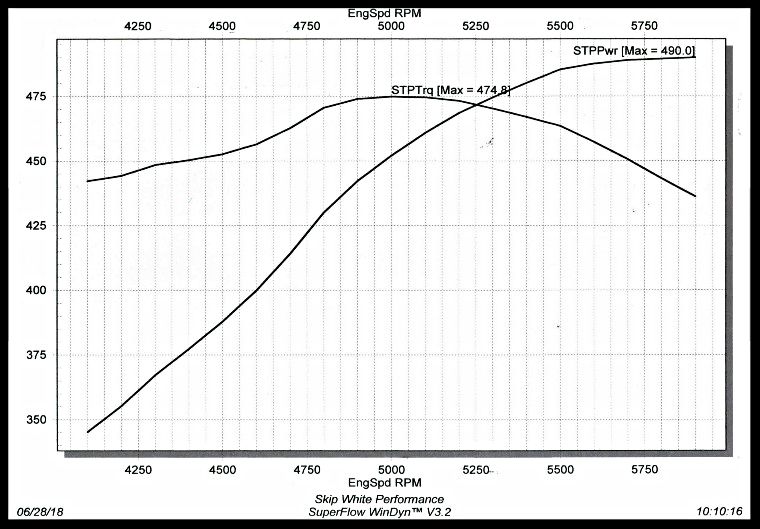 Please read the complete ad before purchasing this cam.
If you would like expert cam recommendations for your engine, contact us through the "seller information" tab with the information listed below. We will tell you what cam is best suited for you. Running a cam that is too big in a given combination is not only pointless for making increased power, but creates a increased loss of drivability and unnecessary wear on the valve train. You must have sufficient cubic inch and/or compression ratio, coupled with correct size cylinder heads that will allow enough flow, to justify a particular size cam. Bottom-end and mid-range performance are always affected when you increase cam size, but it would be affected even more if a cam selection is over-sized to the point that no top-end power is gained. So choosing too large of a cam becomes a two-fold problem. Tuning also becomes more difficult with larger than needed cams.
For a recommendation on the best cam for you, please contact us with us the following information:
Vehicle model or weight.
Engine size, (cubic inch)
Approx. compression ratio.
Cylinder head runner size.
Single or dual plane intake, (if dual plane, what model)
Final gear ratio, and overall tire diameter if known.
Transmission model.
Converter stall range.
Your hp expectations, and how you will be using the vehicle (cruising, street, strip, show car, etc.)
If a lopey idle is highly desirable. The size engine you have determines this with a given cam choice. We can tell you exactly what a particular cam will sound like in an engine.
The brand and type/series of lifters you are running. Very important!
Our sales staff has limited technical knowledge on this product and are usually unable to answer many of the questions asked. See our other listings for variations of this product.

We are not responsible for collateral damage caused by the use of this product.
Customer Reviews
This product does not have any reviews yet.