SBC Chevy 383 406 Comp Cams 520/540 Lift 236/242 Dur OE Hyd. Roller Cam 08-433-8
$269.00
Available
---
Product Information
| | |
| --- | --- |
| UPC | 332015752051 |
| Product Type | Shipped Product |
| Shipping Cost | $10 |
| Number of reviews | 0 |
SBC Comp Cam OE HYD. ROLLER 520/540 Lift 236/242 Duration 110 Lobe Sep.
Special Grind Number XR-288-HR
PART NUMBER: 08-433-8
This cam has a step nose for use in oe roller blocks.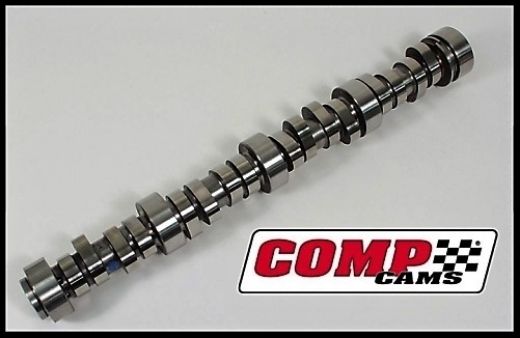 Part number: 08-433-8
520/540 lift
236/242 duration
110 lobe sep.
Comp Cams SBC Xtreme Energy Step Nose Hydraulic Roller Camshafts.
Cam info:
Following is an excerpt from our SBC 427 Engine ad, where this cam is offered as an alternative to Cam Choice 3.
This cam choice is the perfect all around setup for those wanting a very good bottom and mid range response, while still generating decent power at the top. Horsepower rating would drop an additional 10-15 hp below the cam choice 2 when coupled with 1.5 rockers and the dual plane intake. Drivability and street manners would be considered very good with this cam. Heavy cars, upwards of 3800 lbs or more, would do very well with this cam choice. No need for a high rpm stall with this cam, but you would still require a stall in the 2200-2500 rpm range for optimal acceleration.
If your car is in the heavy weight range, and/or geared on the steep side and you want much better streetability, then this is the correct cam choice. You still want to keep the final gear ratio at approx. 320 or higher, but keeping the gear ratio on the tall side is more acceptable with this cam compared to the other choices. If you have an overdrive trans., then this cam, coupled with the dual plane intake, would allow the engine to cruise in overdrive with rpm in the 1850-2000 rpm range. Should you have a Turbo 350 trans, then this cam choice would allow you to run a somewhat taller final gear to allow decent highway driving in the somewhat lower rpm ranges.
You may choose 1.5 or 1.6 rockers with this cam, but we recommend the 1.5 rockers for even better low end response, especially if you plan on running an overdrive transmission. You can also expect a much longer valve train life with this cam compared to larger cams, especially with the 1.5 ratio rocker choice.
Carb size when using this cam will drop. You'll notice slightly better mileage and better throttle response with this carb versus the larger carbs required when running the larger cam.
Official dyno results with this cam, 1.6 rockers, a single plane intake, and a Q-950 carburetor.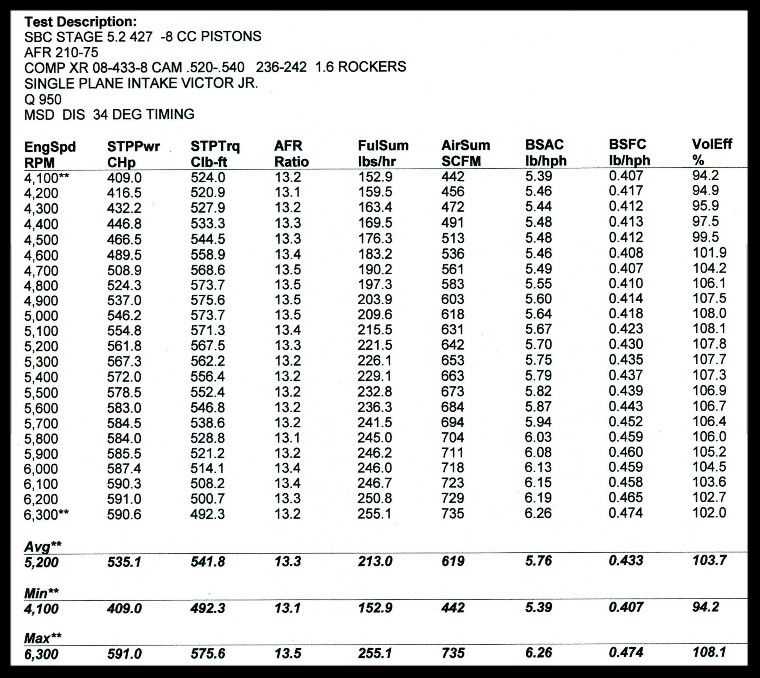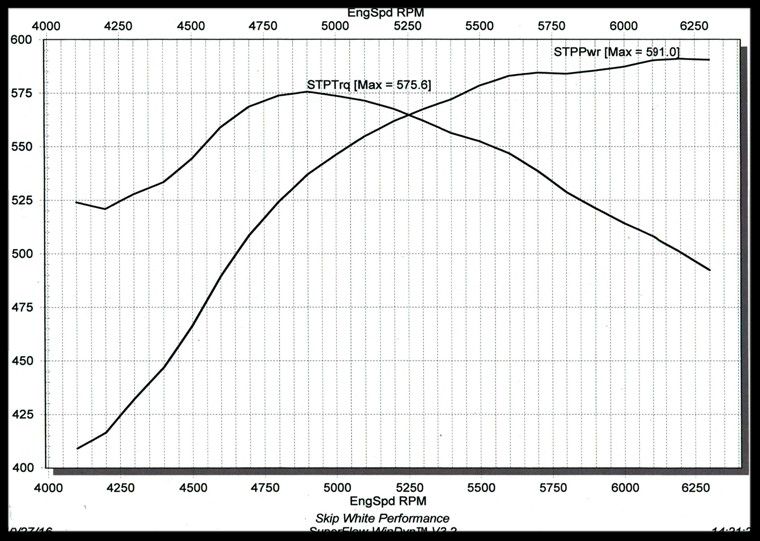 THIS AD IS UNDER CONSTRUCTION. MUCH MORE INFO TO COME. DYNO RESULTS WILL BE LISTED ON EVERY ENGINE WE HAVE BUILT USING THIS CAM.
Please read the complete ad before purchasing this cam. If you're not sure if this cam is correct for your application, feel free to give us a call for technical support 423-722-5152.
If you would like expert cam recommendations for your engine, contact us (through the "seller information" tab or through our tech line, 423-722-5152) with the information listed below. We will tell you what cam is best suited for you. Running a cam that is too big in a given combination is not only pointless for making increased power, but creates a increased loss of drivability and unnecessary wear on the valve train. You must have sufficient cubic inch and/or compression ratio, coupled with correct size cylinder heads that will allow enough flow, to justify a particular size cam. Bottom-end and mid-range performance are always affected when you increase cam size, but it would be affected even more if a cam selection is over-sized to the point that no top-end power is gained. So choosing too large of a cam becomes a two-fold problem. Tuning also becomes more difficult with larger than needed cams.
For a recommendation on the best cam for you, please contact us with us the following information:
Vehicle model or weight.
Engine size, (cubic inch)
Approx. compression ratio.
Cylinder head runner size.
Single or dual plane intake, (if dual plane, what model)
Final gear ratio, and overall tire diameter if known.
Transmission model.
Converter stall range.
Your hp expectations, and how you will be using the vehicle (cruising, street, strip, show car, etc.)
If a lopey idle is highly desirable. The size engine you have determines this with a given cam choice. We can tell you exactly what a particular cam will sound like in an engine.
The brand and type/series of lifters you are running. Very important!
Customer Reviews
This product does not have any reviews yet.