Product Information
| | |
| --- | --- |
| UPC | 351358878547 |
| Product Type | Shipped Product |
| Shipping Cost | $39.50 |
| Number of reviews | 0 |
NKB-200 ULTRA HIGH FLOW CYL. HEADS WITH STEAM HOLES FOR SBC 400, 406 ENGINES.
THE BEST FLOWING, BEST QUALITY SBC ALUMINUM HEAD ON THE MARKET FOR THE MONEY.
This auction is for a bare set of heads.
200cc runner size, 64cc combustion chambers. Uses 2.02 1.60 valve size.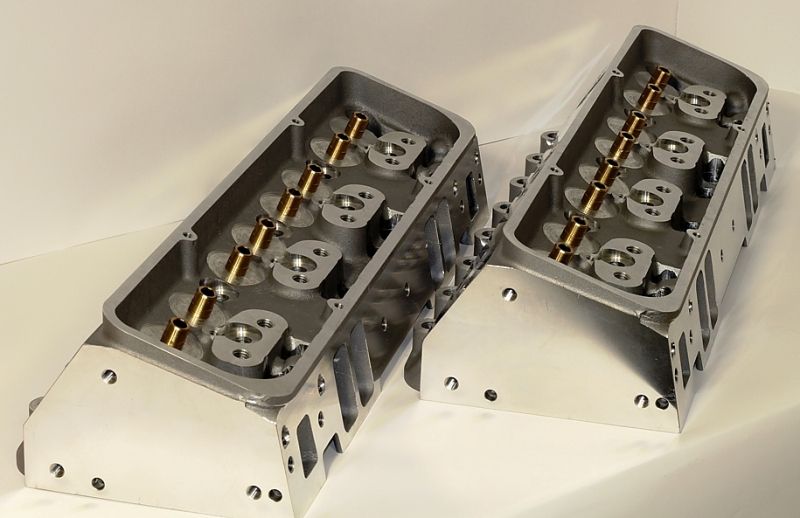 Our new NKB-200 heads with steam holes have been designed especially for us. After receiving many recommendations from our engine builders, we came up with the best quality, best flowing heads on the market relative to cost. The only way you're going to get a set of heads that flow as well or better will be to spend at least double the cost or more. We have installed these heads on all of our 383 and most of our 406 engines for the past 3 months. Many of these engines were dynoed on our new Superflo dyno. The engines had every possible combination of cam, intake and carb. The results have been amazing. These heads are excellent in design and quality.
These heads can be used with outer perimeter or center bolt valve covers.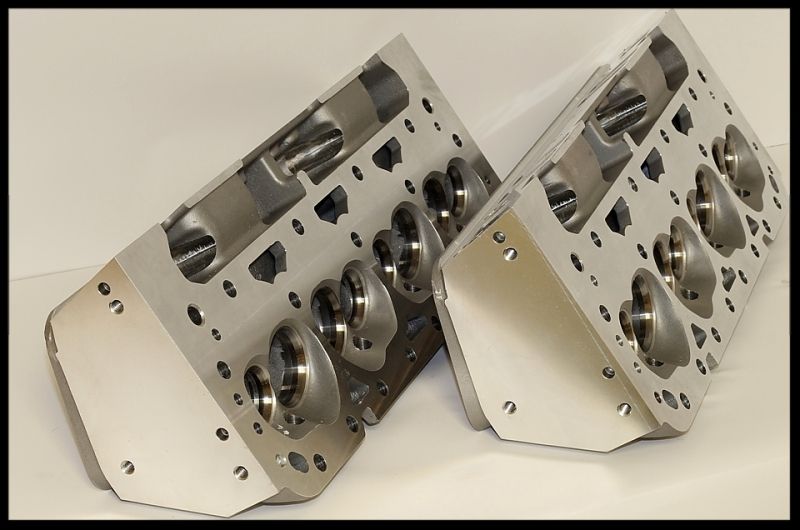 Flow chart information.
Below is our flowchart on several different heads. All tests were performed on a Superflo 1020 bench by our expert head builder. We stand behind the accuracy of the numbers. We have noticed many other sellers posting what we consider to be false flow numbers on the heads they are selling. We find this to be nothing short of outright fraud. Of course, flow numbers can vary a few points depending on equipment used and testing methods, but not by 15-25 points.
Notice the low lift flow numbers produced by our new heads. That is as important as the upper lift numbers, and it's why these heads produce so much peak power and torque. We are very impressed with the flow numbers of our new heads.

In the flowchart above, the NKB-200s are superior to the Procomp heads in flow numbers, and also edge out the Dart SHP heads on the intake side. The intake numbers are far more important than the exhaust. The overall average flow numbers on the NKB-200 heads are higher than most any brand of non cnc'd cast aluminum heads on the market. We guarantee the flow numbers to be accurate, as well as the horsepower numbers produced by them.
Most importantly, all three of these heads were tested by the same person, on the same machine, (Superflo bench 1020) using the same testing method, on the same day. These numbers show the true difference between each brand, and that's what counts.
The difference in horsepower and torque generated by these new heads is monumental compared to the Procomp heads. We offer four different cam choices for your consideration, and every combination has shown an increase of up to 50 horsepower and no less than 40 hp when coupled with the various combos. We assumed the new heads would generate a considerable increase in power, but to our surprise, they generated even more power than expected.
We tore down the heads that were on our 383 house engine and checked the guides as this was an area we are most concerned about, and found zero wear. The seats were also in perfect condition. We tested the spring pressure to see how much was lost after a brutal 80 or so dyno passes, and saw approx. 10 lbs of pressure drop on the nose, and even less on the seat, and this is to be expected.
Many of the dyno passes were run to 6500 rpm as the large cam needed 6300-6400 rpm to make peak power, and you must run past this to determine the fall off point. The super sized cam, (choice 1) was run on the heads towards the end. Considering the size of this cam, it was very impressive to see no issues with the heads or hardware. We made a good 25 passes with the big cam trying out different carb sizes, jetting, intake manifolds, timing setting, and adding the Super Sucker plate last.
ONE YEAR WARRANTY, UNLIMITED MILEAGE.
The warranty will cover the castings and seats.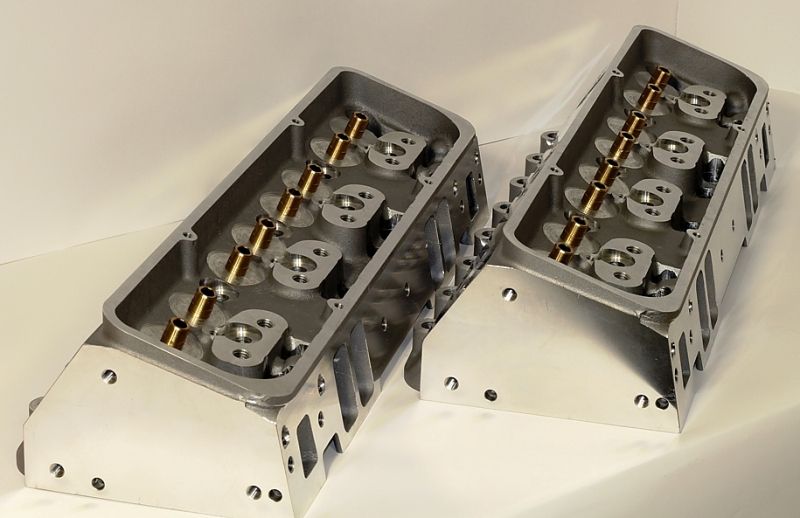 Important note from Skip White.
We certainly know where to draw the line with low end products, and we continue to eliminate parts that we once accepted that eventually had problems. Sometimes it's not that a particular product has or will have a problem, but something better comes along. The NKB cylinder heads are that "something better" coming along. Considering the price is only slightly higher than some of the other low-cost heads on the market, this has to be the best value in a set of cylinder heads we have ever offered. We now use the NKB heads on all of our 350, 383, and 406 engines. The performance has been outstanding on every combination we have tried. In the rare event you have issues with our NKB-200 heads, the problem will be addressed.
Skip White
The results produced by these heads will vary greatly depending on the type of setup you are running. The engine combos we have dynoed are what most people use for cam and intake selection, and the results are listed below. The engines dynoed were many 383's, and several 406 cid engines in the 10:1 to 11.2:1 compression range. All ran on pump gas. Our Stage 2.2 383 engine ad has a selection of four different cams. I have copied this info from that ad. This will give you an idea about the capabilities of these heads with combinations of cam, intake, rockers, and carb. This may also help you select the proper cam for your build.
As mentioned, below is just an excerpt from our Stage 2.2 engine ad. We also built, and dynoed a 350 engine recently with the new NKB-200 heads for a customer, and will have the actual dyno results in this ad soon. The cams mentioned below are all hyd. roller cams. If you're using a lower lift from those listed below then it would be fair to say the hp will drop, but not by much, providing your lift and duration are somewhat close to any of the cams mentioned below. This will give you an idea of what kind of power to expect with these heads, and it can certainly help you choose a cam and intake.
Please do understand that a cam is not included with the heads. This is just a guide to show what you may expect with a given combination when building a 383 engine using the NKB heads.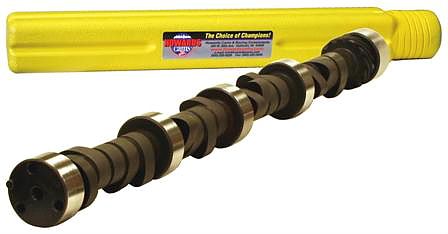 Cam choice #1
PART # 186755-10 This is a hyd. roller cam for use with OE roller blocks only.
PART # 116755-10 This is a retro style hyd. roller cam for use with non roller blocks.
Valve lift with 1.5 Rockers: Intake .600/Exhaust .581
Duration @.050": Intake .251/Exhaust .255
Lobe sep. angle: 110º
Recommended springs #: 274, See our other listings.
This cam choice # 1 is very aggressive in the 383 Super Stroker engine. We have not offered this cam in the past with any of our 383 engines. This is the same cam choice used in our 421/427 engines. The reason we decided to try it in our 383 Stage 2.2 was to see what the max potential was with our new NKB-200 cylinder heads. We pumped up the compression a bit with a flat top set of pistons, topped it off with a set of 1.6 rockers, and went with the Single plane Hurricane Plus intake, added the Super Sucker plate, and produced an amazing 560 horse power at 6500 rpm with 502 lb ft of torque at 5400 rpm.
Actually, the engine produced only 4 hp less at 6400. The horsepower numbers are very accurate. We performed the testing on our new Super Flo 902s dyno. The flowchart above certainly explains why we achieved such numbers. This setup is considered Pro street, and only usable in very lightweight cars with proper gearing, and a stall of 3200-3500. This is due to the cam size, 1.6 rockers, and intake choice. The compression ratio of approx. 10.7 was used, and cannot be run in very heavy vehicles with tall gearing. The drivability would be considered poor with this setup in a medium to heavy weight vehicles, (3400 lbs. or higher)
Those not familiar with Pro street setups should educate themselves on the subject before choosing a cam and intake such as this.
Buyers wanting decent street manners, explosive power off the line without the need for deep gearing, and with the need for a high rpm stall converter, need to stay away from this setup. Below are three more choices that will better suit your needs.
On the flip side, those that want the most powerful pump gas 383 available and enjoy the thrill of a pro street setup need look no further. This setup would please the Pro street minded to a very high degree. This cam beats the ground with no mercy. Give it the right stall, gearing, and a set of ET streets in a lightweight car, and you will have that sound and feel of power with acceleration unlike any 383 has ever achieved on pump gas considering the cost.
For those demanding top end power in the 550 hp + range and not wanting to sacrifice too much drivability, then I recommend building a 406 engine with the same cam setup. The 406 engine will move the torque band down much lower in the rpm range.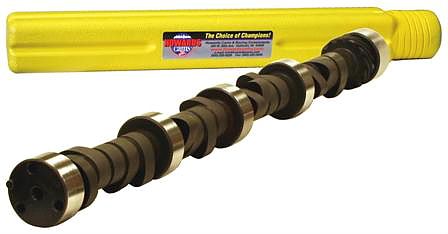 Cam choice #2
PART # 180345-10 This is a hyd. roller cam for use with OE roller blocks.
PART # 110345-10 This is a retro hyd. roller cam for use with non roller blocks.
Valve lift with 1.5 Rockers: Intake .565/Exhaust .580
Duration @.050": Intake .245/Exhaust .253
Lobe sep. angle: 110º
Recommended springs #: 274, See our other listings.
This cam choice (2) coupled with our single plane intake and 1.6 rockers will produce right at 530 horsepower at 6,400 rpm in a pump gas 383 engine with our NKB heads. Compression ratio would be right at 10.5:1. It must be noted that the dual plane intake will have much better drivability, and throttle response is also noticeably improved. The engine would feel stronger with the dual plane intake in the bottom and mid range. The single plane intake would have a greater impact on the hp numbers if the engine were setup in race form, as we have seen up to 20hp difference on larger cubic inch engines, and/or higher compression setups with larger heads and cam.
The single plane intake is not recommended for use in vehicles weighing over 3250 lbs. Our cam timing components were left in the straight up position. Ignition timing was set at 33-34 degrees total, using 93 octane fuel. During very hot weather, total timing should be set at 31-32 degrees. This cam choice should only be used in vehicles weighing around 3,500 or less. A final gear of approx. 373 and a stall of approx. 2,800-3,200 is recommended.
Below are our dyno results on one of our 406 and 383 engines with a set of our NKB heads using this cam and a single plane intake. The horse power numbers will usually improve anywhere from 5-10 more than what the dyno results show after the rings have fully seated.
Official Dyno report on our 406 engine with this cam, flat top pistons, and a single plane intake.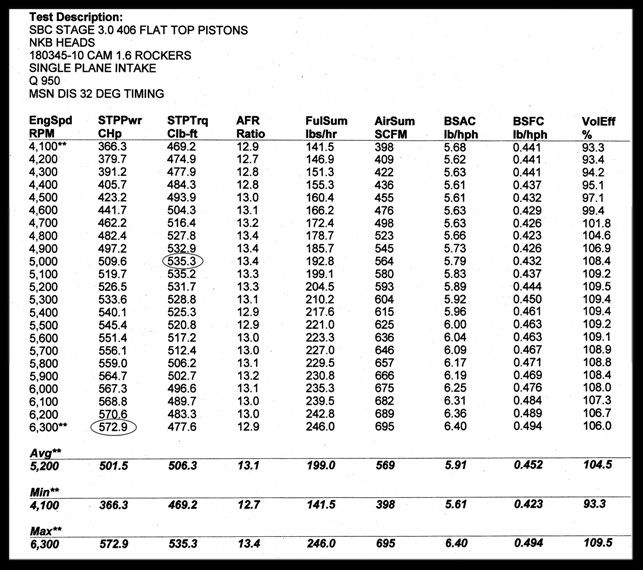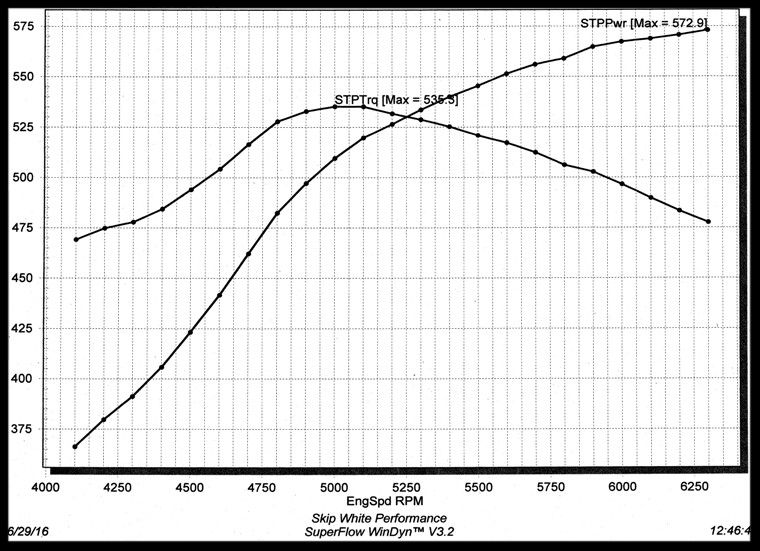 Official Dyno report on our 383 engine with this cam and a single plane intake.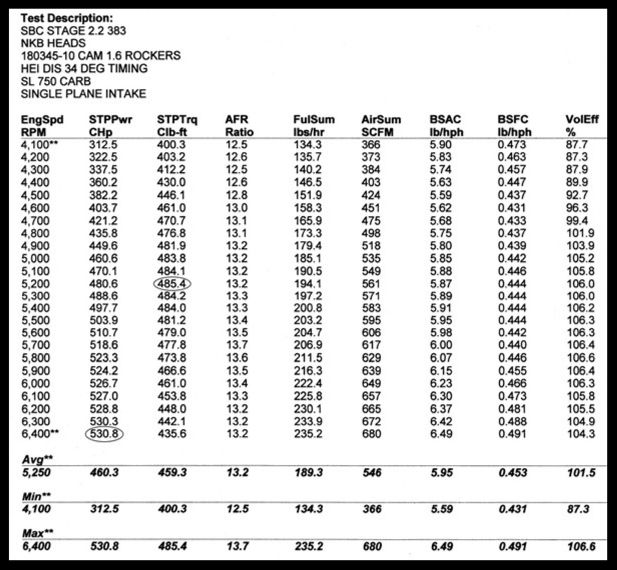 Cam choice # 1 and a single plane intake.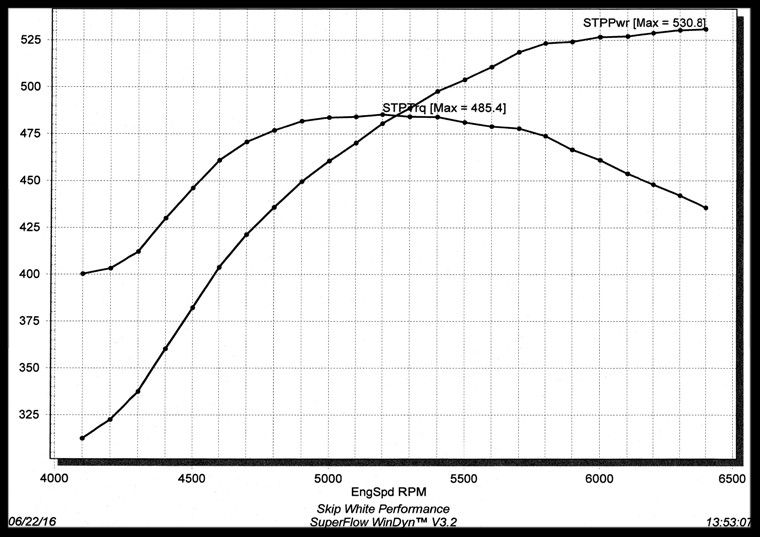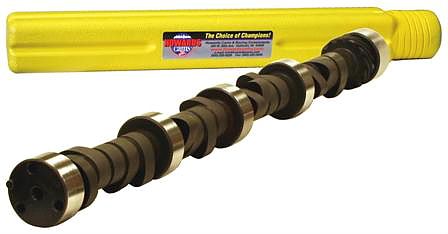 Cam choice #3
PART # 180265-10 This is a hyd. roller cam for use in OE roller blocks.
PART # 110265-10 This is a retro hyd. roller cam for use in non-roller blocks.
Valve lift with 1.5 Rockers: Intake .530/Exhaust .545
Duration @.050": Intake .233/Exhaust .241
Lobe sep. angle: 110º
Recommended springs #: 274, See our other listings.
This cam choice (3) is the perfect all around setup for those wanting a decent bottom and mid range, while still generating excellent power at the top in a 383 engine. This engine will use the same pistons as the cam choice above, but you could have a bit less compression ratio and that would be fine. This cam will make its peak power at approx. 5700 rpm. If your car is in the medium weight range or up to approx. 3,700 lbs, and you're wanting slightly better streetability, then this is a good cam choice. You still want to keep the final gear ratio at .323 or higher, but keeping the gear ratio on the tall side is more acceptable with this cam compared to the other choices mentioned above. You may choose 1.5 or 1.6 rockers with this cam, but we recommend the 1.5 rockers for better low end response.
This cam should be paired up with the dual plane Crosswind intake for excellent daily drivability. The single plane Hurricane can be used, but the dual plane will have much better bottom end and mid range response. You can also expect a longer valve train life with this cam compared to the larger cam choices # 1 or 2.
Below are our dyno results on one of our 383 engines with a set of our NKB heads using this cam and a single plane intake. The horse power numbers will usually improve anywhere from 5-10 more than what the dyno results show after the rings have fully seated.
Official Dyno report on our 406 and 383 engines with the cam mentioned above. The 406 engine had a dual plane intake, yet still achieved over 500 hp with the NKB heads.
Cam choice #2 and a dual plane intake.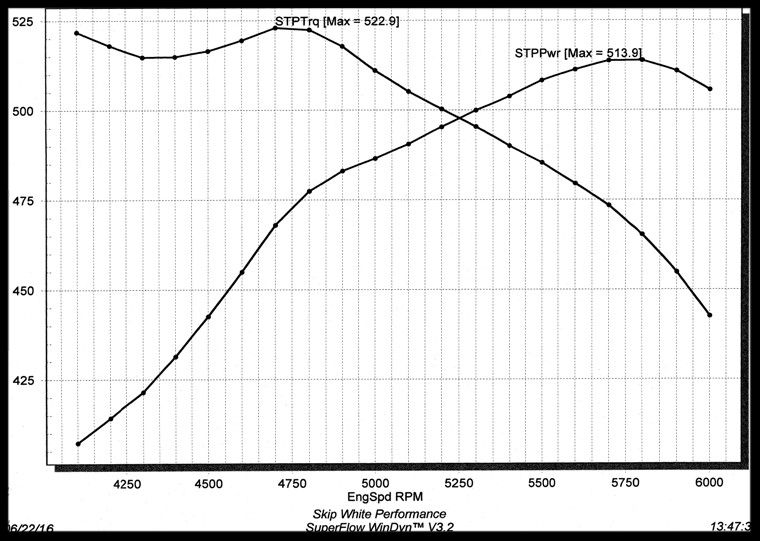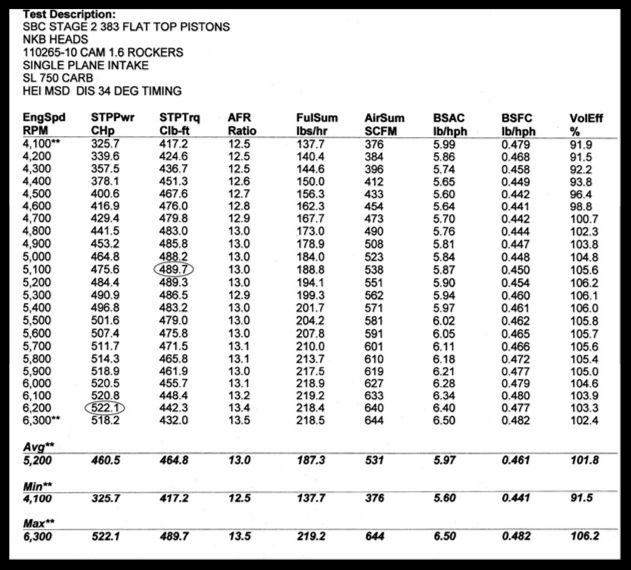 This cam and a single plane intake.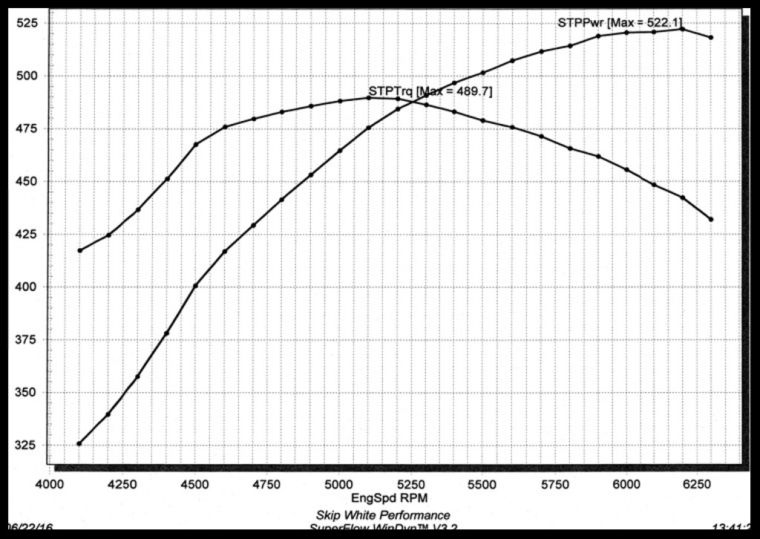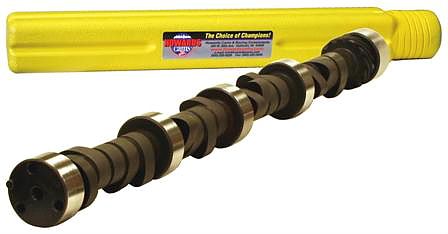 Cam choice #4
PART # 180245-10 This is a roller cam for use in OE roller blocks.
PART # 110245-10 This is a retro style roller cam for use in non-roller blocks.
Valve lift with 1.5 Rockers: Intake .500/Exhaust .510
Duration @.050": Intake .225/Exhaust .231
Lobe sep. angle: 110º
Recommended springs #: 274, See our other listings.
This cam choice (4) has a slightly lower lift and duration than the others offered above, and is highly recommended for use in heavy vehicles like full size sport trucks or very heavy cars. The low end response with this cam is very good. Compression ratio in a 383 could be as low as approx. 9.5:1 with this cam. Slightly higher would be recommended in a 350 build.
The rule of thumb with cam size is that the smaller the cam in a given application, the more improvement in low end response. One more benefit to the smaller cam is that the requirements for lower gearing and higher rpm stall converters is reduced. A final gear ratio of 310 would be acceptable with this cam. The bottom end power would be much better with this cam than with the other choices above. This would be the only choice for those wanting to run an overdrive transmission such as the 700R4 and cruising at around 2000 rpm in overdrive. A stall converter of 2,200 would be the minimum for this cam.
Valve train life is extended greatly with this cam as compared to the other choices listed above, drivability is at its best. Low and mid throttle response is very strong. This cam choice will also produce the greatest amount of vacuum at idle compared to those listed above.
Official Dyno report on our 383 engine with our NKB heads and a single plane intake.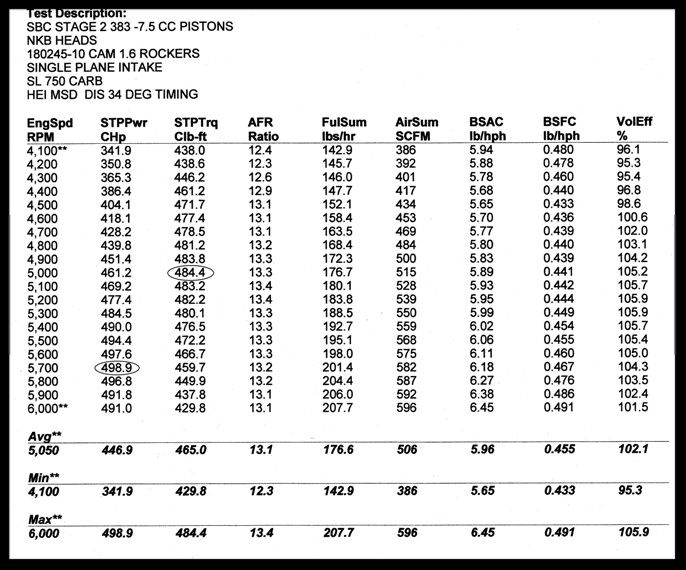 This cam and a single plane intake.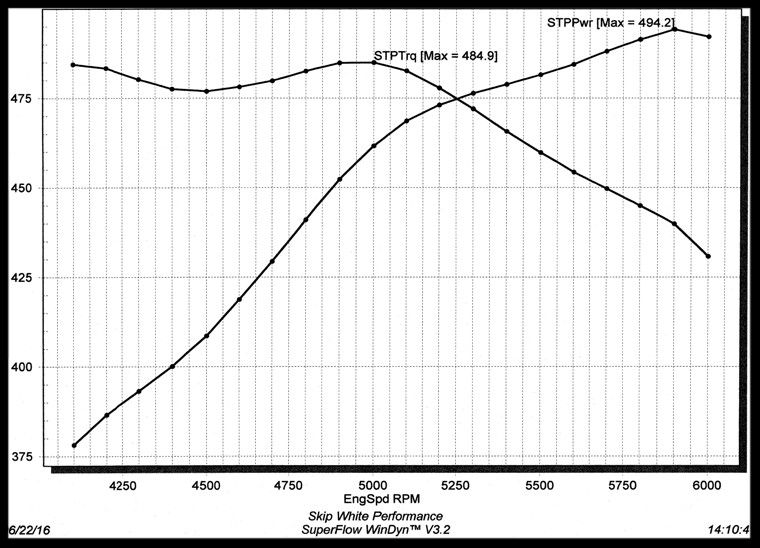 If you need help in selecting a cam to suit your needs, feel free to contact our tech. department at 423-722-5152.
THE CAMS LISTED WILL COVER MOST NEEDS FOR ANY STREET ROD.
An excerpt from our engine ad about our new dyno.
As of 9/15/2013 we completed installation of our brand new Super Flow 902S dyno. In the past, we outsourced our dyno work. We were unable to do the research and development we truly wanted, and this prompted us to make the $105,000 investment. It's been one of the best investments we have ever made. Every aspect of our engines can now be monitored, calibrated, and tuned. Best of all, we can now see what combos generate the best power, with consideration to drivability.
Update, as of 3/1/16 we have installed our second new Superflo dyno. After the new dyno was setup, Superflo sent out two factory techs to calibrate it, and install the software. We made a comparison between the two dynos with one of our engines, and found them to be within one horsepower of each other.
Head bolt washer recommendation.
The NKB-200 heads require the use of special head bolt washers, and extended reach head bolts. Using stock length head bolts will not allow the use of the special washers required, as the OE bolts have a limited amount of thread on them. Not using the special head bolts and washers may cause serious damage to the cylinder heads.
See our other listings for many of the items needed to complete your engine build. The correct part number for the head bolts to be used with these heads is 2451-W or ARP-134-3601. If you purchase the top end kit we offer for these heads, the 2451-W head bolts are included.
Guide plate recommendation.
We strongly recommend the use of the Dart guide plates with these heads, or with any aluminum heads for that matter. These guide plates will allow better rocker tip alignment due to the fact the rocker stud holes in them are oval shaped. We use them on every set of heads we install on our engines, including the Dart Platinum Pro-1's. The rocker tip may end up offset to one side more than is acceptable, and the Dart guide plates allow a decent amount of correction. The variances in stud position to valve guide alignment vary on all brands of heads. The rockers could also contribute to this issue, as the trunnion or rocker body could have variance. By having proper rocker tip alignment, you are distributing the pressure on the valve tip evenly. This not only reduces uneven valve tip wear, but also prevents undue stress on the valve guides in the heads.
See our other listings for many of the valve train products that you may need for your project. The part number for the correct studs and guide plates to be used with these heads is 38-GP for those running 3/8's size roller rockers, and for those with 7/16's roller rockers the part number is 716-GP These kits are available in our other listings.
Pushrod recommendation.
We recommend not using stock GM pushrods with these heads. The spring pressures on aftermarket heads are somewhat higher than on OE heads. Combine this with the larger lift and duration cams often used, and stock pushrods may flex or permanently bend. The stock pushrods are usually made from a mild 1810 steel that has been heat treated. Under high rpm they will usually flex and cause a loss of lift resulting in a power loss. The engine will usually run erratically when pushrods are flexing. The Spintron valve train dyno proves that inadequate pushrods will flex to a great degree as engine rpm increases.
Some GM pushrods have a welded ball on them, and they stand a greater chance of breaking off with the use of larger than stock cams, and increased spring pressure. We offer pushrods made from 4310 chromalloy with an .080 wall thickness. They are superior to any stock pushrod. Our prices on them are the best you will find.
The size that you will most likely need when running a hyd. flat tappet cam with the NKB heads will be 7.900. and a 7.250 when running a hyd. roller cam.These sizes have worked well for us when using the Comp high energy rockers, but may vary when using other rockers. There are many low cost pushrods on the market in the $29.00-$39.00 range. These low cost pushrods are totally unsuitable for use with these heads for the many reasons mentioned above, and they are not guide plate compatible. These pushrods will cause problems when used on a high performance setup. There are many factors that can determine pushrod length requirements. Should you purchase a set of pushrods from us and find that the length is not suitable, you may return them, and we will send out the size you request.
This is a video clip of our company street rod with the Stage 1 350 engine. This engine had the Procomp heads on it. The NKB-200 heads would have made a considerable difference.
We have thoroughly tested the NKB-200 heads on our Superflo 902s Dyno. The results have been amazing with each and every cam combo possible.
Most sellers do no testing whatsoever on the cylinder heads they sell. We do more than just flow testing before we market a new style cylinder head. We made over 80 dyno passes with these heads, and we found them to be up there with the best on the market.
They performed faultlessly. Cam, carb, and ignition tuning led to so much testing, and we also took the opportunity to make sure the new heads would not have any reliability issues whatsoever. Our head builder noted the excellent style of cutting on the seats in these heads. He also told us that our line of intake manifolds mounted very well on the heads, and the heads mounted perfectly onto the block. One of the worst mistakes you can make in building an engine is to mismatch parts. We know about combinations and how they work. Take a test drive in a car with over 400 hp vs. a 300 hp or less and you will then see what you're missing. The exhaust sound under load is very pleasing. These heads will generate the power you need without spending a fortune. We are very pleased with everything about these heads. When price shopping, consider the quality of hardware.
Our Stage 2, 2.2, 3.0 engines are all now built using these heads. We do offer the Dart heads as an upgrade for these engines, but the increase in price is considerable. Read the full story on how these heads performed on our 383 Super Stroker pump gas engine. See our Stage 2.2 engine ad.
Our Stage 2.2 383 dyno results with the NKB-200 heads: coming soon.
The video clip below was made some time ago. The engine was our 406 engine with the Procomp heads. It would be fair to say that the NKB-200 heads would have given the engine an approx. 50 hp gain.
-
If you have any technical questions about these heads or if you need to confirm that they are right for your application, feel free to email us with your question, or give us a call at 423-722-5152 8am-8pm Mon-Fri or 10am-3pm on Sat.
For customer support call 423-722-5152.
For overseas shipping quotes, email us using the contact seller tab or feel free to call us.
Specs listed below. These heads are in bare form and do not include any hardware. Below are suggestions as to what is most suitable.
NKB-200 64CC 200CC RUNNER SIZE STRAIGHT WITH STEAM HOLES PLUG FOR SBC CHEVY ENGINES
Intake Valve Dia: 2.02"
Intake Port volume: 200cc
Intake Port Dim: 2.2" x 1.2"
Int Port Location: Stock
Intake Gasket: Felpro# 1205 fits perfectly with most intakes. Should your intake drop too low, then the 1266 gasket will correct this problem. Our line of intakes have worked very well with the Felpro 1205 intake gaskets.
Exh Valve Dia.: 1.600"
Exh Port volume: 70cc
Exhaust Port Dim: 1.356" x 1.420" w
Exh Port Location: Stock location & bolt pattern
Exhaust Gasket: Depends on what type exhaust your using. Best to try and match up the gasket to your header or manifold
Flow, Intake: See chart above.
Flow, Exhaust: See chart above.
Head Bolts: Must use extended reach with true head bolt washers or head studs. See our other listings for accessories.
Head Studs: PC-2451-STUDS (12pt)
Manifold: MOST ANY
Milling: Min. Down to 58.5cc or 64.5 = .060" See info in this listing for details on this.
Pistons: Most 23°aftermarket pistons.
Push Rod length: 7.9" (also known as +100) if setup as a hyd. flat tappet. if setup as a hyd. roller 7.2 pushrods. Check this!
Push rod Guide Plate: We strongly recommend Dart flat guide plates. See our other listings for many accessories.
Retainers: Steel 10° Comp brand machined locks are used on all of our heads.
Spark Plug: Straight, .750" reach, gasket, Autolite 3923 or NGK 4544 for one step lower heat range than the Autol.

Spring Pockets: 1.550" OD (.030" deeper max)
Springs: Our Assembly: 1.46 outer diameter. single with a damper for hyd. flat tappet cams. Dual spring for hyd.
roller cams.
Valve Length: 5.015" (+.100") for hyd. flat tappet cams or + .200 for hyd. roller cams
Valve Stem Dia: .3415" - 11/32"
Valve Train: STD SBC 3/8" or 7/16" stud mount
Valve Guides: 1/2" OD Int = Mag-bronze Exh = Phos-bronze (.002" press)
Valve Guide length: 1.950"
Valve Guide clearance: .0014" - .002" (with our .3415 dia. valve stem)
Valve Guide Spacing: 1.890" moved .030" from stock
Valve Seats: Hardened Ductile Iron, .006" press
Valve Seat dim. Standard
Valve Seat angles: Int = 32° - 45° - 60° - 70° Exh = 37° - 45° - radius
Stud Girdle: Use any standard girdle
Torque: Head Bolts = 65 ft/lb
Rocker Studs = 55 ft/lb
Manifold = 35 ft/lb
Block Use: Any SBC Iron or Aluminum
Weight: 59-61 lbs fully assembled pair.
Important installation notice.
As with any new heads, you must do a mock setup with the heads before bolting them on. This is done by setting the heads on the engine and using two bolts to hold the heads in place. This will allow you to check your pushrod clearance, and verify that your rocker studs are all in line. In rare instances, if your pushrods are touching any surface of the heads, you will have to dremel these spots for clearance. We have seen this situation with many aftermarket heads, including Dart. There are areas of the casting that are very close to interfering with pushrods, and it will only take seconds to correct, but you certainly don't want to have completely bolted the heads on and find this out. We received a large order of Dart heads that had an interference issue with the pushrods, and as mentioned, it only takes seconds to correct this with a dremel tool, but not if you have secured all 34 head bolts. You cannot correct such issues with the heads on the engine due to the risk of contamination of the rest of the engine. See our other listings for items you may need to complete your engine build.
IMPORTANT NOTE CONCERNING ROCKER ARM STUDS.
If you have been a regular shopper with us, you will have noticed we do offer some knock-off products that are made off-shore. We do also sell many products made in the USA. We have always been very particular as to the quality and workmanship of such products, while considering the cost. We scrutinize our products very carefully and refuse to sell products that simply don't meet our standards. We have now eliminated another of the low cost knock-off products from our line. The low cost imported rocker arm studs have shown numerous problems unlike those in the past. We have looked at several others on the market, and still find many issues with them that are not acceptable.
The most serious issues included the fact that many of the studs had run-out in the shaft up to 150 thous. This caused major problems with rocker alignment, and depending where the position was when the stud tightened, would determine the direction of the misalignment. If the stud position was facing the valve, then the roller tip would not run off to the side of the rocker but it would cause the roller tip not to be centered on the valve. This would then create a loss of lift.
However, another issue concerned us most of all. The warped stud shaft of some of these studs would allow the rocker tip to be cocked on the valve tip depending on the position it was tightened at. This would then side load the valve tip with undue pressure creating a serious wear problem on the valve tip and valve guides in the heads. This also side loaded the rocker trunion and front roller creating an excessive wear issue in the roller rockers.
We also found the difference in the tread pitch and depth to be dramatic compared to the ARP studs. The rocker studs in an engine are under a tremendous upwards pull and improper thread design may cause the studs to pull out of the head. The ARP studs screw into the heads with a very precise fit and feel.
After thoroughly comparing the ARP studs and several off shore models, I am convinced that we will never offer them again regardless of the price difference. They were never as bad in the past as to what we're seeing now. This run-out was most likely caused by improper heat treating methods.
We are glad to offer many of the low cost items that are off-shore, but will always give careful consideration to quality, functionality, and overall value. We will not sell imported after-market rocker studs going forward.
You will notice that we offer many US-made products, but we may not offer those same items in off-shore lines. It certainly is not because we don't have access to the low cost off-shore product, but because of quality issues that we have discovered. We have rejected many products that are outright junk and would cause serious issues in your engine only to see other sellers offering those same exact products. It's all about learning where to draw the line. We are aware of only one other rocker arm stud besides ARP on the market of decent quality, and that's from the GM Performance division, and it's fair to say they are most likely supplied to GM by ARP under private label.
Stud Girdle recommendation.
If you are running full roller rockers, we recommend tall valve covers, and this can cause the oil that is pumped up into the top of the heads to not be deflected back down onto the valve springs, valve tips and roller rockers. The lack of oil on these parts can lead to not only a lack of lubrication but also to a lack of cooling on these parts. Heat transfers up the valve stem from the combustion chamber. This heat is very high in temp, and may cause serious damage to the valve guides, springs and roller rockers.
The cure for this would be to install a low cost set of stud girdles. Stud girdles increase stability to the rockers' studs, eliminating flex that is may be present to some degree when running cams several sizes over stock, not to mention increased spring pressures over stock. Stud flex robs your engine of power and smooth operation in the upper rpm ranges. As mentioned above, another very important aspect of using stud girdles is that they deflect oil directly back onto the valve springs, valve tips and roller rockers. On a stock engine this is not an issue due to the fact that stock valve covers are very close to the top of the rocker arms.
If you have ever removed the valve covers on an engine while it is running you would notice that the oil sprays up out of the back side of the rockers and goes in all directions. The most important reason that oil is brought up into the top of the engine is for lubrication and just as importantly, to cool the valve train components. The oil temp does have a great cooling effect, as its temp is only around 215 deg. and the heat that is transferring up into the valves and springs is far greater than this. If oil were not flushed onto these parts, lack of lubrication would be just one problem. Valve guides and stems that are heated up to high temps, and also lack the proper lubrication may experience excessive wear. We suspect that these parts may be stressed due to the oil not being redirected back onto them, and stud girdles would positively protect these parts to a great degree.
We now use them on every engine we build regardless of the degree of cam and spring pressure. Those running cams that are above 460 lift should use stud girdles, since this is about the level that stud flex may come in, especially when running the smaller 3/8's rocker studs. Excessive valve guide wear along with other valve train components can be very expensive to repair.
Skip White
A final note...
Our eBay user id is: skipwhite, and our eBay store name is whiteperformance1. You may have noticed other sellers using a similar name offering similar products. These other sellers have capitalized on our name, and many customers searching for us will inadvertently find them, thinking we are one in the same company. There is only one "Skip White." We are the original premier eBay seller under this name since approximately 2002. We have no other eBay names, nor are we associated with any other company regardless of the similarity in the name or location. Our official company name is Skip White Performance.
Skip White
If you have any questions about these heads or if you need to confirm that they are right for your application, feel free to email us, or give us a call at 423-722-5152 8am-8pm Mon-Fri or 10-3 on Sat.
Customer Reviews
This product does not have any reviews yet.