Product Information
| | |
| --- | --- |
| UPC | 351295576649 |
| Product Type | Shipped Product |
| Shipping Cost | $295 |
| Number of reviews | 0 |
SBC 421 cid COMPLETE SHORT BLOCK KIT. FULLY FORGED, DART SHP BLOCK 4.165 bore, SCAT 4340 CRANK 3.875 stroke, -9.5cc RD dish pistons
READY TO ASSEMBLE
Our user id is: skipwhite, and our store name is whiteperformance1. You may have noticed other sellers using a similar name offering similar products. These other sellers have capitalized on our name as we see it, and many customers searching for us will inadvertently find them, thinking we are one in the same company. There is only one "Skip White." We are the original premier seller under this name since approximately 2003. We have no other names, nor are we associated with any other company regardless of the similarity in the name or location. Our official company name is Skip White Performance. Please see the article in the lower part of this ad for a more detailed explanation


The Probe SRS pistons have a -9.5cc reverse dome dish. Compression ratio will be approx. 10.55:1 when used with 72cc heads or 11.50:1 when used with 64cc heads.
| | |
| --- | --- |
| Item Code | 15211-040 |
| Vendor Name | Probe Industries |
| Product Type | Pistons |
| Product Model | Sportsman Race Series - SRS |
| Engine Displacement (cu.in.) | 421 |
| Engine Family | CHEVROLET - Small Block V8 |
| Material | 2618- Forged Aluminum |
| Base Bore (in) | 4.125 + .030 = 4.155 |
| Stroke (in) | 3.875 |
| Rod Length (in) | 6.000 |
| Compression Height (in) | 1.080 |
| Top Type | Reverse Dome |
| Net Head Volume (cc) | -9.5cc |
| Deck Thickness (in) | 0.205 |
| Valve Pocket Cutters | 2.250 I - 2.250 E |
| Valve Pocket Depth (in) | .250 I - .250 E |
| Wrist Pin Diameter (in) | 0.927 |
| Wrist Pin Length (in) | 2.500 |
| Wrist Pin Weight (g) | 118 |
| Pin Lock Type | Dbl Spiral |
| Ring Set # | 315-0036 |
| Top Ring Groove Size | 1/16 in. |
| Second Ring Groove Size | 1/16 in. |
| Oil Ring Groove Size | 3/16 in. |
| Top Ring Land (in) | 0.220 |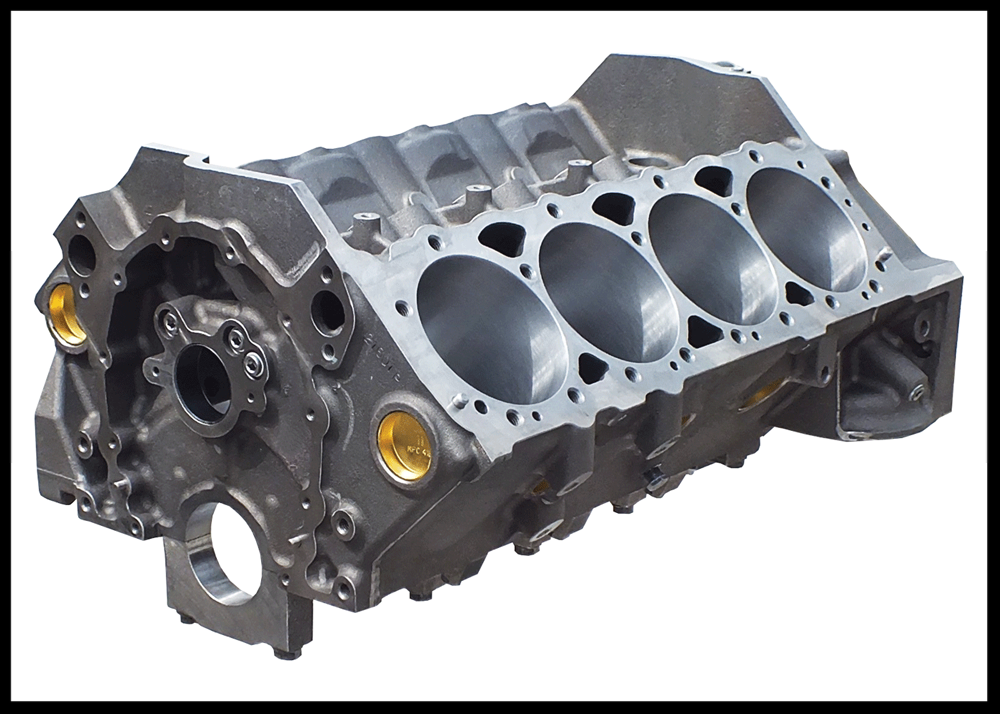 This is a file photo. Actual appearance may vary. Freeze plugs not included.
SBC BBC CHEVY OIL FILTER ADAPTER AND HIGH PERFORMANCE CAM BEARINGS FOR DART SHP BLOCK
These items are both included, but not installed.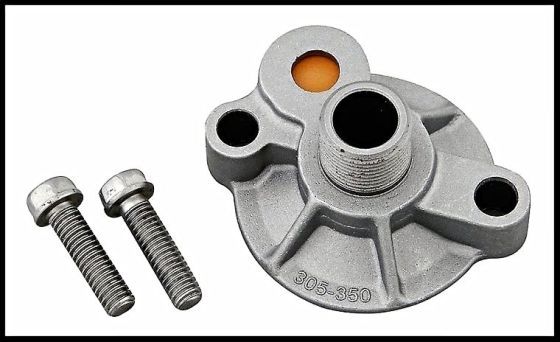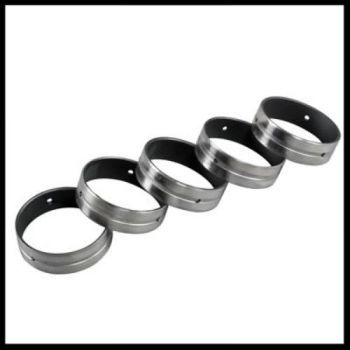 Dart SHP 2 pc rear main seal block with splayed center main caps. Scat 4340 fully forged crank 3.875 stroke, Scat HD competition rods with 7/16 ARP-8740 cap screws, Probe 2618 aircraft race grade pistons 4.155 bore size. Hastings plasma moly, ductile rings. 1/16 1/16 3/16 size.
Pictured below is the Dart High Performance Block that is included. Notice the massive splayed caps. This block is built for extreme duty.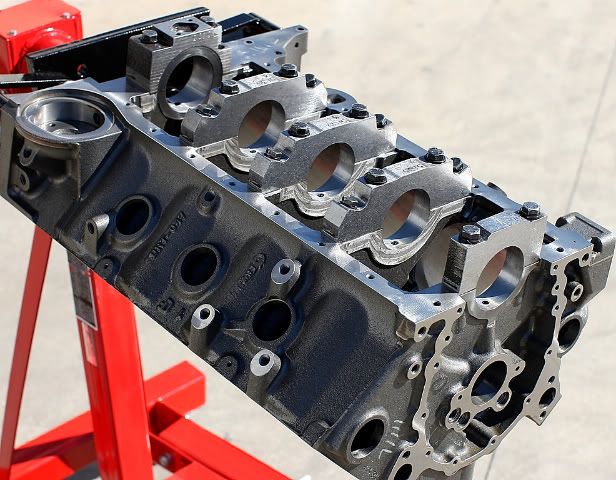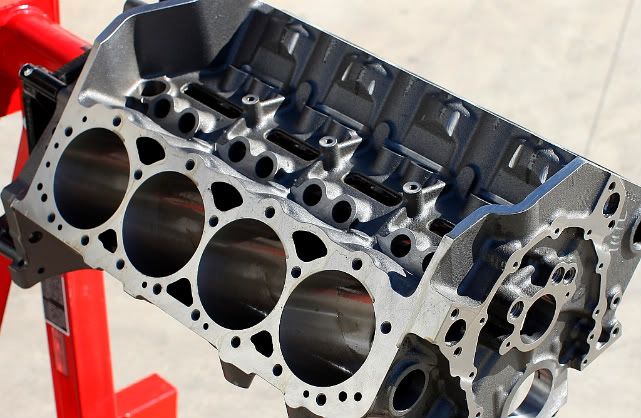 The block is bored to size with our new Centroid DRX-750 touch probe block boring machine. We then deck the block with our Centroid block machine to an ra finish of approx. 15. Pistons will sit at zero deck allowing for a perfect quench/squish zone.
We often find many brand new blocks to have a sloping deck of up to 4 thous. When were finished decking the block it is within one ten thous. accuracy from end to end. Many machine shops fail to catch this as the machinery they use doe's not allow for such accuracy. The final step is to wash the block in our high pressure parts washer. You should always re-wash your block and all of the parts before assembly. This is to assure that you know the block is free of contaminants.
SCAT 4340 FORGED CRANK. 3.875 STROKE.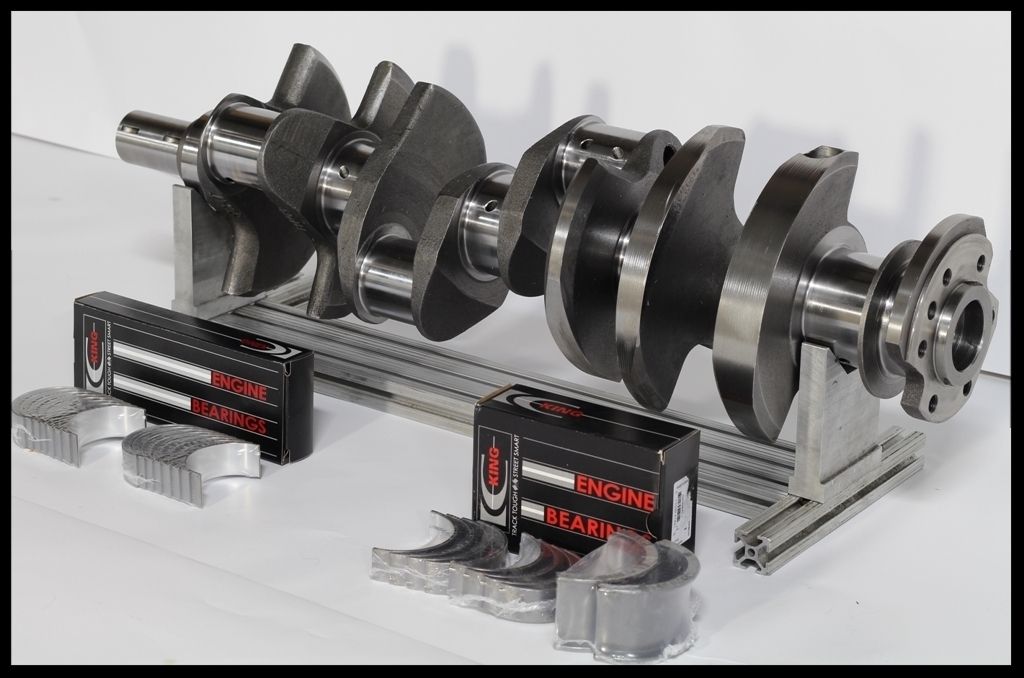 A complete set of King HP rod and main bearings are included with the crankshaft. The HP bearings by King are far superior to the regular King bearings.
The part number for this crankshaft is 4-350-3.875-6000 This is a first line product directly from Scat engine products.
The Scat Crankshaft is one of the best values you will ever find when it comes to crankshafts. These cranks are far superior to any of the other low cost cranks on the market. We feel the same way about the King bearings. The bearings are included with the crankshaft.
SCAT 4340 FORGED STEEL CRANKSHAFT RATED AT 800+ HP
Pro Race Brand harmonic SFI damper, 6.75 diameter, included. These are very high quality items.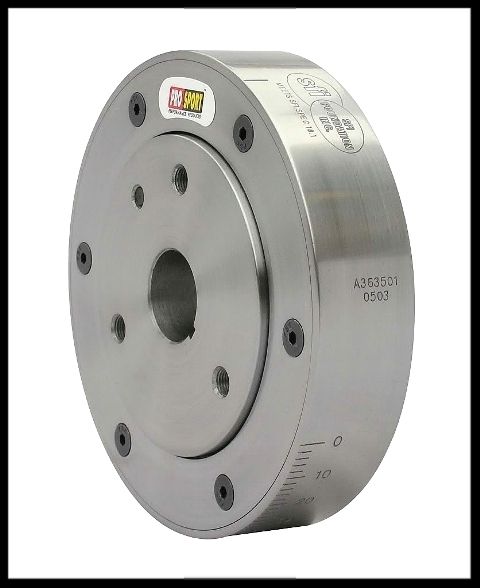 The SFI damper in this short block kit offers an extreme level of safety against breakage, and is very resistant against slippage of the elastomer damping material. SFI dampers are not only made from a better grade of steel, they are also constructed differently and have a much better appearance. They usually last much longer than a non-SFI damper. Many drag strips require this on engines producing high horse power levels. The SFI certification is laser etched into the side. Damper failure rates are much higher on engines using a non-SFI damper coupled with hp ratings exceeding 450 and turn 5600 rpm or higher.
We have noticed others using a low grade knockoff brand damper/balancer, and we have encountered them in the past. They are substandard in appearance, and are often out of spec. The timing marks were also poorly marked on some of the balancers we have come across. You don't want a balancer coming off or one that is improperly weighted. Another problem with low grade dampers is the elastomer bonding can lose its adherence to the inner and outer structure. This problem is referred to as a slipped damper. We have only encountered this once in 10 years with the Pro-Race brand dampers. Damper failure rates are much higher on engines using a non-SFI damper coupled with hp ratings exceeding 450 and turn 5600 rpm or higher.
We know of several competitors including these balancers with short block kits. The ProStreet brand is far superior to most any we have ever seen. They were once known as a knockoff product, and have become one the best values on the market, without comprising quality whatsoever.
6.75 INCH DIAMETER.
SFI APROVABLE FLEXPLATE INCLUDED.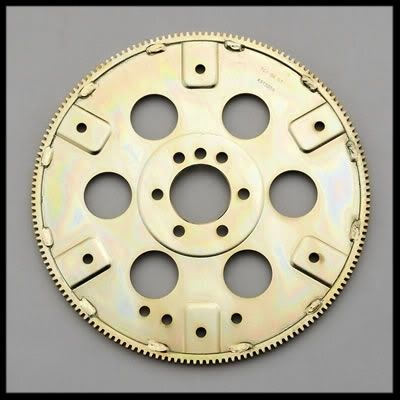 SFI APROVABLE HD FLEXPLATE. This flexplate will resist cracking and warpage, leading to imbalance in the engine. One good telltale in identifying a cheap flexplate is the lack of welding on each side where the plate mates to the ring gear. They usually have a pale grey color to them, as they are not coated, and will rust quickly. Ours are welded on both sides, and are approximately 30 thousandths thicker than an OEM plate.
The actual flexplate appearance may vary, with either the zinc dichromate finish or the black powder coat finish.
This is an extremely heavy duty flex plate.
Your actual flexplate is balanced with the rotating assembly. Those running manual trans will need a flywheel, which we offer at an additional cost.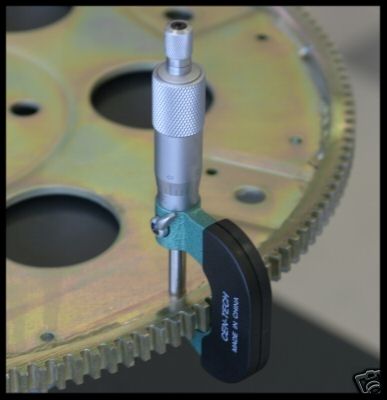 SFI Rated Billet Steel flywheel upgrade/option for manual transmission. Upgrade to a SFI billet steel flywheel 168-tooth or 153-tooth for manual transmissions. We highly recommend the SFI billet steel flywheel for those running hard. These are fully cnc'd and far superior in many ways compared to the regular cast iron flywheel.
Cost for the SFI billet flywheel option can vary depending on availability. We carry two lines of the SFI plates, PRW and Ram. The Ram plates are a much higher grade product. We have this upgrade/option featured in our other listings. There will be a Chevy 153 tooth and a Chevy 168 tooth size available. Be sure you know the size you need. You can see this and other upgrade options in our ebay store under the "UPGRADES" category, or simply do a search with the key word, "Upgrade" in the search bar when shopping in our ebay store. Before you finalize your purchase of this assembly you may add any of these upgrades to your shopping cart.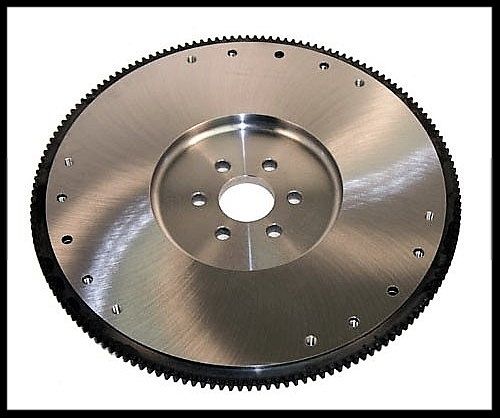 This short block kit is not assembled. See our other listings for this in assembled form.
We also offer this setup in a 427 cid size.
We do our own balancing with our brand new, 2013 model CWT 5500 Series Balancer. This machine will replace our 2011 Hines Legend balancer. The CWT 5500 is the absolute ultimate for precision balancing. When we balance the assembly for this engine, it will be to very high specs. Usually plus or minus 1-2 grams. We include a balance sheet with your setup.
The damper is included with this setup. The flexplate is SFI aprovable. Bearings are King HP race grade series. The cam bearings are from Dart. They are special coated bearings, and are very high grade. The rods used are Scat I-beam, competition series. These are not your regular Scat I-beam rods, but a much better rod used in many race engines. They have 7/16 ARP 8740 cap screws, polished beams. They are made from 4340 alloy. It is not uncommon to see engines making 700+ horse power using these rods.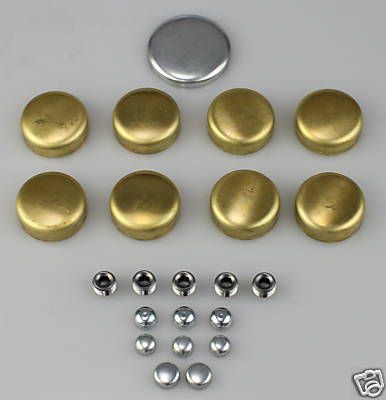 MELLING FREEZE PLUG KIT INCLUDED.
Note from our company President, Skip White
We are often asked if the SHP block is able to handle high horse power builds. My answer is that if your building this for street and strip applications, then this block will handle most any buidup you do. 800hp builds are not uncommon with this block. Durability and longevity with high horsepower builds are not a problem with the SHP Dart block. Nos, twin turbo, blower, high compression builds are also not a problem. As many of you know, Dart has a one step up from this block known as the Little M series. Those blocks are slightly stronger in a few areas, and are more suitable for running extreme build ups, or engines running very high horsepower, and continuous duty such as dirt or circle track or all out competition drag racing. Those using the Little M block for drag racing often exceed 800hp, combined with very high rpm, (8,000 up to 11,000) The SHP Dart block should last a lifetime on a street rod, even if built up to 800hp. You will also find this block used in many marine applications.
A final note.
Our user id is: skipwhite, and our store name is whiteperformance1. You may have noticed other sellers using a similar name offering similar products. These other sellers have capitalized on our name as we see it, and many customers searching for us will inadvertently find them, thinking we are one in the same company. There is only one "Skip White." We are the original premier seller under this name since approximately 2003. We have no other names, nor are we associated with any other company regardless of the similarity in the name or location. Our official company name is Skip White Performance. Please see the article below for a more detailed explanation.
The real story...Skip White Performance vs. White Performance & Machine
I'm sure many of you have noticed there are 2 high performance engine builders in Kingsport, TN with similar names, and this has led to a great amount of confusion.
We are Skip White Performance, NOT White Performance and Machine.
Due to the name similarity many customers looking for us online inadvertently find them, thinking we are the same company. Definitely not...there is no connection between the two companies. We don't have a problem with free enterprise (competition). However, when the competition builds their foundation on such things as a name similarity and their supposedly long history of being in business, then we think it's about time we set the record straight.
We have owned White Performance since 2003, with the exception of the machine shop, which was owned by Fred White at the time. He continued to operate the machine shop and build engines for us while we continued selling online under the user ID of skipwhite and the store name of whiteperformance1.
Due to their limited production capability and many disagreements about the engine building process and workmanship, we opted to open a full scale machine shop of our own a few years later. Fred White began competing against us even though our contract had a non-compete clause in it.
As our business grew, we opened a second, much larger warehouse and machine shop around 2011, located on Brookside Ln. in Kingsport TN. By putting heart and soul in this company, we have become the number one street rod engine builder in the nation.
Fred sold his shop to an investor in 2016 and the new owners continue to reap the benefits from this confusion between the two shops. This investor lacks any knowledge of this industry. They continue to use the White Performance & Machine name. Contrary to what is posted on their website, Fred White is no longer associated with the company in any way. Their main spiel in advertising is, "In business since 1979," when in fact, we purchased the White Performance company in 2003, with the exception of the machine shop.
All in all, we have been in this business 16+ years. Skip White's passion has been owning and building street rods for 47 years on a personal level. The knowledge he has gained over time has allowed him to venture into this business and succeed to a very high level.
The great pretenders continue capitalizing on our success due to the name similarity, but have been degrading our reputation. Recently, we have been getting calls nearly on a daily basis from people that now realize there are two shops in this town with very similar names. They complain of serious problems in getting their engines in a timely manner from them. They think they purchased their engine from us. Due to the confusion, there is an increasing amount of negative talk that is starting to reflect on our reputation within the street rod community, when in fact we have a near perfect reputation in this industry.
We have an "A+" rating with the Better Business Bureau and we have maintained the A+ rating for many years.
FAST FORWARD TO 2019...We have become the largest street rod engine builder in the nation. Our engines, rotating assemblies, and cylinder heads are built to very high standards and shipped to our customers in a timely manner. We are a premier seller on with a positive feedback score of well over 206,000 and growing, as compared to our competitor's score of approximately 24,000.
Our engines are custom-built to our customers' specifications and are shipped in approx. 2-4 weeks, perhaps sooner, depending on the season. Our rotating assemblies usually ship out in about one week or less, and our heads ship in about a week or less.
Now you know the real story, and we hope this helps with the confusion.
We are not responsible for collateral damage caused by the use of this product.
Customer Reviews
This product does not have any reviews yet.