Product Information
| | |
| --- | --- |
| UPC | 350556046287 |
| Product Type | Shipped Product |
| Shipping Cost | $8 |
| Number of reviews | 117 |
SBC ALUMINUM DOUBLE GROOVE CRANK PULLEY FITS A SBC CRANK, WHEN USING THE SHORT STYLE WATER PUMP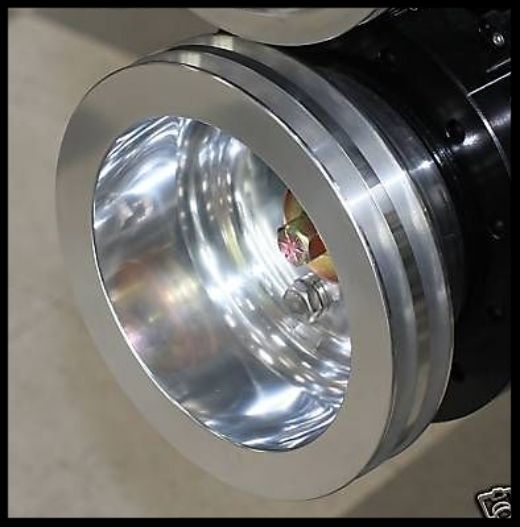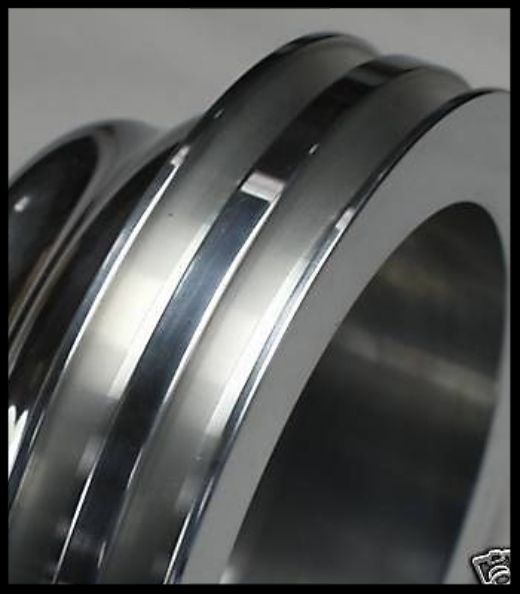 Crankshaft pulley, double groove for sbc engines using a short water pump.
The pulley in the picture above shows to have a deeper dish. The actual two groove pulley you will rec. has a very shallow dish to it to accommodate the short style water pump.
We also offer the crank and water pump pulley as a combo set, with single or double groove on the water pump. If you have a long style water pump on your engine, this pulley will not line up properly. This crank pulley is for those running a short style water pump on an sbc engine.
For other sizes and applications, please see our other listings.

Fits 55-68 approx. SB Chevy 283-350
(6.75 W/Standard Bolt Circle)
OR ANY SBC ENGINE USING A SHORT WATER PUMP
This crank pulley is for use on short water pumps used on SBC Chevy engines from 55-68
THE PULLEY HAS A RETAIL FOR $69.95 OUR PRICE IS MUCH LESS.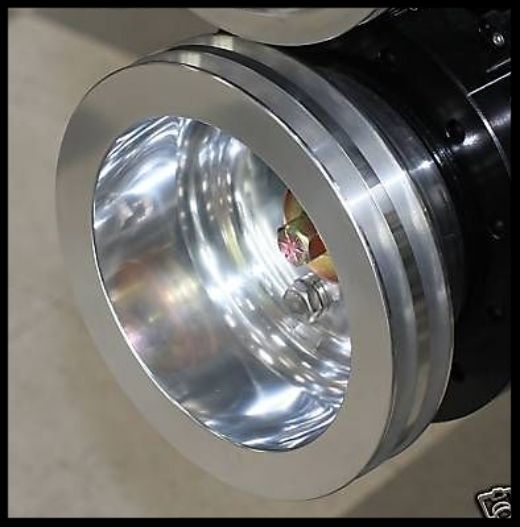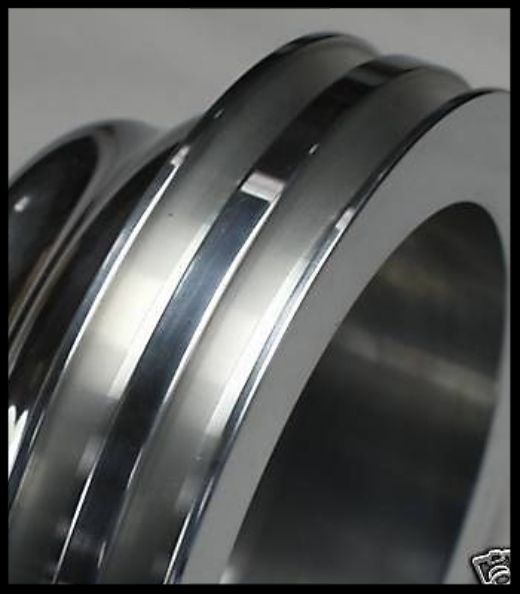 Fits engines using a short water pump. This is a two groove lower crank pulley.
THESE PULLEYS ARE EXTREMELY HIGH QUALITY. WE CURRENTLY HAVE A GOOD SELECTION OF PULLEYS IN STOCK FOR SBC APPLICATIONS, HOWEVER THEY MOVE FAST, PLEASE SEE OUR OTHER AUCTIONS!
We have verified belt alignment, and found it to be spot on, but do understand that with so many aftermarket parts on your car, you may occasionally run into not having perfect belt alignment, and this is almost always remedied by shimming brackets, or hubs. A slight belt misalignment is acceptable. It is often hard to pinpoint what caused the misalignment, but as mentioned it's always an easy fix.
Our sales staff has limited technical knowledge on this product and are usually unable to answer many of the questions asked. We do not have any variations of this product other than what our listings show.

We are not responsible for collateral damage caused by the use of this product.
Great ebayer!! A+++

Reviewed by i***o on Nov. 1, 2017, 6:48 p.m. | Permalink

This review has no votes.

good deal

Reviewed by e***u on Sept. 14, 2017, 4:21 a.m. | Permalink

This review has no votes.

Good item. Quick ship.

Reviewed by b***b on May 25, 2017, 10:30 a.m. | Permalink

This review has no votes.