SBC CHEVY CENTER BOLT FABRICATED TALL ALUMINUM VALVE COVERS NO ACC. HOLES 6234-S
$64.50
Available
---
Product Information
| | |
| --- | --- |
| UPC | 352049921854 |
| Product Type | Shipped Product |
| Shipping Cost | $12 |
| Number of reviews | 0 |
SBC CHEVY CENTER BOLT TALL ALUMINUM FABRICATED VALVE COVERS. NO ACC. HOLES. HARDWARE INCLUDED.
Satin finish.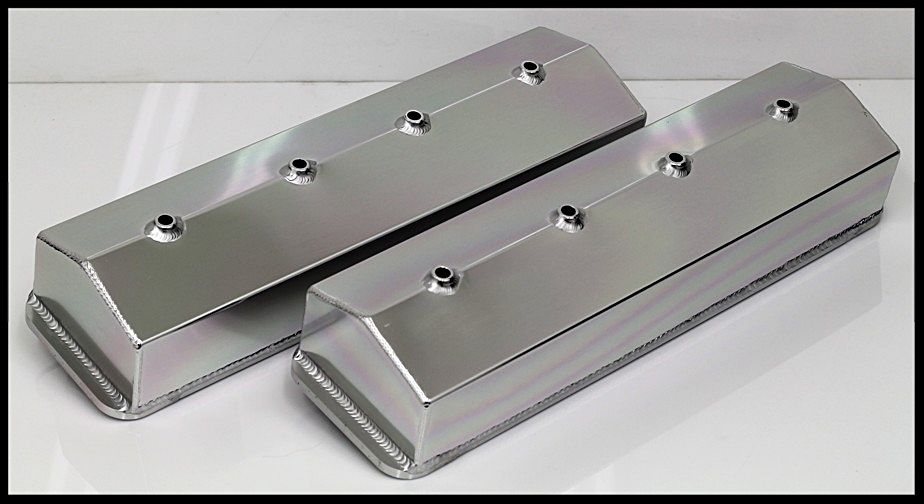 These valve covers are for center bolt applications, and have no accessory holes. You will be required to cut the accessory holes. This is to allow for custom placement of your breathers.
The welding is first class. The billet rails on these valve covers is approx. .210" thick. The aluminum sheet metal is approx. .075" thick. We know many on the market to be much thinner in these areas. This is why many other sellers fail to mention these specs.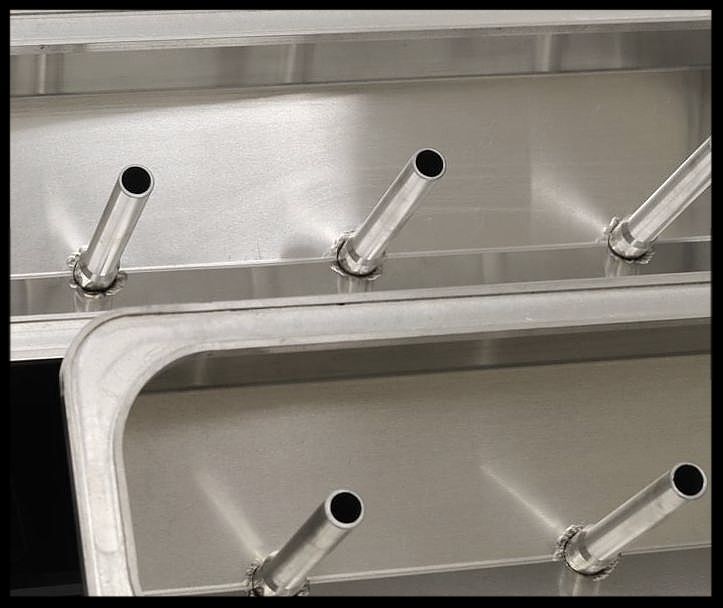 This is a very good quality set of valve covers. Beware of others offering similar valve covers for a lower price. The quality is most likely inferior. Fit and finish are often compromised.
These valve covers have a somewhat low luster satin finish. We find many of our customer to like the satin/brushed look. We have sold thousands of these over the years, and all have been satisfied with the finish. The valve covers do have a very nice luster to them. We mention the term, "brushed" finish. The valve covers do not really have an actual brushed finish, but they have a similar appearance to metal such as brushed stainless.
Part number 6234-S
Important Notes.
We have used these valve covers on thousands of our high performance engines for over 10 years without any issues. On occasion, you may notice a slight degree of warpage on the rails before installation. This is due to the heat generated by the massive amount of welding done around the outer edge of the rails. This warpage is not a problem. When the valve covers are bolted on, they will pull down flat and seal well. Any micro amounts of variation left over after you have bolted them down will be compensated for by the gaskets. Any and all fabricated valve covers with such welding on the rails will have this characteristic. It's simply not a problem in the least. We dyno many of the engines using these valve covers. The engines are brought up to considerably high rpm levels, and rarely do we ever see any signs of oil seepage. They seal very well.
******************************************************
These valve covers are 3.4" tall on the inside not including the valve cover gasket. Most vc gaskets on the market are approx. .175" thick, and this brings the total height to 3.625". There are extra thick gaskets available that will bring the height to approx. 3.75", and will certainly clear most any roller rockers on the market with ease.
The best set of valve covers on the market.
See our other listings for valve cover accessories.
Our sales staff has limited technical knowledge on this product and are usually unable to answer many of the questions asked. See our other listings for variations of this product.

We are not responsible for collateral damage caused by the use of this product.
Customer Reviews
This product does not have any reviews yet.