SBC CHEVY CLOYES TRUE DOUBLE ROLLER TIMING CHAIN 9-1100
Available
$33.95
---
Product Information
| | |
| --- | --- |
| UPC | 350578897544 |
| Product Type | Shipped Product |
| Shipping Cost | $9.95 |
| Number of reviews | 603 |
CLOYES TRUE DOUBLE ROLLER TIMING CHAIN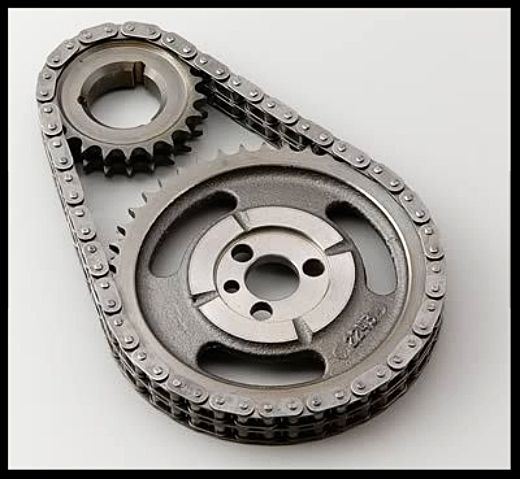 File photo. Actual appearance may vary.
PART NUMBER 9-1100
Part Number: 9-1100
Timing Chain Style: True, (Tru) Double roller
Maximum Advance/Retard at Camshaft: 2 degree
Maximum Advance/Retard at Crankshaft: 4 degree
Thrust Bearing Included: No
Offset Bushings Included: No
Gaskets Included: No
Bolts/Studs Included: No
Cam Sprocket Material: Iron
Crank Sprocket Material: Billet steel
Quantity: Sold as a kit.
Notes: Will not fit factory roller cam applications, but will fit retro style roller cams.
Timing Chain and Gear Set, Street True Roller, Double Roller, Iron/Steel Sprockets, Chevy, Small Block, Set
IMPORTANT NOTE.
If you see a timing chain and gear set for less, it is most likely not a True Double roller set. This is the preferred timing set used by most engine builders.
FITS MOST ALL SMALL BLOCK V-8 CHEVY ENGINES, NON ROLLER CAM.
Cloyes Street True Roller timing sets are aimed at the value-driven racer. They have precision-machined, cast iron cam sprockets and induction-hardened, billet steel crank sprockets. The crank sprocket has three keyways for timing adjustment: 4 degrees retarded, 4 degrees advanced at the camshaft, and normal. The chains are rugged, double-row types with oversized 0.250 in. rollers that deliver long life and reliability.
If you're not familiar with the True Double roller timing chain made by Cloyes, let us explain what it's all about.
Unlike ordinary timing chains, the True Double roller has a roller bar on each shaft. This reduces wear, and has a much higher efficiency rate than the conventional style. This design has been around many years, and has more than proven itself. As the sprockets roll into each pin, this outer pin rotates around the inner pin. Very little friction, hence very low drag, and wear. It more than makes sense to use this over the others on the market. We wouldn't even dream of using the low cost timing chain and gears on a high performance engine.
When people refer to a timing chain being stretched, this is not the case. The shaft holes in the side links where the pin fits is actually worn, creating a slight amount of slack, that over the distance of the chain adds up to quite a bit. The pins themselves as well as the valley section between the sprocket teeth are also worn, creating more slack. The true double roller chain will stay much tighter with usage, as the friction is very low. Oil temp is lower, wear is less, hp is slightly higher from such efficiency, and your engine will accelerate smoother, as well as decelerate better, due to the fact the chain stays within specs much longer.
Most roller chains for sbc engines have two rows of rollers, but with some designs, the rollers or the pins on which they're mounted don't actually spin; by virtue of their being round, they will roll over the sprocket teeth, but their position within the chain is fixed. With a true roller design, the individual rollers and pins are free to spin, so there's much less friction and wear on the chain, and especially the valley section between the sprocket teeth. If you think about it, you can imagine the valley section between the sprocket teeth, grating into the chain pin as it passes. This has to cause wear, and drag. The true double roller glides freely with very little resistance. If any of you have ever owned a chain driven motorcycle, you can certainly attest to the fact that a sprocket and chain do wear fast, at least the models of many years ago did, and it was this meshing together of the pin and sprocket.
We have found one particular brand of timing chain's keyway to be inaccurate, and you can bet there are many on the market like this.
If you're building an engine and have the heads off the engine, and the proper tools to measure this, you would catch this inaccuracy, but if your engine is not apart, you would never know if its timing marks are correct. We came across one well known import timing chain such as this.
Several years ago, we tried out an off brand import timing chain set and found it to have to much slack in the chain, and measured it against the Cloyes chain, but there was not much difference. Upon further investigation, we found the the inaccuracy to be in the sprocket size. The caused the chain to be loose, and this will cause great fluctuations in valve and ignition timing, and that's why you're replacing the worn timing chain in the first place. After seeing two major flaws in this import timing chain, we decided to never use anything but Cloyes. This decision was several years ago, and we wouldn't even consider changing brands.
Cloyes does offer a low cost sbc timing chain and gears. They are suitable for those building a budget stock engine, we do offer them in our other listings.
When building a high performance street rod or race engine, you must use the True double roller, as the spring tension in the valve train is much higher, and the cam lift and duration put a tremendous load on the timing chain compared to a stock engine, not to mention the high rpm limits in a performance engine are often reached. We only sell what we know to be of high quality, and this timing set is the best value we have ever seen.
The timing chain and gears are all made in the USA.
Cloyes is all about timing components, as Melling is about oil pumps. The cost is low for such a well engineered part, and proudly made in the USA
Our sales staff has limited technical knowledge on this product and are usually unable to answer many of the questions asked. See our other listings for variations of this product.

We are not responsible for collateral damage caused by the use of this product.
Item as described

Reviewed by g***n on June 20, 2018, 5:54 p.m. | Permalink

This review has no votes.

Great Deal thanks

Reviewed by h***1 on June 16, 2018, 11:23 p.m. | Permalink

This review has no votes.

Great product, fast shipping, great seller A+++

Reviewed by 0***0 on May 31, 2018, 8:16 p.m. | Permalink

This review has no votes.