SBC CHEVY DART ALUMINUM SHP ASSEMBLED HEADS SET PAIR 200cc 72CC # 200cc Dart-274
$1,177.66
Available
---
Product Information
| | |
| --- | --- |
| UPC | 351763194226 |
| Product Type | Shipped Product |
| Shipping Cost | $0 |
| Number of reviews | 3 |
SBC CHEVY DART ALUMINUM HEADS. FULLY ASSEMBLED
PART # 200cc Dart-274
200cc INTAKE RUNNER 72cc COMBUSTION CHAMBER
BUILT FOR HYDRAULIC ROLLER CAM.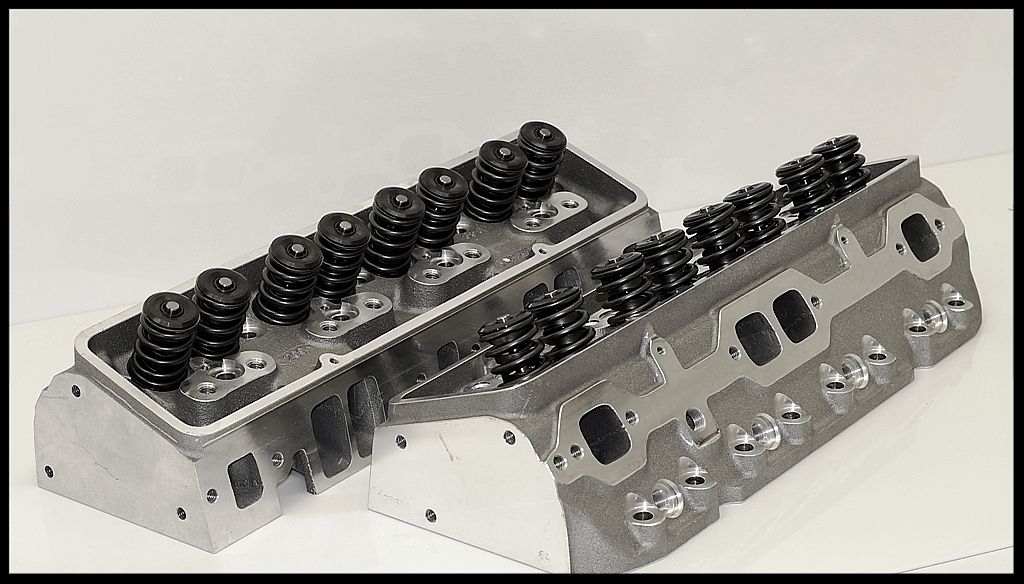 For those running hyd. flat tappet cams, see our other listings for part number ending in # 272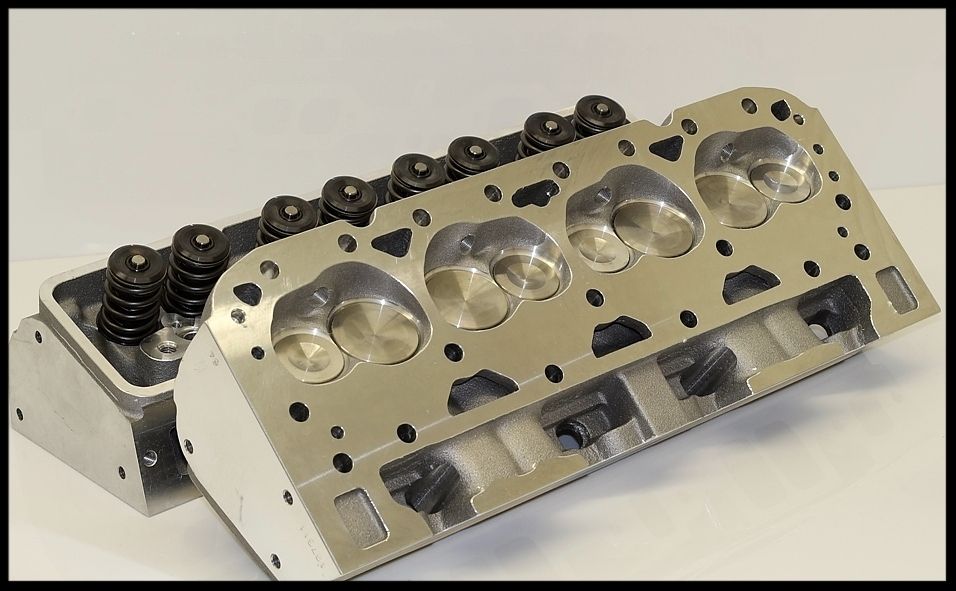 Combustion Chamber Volume (cc): 72
Intake Runner Volume (cc): 200cc
Intake Port Location: Standard
Exhaust Port Shape: Square
Exhaust Port Location: Standard
Spark Plug Style: Straight
Intake Valve Diameter (in): 2.020 in.
Exhaust Valve Diameter (in): 1.600 in.
Maximum Valve Lift (in): 0.620 in.
Outside Diameter of Outer Spring (in): 1.437 in.
Number of Springs Per Valve: Dual with damper.
Lock Style: 10 degree Comp brand.
Valve Stem Seal Style: Viton
Valve Cover Mounting Style: Center and perimeter bolt
Accessory Bolt Holes Drilled: Yes
Intake and Exhaust Valve Angle: 23
Valve Guide Material: Manganese bronze
Valve Seat Machine Style: 5-angle intake/2-angle exhaust
Valve Seat Material: Powdered metal
Steam Holes Drilled: No
Quantity: Sold as a built set.
Dart's SHP cylinder heads provide a low cost option to those looking for the weight savings of an aluminum head for a street performance engine.
The SHP is cast from A356-T6 aluminum and designed to work with most off the shelf components, so you won't need to worry about acquiring costly custom components.
- Bolt on compatibility: Standard valve angle and spacing are retained to allow use of off the shelf pistons and valve train components
- Multi-angle intake seats and radiused exhaust seats dramatically increase air/fuel flow
- Hardened exhaust seats are compatible with unleaded gasoline
- Manganese bronze valve guides extend cylinder head life
- Machined for 1.250 or 1.437 diameter valve springs
- Straight spark plug configuration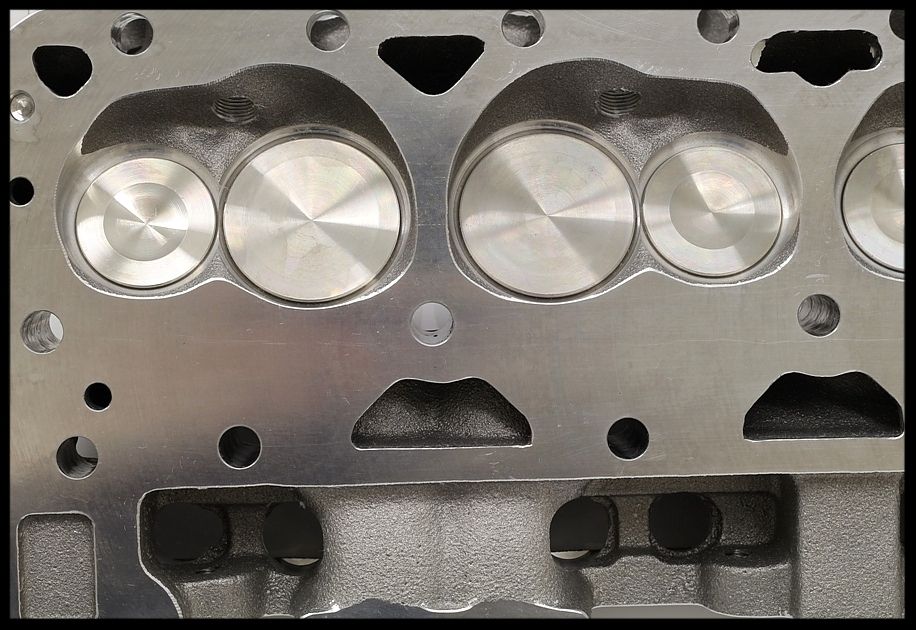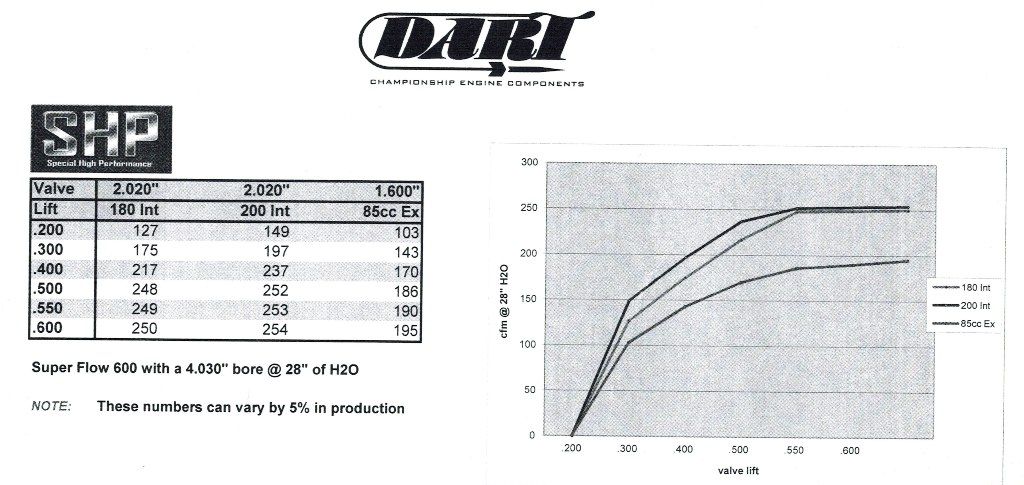 We are not responsible for collateral damage caused by the use of this product.



Customer Reviews
"fully assembled" No guides or rocker studs. Others sell same price and include

Reviewed by d***t on Nov. 1, 2017, 8:29 a.m. | Permalink

This review has no votes.

Excellent seller, SUPER fast shipping! A++

Reviewed by r***y on Sept. 30, 2017, 4:32 p.m. | Permalink

This review has no votes.

thanks for the great deal

Reviewed by 7***7 on July 8, 2017, 7:15 a.m. | Permalink

This review has no votes.