Product Information
| | |
| --- | --- |
| UPC | 352030404832 |
| Product Type | Shipped Product |
| Shipping Cost | $12.50 |
| Number of reviews | 0 |
CHEVY HEI 65k DISTRIBUTOR & TAYLOR STREET THUNDER 8mm UNIVERSAL WIRES
SBC Chevy V-8
WITH 90 DEGREE BOOTS, FITS HEI STYLE CAP.
Our Part Number, T10178+6500-R
Taylor's Part Number, 50251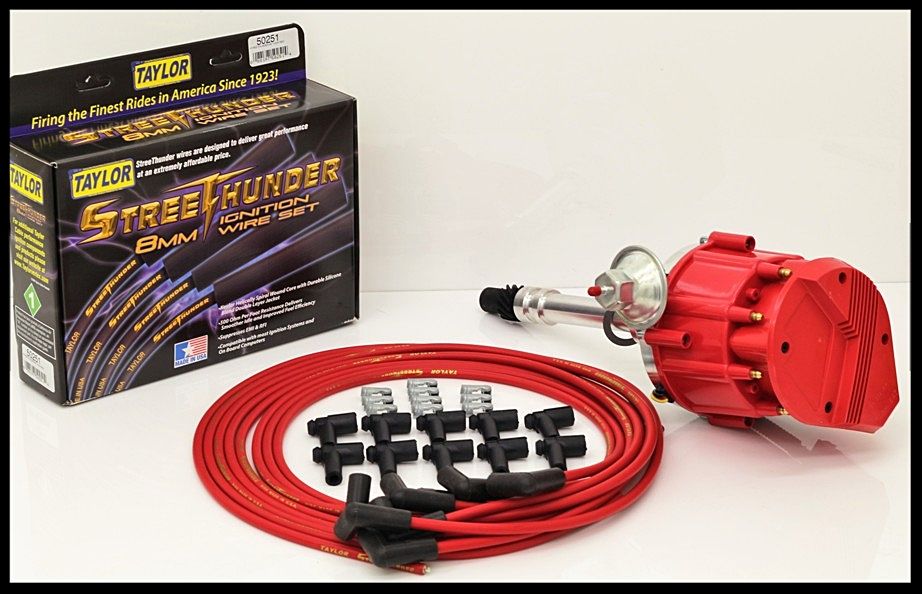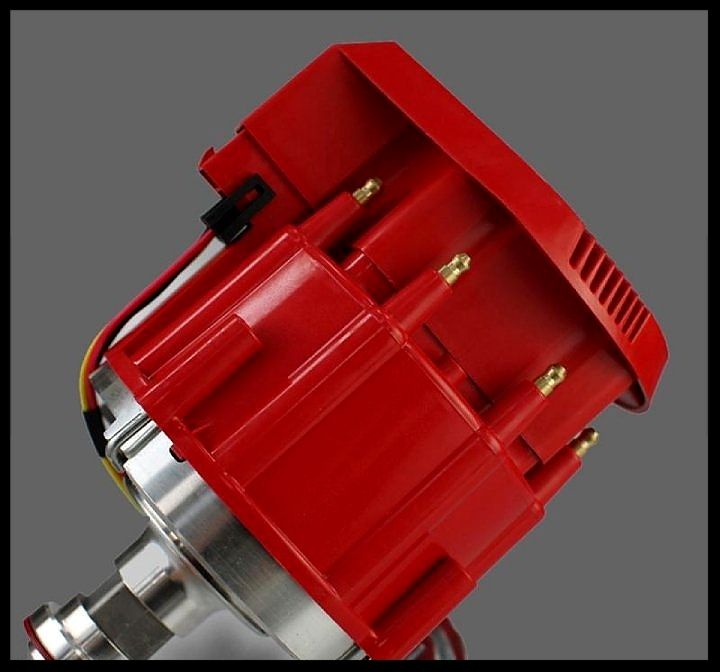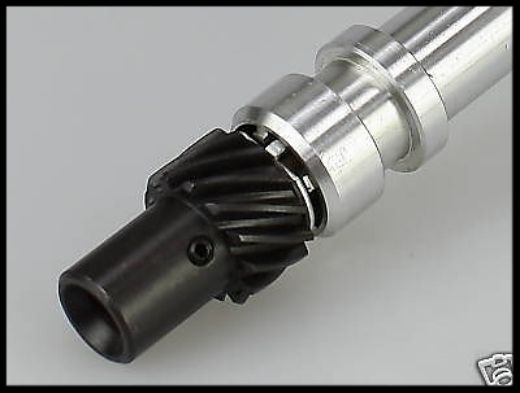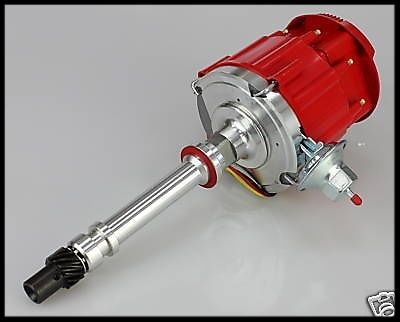 CHEVY V-8 SBC AND BBC 65000 VOLT HEI DISTRIBUTOR FOR GEN 1 CHEVY ENGINES.
This is the true original super 65K model. We have tested our HEI distributor up to 7000 rpm on an SBC 350 engine with 13:1 compression ratio, and made 535 hp on the dyno.
Be sure you have sufficient firewall clearance before purchasing. This unit is one full inch wider in diameter, and approximately one and a half inches taller compared to a point style distributor. If your car came equipped with an HEI unit, then you should not have a problem. The firewall tunnel on many GM vehicles with point style distributors will allow space for the full size HEI unit with the Super cap, but there are some that do not have enough clearance.
It is usually the large flat coil cover on the Super cap that causes a fit issue. If you think this unit may not work, we have the OEM style HEI unit with a smaller coil cover, rather than the large flat coil covers on units referred to as"Super Caps." Our 6500 distributors all have the large flat Super Cap coil cover. Our 6501 HEI distributors all have the original equipment style coil cover. The letter at the end of the part numbers designates the color of the cap. The OE style coil cover on our 6501 models is tapered down on the top sides, and offers slightly more clearance than the Super Cap. Both units function exactly the same. The only difference is the appearance.
If you think the 6501 unit with the OE style cap is still not small enough, then you may need the small base ready to run HEI unit. It has a base and cap the size of an original point distributor, but requires an external coil. These are called "Ready to Run" or "Small Base HEI Distributors." The part number is 6701 for Chevy engines. See our other listings for a full variety of distributors with plug wires and without.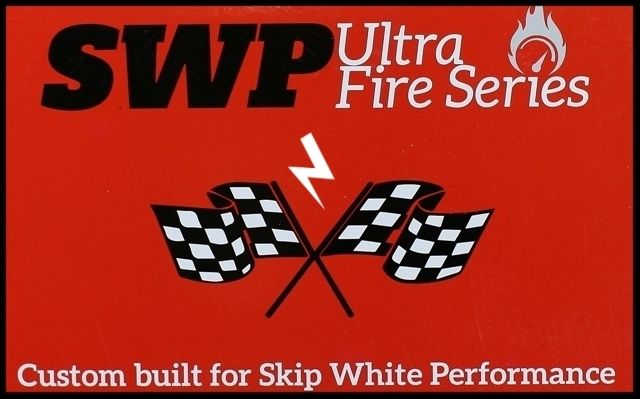 This article is not specific to the unit advertised in this ad. This is a generic article on the main differences among the three styles of HEI distributors we offer.
The quality of this unit far exceeds any of the others on the market. We have much less tolerance for failure than many other sellers seem to have. Other sellers claim to have the best, and we know that to not to be true in many cases. We have now lowered our prices for the first time to be in line with the other low cost units on the market, but we will continue to offer the same high quality unit.
This is the best HEI unit made, for the new low price listed above, with the best warranty and customer service offered by any seller on the web. Now would also be a good time to shop our other listings for many other items at record low prices.
We have a full line of parts available for this distributor, including caps of various colors and styles, as well as coil cover, coil, module, rotor button, and distributor hold down. We also offer a Master Tune Up Kit. This kit is a very popular seller. It has all the spare parts you would ever need to be back up and running in minutes should a problem arise. Many people who buy our distributors purchase this kit. If you're looking for a single spare or replacement part for this distributor, we also have them listed.
COMPLETE DISTRIBUTOR: CAP, ROTOR BUTTON, 65K COIL, MACHINED ALUMINUM BODY, STEEL SHAFT, GEAR, MODULE, AND PICKUP, AND A FULL SET OF TAYLOR IGNITION WIRES.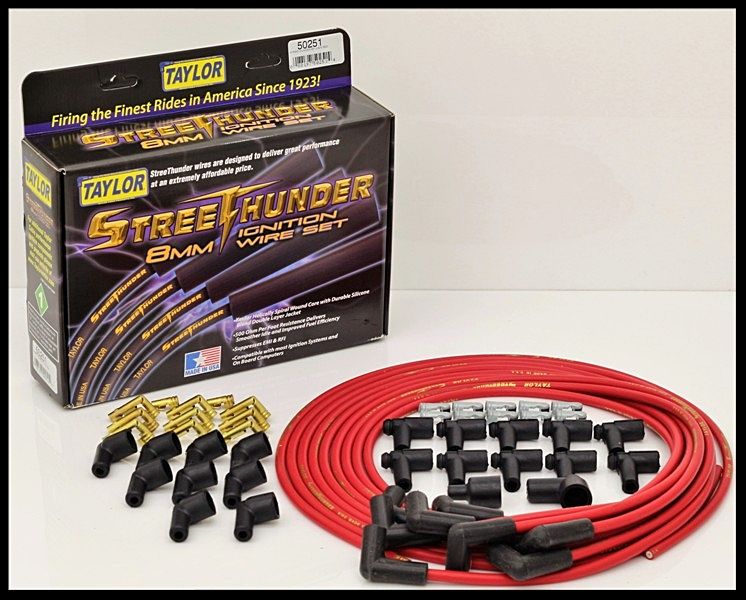 These 8mm wires will work with our HEI distributor perfectly.
Kit includes eight (8) 90 Degree Spark Plug wires
Lengths Are (2) 54" (2) 48" (2) 36" (2) 33"
Our kit gives you plenty of wire to go either over the covers or out under the motor, your choice.
Taylor Cable developed the STREETHUNDER Wire to deliver great performance at an extremely affordable price that features a low resistance conductor that is wrapped in durable silicone double layer jacketing for heat protection, strength and durability.
8mm silicone and synthetic jacketing resist heat, oil, and abrasion.
500 ohm per foot resistance delivering greater spark energy, while improving power, idle, and fuel efficiency.
A combination Kevlar Helically Spiral Wound Core conductor for greater strength and durability that suppresses Electro Magnetic (EMI) and Radio Frequency Interference (RFI).
Black standard silicone boots protect against high exhaust temperatures, up to 450 degrees.
Double Spring Locking Terminals for secure-vibration proof connections.
These are Universal Fit sets and will require cutting to fit, terminating, and booting the distributor end. Universal Fit sets are universal for most American made vehicles.
Important note.
We ship the Taylor wires bagged from the factory without the box. This allows us to include them in with the distributor and pass a decent savings on to the consumer. This also reduces shipping weight and cost.
About Taylor Cable Company.
Taylor Cable Products is an OEM and performance company that was built on its founding heritage and supported by a tradition of legendary quality. Known as an innovative company since 1923, Taylor Cable has been setting the pace with quality products such as Performance Ignition Plug Wires, Battery Cables, Wiring Harnesses, Vertex Magnetos and other quality High Performance Ignition and Electrical Components and Accessories.

Taylor Cable's Corporate Office and manufacturing facility is located in Grandview, MO, a Kansas City suburb, housing 100,000 square feet of manufacturing, assembly, and warehouse space. Throughout the manufacturing process, the strictest quality checks are implemented at every work station to insure that the highest quality parts are being produced to their respective engineering prints. Taylor engineers and technicians are constantly developing and testing new products and processes so you can have the best ignition products and accessories possible.

Our exclusive 100% silicone spark plug wires, battery cables and wiring harnesses are OEM to some of the most well known, quality driven companies in the world, such as Daimler Chrysler, John Deere, Mack Truck, and Harley-Davidson, a testimony to Taylor's commitment to quality and excellence.

At Taylor Cable, we will continue to strive to develop innovative and highly functional products for the automotive aftermarket.
Taylor Cable will always maintain a commitment to be the first with the best, providing accessibility to our products through a worldwide comprehensive network of quality distributors and retail outlets. Today and into the future, Taylor Cable will continue to fire some of the fastest race and street vehicles in the world.
Customer Reviews
This product does not have any reviews yet.