Product Information
| | |
| --- | --- |
| UPC | 332247486357 |
| Product Type | Shipped Product |
| Shipping Cost | $0 |
| Number of reviews | 2837 |
LOW MOUNT SBC CHEVY ALTERNATOR BRACKET KIT FOR ENGINES WITH SHORT STYLE WATER PUMP.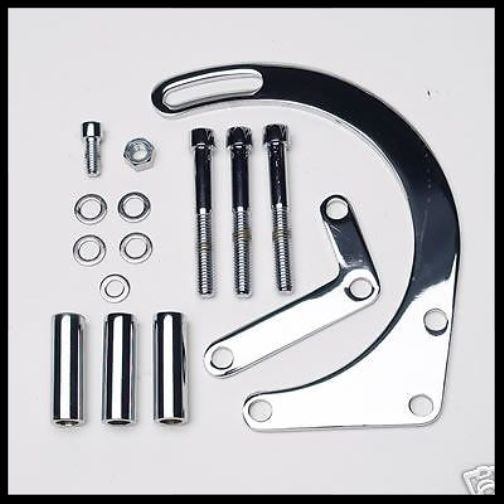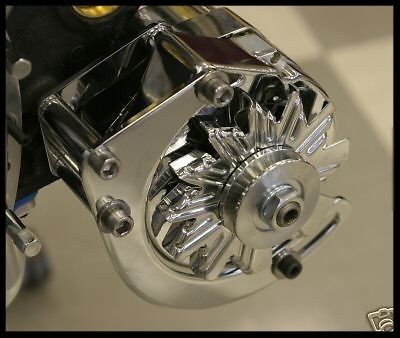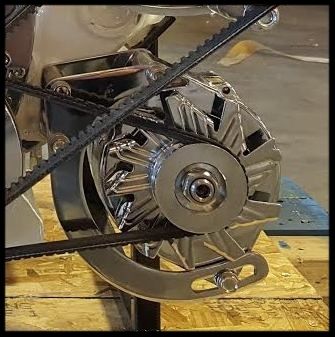 Pictured below is one of our race engines with the low mount bracket installed. We have used this type bracket for many years without any problems.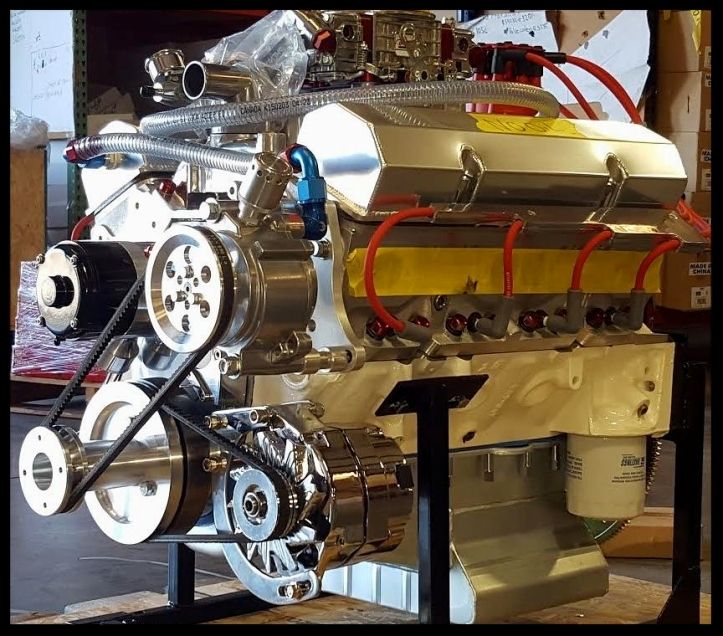 Front view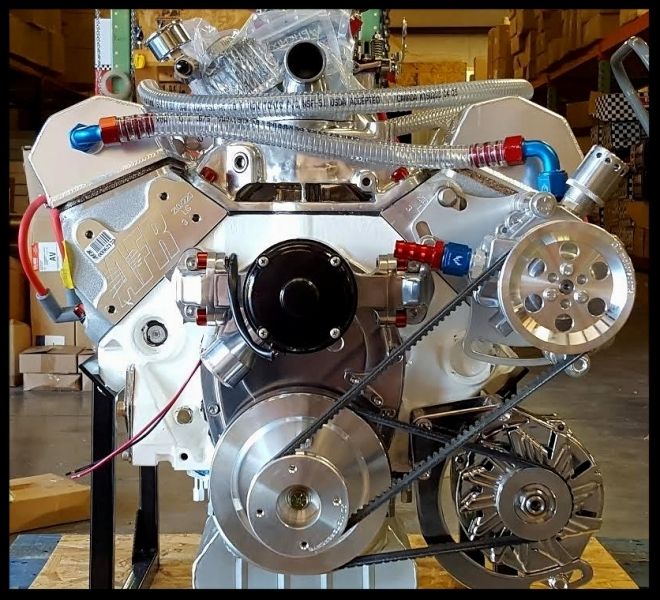 THIS BRACKET IS IDEAL FOR THOSE NEEDING CLEARANCE OR TO ALLOW A BETTER VIEW OF THEIR ENGINE. SOME USING ELECTRIC WATER PUMPS WILL USE THIS TYPE BRACKET. THIS BRACKET IS VERY HEAVY DUTY AND WE HAVE THEM AT THE BEST PRICE YOU WILL FIND.
MANY HAVE ASKED FOR THIS TYPE BRACKET IN THE PAST, SO WE DECIDED TO STOCK THEM.
The chrome plating is nothing more than a flash coating, not polished to a high luster. We can consider it a shiny finish and nothing more. Since this is a low mount kit and not in a prominent location, the finish is considered acceptable by most everyone we have ever sold them to. They are most certainly very functional.
Fits 1955-68 SBC 262, 283, 327, 350, & 400 or any engine that is using the SBC short style water pump. Many roadsters use the short water pump for radiator clearance, and choose this bracket.
For mounting the alternator lower than the stock location.
Bolts to the front of the engine on the driver's side.
Mounts near the bottom of the block on the 2 bolt holes where the timing cover fits to the oil pan.
Will work with power steering.
Will not fit Camaro and Chevy II stock frames, as there is not enough clearance.
Includes all bolts and mounting hardware.
As a final note, of the many uses for this type bracket, it most certainly adds to lowering the center of gravity on your vehicle. The alt is approx. 16 lbs with the bracket, and lowering it a full two feet is considerable for those wanting to achieve better handling. I can remember the Indy 500 car designers talking about lowering the gauges approx. 10 inches and they only weighed two pounds. They claimed this made for better handling. All new car makers are now doing everything possible to lower the center of gravity in vehicles.
The items in our clearance special will be selling at well below cost prices. These items have accumulated in our former warehouse that we're converting to our new additional machine shop for building engines. In the past, we would sell these items at local swap meets and other various selling venues. Due to time constraints, these items have to go.
Go to our store to see many hundreds of such items.
There are many reasons as to why these items are being closed out. Listed below are some of the many possibilities. Most all these items are in perfectly new condition. No gimmicks. We are in a rush to get our second machine shop up and going.
Left over stock of an item that was discontinued in the past.
A few have become slow sellers for us, as our business has shifted into high value items such as engines, rotating assem. and cyl heads.
We have purchased some items in bulk that were discontinued and have many of these items still in stock.
We're trying to clear out space for our new engine room and we're in a rush to do so.
Acquire funds to build our second new machine shop for building engines.
Our sales staff has limited technical knowledge on this product and are usually unable to answer many of the questions asked. We do not have any variations of this product other than what our listings show.

We are not responsible for collateral damage caused by the use of this product.
Good description, fast service

Reviewed by n***n on June 10, 2018, 1:09 p.m. | Permalink

This review has no votes.

wow ! great great ebayer 100% thanks a+

Reviewed by l***k on June 10, 2018, 7:40 p.m. | Permalink

This review has no votes.

Good description, fast service

Reviewed by n***n on June 10, 2018, 11:02 a.m. | Permalink

This review has no votes.