SBC CHEVY SCAT 350 FLEXPLATE 153 TOOTH 1pc RMS FP-350-1PC RMS 350-L-153
Available
$51.95
---
Product Information
| | |
| --- | --- |
| UPC | 351594004607 |
| Product Type | Shipped Product |
| Shipping Cost | $12.50 |
| Number of reviews | 388 |
EXTREME DUTY SBC CHEVY 350 FLEX PLATE
153 TOOTH
EXTERNAL BALANCED
FITS 1PC REAR MAIN SEAL SBC 350 GEN 1 & 2 ENGINES FROM APPROX. 1985-2001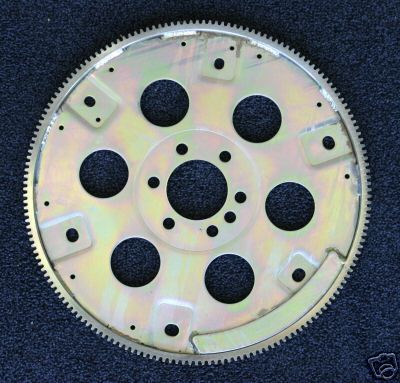 IT IS ALSO DUAL PATTERN AND WILL FIT TURBO 350 AND 400 TRANSMISSIONS, AS WELL AS 700R4.
BE SURE YOU NEED A 153 TOOTH FLEX PLATE FOR USE ON 1PC REAR MAIN SEAL 305 350 CID ENGINES WITH A WEIGHT.
Constructed from high tensile strength steel.
Engine Type: SBC V-8 EXTERNALLY balanced. 1PC. RMS 153 tooth 305 350 engines. WITH WEIGHT

The actual appearance of your flexplate may vary. Some of our shipments will have the zinc dichromate finish and some may have a black powder coat finish.
This is an extremely heavy duty flex plate. The plate section is thicker than the OEM stock model, and is double welded on each side.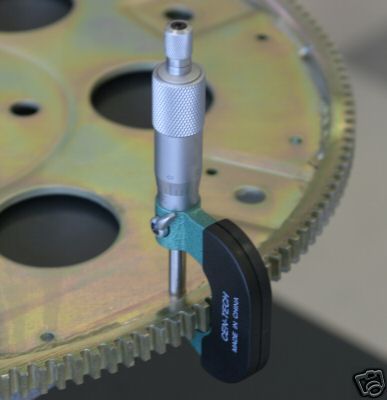 All oem stock models are not double welded, and are very thin. Often you will see starters that have teeth worn or broke due to a worn ring gear on the flex plate. This is a good investment to protect your starter. These are sfi approvable. They do not have the sticker on them, but rest assured they are the very same model. We use them on engines producing 800 hp at up to 7500 rpm.
Safety is another factor to consider. A stock flex plate is prone to break at very high rpm. A flex plate breaking up during high rpm is very dangerous.
Important note,
All flexplates have a certain degree of warpage that you may notice when cranking the engine without the torque converter installed. This warpage is normal, and will not be present when the converter is installed. It is possible that after the converter is installed that you will still notice a small amount of warpage/runout. Once the transmission is installed this will usually eliminate all of the warpage. The warpage is caused by the fact that these plates are made from a stamped sheet of steel and have a large amount of welding done to them on both sides at the outermost portion of the plate to attach the ring gear. Stock oe plates usually have less of this warpage because they have very little welding on them. The heavy amount of on both sides of the plate is what draws and distorts the plate. As mentioned, this warpage is virtually eliminated once the torque converter and transmission is installed.
Please leave your phone number in an email when using the, "contact seller" tab. We never solicit our customers, but having your phone number in case of a shipping or service related problem is valuable.
Our sales staff has limited technical knowledge on this product and are usually unable to answer many of the questions asked. We do not have any variations of this product other than what our listings show.

We are not responsible for collateral damage caused by the use of this product.
Item as described thank you!

Reviewed by 1***c on Nov. 4, 2019, 11:09 a.m. | Permalink

This review has no votes.

Item as described thank you!

Reviewed by 1***c on Nov. 4, 2019, 8:29 p.m. | Permalink

This review has no votes.

Item as described thank you!

Reviewed by 1***c on Nov. 5, 2019, 4:12 p.m. | Permalink

This review has no votes.