Product Information
| | |
| --- | --- |
| UPC | 351333667617 |
| Product Type | Shipped Product |
| Shipping Cost | $39.50 |
| Number of reviews | 0 |
SCAT 4340 FORGED 383 400 CRANKSHAFT FOR SBC CHEVY 2pc REAR MAIN SEAL 350 MAIN JOURNALS. INTERNAL BAL. STYLE. TO BE USED WITH 5.7-6.0 INCH RODS
4340 FORGED STEEL

File photo. Actual appearance may vary.
Scat forged standard weight crankshafts are designed for street or race engines with substantially increased horsepower. Scat crankshafts are precision-ground, heat-treated, shot-peened, inspected, at Scat for superior tolerance control. Scat crankshafts are also nitride-hardened for superior wear resistance, have straight-shot and chamfered oil holes, and feature lightening holes in all rod throws. These crankshafts also have a large radius on all journals for improved strength and wear resistance.
Made from an exclusive Space Age cast steel material for strength

Horsepower rating for this crank is approx. 800+
The part number for this crankshaft is 4-350-3750-5700 This is a first line product directly from Scat engine products. Main journal size is 2.448
This crankshaft is to used with an INTERNAL flexplate, and damper.
STROKE - 3.750
ROD LENGTH TO BE USED - 5.7-6.0 RODS
MAIN DIAMETER - 2.448
Important Note.
This crankshaft must be balanced with your pistons and rods before use. All crankshafts on the market are this way.
Listed below is an upgrade we consider very beneficial and requested by many.
Crank polishing: Extends bearing life, reduces oil temp, frees up a slight amount of average horsepower. This is a very low cost upgrade, and in the world of mass production, most cranks do not come with a true polished finish. This is why most machine shops have a machine to do this. The difference is dramatic between a crank right out of the box and one that we have polished. Bearing companies claim that cranks that have better finishes on the journals will survive the break-in better, and have much longer bearing life. We do a three step process and bring the RA numbers down in the single digit range. We have the most advanced crank polishing machine on the market. We find this to be an excellent upgrade for your engine build, considering the low cost. We polish the crank for every engine we build.
Cost for this crank polishing upgrade is $38.50 We have this upgrade featured in our other listings. You can see this and other upgrade options in our ebay store under the "UPGRADES" category, or simply do a search with the key word, "Upgrade" in the search bar when shopping in our ebay store. Before you finalize your purchase of this assembly you may add any of these upgrades to your shopping cart. Click here to add upgrades.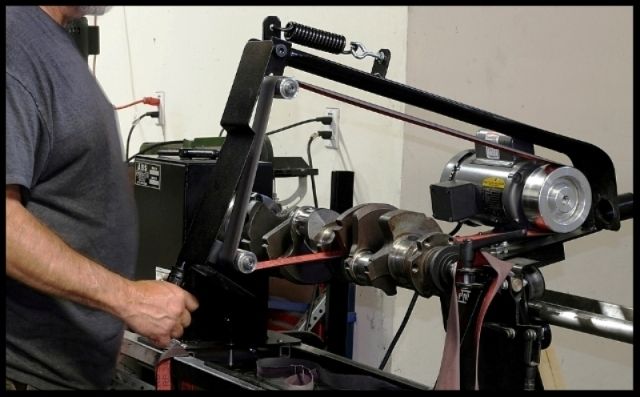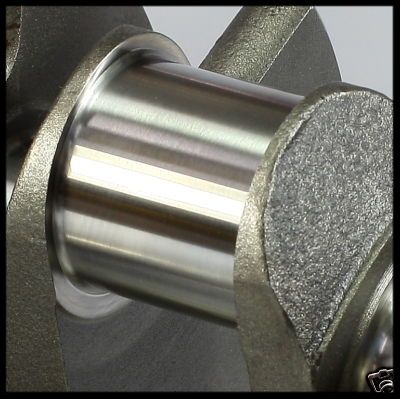 The appearance of the journals show a dramatic difference once polished.
Customer Reviews
This product does not have any reviews yet.