Product Information
| | |
| --- | --- |
| UPC | 331521709192 |
| Product Type | Shipped Product |
| Shipping Cost | $12.50 |
| Number of reviews | 98 |
MASTER TOP END KIT WITH HEAD STUDS FOR SBC CHEVY ALUMINUM OR CAST IRON HEADS.
Felpro 1003 head gaskets and Felpro 1205 intake gaskets included.
This kit is suitable for many brands of cylinder heads.
PART NUMBER TEK-1003-1205-STUD
The pic below is a file photo. This kit will have the sbc head studs included instead of head bolts.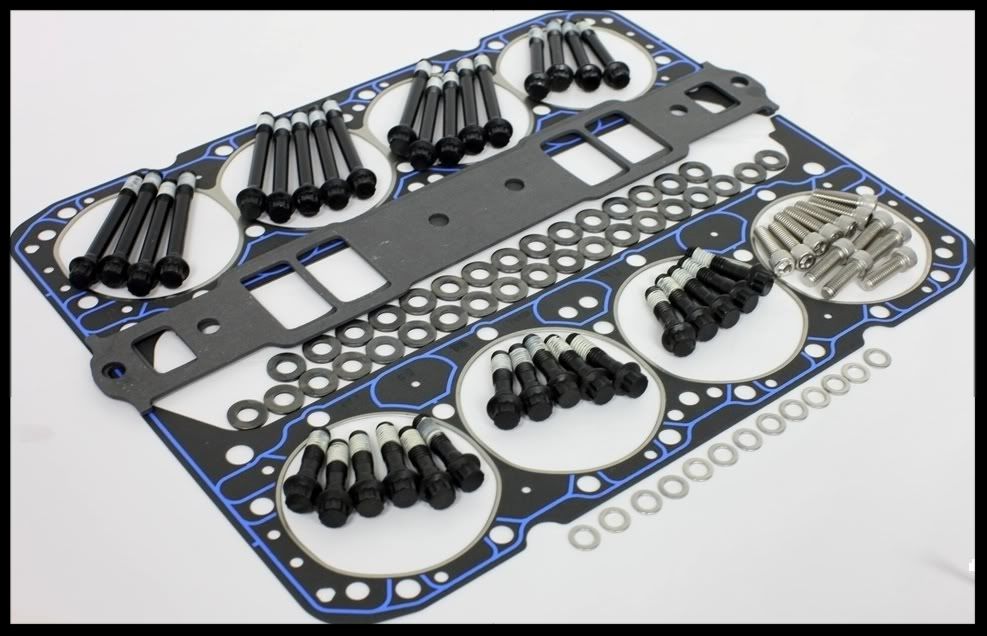 The pic above is a file photo. This kit will have the sbc head studs included instead of head bolts. The picture below is our sbc head stud kit. We have had many requests for kits with head studs instead of head bolts, so we now offer this top end kit with head studs.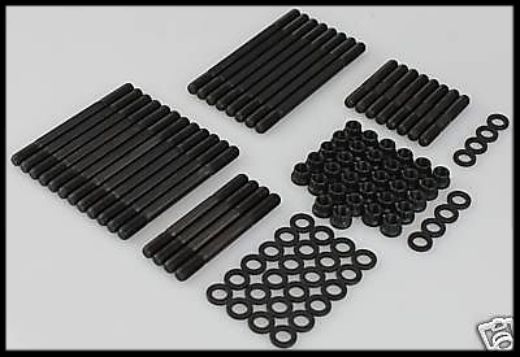 We highly recommend using a high quality sealant on the threaded portion of the studs that go into the block. We use Permatex (The Right Stuff) black sealant and have no problems.
THIS IS THE CORRECT KIT FOR DART SHP 200 HEADS WITHOUT STEAM HOLES. FOR THOSE RUNNING AN ENGINE WITH STEAM HOLES, SEE OUR OTHER LISTINGS FOR THE TEK-1014-1205.
Felpro 1205 intake gaskets.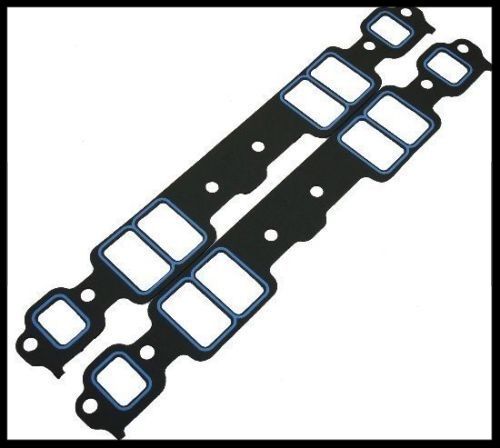 Correct length high grade 18/8 stainless allen head intake bolts are included. 1.25 length allows the use of any and all brands of aluminum intake manifolds.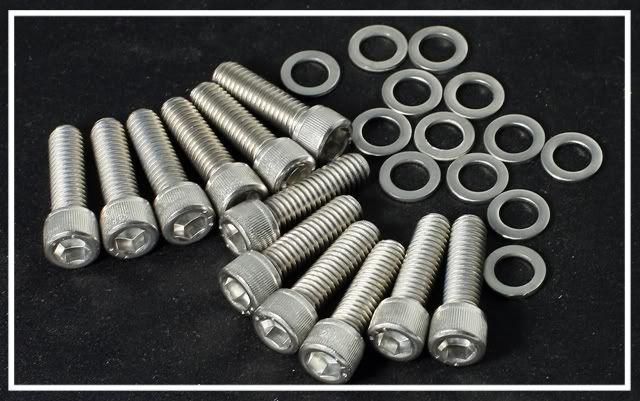 We do offer this in many different versions. This kit has the Felpro 1003 head gaskets. The head gaskets are premium race grade quality. If you're not sure what type is most suitable for your application, please give our tech. support dept. a call. Please read this complete ad before purchasing. For those that favor the MLS type head gaskets, see our other listings for the TEK-5219-1205-STUD.
The Felpro 1205 intake gaskets included in this kit are a perfect match for many heads on the market. Should your intake sit too low when mounted, then you will require the Felpro 1266 intake gaskets. From what we're seeing, the 1205 intake gaskets work well with most of the intakes on the market. We offer the 1266 gaskets in our other listings.
34 PIECE SBC CHEVY STUD KIT. SPECIAL WASHERS INCLUDED.
One of the most important benefits of the head stud kit is that the washers included allow the top nut on the stud to distribute the pressure on the cylinder head and provide a glide surface between the two steel parts, rather than steel chafing against aluminum. This allows for much greater accuracy when torquing the heads down. Those with aluminum heads should use the special style head stud with washers for two very important reasons. The aluminum surface tends to drag and gauld against the steel nut, causing inaccurate torque readings. The other well established benefit for the use of this type of setup is the fact that aluminum heads are known to crack in the center area of the head directly under the head bolt or stud. This area has been compromised due to the port location. When the aluminum heads are cast, it is difficult for manufacturers to keep the integrity of these areas consistent. The stud kit with special washers positively reduces cracking of the cylinder head in this area. As mentioned above, this kit comes with a set of head studs as pictured below instead of head bolts.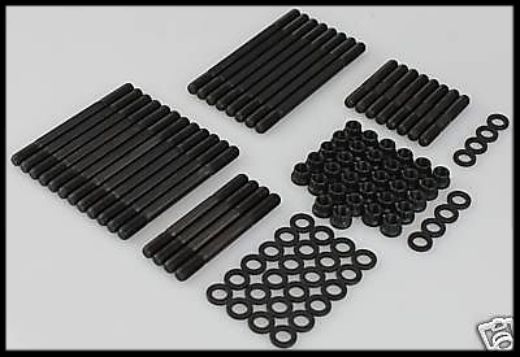 We strive to keep our prices low, and due to the high volume that we purchase, this allows us to have the best price in the country. Many garages will buy several sets at a time just to have them if the need arises. Our shipping prices are usually the lowest you will find.
THE TOTAL PRICE WE HAVE ON THESE ITEMS IS MUCH LOWER THAN YOU WILL FIND IF PRICED INDIVIDUALLY. IF IT SEEMS HIGH, IT'S NOT. THE HEAD GASKETS ARE FELPRO RACE GRADE GASKETS FOR ALUMINUM HEADS, AND THEY ARE VERY EXPENSIVE. THIS KIT IS ALSO FOR USE WITH CAST IRON HEADS.
Our sales staff has limited technical knowledge on this product and are usually unable to answer many of the questions asked. See our other listings for variations of this product.

We are not responsible for collateral damage caused by the use of this product.
AAA

Reviewed by r***s on Sept. 27, 2020, 12:20 p.m. | Permalink

This review has no votes.

AAA

Reviewed by r***s on Sept. 28, 2020, 3:21 a.m. | Permalink

This review has no votes.

AAA

Reviewed by r***s on Sept. 29, 2020, 6:34 a.m. | Permalink

This review has no votes.