Product Information
| | |
| --- | --- |
| UPC | 332330931081 |
| Product Type | Shipped Product |
| Shipping Cost | $10 |
| Number of reviews | 0 |
HIGH PERFORMANCE CHEVY
SUPER 65K VOLT WITH MECHANICAL

TACH DRIVE HEI DISTRIBUTOR 6515-R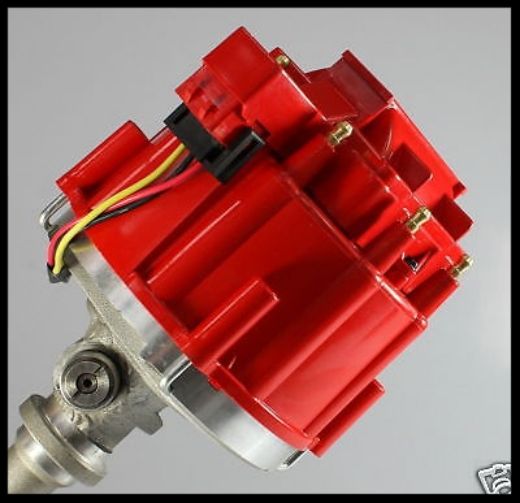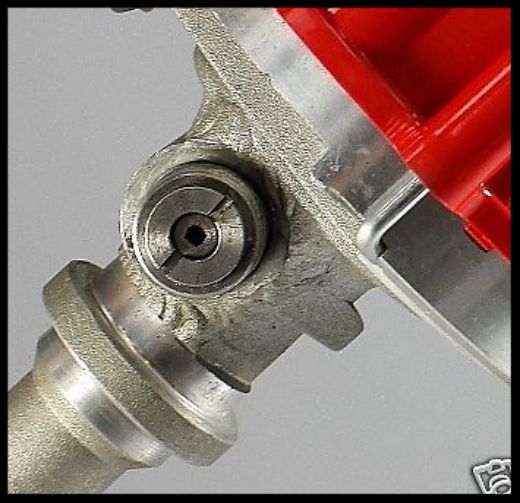 This is a full size HEI distributor with a mechanical tach drive. Many Corvettes used a mechanical tach drive in the years prior to the development of the HEI distributor. Make sure you have fire wall clearance if running this in any Corvette that used a point style distributor. This distributor is approx. one full inch larger in overall diameter than the early style point style units. These distributors are made by the same company that our regular HEI units are from. This is a new item for us, but certainly not new for the manufacturer. They have marketed this distributor for many years, and find it to be a very high quality item.

Chevy V-8 SBC and BBC 65,000 volt mechanical tach drive HEI distributor.
Part number 6515-R
Complete distributor, with cap, 65K coil, machined aluminum body, steel shaft, gear, module, mechanical tach. drive, and pickup!
Fits all big block and small block chevy engines that are carbureted.
Please understand this price is due to a price war with one of our competitors. You will not see these at this price in the future. This is not a sales gimmick, just the plain truth. The quality is outstanding with a near zero failure rate. These are very well packaged. Our supply is very limited. Many garages have purchased these in case lots from us, so this ad may end soon. This truly is the best deal you will ever see on a complete HEI distributor. We simply refuse to be priced out by competitors. We have always been the no. 1 seller on this item, and will continue in this position. This item will return to normal pricing very soon. Many of you are return customers, and I have promised to stay competitive. Several other items we have listed are in this same price war situation, so check out our other listings. We will stay on top. Click the store listings tab at the top left of the screen to view our other listings. Others may claim to have a better HEI, but we find that not to be the case from our experience.
No one offers the lifetime warranty as we do.
Tech info, please call 423-722-5152.
Our distributor looks great when installed.
We are the no.1 wholesale marketers of HEI distributors in the country.
We have many garages and speed shops that purchase these in case lots from us. We have the best HEI on the market.
This unit will fit any carbureted v-8 chevy engine made. You can replace your point style distributor with this. The difference in performance is dramatic to say the least.
Click on the purchases tab above, and you will be shocked as to how many people are buying this unit. We have noticed other units on the market, but few are of this quality. It is the no. 1 hei on the market.
We have possibly sold more of these than anyone in the country. This is a totally revised unit.
Full lifetime warranty, unlimited mileage!
This is the complete distributor body, shaft, gear, 65K coil, cap, rotor button
This is the newest version on the market. This coil is essential on any modified engine.
Brand new in the box.
Tech info, please call 423-722-5152
This auction is for the complete HEI distributor, cap, rotor, dist. body, gear, and shaft. Everything you need is with it.
This HEI fits most small and big block chevy engines from 55 up to 86. BB & SB!!! Will also fit later v-8 engines that have converted to carburetor.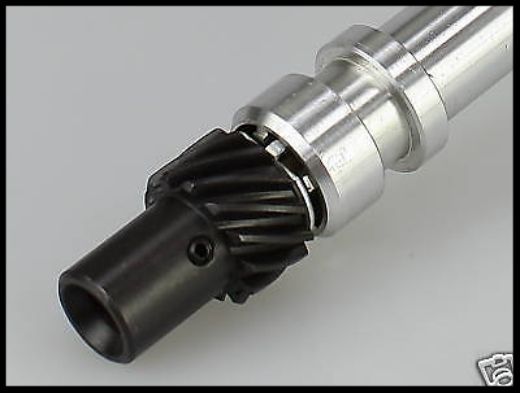 We have sold this same unit at our store for several years, and have many high performance engines in this area running this unit. The only difference is this is a much improved model.
We are in the performance business.
Our company president, Skip W. strongly recommends the universal 90 degree wires, as they will fit perfect. The universal Mega fire wires will only require one of the ends to be assembled. Seems most ready cut wires are never the perfect length for every engine. A plug wire crimper should be used. The extra 30 minutes or so of work to install universal wires are well worth it.
This distributor will fit all Chevy V-8 carburated engines up to 1986. It will fit earlier model engines equipped with point style distributors. Fire wall clearance may be an issue on some early model cars, but we have found many to fit with good clearance.
Fully CNC Machined - Polished Housing

Adjustable vacuum advance canister to improve economy while cruising

Premium caps with brass terminals, and a low-saturation Ignition module

It also offers true spark alignment for instantaneous response at high RPM
EMAIL US IF YOU HAVE ANY TECHNICAL QUESTIONS
This is the perfect upgrade for your classic Chevy, or just part of a tune-up. It would not be practical to re-install the original HEI back into your engine if you are overhauling it.
Here are a few problems you are most likely to encounter, when using an old distributor:
- Excessive end shaft play
- Bushing wear
- Weak coil, worn or cracked cap, and button
- Weak module
- Corrosion buildup
- Weakened advance springs
- Gear wear
If going from points to HEI this alone is a huge upgrade
All of the above can greatly affect the performance of your engine.
These are just a few of the things that most old distributors have going on with them. For the low cost of a complete brand new one, it just makes little sense to used the original distributor. When we rebuild any early model Chevy engine, we insist the customer purchase a new distributor. You will notice a performance difference in your engine if you have any of the above issues with your old distributor. All of the old HEI's we see have excess end play in the shaft. I'm sure the coils on them are not at full voltage. This is much more than the oem model. All car makers have dramatically improved the ignition systems on cars and trucks. This is an indication of how important good ignition is to an engine.
WE ALSO HAVE MANY ACCESSORY ITEMS AVAILABLE
LIFETIME WARRANTY.
This is the last distributor you will ever have to buy!
Warranty is valid regardless of street or strip use.
The part numbers for distributors beginning with 65 and 85 are interchangeable. The distributors are identical in every respect. We changed the artwork on the package to private labeling and our supplier had to change our part number to distinguish our private label (85 series) from the standard labeling sold to other suppliers (65 series). You may receive the alternate part number since we still have both in stock.
Customer Reviews
This product does not have any reviews yet.