Product Information
| | |
| --- | --- |
| UPC | 371533610826 |
| Product Type | Shipped Product |
| Shipping Cost | $12.50 |
| Number of reviews | 174 |
SBC SCAT PRO-STOCK 4340 ALLOY CONNECTING RODS 6.0" I-BEAM BUSHED, 12 POINT ARP CAP SCREWS. 500 HP RATED.
SCAT-ICR6000 BRONZE BUSHED CONNECTING RODS WITH GENUINE ARP 8740 CAP SCREWS ARE NOW USED IN ALL ROTATING ASSEMBLIES AND 383 STROKER ENGINES WE BUILD.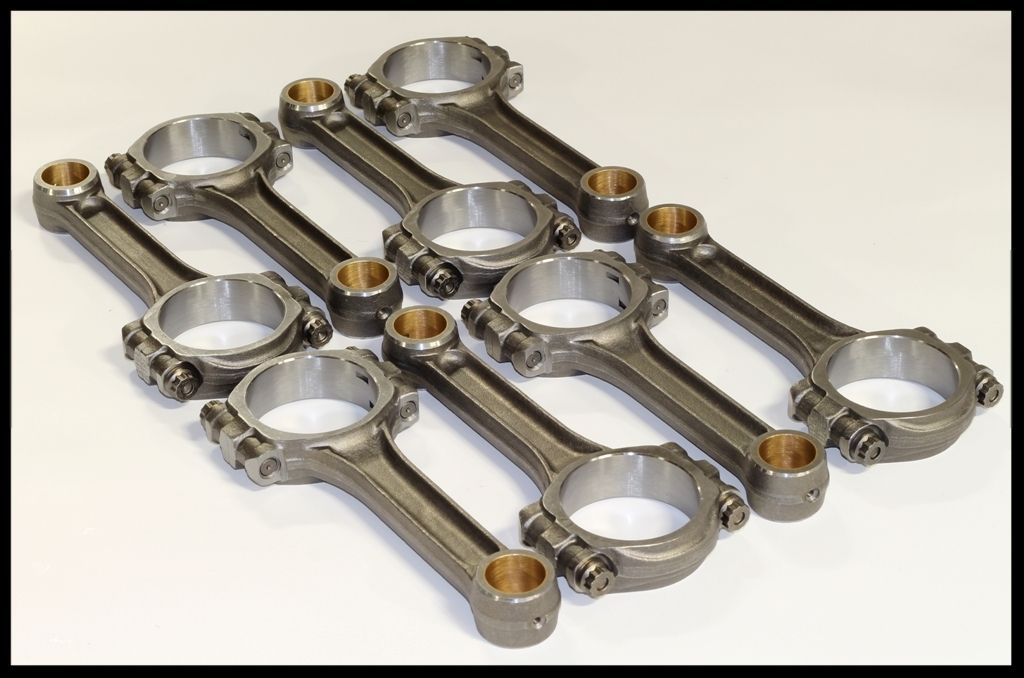 Our Scat rods are all made from heat treated 4340 chromoly steel. Eagle I beam rods and many of the no-name brand I beam rods, are made from 5140 alloy. This alloy can not compare to 4340 in strength and hardness. We have seen many offering the no-name rods with no-name bolts in them. These non-branded bolts thread poorly into the rod, and have been known to fail on many engines. From our past experience we have found these rods to be inferior as compared to the Scat rods in many ways. Inferior rods, and bolts can also cost a great deal of money when balancing or assembling your engine. The Scat rods have a level of quality that we consider well worth the slight increase in price.
The critical sizing and ARP bolt installation is done at the Scat facility in California. The rods go through a complete inspection. Failures or quality issues are near non-existent. We have built several thousand engines using the Scat rods, and we simply never have rod failure.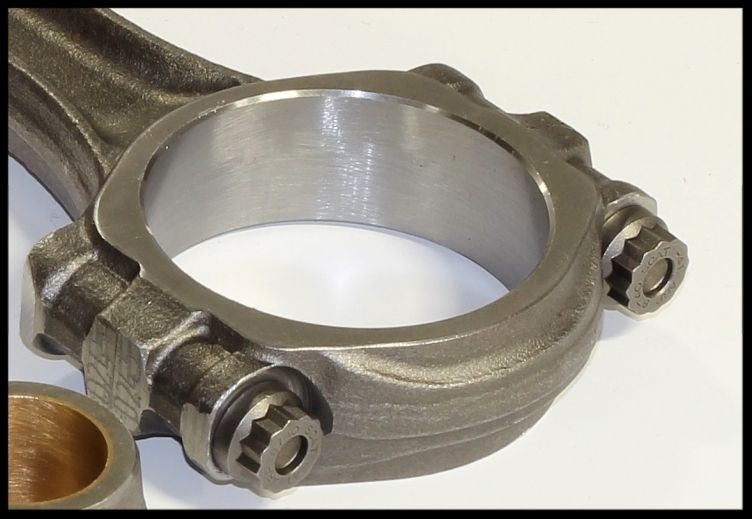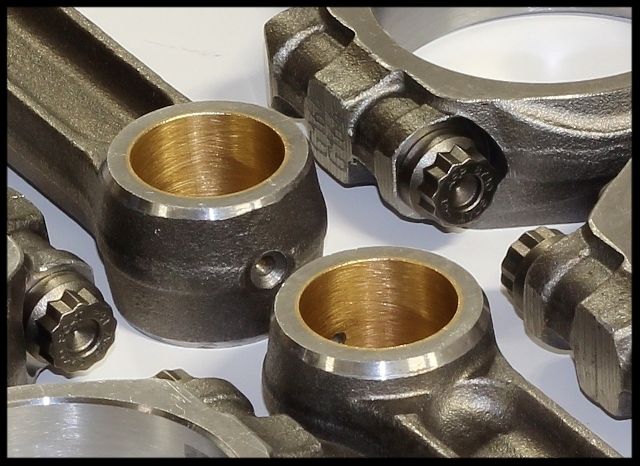 The Scat rods do have genuine ARP 8740 cap screws and they offer excellent block clearance in the lower end of the cylinders, and very decent cam clearance.
Genuine ARP 8740 cap screws.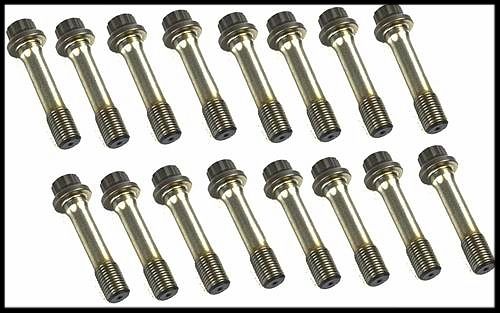 See the pictures below showing the exact location where the rods are to be cam clearanced should it be required.
We are now using these rods on all of our 383 and 406 engines, and have found them to clear smaller cams in the 480 lift or less range without any modifications. Those with the larger cams will only have to remove approx. 1-1.2 grams off the corner, and this positively will not upset the balancing to any measurable amount. As far as the block is concerned, the bottom end of these rods have a very low profile, and require only a slight amount of material to be removed from the bottom of the cylinders. This has saved us a huge amount of work in block clearancing on 383 engines compared to most other rods on the market.
These rods weigh in at approx. 610 grams total, and for those purchasing an Eagle or Scat crank, this rod weight makes balancing very easy and usually requires very little removal of material from the crank when coupled with medium to light weight pistons.
The pictures below show before and after of the exact location to grind the rod if necessary when using the regular Scat rods. The flat half moon spot directly beside the bolt is the area we ground. The pictures below are oversized, giving the impression that the amount removed was larger than it was in reality. With the rod ground as shown in the picture with the black pen, clearing most any size cam will not be a problem. However, other factors may come into play, so you must do a roll over test before final assembly. The amount of metal removed is approx. 1.5 grams and will not affect balancing. You are only required to do one side of the rod (opposite the bearing tang). If you purchase a rotating assembly, we offer a rod clearance and sizing upgrade.
We now offer a special line of Comp cams for hyd. roller setups for street rod use. They all have a reduced base circle, (1.050). These cams do not require any cam to rod clearancing on virtually any type of rod used in a 383 or 406 engine. These cams do not cost any more than the large base circle cams, and do not require a special distributor gear. All of our sbc engines now use these cams. We have six to choose from, with numerous dyno reports. These cams are outstanding in performance compared to any of the other brands we have used in the past. We certainly like the idea of not having to grind into the rod body and bolt.
The picture with the blue pen pointing shows how the rods appear from Scat. The other picture clearly shows the alteration that is required.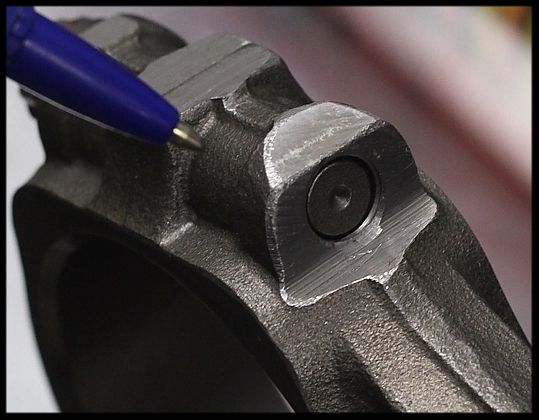 | | |
| --- | --- |
| Balance matched | Yes |
| Big End Bore Diameter (in) | 2.2250 in. |
| Big End Width (in) | 0.940 in. |
| Cap Retention Style | Cap screw |
| Clearanced for Stroker | No |
| Connecting Rod Bolts | I-beam ARP 3/8" 8740 chromoly steel, 12 pt. head |
| Connecting Rod Length Center to Center (in) | 6.0 in. |
| Connecting Rod Material | Forged 4340 steel |
| Fastener Yield Strength (psi) | 200,000 psi |
| Inspected | Yes |
| Pin End Bore Diameter | 0.927 in. |
| Rod Journal Diameter (in) | 2.100 in. |
| Weight Matched Set | Yes |
| Wrist Pin Style | Bronze bushing |
For those wanting the extra security against rod or bolt failure, we have the solution without having to move up to the over-weighted H-beam rods. We also offer the Scat Competition 6.0" rods in our other listings. This is what our company founder had to say about the Competition Series rods that we also offer:
The Scat Competition Pro series I-beam rods are absolutely the best insurance against failure considering the low cost to upgrade. The regular Scat rods in this auction are excellent, but the Pro-Competition series rods are slightly lighter and have been cnc profiled to remove the parting lines and shot peened to relieve all stress risers. The rod body is also designed like a billet rod and is actually stronger in certain areas than the regular I-beam rod even though it is lighter. They have shortened ARP 7/16 cap screws and are especially designed to clear large cams with little or no clipping. They are our favorite for many reasons, but mostly for the lighter weight and added protection against rod breakage under high rpm. The lighter weight reduces the rotational and reciprocating mass to a considerable degree also. This has many benefits, including better engine acceleration and less stress on the crank.
To give you an idea of just how much faith we have in the Scat Pro-Competition rods, we use them in our SBC 427 and 434 engines with a 4.00 stroke crank. These engines have a much longer stroke crank than a 350 or 383, heavier pistons, and make up to 625 hp and turn up to 6800 rpm. We've had zero failures on over 300 of these engines built. Considering they do this well in the 427/434, they would most likely never fail in a 350 or 383 engine under any condition.
To be clear, the Scat Pro-Competition rods are offered in our other listings. The regular Scat rods offered in this listing are excellent rods for those building an engine that will not see frequent high rpm levels or built to higher than average horse power levels. See our other listings to check out the full story on the Scat Competition series rods.
Before your engine is assembled, we strongly suggest that you have the rods checked on a Sunnen machine for critical sizing on both ends. We recommend this with any rod regardless of cost or brand. It is not uncommon to find some rods could use a slight bump through the hone for perfection in sizing and roundness. If the rod journal on the crank is slightly thick, you may want to add this clearance to the rods to compensate for this.
AAA+++

Reviewed by a***l on July 14, 2020, 4:27 a.m. | Permalink

This review has no votes.

AAA+++

Reviewed by a***l on July 15, 2020, 11:21 a.m. | Permalink

This review has no votes.

AAA+++

Reviewed by a***l on July 16, 2020, 1:28 p.m. | Permalink

This review has no votes.