Product Information
| | |
| --- | --- |
| UPC | 371498925902 |
| Product Type | Shipped Product |
| Shipping Cost | $10 |
| Number of reviews | 5 |
SBC SCAT PRO-COMPETITION CONNECTING RODS 6.0" I-BEAM BUSHED, 7/16's 12 POINT ARP 2000 CAP SCREWS. EXTREME DUTY. 700+HP RATED. 4340 ALLOY.
The Scat Pro-Comp extreme duty I-beam rods should not be mistaken for ProComp rods. These rods are made exclusively by Scat, and have nothing to do with the ProComp company. The critical sizing and installation of the ARP 2000 cap screws is performed on a Sunnen machine in the USA by Scat Industries. These rods are excellent for those wanting the extra security offered by a rod with 7/16 ARP cap screws.
Take notice of the design of these rods. They are far superior to conventional style I-beam rods. We are now using this rod in all of our Stage 4 and 5 SBC engines. These engines are making up to 610 hp. We also use this rod in our big block 540/555 engines, making approx. 700+hp We find them to be slightly heavier than the regular I-beam rods on the market, yet slightly lighter than most H-Beam rods. This weight range is usually right in the workable area for crank balancing.
If you do a search on the Scat Pro-Comp rods, you will find a vast amount of info on many car forums. All of the info is 100% positive. These rods are run in engines that not only produce high horsepower levels, but also run at continuous RPM. Notice the general appearance in the pictures. These rods do look impressive. The style is reminiscent of a steel billet rod. They are clearanced well for most stroker applications, but as a rule, do check for clearance before finalizing your build.
The fact that these rods are incredibly strong and well made, coupled with the fact they are light weight and offer better clearance than any H-Beam rod on the market, made it an easy decision to use them in all of our high horsepower street/strip engines. This is the perfect upgrade to your rotating assembly.
When comparing our prices, be aware that Scat also offers a low cost I-beam rod. It is not comparable to this in any way. For the slight difference in price, the Competition Series Scat I-beam is the way to go.
To move up in durability from the Scat Competition I-beam rods, you would have to go to the Genuine Scat H-beam rods. The rod bolt length on the H-beam rods would be its best advantage as they are approx. 150 thous. longer and offer a greater pull apart rating. This higher pull apart rating would be advantageous in applications running at extremely high rpms and/or coupled with heavier than normal pistons. The rod body on the Scat H-beam rods are also much heavier. This could be an advantage on engines running extreme high hp levels above 700.
All things considered, we think the Competition I-beam rods would be bullet proof in just about any street rod below 700 hp. The failure rate with these rods is nearly non-existent, especially in engines running below 7000 rpm.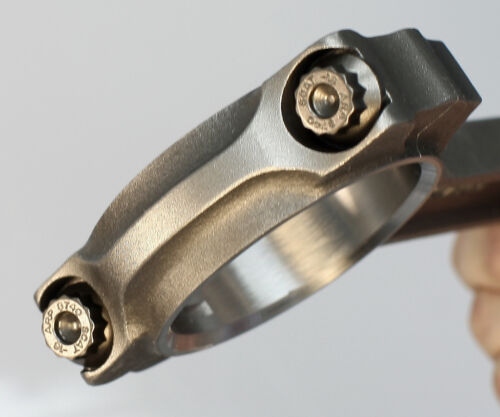 .927 WRIST PIN WEIGHT
2.100 PIN DIAMETER
.940 BIG END WIDTH
WEIGHT 585 GRAMS.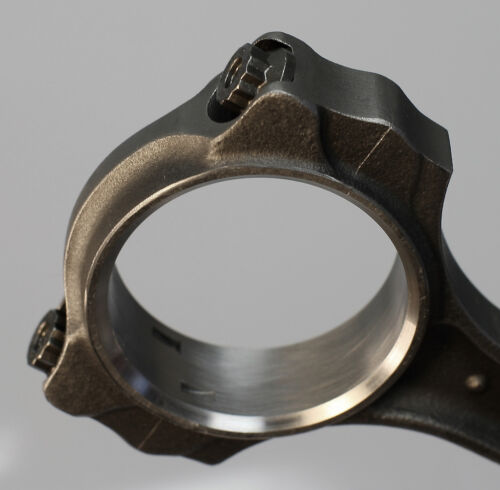 The ultimate I-beam rod that incorporates the strength and technology of the H-beam rod.

One rib cap design for added strength and bearing support
Polished beams to eliminate stress risers
Profiled clearance for stroker applications
Special hollow dowels and huge 7/16'' cap screw bolts greatly increase strength and horsepower capabilities
| | |
| --- | --- |
| Balance matched | Yes |
| Big End Bore Diameter (in) | 2.2250 in. |
| Big End Width (in) | 0.940 in. |
| Cap Retention Style | Cap screw |
| Clearanced for Stroker | Yes |
| Connecting Rod Beam Style | Competition Series I-beam |
| Connecting Rod Bolt Brand | ARP 2000 |
| Connecting Rod Bolt Diameter | 7/16 in. |
| Connecting Rod Bolt Head Style | 12-point |
| Connecting Rod Bolt Material | 8740 chromoly steel |
| Connecting Rod Length Center to Center (in) | 6.000 in. |
| Connecting Rod Material | Forged 4340 steel |
| Magnafluxed | No |
| Notes | Custom pistons are required when using connecting rods with any length other than OE length. |
| Pin End Bore Diameter | 0.927 in. |
| Quantity | Sold as a set of 8. |
| Remanufactured | No |
| Rod Journal Diameter (in) | 2.100 in. |
| Weight Matched Set | Yes |
| Wrist Pin Style | Bronze bushing |
Note from our company president, Skip White.
H-beam rods are often heavier and create much unwanted reciprocating drag in the engine. Some H-Beam rods are so heavy that balancing the crank becomes difficult and costly. Heavy duty H-beam rods do have a few benefits over these rods, but they would only be called for in extreme buildups. If you did find a lighter weight set of H-beam rods, equaling or close to the weight of the Scat Competition I-Beam rods, then I would assure you that the Scat I-Beam rods would be stronger ounce for ounce with the exception of the pull apart rating due to the fact that H-beam rods have longer bolts in them, and this can pose a clearance problem for those running stroker cranks.
Should your engine be set up to run high rpm, and you did use a heavier rod that was possibly stronger in a few areas, then the excessive weight may become its worst enemy and could negate any benefits from the added beef. This is why the Scat Competition I-Beam rod has done so well in the racing events where engines are turning high rpm for sustained periods of time.
I really do like the design of this rod, and I've read every review on most every car forum out there. I hear nothing but praise for this very special rod. We do offer lower cost rods, but this is our best value all things considered. When I hammer down on an engine, there is one concern I have more than any other, and it's whether the rod is going to pull apart or break due to fatigue or excessive stretching. I have personally spoken to the owner of Scat, and he has expressed great confidence in what these rods are capable of handling. They are running in engines that have seen many seasons of brutal racing, and you really never hear of a failure. If you're going to run them in a street/strip car, then you may very well have a lifetime set of rods. Do remember when a rod breaks or pulls apart in the engine, there is a great chance you will lose your complete engine.
Be sure and check sizing on these rods before installation. The Scat rods are often perfect in sizing as they should be, but it would be very risky to assume they are perfect. Many of the cranks on the market are not perfect on sizing so even though the rods would be at what is considered perfect sizing, the crank journals may be on the thin or fat side.
Item received thanks..

Reviewed by 2***2 on March 21, 2017, 4:43 p.m. | Permalink

This review has no votes.

Part was drop shipped so part took longer to arrive

Reviewed by r***i on Dec. 4, 2016, 1:24 a.m. | Permalink

This review has no votes.

Great set of rods, cheaper than jegs even with my nhra discount!!!

Reviewed by b***i on Nov. 9, 2016, 10:42 a.m. | Permalink

This review has no votes.