Product Information
| | |
| --- | --- |
| UPC | 370723301690 |
| Product Type | Shipped Product |
| Shipping Cost | $12.50 |
| Number of reviews | 0 |
SBF FORD SCAT PRO STOCK CONNECTING RODS 5.4" I-BEAM BUSHED, 3/8's ARP 12 POINT CAP SCREWS. 4340 ALLOY.
GENUINE SCAT-2-ICR5400-927 BRONZE BUSHED CONNECTING RODS WITH GENUINE ARP 8740 CAP SCREWS ARE NOW USED IN ALL ROTATING ASSEMBLIES AND 347 STROKER ENGINES WE BUILD.
Rod bore housing size 2.123 without the bearing installed.
This is standard 302 Ford size on the big end.
The wrist pin size is .927. The wrist pin and small bore end of these rods will not accommodate stock Ford pistons.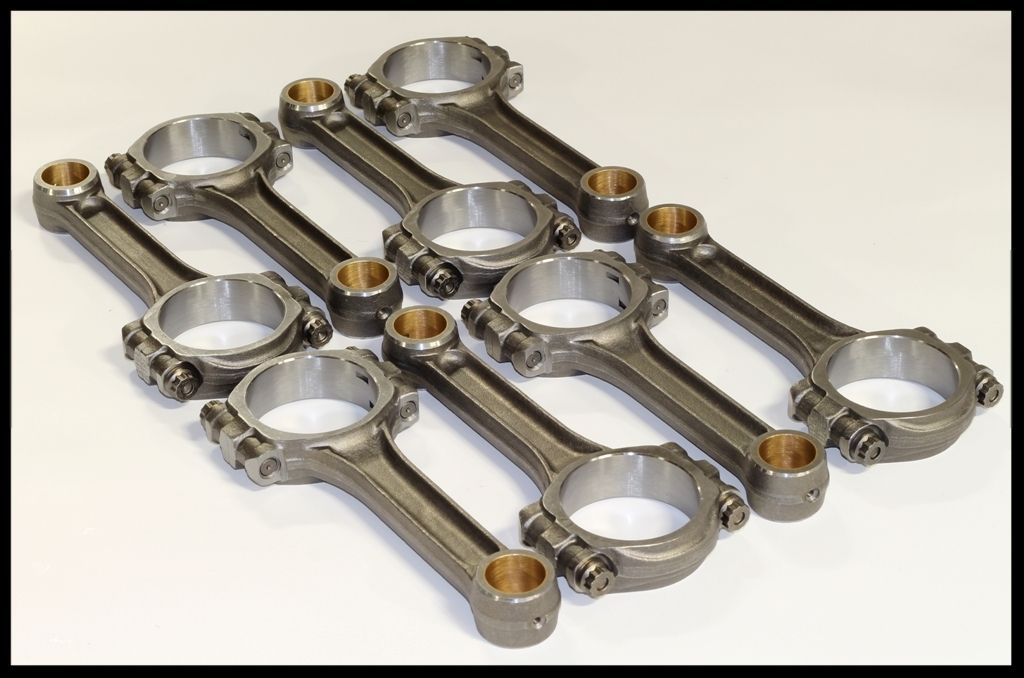 Our Scat rods are bushed, and unlike Eagle I beam rods, these are made from 4340 alloy. The bronze bushing style is far superior to press fit. They are much more durable and free up a slight amount of horsepower, and reduce piston and oil temp. This is something to consider when buying kits that use press fit rods. We just don't recommend press fit to anyone. Machine shops will charge up to $55 to press them on, and this is another consideration.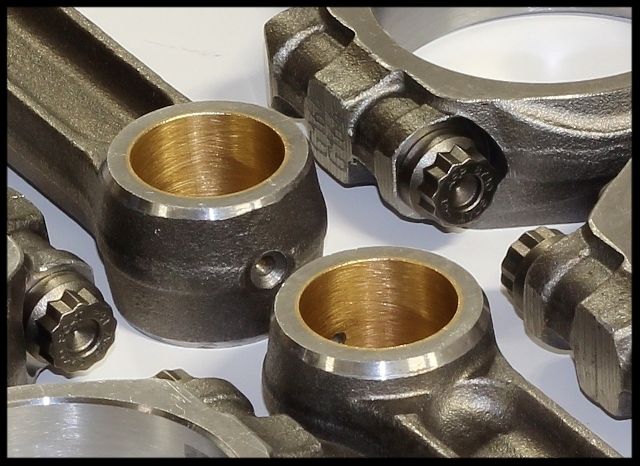 Connecting Rods Model Or Series: Pro Stock
Make: Ford
Engine: 289/302/347 SBF
Beam Style: I-Beam
Rod Length: 5.400"
Material: Forged 4340 Steel
Rod Journal Diameter: 2.123"
Wrist Pin Diameter: .927"
Wrist Pin Style: Bushed
Rod Bolt Style: Cap Screw
Rod Bolt Diameter: 3/8"
Rod Bolt Material: ARP 8740 Chrome Moly
Note: Long Number 2-ICR5400-927
Quantity: Sold As Set (8)



Bushed (floating) pin
Single rib cap design for added strength and bearing support
Lightweight I-Beam design for increased strength and quicker RPMs
12-point 8740 3/8" cap screw bolts
Special doweled cap for specific cap-to-rod alignment
All Scat Pro Stock rods are IMCA & Wissota legal
Our sales staff has limited technical knowledge on this product and are usually unable to answer many of the questions asked. See our other listings for variations of this product.

We are not responsible for collateral damage caused by the use of this product.
Customer Reviews
This product does not have any reviews yet.