SPECTRE HEADER BOLT SET 7/8" LENGTH - 60% OFF - 46723 CLEARANCE SPECIAL!
Available
$13.95
---
Product Information
| | |
| --- | --- |
| UPC | 370512111235 |
| Product Type | Shipped Product |
| Number of reviews | 0 |
SPECTRE PERFORMANCE HEADER BOLT SET 7/8" LENGTH 3/8" THREAD SIZE-16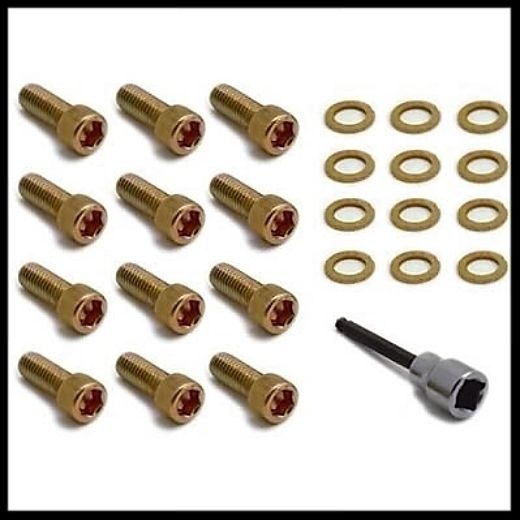 | | | |
| --- | --- | --- |
| Fastener Style | | Bolt |
| Thread Size | | 3/8-16 in. |
| Head Style | | Double hex head |
| Underhead Length (in) | | 0.875 in. |
| Fastener Material | | Steel |
| Fastener Finish | | Gold OR Silver Iridite |
| Quantity | | Sold as a set of 12. |
| Notes | | Ball headed allen socket tool included |
ATTN: GOLD OR SILVER COULD BE SENT - NO COLOR CHOICE
7/8" LENGTH
7/16" HEX
3/16" ALLEN
ENCLOSED BALL HEAD ALLEN SOCKET ALLOWS BOLT TO BE INSTALLED AT AN ANGLE. REACH AROUND THE HEADER TO INSTALL THOSE HARD TO REACH BOLTS.
TOOL INCLUDED!
APPLICATION INFO IS LOCATED AT THE BOTTOM OF THE LISTING
We have these bolts in a huge crate mixed with gold and silver. Either could be sent, no color choice or preference when ordered. We send what we grab.
60% OFF RETAIL PRICE
As you know, we have many different items with the key words "60% off" in the title. This is a one time closeout price. We have a limited quantity available, and when there gone we will not be able to obtain these at this price. Some of the items are actually more than 60% off, such as this, but for ease of searching, we use the the term 60% off. The half price shipping for additional items can really bring down the overall price of your items, so do a search on all of our 60% off items before finalizing your purchase.
We often have dealers purchase large amounts at a time of our 60% off items, so they don't last long. This item retails for $11.95 or more at other major performance sellers!
The items in our clearance special will be selling at well below cost prices. These items have accumulated in our former warehouse that we're converting to our new additional machine shop for building engines. In the past, we would sell these items at local swap meets and other various selling venues. Due to time constraints, these items have to go.
Go to our store to see many hundreds of such items.
There are many reasons as to why these items are being closed out. Listed below are some of the many possibilities. Most all these items are in perfectly new condition. No gimmicks. We are in a rush to get our second machine shop up and going.
Left over stock of an item that was discontinued in the past.
A few have become slow sellers for us, as our business has shifted into high value items such as engines, rotating assem. and cyl heads.
We have purchased some items in bulk that were discontinued and have many of these items still in stock.
We're trying to clear out space for our new engine room and we're in a rush to do so.
Acquire funds to build our second new machine shop for building engines.
Our sales staff has limited technical knowledge on this product and are usually unable to answer many of the questions asked. We do not have any variations of this product other than what our listings show.

We are not responsible for collateral damage caused by the use of this product.
Customer Reviews
This product does not have any reviews yet.