SUPER 10" ELECTRIC FAN, HARDWARE INCLUDED # HC-7102 CLEARNACE SPECIAL!
Available
$18.95
---
Product Information
| | |
| --- | --- |
| UPC | 372405381481 |
| Product Type | Shipped Product |
| Number of reviews | 0 |
10 INCH REVERSIBLE, HIGH OUTPUT, HD SERIES ELECTRIC FAN.
Best value on the market.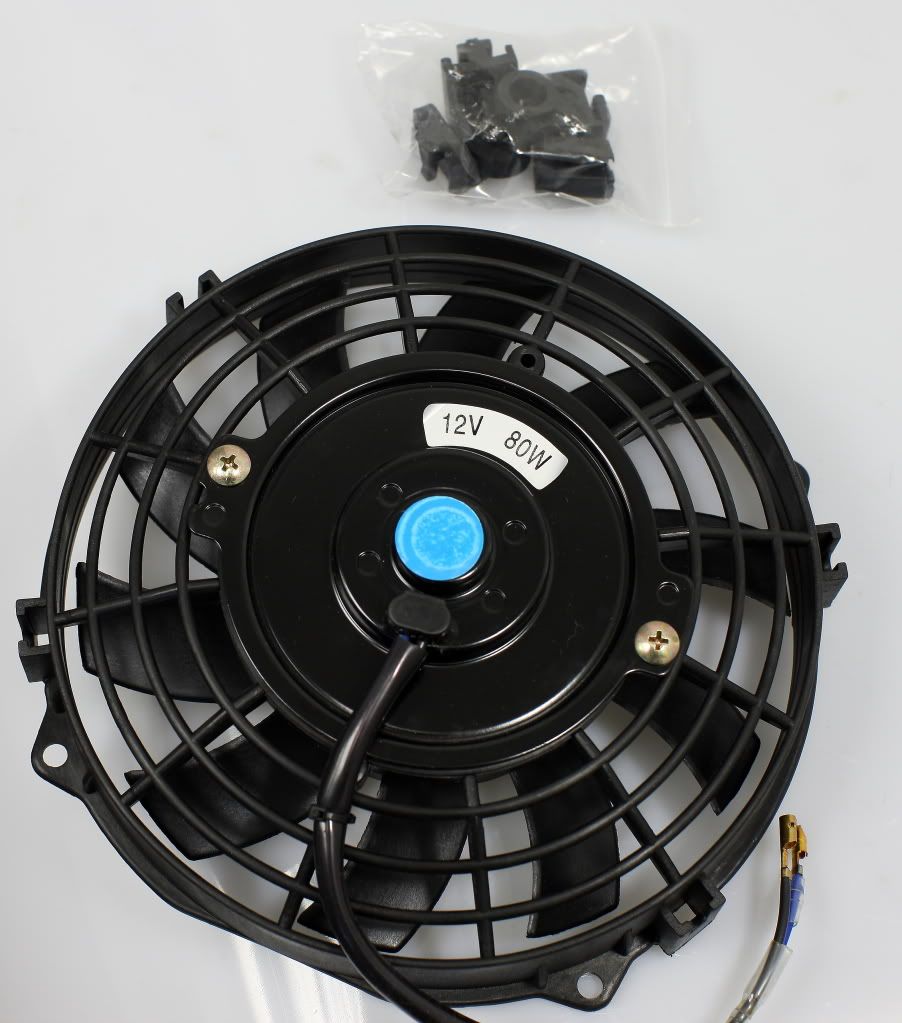 FILE PHOTO. ACTUAL APPEARANCE MAY VARY

THIS FAN IS VERY POWERFUL, LIGHTWEIGHT, AND EFFICIENT. 2.0 INCHES THICK AT THE CENTER.
Heavy duty 80 watt motor.
PART NUMBER IS HC-7102

Please read the complete listing.

One-year warranty.
This fan has computer balanced blades for smoother operation.
We also include a fan mounting kit. As many of you know, you should always mount the fan in a staggered clock position to allow the fan to rest on a total of four of the radiator tubes rather than two. This can often cause the mounting hole to not line up with one or more of the tubes. These additional mounting holes give you a variety of choices as they are spaced about half an inch apart.
This fan is reversible, and can be used as a puller or pusher. Fans that are mounted between the engine and radiator are considered pullers. Fans mounted between the grill and radiator are considered pushers. Establish the fan's setup before installing.
IMPORTANT: To change the airflow direction you may have to reverse the blade and the positive/negative polarity. Just reversing the polarity may not flow air in the opposite direction as well as it should due to the blade pitch. Reversing the blade is a very simple task.
BRAND NEW IN THE BOX. FIRST LINE.
This fan comes with mounting tabs, or the fan can be used without them for close clearances.
A RULE OF THUMB IS TO FIT THE BIGGEST FAN YOU CAN FIT ON YOUR RADIATOR. OTHER SIZES AND ACCESSORIES AVAILABLE IN OUR OTHER LISTINGS.

NOTE: It is very important to use a temp sensor, circuit breaker, and relay system with any electric cooling fan.
We have fan accessories available. Please see our other listings.
The items in our clearance special will be selling at well below cost prices. These items have accumulated in our former warehouse that we're converting to our new additional machine shop for building engines. In the past, we would sell these items at local swap meets and other various selling venues. Due to time constraints, these items have to go.
Go to our store to see many hundreds of such items.
There are many reasons as to why these items are being closed out. Listed below are some of the many possibilities. Most all these items are in perfectly new condition. No gimmicks. We are in a rush to get our second machine shop up and going.
Left over stock of an item that was discontinued in the past.
A few have become slow sellers for us, as our business has shifted into high value items such as engines, rotating assem. and cyl heads.
We have purchased some items in bulk that were discontinued and have many of these items still in stock.
We're trying to clear out space for our new engine room and we're in a rush to do so.
Acquire funds to build our second new machine shop for building engines.
Our sales staff has limited technical knowledge on this product and are usually unable to answer many of the questions asked. We do not have any variations of this product other than what our listings show.

We are not responsible for collateral damage caused by the use of this product.
Customer Reviews
This product does not have any reviews yet.