27"X19" FORD ALUMINUM RADIATOR HC-6008-F-RAD CLEARANCE SPECIAL!
Available
$109.00
---
Product Information
| | |
| --- | --- |
| UPC | 352535468631 |
| Product Type | Shipped Product |
| Number of reviews | 0 |
PRO SERIES FORD STREET OR STRIP ALUMINUM RADIATOR 27" WIDE X 19" TALL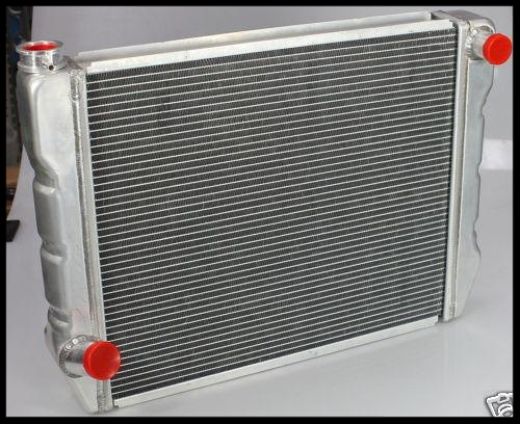 This auction is for the 27" wide model. All other dimensions are the same.
This radiator is configured to fit most Ford vehicles. The upper radiator outlet is on the passenger side, and the lower outlet is on the drivers side. If you need the reverse configuration, see our other listings. We have a variety of sizes to suit your cooling needs.
Our new Extreme duty radiators have the following dimensions:
OVERALL (at maximum dimension) 3" tank thickness
Width 27" to outside of tanks
Height 19 1/4" to top of tanks (add 1" for cap connector)
We are very confident this radiator will cool any
V-8 engine. It is a known fact that aluminum radiators have a slight advantage over copper/brass radiators. The aluminum rad. will dissipate heat faster, and it is much lighter in weight, but as we all know aluminum rads are very durable. Every new car in the world uses them.
The factory usually oversizes the cooling systems on most cars, due to the many situations it may encounter, so down sizing is usually not a problem, if your not putting extreme demands on the engine.
We were very selective when choosing the brand of our aluminum radiator. This is absolutely the best we have ever seen. The welding is first class. The design is a true Street or Strip grade radiator. We have seen others on the market, and they fall short of our approval.
The items in our clearance special will be selling at well below cost prices. These items have accumulated in our former warehouse that we're converting to our new additional machine shop for building engines. In the past, we would sell these items at local swap meets and other various selling venues. Due to time constraints, these items have to go.
Go to our store to see many hundreds of such items.
There are many reasons as to why these items are being closed out. Listed below are some of the many possibilities. Most all these items are in perfectly new condition. No gimmicks. We are in a rush to get our second machine shop up and going.
Left over stock of an item that was discontinued in the past.
A few have become slow sellers for us, as our business has shifted into high value items such as engines, rotating assem. and cyl heads.
We have purchased some items in bulk that were discontinued and have many of these items still in stock.
We're trying to clear out space for our new engine room and we're in a rush to do so.
Acquire funds to build our second new machine shop for building engines.
Our sales staff has limited technical knowledge on this product and are usually unable to answer many of the questions asked. See our other listings for variations of this product.

We are not responsible for collateral damage caused by the use of this product.
Customer Reviews
This product does not have any reviews yet.