383 STROKER ASSEMBLY SCAT CRANK 5.7" RODS WISECO -12cc Dh 030 PISTONS 2PC RMS
Available
$1,549.00
---
Product Information
| | |
| --- | --- |
| UPC | 353414764899 |
| Product Type | Shipped Product |
| Shipping Cost | $158.50 |
| Number of reviews | 1 |
FULLY BALANCED SBC CHEVY 383 STROKER ROTATING ASSEMBLY WITH WISECO FORGED -12cc RD DISH TOP PISTONS.
4.030 BORE, .030 OVER, SCAT BALANCED CRANKSHAFT 5.7 SCAT RODS. FITS 2PC REAR MAIN SEAL BLOCKS.
BALANCED IN HOUSE.
*** IMPORTANT NOTE ***

You may add items into your shopping cart but in order to check out you will have to call us. Our check out feature on our website is being upgraded at this time. We can take your order over the phone and answer any technical questions you may have. We accept all major credit cards, cash, check, and money orders. Just give us a call at 423-722-5152 and we can process your order promptly. In the event you attempt to reach us outside of our operating hours, please leave us a detailed message and we will return your call at our earliest opportunity.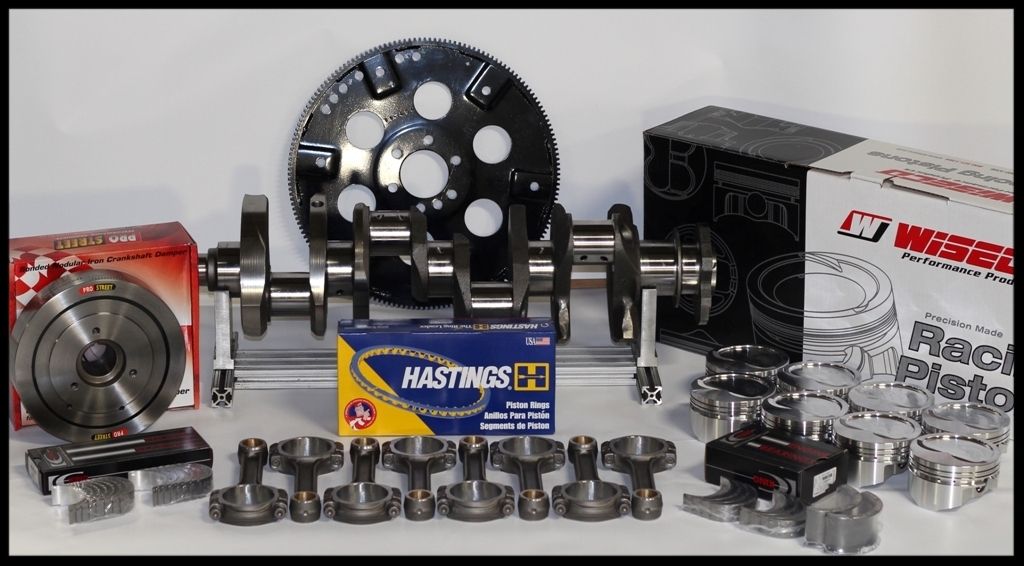 The picture above is a file photo. See the detailed info below for the actual pictures and items included in this assembly.
 Fully balanced in house. 
READ THIS LISTING COMPLETELY BEFORE YOU BUY ELSEWHERE! 
This assembly comes with a Scat crankshaft and 4340 Scat rods, Wiseco premium forged pistons, Hasting or Mahle rings, King bearings, a heavy duty 168 or 153 tooth flexplate and a Pro-Sport SFI damper. See our other listings for various piston bores in flat, dish, and dome style, as well as 1 pc or 2 pc rms style cranks and LT1 stroker kits. Our 383 rotating assemblies are now offered in a 5.7" and a 6.0" rod combination. See details above for all the actual specs of this assembly. In the lower section of this ad is information on the various upgrades we offer in our other listings.  
**********************************************************
Important note: 
This assembly will NOT work in cars equipped with LT1 or LS based engines. The LT1 engines came into use around 1992 and up to approx. 1997 in Corvettes and Z28 Camaros, also some Chevy Caprice SS and police cars. See our other listings for the correct assembly to use in LT1 engines. 
In addition to the above engine that is not compatible with this assembly would be the Gen 3 Chevy engines. These would include vehicles using the LS based engines such as the 5.3, 5.7, 6.0 and 6.2 engines. LS based engines came into use in 1997, and up Corvettes, and 1998 and up in Z28 Camaros, and in most 1999 pickup trucks. If you have a 1996 up to 1998 Vortec 5.7 engine then this assembly should work work without a problem. To sum it up, this assembly can be used in most Gen 1 350 engines. You will have to notch your block for crank and rod clearance. 
******************************************************
 We offer these assemblies in 1 pc rms. and 2 pc rms. dish or flat top pistons, as well as other bore sizes. See details below for the actual specs.
Crankshaft Specs. 
Crankshaft: Genuine Scat, In house Balanced. 
Crankshaft Stroke: 3.750" for 383 engine builds.
Crankshaft Material : Cast Nodular 
Journal Diameter: 350 Mains
Rear Main Seal:

2

pc

RMS
Connecting Rod Specs.
Rods: Genuine Scat 
Rod Type: Scat Pro-Stock, I-beam, Bronze Bushed.
Rod Length: 5.7"
Rod Material: Forged 4340 Alloy.
Rod Bolt/Cap Screw: ARP 8740 Cap Screws.
Piston & Ring Specs. 
Pistons: Wiseco Fully Forged. High Performance for street/strip use.
Piston Size:

4.030"

 (

.030

Over)(383 actual CID)
Dome Volume: -12cc Dish Top RD. D-Cup
Compression Height: 1.440
Piston Material: Forged 2618 Aircraft Alloy
Piston Rings: Mahle or Hasting moly, Reduced Tension Oil Ring
Ring Size and Fit: 5/64 5/64 3/16 Drop-In
Ring Material: Ductile Iron/Cast/Stainless/Moly
Bearing, Damper, and Flexplate Specs.
Main Bearings: King MB557SI 
Rod Bearings:  King CR807SI
Balance: In House on CWT balancer.
Damper: Pro-Race brand Pro-Sport Series SFI 6.61
 Cost of flywheel upgrade/option is $

105.00

 
Compression Ratio Chart
The calculations below assume your pistons are at zero deck. Let's say your compression calculates out to be 10.50:1 for example based on having the pistons at zero deck (flush with the deck), but your pistons were going to be .005 in the hole, then the comp. ratio would only drop to 10.36, and if left .010 in the hole, then it would drop to approx. 10.22 We do recommend having your block decked to allow the piston to set anywhere from flush (zero) to .005 in the hole for optimal performance. We used a 4.125 head gasket diameter, and a .040 head gasket thickness in our calculations to come up with our comp. ratio values.
We have highlighted in red the compression ratio for the bore size and piston volume of this assembly using several popular combustion chamber sizes.
Part Number

Cylinder Head Volume

58cc

64cc

68cc

72cc

383 Assembly

Static Compression Ratio

4.030 Bore

10.95

10.21

9.83

9.45

4.040 Bore

11.00

10.29

9.87

9.49
Listed below is a complete breakdown of all the parts that are included in this assembly.
WISECO FULLY FORGED PISTONS, RATED AT 800+ HP. WISECO PISTONS ARE 100% MANUFACTURED IN THE USA. THEY ARE ONE OF THE HIGHEST RATED PISTON BUILDERS IN THE COUNTRY.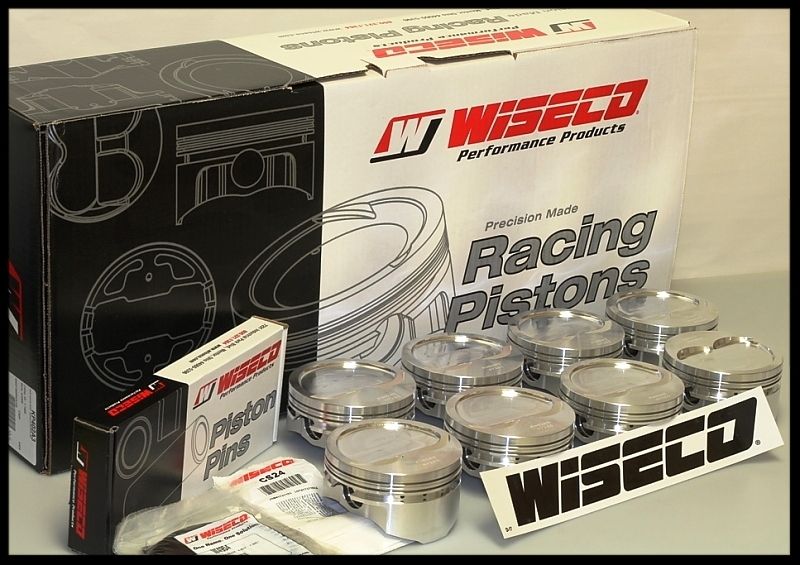 Our custom made Wiseco pistons are rated very high in the street/strip performance industry. Wiseco normally offer several grades of pistons, starting with the lower grade Pro-Tru Street version made with 4032 forged alloy. The next level up would be the professional series that are much more expensive and made from 2618 aircraft alloy and have fully machined crowns rather than the as cast crowns that are on the Pro-Tru series. Our Wiseco pistons are custom made for us, and have both of these premium features, 2618 Alloy, and fully machined crowns. All premium grade forged pistons on the market have these two unique features and usually cost around $800-$1100 per set.
We prefer the 2618 alloy over the lower cost 4032 alloy. The 4032 alloy may fragment from the effects of detonation and if this happens, it can be very destructive to the engine. 
Those types of pistons are fine for stock or mild engine builds, but should never be used in  carbureted engines built to high horse power levels. 
The forged 2618 alloy piston is much more resistant to the effects of detonation and heat.
We have built approximately 8000 engines using the Wiseco pistons over the past 10 years. The engines have been for street rod and strip use. We have seen no problems, nor have there been any complaints. They are an excellent product in every respect.
Important note
Many customers have asked us what size they should bore their block at to allow for a proper piston to wall clearance. The required clearance is built into the piston already. For example if these pistons show a given size such as 4.030 then that is exactly what you will bore the block to. The actual size of the pistons when measured at the skirt, 1/2 inch above the tang will show to be approx. 4.026. The needed clearance is built in. Should you be using these pistons in a marine app. where the boat receives it's water from the lake, then an additional 1.5-2.0 thous. would be added to your final bore size, and some forced induction apps may also require a slight increase in bore size. 
These pistons are totally suitable for use with mid level nitrous or blower setups. Extreme level builds that are making hp numbers in the 1000 hp range will require a set of custom made extreme duty pistons.
Our Wiseco Forged pistons are custom designed with an increase in compression height. This has many advantages. Here are a few facts about compression height and deck height.
Our custom made pistons have a compression height that is .010 taller on bbc pistons, and .015 taller on sbc pistons, as compared to most all of the catalog pistons on the market. We find this to be a very valuable feature. 
Since our pistons sit at a taller than normal compression height, you will only have to remove approx. .005-.010 off the deck surface of a virgin block to achieve a zero deck (flush with the deck surface). This maintains the deck's thickness, making it much stronger than a block that has been cut down .025. The engine will also run a bit cooler with a thicker deck. It's well known that the deck dissipates much of the built up heat an engine generates. This also allows for future deck re-surfacing without compromising the integrity of the block. Most all catalog pistons on the market require cutting the deck surface around .025 to achieve a zero deck. A zero deck is very important as it keeps the quench/squish zone at or near an optimal .040 distance. Be sure and let your machine shop know what the compression height is on these pistons before they machine your deck surface. 
You may have noticed that our Wiseco custom made forged pistons are referred to as Racing Pistons on the package. This does not mean that the pistons are for racing only. This is a generic term, referring to their ability to be used in high performance applications as well as for street rod use. These pistons are perfectly designed for use on the street, as well as for medium to upper level drag racing. 
The picture below is a file photo of our Wiseco pistons. The picture was taken with a bright flash and appears to have enhanced the machine marks. These marks are actually barely visible with the naked eye.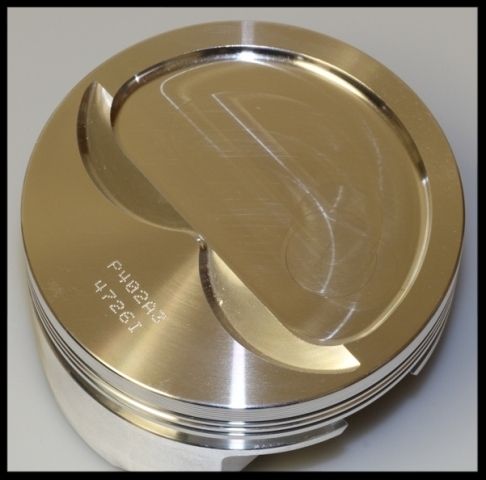 </</
Customer Reviews
As described!Fast shipping!Thanks. .

Reviewed by t***e on April 26, 2021, 6:53 a.m. | Permalink

1 of 1 customer found this useful